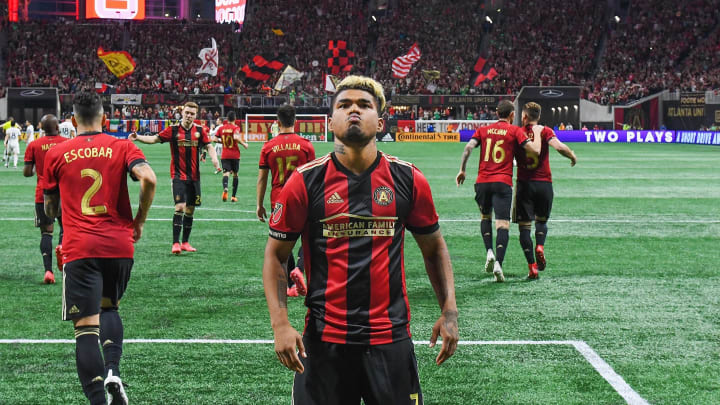 What Atlanta Means
RICH VON BIBERSTEIN/ICON SPORTSWIRE
PARA LEER EN ESPAÑOL, HAZ CLICK AQUÍ
Miguel Almirón is the best player in MLS right now, end of debate.

For real, think of your favorite player right now … what does he do well? Miguel probably does it better. I know this because I play right in front of him — I've seen Miguel day-in, day-out for two straight years. For me, whenever I feel a little rusty, or like I'm not focusing enough, I just stay late after training, because Miguel will be there. He'll be taking extra shots, doing skills … all that stuff. And I'll watch him like, Man, how does he do that?

Miguelito, the wizard.

People, especially this year, have been asking me a lot about setting MLS scoring record and how I've reached this level. Sometimes I give them the long answer: "It's been a crazy journey from Valencia, Venezuela, to Atlanta — it really has. I don't have enough time to tell you the whole thing."

And sometimes, maybe when I'm tired from training, I'll just give them the short answer: I'll look around the room for Miguel, point at him and say, "You see that guy? He's why I'm so good."

Miguel's more than a teammate — he's family.

And because we're so close, he had to meet the rest of my family, of course.

First up was my grandfather, José, who is the star of our family. And to understand him, you have to understand where he's from.

He and my grandmother raised my sister, my cousin and myself in Venezuela. My parents were busy at work, so the three of us would spend our days balancing school and bothering my grandparents. They were just … the best. They loved us so much.

My grandmother worked downstairs in her bodega underneath our home.

La Bodega de la Señora Andrea.

It was a beautiful little shop. Our home was on the corner of a fairly busy street, so lots of families would come by the store and pick up fruit, snacks and other things they needed. My grandmother would be there all day, chatting away with people, music from the radio always on in the background. I can still picture it, so clearly, to this day.
Valencia, our city, is the most wonderful place in the world — I promise. If you ever get a chance to visit, you should definitely go. It's not far from the Caribbean Sea and we're right on Lago de Valencia, a great lake to be around in the summertime. My grandparents are actually Colombian, but they made Venezuela their home a long, long time ago.
Courtesy of Josef Martínez
So about my grandfather … he was a bricklayer. He'd work on homes and stores and all sorts of buildings around Valencia. They were long, tough hours. And when he'd come home, he'd always want to watch soccer. Not baseball. Soccer. In Venezuela, baseball is huge. But my grandfather wanted to be a soccer player when he was younger, so we watched soccer. And I remember we had this old, junkie TV, and it was hard to tell what was going on. But it wasn't a problem for my grandfather, he'd watch closely … and basically commentate on the game

"HE SHOULD HAVE SHOT!"

"WHAT IS HE DOING? UNBELIEVABLE THESE GUYS!"

Nonstop talking. It was too much. I'd have to leave the room. I couldn't take it.

And the crazy thing? He still does it today. He has an opinion on everything. Every game, every player — he's a hot-take machine. It's unreal.

This is where Miguel and he get along. You see, Miguel loves football. He's a big Barcelona fan and watches nearly every match. This is pretty typical for South American soccer players. I'm a Real Madrid fan. Mostly because of Iker Casillas and Brazilian Ronaldo. But I don't watch every match like Miguel. And we're roommates, so when he comes to me all the time and is like "Josef! Josef! Did you see Messi's goal yesterday?"

I just roll my eyes and tell him to go see my grandfather, who stays with us in Atlanta quite often. And then I hear them in the other room, yapping away. After a while, like an hour, Miguel will come back with whatever advice my grandfather has given about his own game.

"Josef … your grandpa just told me I run like an ostrich?"

Yeah, my grandfather told the best player in MLS that he runs with his head down too much — like an ostrich

I had to say to him, "Grandpa, you don't have to tell Miguel anything, seriously. Let him be him! Let him play in his style!"
Kyle Hess/Atlanta United FC
He can be a bit much … but he cares, and that's what matters. That's the thing I remember most about growing up with him and my grandmother: They really cared about whatever they did. My parents had me and my sister at a young age, so my childhood was just different. My grandparents saw the darkness of the world — the crime and the struggle in Colombia — before they moved to Venezuela. So it made me see the world as a place where you had to work hard for everything you got. Everything. You had to care. Otherwise you'd be in trouble.

When I was nine years old, I joined this soccer program called Centro Italo. The club was far from home, so I'd sometimes get a ride or take the bus. But there were days — when it got cold in the winter and people wouldn't come by the bodega and money was tight — when I had to make a choice after training: Buy food and water, or buy a bus ticket. If I didn't eat, I'd go to sleep hungry because everyone in my home had gone to bed, but if I didn't buy a ticket, I'd have to walk three or four hours just to get home.

That story isn't unique for a lot of Venezuelan soccer players. That's the sad part. Life isn't easy in our country, we all know that. But this environment raises fighters. Warriors. I really believe that.

And that's why, in 2012 when I was 18 and heard that Young Boys, a club in Switzerland, wanted me — I had no fear, or hesitations. None. Because I cared about my career more than the fear of a long flight and the unknown. And I knew this was my chance to become a professional soccer player, to help my family. Young Boys signed me and my close friend Alexander González, just after Christmas. So we left Venezuela in 2012, not sure if we'd be coming back anytime soon.
---
---
I think you've probably heard about many South American players' journeys to Europe. It's not easy. It's cold. We don't speak the language. The soccer is different. The food tastes funny. All of that is true. But, I think, sometimes players don't realize or take advantage of the opportunity they have.

Sometimes the journey is the destination.

In Switzerland, I learned some German and got used to the European style of play. Then, in 2014, I went to Italy and spent three great years at Torino — a fantastic club. I met guys like Gastón Silva, Matteo Darmian and Bruno Peres. Terrific players who will be my friends for life. I learned Italian, scored in the Europa League and stayed in a home at the base of the Alps. I lived.
Marco Bertorello/AFP/Getty Images
Back when I was on a bus thinking about how hungry I was as I went to and from training sessions, I didn't picture these experiences as my goals. But in life you have to adapt. I've learned that now.

In Turin, I loved the club. I really did. But things change quickly, and the love I felt from them sort of went away in my last few months there. I'll just say this: The same leeway that clubs give Brazilians and Argentinians, well, it doesn't exist for Venezuelans. I've known that from the days I trialed at clubs in Argentina. I don't like to talk about it often — because it's unfair and painful. But it's real and it happens.
The same leeway that clubs give Brazilians and Argentinians, well, it doesn't exist for Venezuelans.
So when my friend and rep, Sebastián, and I were approached about an opportunity in America, I wanted to listen. Because I didn't know a lot about the country — but I knew people from all over were given a fair chance. We were told that a new club, a special club, was being built in Atlanta.

Atlanta?

I had never heard of it. But had you heard of my city when you first read about it?

And then he said that Tata Martino was going to be the coach.

El Tata?

He is a massive, massive name in South America and world football.

To play under him would have been an honor.

Tell me more about Atlanta.
---
---
A couple of months later, I spoke with Tata. He told me about the project. They were getting ready for their first year, were doing pretty well, and had signed great young players.

But the thing that stuck with me was his pride in the project — how excited he was to be creating something new. And that he wanted me, a striker who had lost his way a little bit in Torino, to help bring soccer to this part of the country, to this part of the world.

So I didn't have to think much about it. I wanted to be in Atlanta.

And now that I've been here for two seasons, I know that the passion that Tata had in his pitch to me was true — and everyone at the club has it.

When I met the Atlanta United owner, Arthur Blank, I could see it in him, too. He cared about me. Where I was from, what I wanted to be, as a player and as a person … he really treats you like you were his son. I feel grateful to him and everyone who made this team possible.

One big family. That's who we are.
Adam Hagy/USA TODAY Sports
In one of my first training sessions last year, Miguel and I were playing pretty well together and we chatted after practice. I told him I knew that we could be one of the best duos in the league. I knew his quality as a person and as a player, and I made sure he knew that I wanted to get the most out of him.

"So we have to work hard," I said, "me for you, and you for me."

And that's sort of how I see our team.

Me for you, and you for me.

Because of how talented our team is, and how good they make me look, I get asked all the questions. "What does the record mean? Can this team win it all? What makes the team so strong?"

Usually I can answer them. But the one that sometimes gets me is: "What does Atlanta mean to you?"

A year ago, before our playoff loss in the first round, I maybe didn't know the answer. But now I do: Atlanta is the supporters, who make the Mercedes-Benz Stadium the best place I've ever played soccer. Atlanta is my teammates, the coaching staff, the friends I've made on this team.

Atlanta is family.

Atlanta means family.