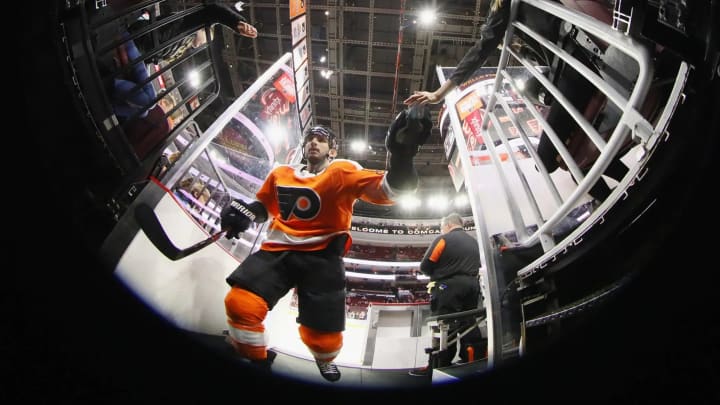 You Might Know Me as Ghost
BRUCE BENNETT/GETTY IMAGES
I used to wake up everyday at 4 a.m. to go to the rink. That's how dedicated I was when I was seven.
My dad would drive my sister and me through the dark on an empty highway, then I'd get to the rink and do what I loved to do more than anything in the world: I went to sleep.
Let me explain.
My sister, Felicia, is four years older than me. Back then, she was an unreal figure skater. She was going to be an Olympian someday — she was that good. My dad would take us to Incredible Ice — the rink in Coral Springs, Florida — every morning. My mom worked, so I had to tag along if I wanted to get to school. I didn't want to watch figure skating, though, so I started bringing a sleeping bag. I'd roll it out right in the bleachers, and I'd pass out for a few hours, five rows up from the ice while Felicia trained with her coaches.
And then, after school was over, we were back at the rink. I still didn't want to watch figure skating, and my homework could wait, so I spent my time on my life's other big passion: collecting hockey pucks. I'd look for them between the stands, in the locker rooms, under the bench in the penalty box — literally everywhere. I think I had more than 300 in my family's garage by the time I grew out of my obsession.
Gostisbehere Family
But every once in awhile I'd stop and watch my sister skate. Man, she was so good. She still is. I think if you asked her, she'd tell you that she could beat me in a race right now. Back then, she put me to shame. She had straight A's in school, did all this community service and was pretty much a role-model kid. And I was a rink rat, stacking pucks to the ceiling. Let's just say we were … well, different, but I knew I wanted to skate like her.
So I took power-skating lessons from one of her coaches. The classes were O.K., but there was no puck. We did all these drills without ever touching a puck. Like, this coach didn't get it, I needed a puck.
But at least my skating started to get better. Felicia and I would go to the rink whenever we had free time, and we'd race. You know those kids at public skates who show up wearing hockey gloves and rip through everyone without any regard for their surroundings? That was us and we loved it.
Without her, I'm not sure I would've had the drive necessary to get to the level I wanted to reach. I saw her work ethic and her passion, and it showed me the way. When I look back on those early days of falling in love with hockey, I think of her.
And then I think of the Florida Panthers.
The rink in Sunrise was only a 20-minute drive from our house. I think I was the biggest Panthers fans in the world growing up. I had plastic rats all over my room (only the O.G. Cats fans will get that). I was six months old when they became a franchise, so I don't remember the Cup run in '96, but my family does. They'd get babysitters for me and my sister, and go to as many games as they could. My grandfather, Denis, is French-Canadian and his love for hockey was contagious.
When I got old enough, he'd take me to games. I don't remember a whole lot … I was probably only eight years old, but I have a vivid memory of one player: Number 10, Pavel Bure. He was awesome. The speed, the skill and the swagger. I remember, I would always know when he was on the ice because I could hear his stick tapping for the puck — I could relate to that.

He used to drift out into the slot, tap the stick, and bang.
There are guys who are good. There are guys who are great. Then there are guys who make you want to leave the rink and go put your skates on and be like them. Bure was one of those guys. And hockey in Florida was never the same after he played down there.
Lisa Meyer/Getty Images
There are guys who make you want to leave the rink and go put your skates on and be like them. Bure was one of those guys.

- Shayne Gostisbehere
Once I was around 11 years old and I started playing more, I realized the NHL was a pipe-dream. My goal was just to play hockey in college, and I thought I would get there. I was playing better and better every year, and I knew there would be opportunities for me. But I learned how fragile an athletic career can be. That lesson came from Felicia.
When I was 13, she suffered a bad hip injury while training for the Olympics in Colorado. She had to get surgery out there, and when she came back, she wasn't the same skater she used to be. She went from a kid who never really had a normal childhood — on the ice every day for hours and hours — to, basically, a regular teenage girl. And it was hard to see her like that. I was still young, so the idea of life-changing injuries were hard to grasp. I didn't get that she was done. I didn't get just how random our lives can be.
After her injury she told me something that still sticks with me: "Go as far as you can with this because you don't know when it will stop."
It was great advice, because I wasn't some superstar. I wasn't always the best kid wherever I played, and I got totally passed over in the NHL draft in my senior year of high school. I committed to Union College in Schenectady, New York, which felt like an awesome achievement, but I really had no idea where it was all going.
In 2012, after a strong freshman year at Union, my hockey advisor told me I might go in the sixth or seventh round of the draft. I mean, there's only seven rounds. So when I heard that, I was excited, but I didn't really know what to think, because I could've just as easily not been drafted at all.
So I was eating breakfast with my family in Florida during the third round — and I really wasn't paying attention to the TV. The draft was on in the background and muted. We were just having a regular morning. I remember, I think I was taking dishes into the kitchen, and I saw the Flyers logo on the big board, then … GOSTISBEHERE popped up. Like, you know how train departure times pop up at a station? Same thing.
I was like, "Uh, Mom?"
And she flat-out tackled me onto the couch — like, a perfect wrap and take-down.
Everyone started crying. I couldn't believe it. I don't think I had really pictured my draft-day moment, but I definitely didn't expect it to go down like this.
I called my sister, and of course, she gave me great advice. Because after I got drafted it kind of hit me like, Oh wow, I can make the NHL now. I should make the NHL now. And that kind of blew my mind. She told me, "No matter what happens, just make sure you are the best version of you — don't worry about anything else."
It sounds simple. But being a third-round pick was kind of weird. I was in camp and everyone was watching the first-round picks, but I wasn't quite one of them. Then there were all these late-round picks and undrafted guys who were gunning for me because I did get drafted. It put a weird pressure on me. But I tried to block that out and just play my game, which is a two-way defenseman who loves the puck on his stick. I stuck to that. I didn't make the team my first couple years, but I still stuck to that.
And then when I got called up in November of 2015, well … those three O.T. goals … what can I say? I was as surprised as everyone else. I just tried to drift to the slot — sort of like Bure — and wait for the puck.
After the third one, I was driving back to the hotel I was living in (because I wasn't sure if I was going to get sent back down), and I saw one of those electronic billboards on the Walt Whitman Bridge:
GHOST DOES IT AGAIN, ANOTHER GAME-WINNER.
Chris Szagola/AP Images
My exact reaction was, What the f*** is happening right now?
A month earlier I was nobody, for real. Suddenly I was somebody — and I was somebody in NHL. That entire rookie year was so special. The Philly fans are amazing. Everybody I met knew how to pronounce my name — that's how you know the love is real. I remember seeing the ?? signs in the crowd, I loved that.

But, yeah, that rookie season I fell in love with Philly. And I felt the ❤️ right back.
At the end of the season, though, I was reminded again how unpredictable life can be. I had a hip injury, and when the team doctor gave me the diagnosis, I couldn't believe it — it was the exact same injury my sister had all of those years ago.
I knew how far technology had advanced since she'd had her surgery, and I was in better hands with our medical team than she was back then, but still I remembered the look on her face when she tried to skate again. It was hard not to think about it.
I leaned on Felicia to get to the NHL, and after the surgery, I needed her help again.
She had her nursing degree and my girlfriend, Gina, was in nursing school — so I was well taken care of. Physically, I felt like my rehab was going the way it was supposed to. Where my sister, my girlfriend and my mom helped me the most was on the mental side — they taught me the patience needed to heal properly. I'm a "go, go, go" guy, but just talking to my sister, having her tell me how she went through it, that was invaluable information for me to hear.
---
---
Alright, I want to talk about this year's team a bit. But before I do, I know people made a lot of me being a healthy scratch last year. It was tough to deal with, yes, but I understood it. When my shooting percentage went from 13% to 3% — and nothing was seeming to go my way — that's when I got how hard it was to be an NHL player. And being able to step away from that, for even a single night, can really help.
I won't lie, though. I had to delete Twitter off my phone. During my rookie season, I loved scrolling through my mentions and interacting with fans, but when it wasn't going well it was hard. You can only read "you're a one-hit wonder" so many times before you go crazy.
But I'm actually glad I went through that, because I feel like I'm better for it. Now, if we get in a rut, I can deal with it better. We've got a great mix of young guys and veterans — I think that's really important to who we are and where we want to go. There's a good group of us who are in the category of "Not Old Enough to Touch the Aux Cord After a Win," and we try and keep it light in the room.
Ivan Provorov is one of those young guys. And of all the young talent on the team, man, you gotta watch Provie play. He's just … he's everything you'd hope he'd be. And he's an outrageously good defender. How many 20-year olds are playing nearly 25 minutes a night? The answer is one.
Bruce Bennett/Getty Images
Our leaders — G, Simmer and Jake — really set the tone. They're the ultimate pros and they guide us. We know our division is tough, but we've got confidence in our room that the sky's the limit for us. We've been tested this year and we're working on things — still trying to find our game. We want to make the Philly fans proud. We don't take their support for granted.
And that's actually the message I want to leave to any young hockey player — or any figure skater for that matter — who might be reading this, in Florida or Canada or wherever they are: Don't take anything for granted. I remember March of my rookie year, we played in Florida — my first time playing in that rink. We lost 5–4 in a shootout, but I scored late in the third to tie the game. I looked right up to the stands, section 101, where my grandfather and I used to sit — where I used to listen for Bure's stick taps.

It kind of hit me how fortunate I was — that the Flyers took a chance on a Florida kid in the third round and that my parents supported me the way they did. Without them, my friends and my girlfriend, I wouldn't be the person I am today. And it's crazy how important my sister has been in helping me get here.
But you know what's even crazier?
She still thinks she can beat me in a race.
Nah.
–  ??