Dude, I love Canadian Thanksgiving.
For Americans who don't know what the deal with Canadian Thanksgiving is, it's basically just like American Thanksgiving except… earlier. The second Monday of every October. It's really amazing. You have to try it.
For where I'm at in my life, the timing for my first Canadian Thanksgiving really couldn't have been any better. This year, perhaps more than any other, I really have a lot to be thankful for. Three things in particular stick out.
First of all, I'm thankful for my health.
A little more than a year ago, I was crumpled up in a ball on the grass between the pitcher's mound and first base at Coors Field, clutching my lower leg. I'd been pitching on a bad Achilles for the Braves for about two months at that point, and I knew I was in danger of tearing it if I ever had to make a play where I shifted weight suddenly – such as running to cover first base on a routine grounder. I've dealt with just about every arm injury you can have, both major and minor. But I knew I was up against it when I tore up my Achilles at age 38.
I also knew that I wasn't done with baseball. Some other people might have thought it was over for me, but I knew I had more in the tank. It's always been important to me to leave this game on my terms. So I approached rehab with that in mind. At the time, I didn't realize that I was preparing myself for a postseason run with one of the best teams I've ever been on.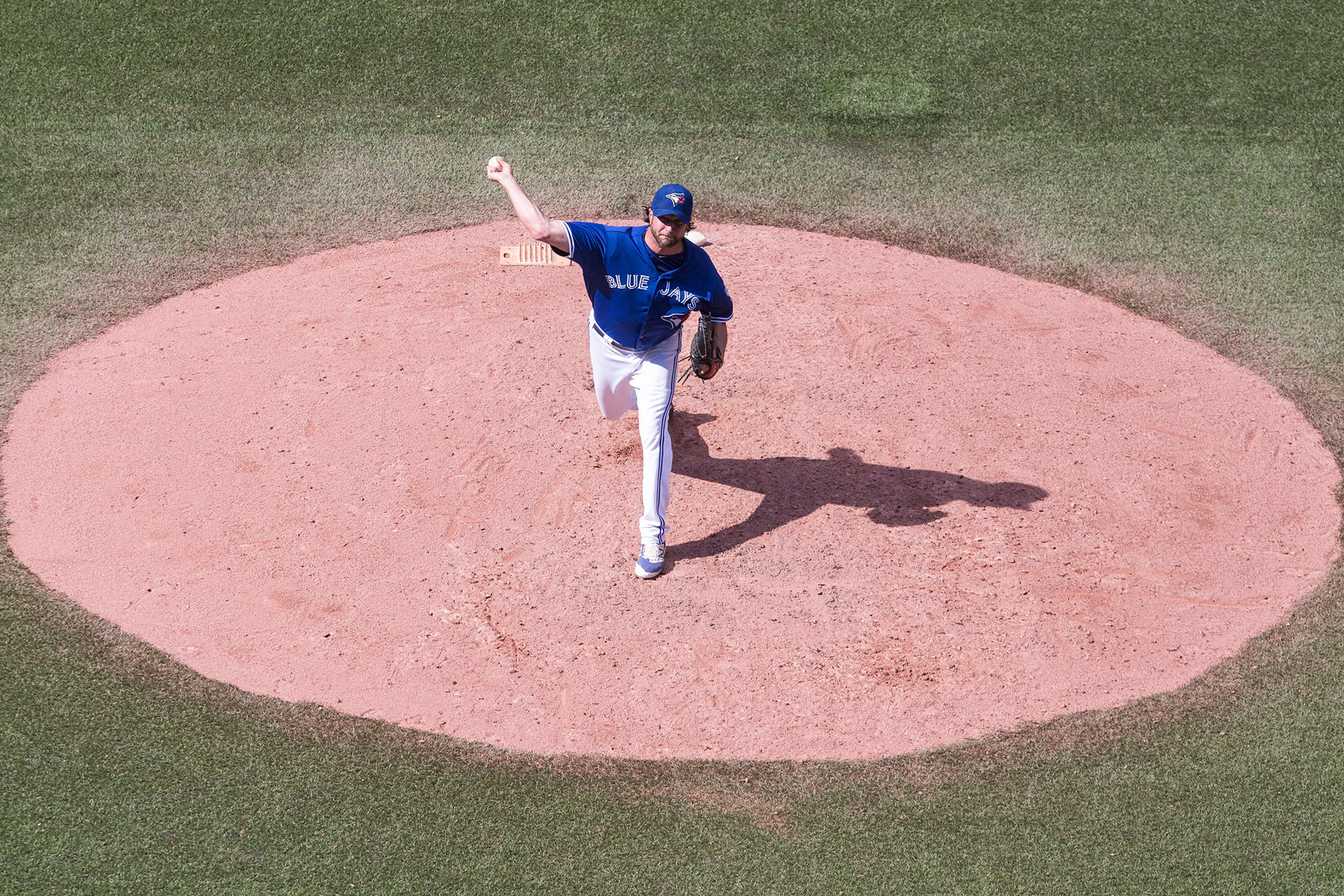 The second thing I'm really thankful for is my family.
They all came up to Toronto to celebrate Thanksgiving with me, and it was truly a blessing. One of the reasons I love the postseason is because of the raw emotions involved. When you see guys celebrating after a win, it's not just because they're happy in that moment. What they're also celebrating is the payoff for all of the sacrifices they made to get to that point. If you play baseball professionally, it consumes your life entirely. The biggest compromise you have to make is the time spent with the people you love most. So the day after sweeping the Rangers, I couldn't imagine a better way to spend a day than being surrounded by family and chomping on some turkey legs to soak up all the champagne from the night before. It's not often you get to do something like that in the middle of a postseason run.
What I'm most thankful for is now. This exact moment. It's an amazing time to be a Jays fan. I know that because I am a Jays fan – have been since I was a kid. My dad finished up his pitching career with the Syracuse Chiefs, which was Toronto's Triple-A affiliate at the time. He loved the organization and became really good friends with guys like Ernie Whitt and Buck Martinez. He'd drive us up to Toronto so we could watch games in front of sold out crowds. When I was a kid and I pictured making it to the big leagues, that was the environment I thought about. One day, I wanted to be able to pitch in front of a sold out stadium in Toronto. When I'm standing on the mound, I can still pinpoint the seats that we used to sit in.
Now that it's actually happening at this point in my career, it's all kind of surreal. I want to absorb every second of the experience. While I was pushing my body to heal itself, I wasn't dreaming about money. I was dreaming about this. The opportunity to have one more shot at a World Series. So when I found out that I was traded to the Blue Jays in May, I was so damn excited. I love the Braves organization, but I understood that at the time they were going in a different direction. I thought the most I could have asked for was to get moved to a contender. Landing in Toronto was really a dream come true.
Part of what makes playing here so unique is that we don't just represent a city. This is Canada's team. And you probably won't find a louder and rowdier bunch of fans.
The city is really unique from any other in baseball. Not long after I first got here, a cab driver described it to me as "New York City if it was run by the Swiss." Had never heard it put like that before.
It's been amazing to be here and watch this love affair that Canadians are having with baseball. There's so much passion for the game.
Now, I'm not delusional. I know hockey will never be the second favorite sport in Canada. But right now, we're sneaking up on it a bit. You can tell that we're taking up more and more of the sports conversation up here.
That being said, I'm glad Auston Matthews isn't playing Friday night.
Part of what makes playing here so unique is that we don't just represent a city. This is Canada's team. And you probably won't find a louder and rowdier bunch of fans. I'm not just talking about at the Rogers Centre. When we travelled to play in Seattle, our fans from Western Canada basically took over Safeco Field. I mean, they were everywhere. We even made the rookies walk back from the stadium in full uniform because we knew they'd get mobbed.
Everywhere you go in Toronto, you encounter people excited about the Blue Jays. These fans really want to win. We can feel that. Every game we play at home, we can tell that everyone in the stadium is completely engaged. It's buzzing with 50,000 people just waiting for the chance to go wild for a great play. Who wouldn't give absolutely everything they have for fans like that?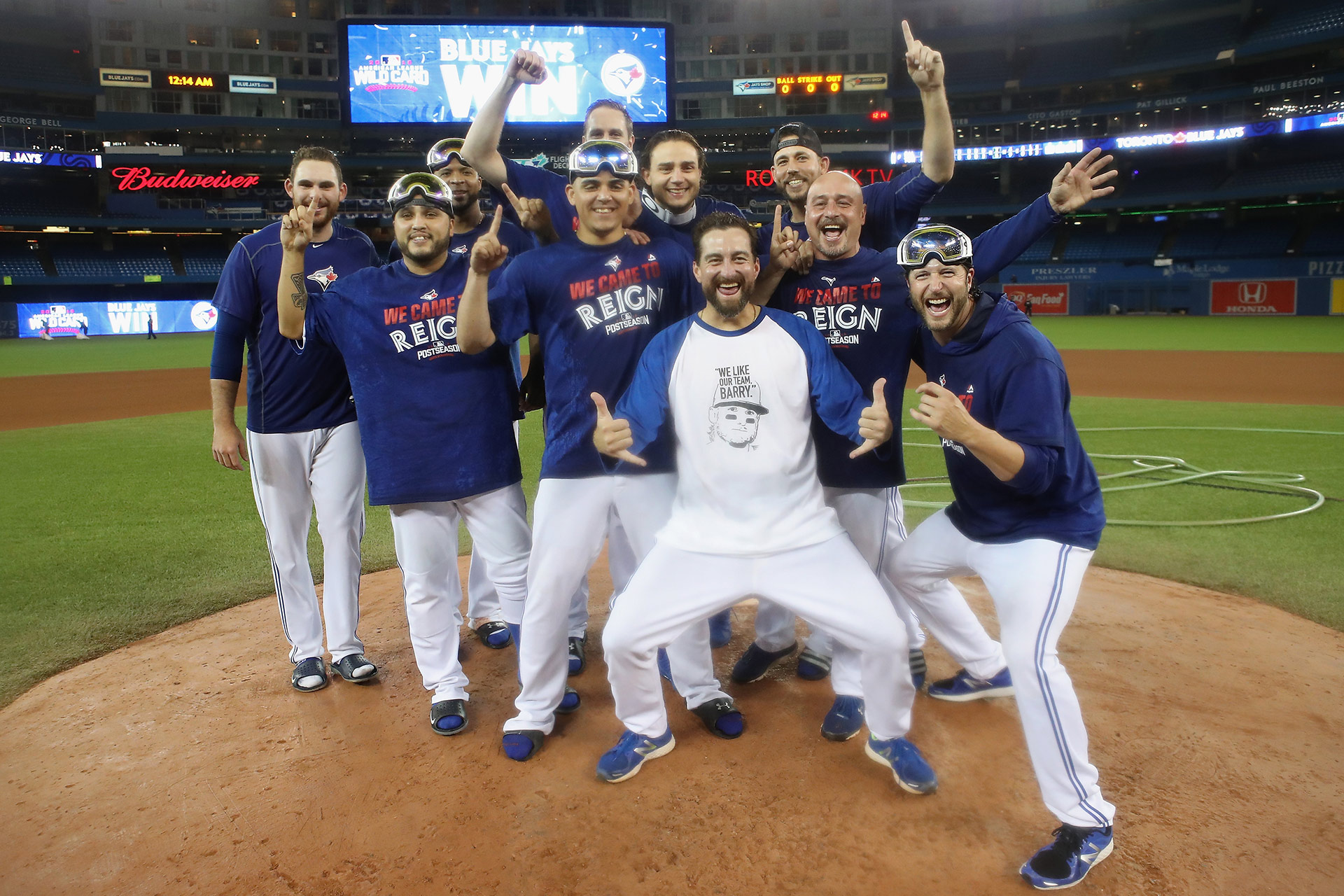 I've been in a lot of big league locker rooms over the years, enough to know that this one is special. This team plays with an edge. There's a certain kind of swag that's infectious. It's not just that each of us has a lot of confidence in our own abilities, but we also believe in the other guys surrounding us. You sometimes hear Canadians described as modest and polite, but that should never be mistaken for complacent. And in that sense, I feel like we do represent the attitude of Toronto – the Toronto that Canadians know. This organization doesn't approach this game quietly or politely. When you walk into our locker room, you'll see a lot of crazy hair and big personalities. We aren't just happy to be here. From the top of the upper decks to the last seat of the dugout, everybody knows we belong here.
Now, there's only one thing that matters: Eight.
Just eight more wins.
Many of guys on this team have never experienced a World Series. There are vets like Tulo and myself who have made it there and fell short. So these past few days, it's been nice to recollect our energy and get ready for this one final push. We're really, really close. We can all sense it.
You know, it's funny, my parents were actually at the game in '93 when Joe Carter hit the Series-winning home run. I was a junior in high school and was away traveling for baseball at the time. I was watching the game on TV, wishing more than anything that I was there too. I'll never forget them calling me afterwards, out of breath from screaming and celebrating. They described how the city was going wild. The entire city of Toronto was in the streets celebrating. All I could do was picture it.
Honestly, 23 years later, I'm still a little bummed out I wasn't there to see the Blue Jays win that World Series. But I'm starting to feel a little better about it, because now, with some luck, I'll have a front-row seat for the next one.