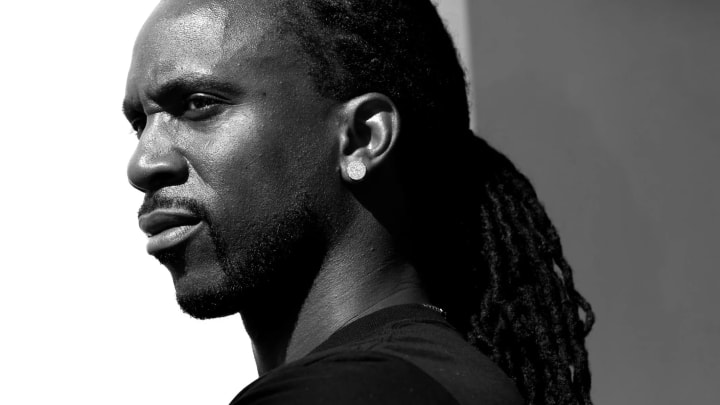 Left Out
A bunch of 12-year-old kids had their hearts broken this week. Jackie Robinson West, a team from Chicago's South Side, won the U.S. title at the 2014 Little League World Series. They achieved their dream in dramatic fashion. I remember watching their pitcher give up the go-ahead homer against Nevada in the title game and he was so crushed that he physically doubled-over on the mound. His team fought back and won in an amazing game, and the joy on that kid's face after the final out was something that made even me jealous.

During the celebration, the cameras cut to a gym on Chicago's South Side where people were gathered to watch, and they were going crazy supporting these kids and their community. It felt so good to see that the game I love still matters in the inner-city.

Then on Wednesday, Jackie Robinson West was stripped of its title for using players who lived "outside the geographical area." There's been a lot of the debate about what happened here, but one thing is clear to me. The incident shined a light on a very complicated issue. Baseball used to be the sport where all you needed was a stick and a ball. It used to be a way out for poor kids. Now it's a sport that increasingly freezes out kids whose parents don't have the income to finance the travel baseball circuit.
I grew up in Fort Meade, Florida. Our town had literally one stoplight. It didn't even have a McDonald's until a few years ago. But we did have a baseball field and a football field. I spent most of my days in the dirt, having fun. From the time I first stepped up in front of a tee-ball stand, I was trying to waggle my bat just like Ken Griffey Jr. Honestly, I was kind of a natural. My grandad used to come out to the field with a big camcorder and tape my tee-ball games. I used to think him and my dad were lying about how good I was back then, but I stumbled upon the tapes a few years ago and I was crushing balls off the walls and running around the bases like crazy. I was good.

But the thing is, nobody outside of Fort Meade knew who I was, even when I was 12 years old, the same age as those kids playing in the Little League World Series. When you're a kid from a low-income family who has talent, how do you get recognized? Now, you have to pay thousands of dollars for the chance to be noticed in showcase tournaments in big cities. My parents loved me, but they had to work hard to put food on the table, and there wasn't much left over. They didn't have the option of skipping a shift to take me to a tournament over the weekend. The hard choices started when I was very young. "Do you want that video game system for Christmas, or do you want a new baseball bat?"

A lot of talented kids my age probably picked the Playstation, and that was it. It was over for them. I always chose the new bat or glove. But all the scraping and saving in the world wasn't going to be enough for my family to send me an hour north to Lakeland every weekend to play against the best competition. That's the challenge for families today. It's not about the $100 bat. It's about the $100-a-night motel room and the $30 gas money and the $300 tournament fee. There's a huge financing gap to get a child to that next level where they might be seen.

Thankfully, an AAU coach by the name of Jimmy Rutland noticed me during an All-Star game when I was 13-years-old and asked my father if I'd ever been on a travel team. At that point, I had barely left the county. My dad told him that it was just too expensive, and coach Rutland basically took me in as if I was another one of his sons. He helped pay for my jerseys and living expenses. My parents took care of what they could, which was basically just money for food.

But this wasn't a Disney movie ending. It wasn't like Jimmy noticed me and I went straight to the top. That was just the first step. There were so many things that had to happen for me to get to where I got. If you're a poor kid with raw ability, it's not enough. You need to be blessed with many mentors to step in and help you. Kim Cherry, Michael Scott — I could list so many names of people who took me in and treated me as if I was their own son. When people talk about the Jackie Robinson West team and blame the adults who took in kids from outside the boundaries that the Little League organization set, remember that those adults may be saviors to those kids. They're the ones buying them shoes when they need it or an extra protein drink after the game.
Sometimes I wasn't even sure how the scouts or AAU coaches found me. It seemed like a miracle. I kept clawing my way up the ladder to better and better teams, kind of like a mercenary. I remember I was playing for the Lakeland Road Runners and we got whooped by the Orlando Red Raiders. They were like professionals to us. After the game, their coach came up to me and asked if I'd want to play on his team. The Red Raiders were big, man. It felt like I had just made the New York Yankees. I remember looking at my buddies on the Road Runners and shrugging, like, "Well, see ya!"

And you know what's crazy? Even despite all the breaks I got with baseball, I probably wouldn't be a Major League player right now if I didn't tear my ACL when I was 15. I thought I was going to play college football. Why? Economics. If I could've been a wide receiver for a D-I school, I would have chosen that path because of the promise of a full scholarship. The University of Florida offered me a baseball scholarship, but it only covered 70 percent of the tuition. My family simply couldn't afford the other 30 percent. The fact is, no matter how good you are, you're not getting a full ride in baseball.

Many low-income kids don't have the option of going to college to develop their game and get an education. They have to roll the dice by entering the MLB draft. I had the good fortune to be drafted by the Pirates in the first round, but I spent four years in the glamorous towns of Williamsport, Hickory, Altoona and Indianapolis. A lot of talented kids look at that lifestyle and compare it to the bright lights of Florida State or Ohio State, and they think, "Okay, I could get a free college education and be on ESPN, or I could spend five years eating cereal for dinner and trying to hit a 90-mile-per-hour fastball in Altoona."

People talk about the big, guaranteed money in baseball, and I certainly feel blessed that I am where I am now. But people don't look at it through the eyes of a 17-year-old kid. You're looking at maybe five years of minor league ball, and then you could be tendered, non-tendered, they can re-sign you for a year. You might be making anywhere from 10 to 50 grand in the minors. If you're lucky enough to get a bonus, you can live well off that money if you spread it out. But just remember, there's up to 40 rounds in the draft. Most guys are struggling.

After three years in the majors, you finally get to arbitration. Basically, by the sixth year in the big leagues, you get your first big contract — if you make it that far. Imagine explaining this confusing process to a 17-year-old kid whose family is just trying to put food on the table. "So you wanna play baseball now?"

There is only one other African American player, Josh Harrison, on the Pittsburgh Pirates with me. People have asked me why I think the numbers are declining overall. There's a lot of talk about kids thinking that baseball is slow and boring, or that they'd rather sit at home and play video games. Maybe there's some truth to that, but to me, there is a deeper problem going on that is affecting low-income kids of all races.
Fixing that problem is complicated, but when I was a kid, I looked at baseball players growing up in Latin America with a lot of envy. If you're a talented kid in the Dominican Republic or Puerto Rico, a team can come along and say, "We're going to sign you for $50,000 and take you into our organization and develop you, feed you, take care of your travel." To me, as a 14-year-old kid whose family was struggling, that would have meant everything to me. I would have taken that deal in a second.

That kind of system would make the game a lot more attractive to kids from low-income families. For all the backlash around the Jackie Robinson West team "cheating," most people are ignoring the truth of how these 12-year-old kids make it out of their towns and onto a national stage. Individuals step in and fill that financial gap. Hopefully those people are trustworthy and have their hearts in the right place. I was fortunate in that respect. Other kids might not be. When you talk to players around Major League Baseball, almost every single one of them has a story about a person who stepped in and took care of their expenses. You hear it all the time: "If it wasn't for this guy, I wouldn't be in the league."

The kids from Jackie Robinson West had a really bad day yesterday. But you know what? Somebody probably watched their Little League World Series run and saw one of them make a smart play in the field or hit a perfect line drive up the gap. That kid might not have been the best player on the team. But somebody saw something in him, and they're going to reach out and say, "Hey, I want you on my team." They're going to become like a second father or mother to that kid. Hopefully that kid has the courage to travel away from his family and the patience to become a great baseball player.

But all over the country, there are thousands of kids who are playing in a cornfield in Nebraska or a swampy field in Central Florida and they feel like nobody is watching. We need to find a better (and most definitely cheaper) way to give those kids a chance at a way out.