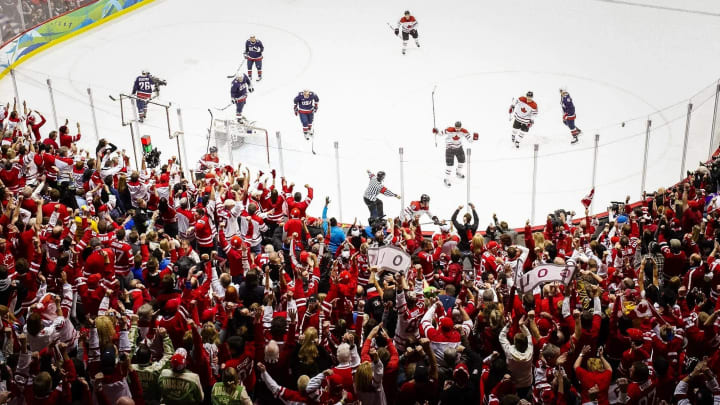 Somebody's Going To Be A Hero Tonight
David E. Klutho/Sports Illustrated via Getty Images
Ten years ago.
The 21st Winter Olympic Games in Vancouver, Canada.
Canada vs. Team USA for men's hockey gold.
This is the story of that game, from the players who played in it.
---
---
Jarome Iginla: We were deflated.
To be that close to a gold medal … and have them tie it up right at the end of the third … that hurt. The intermission before OT was unlike any other I've experienced in my career. I think I'd be lying if I said we knew we were going to score, or that it was business as usual — the feeling, for me personally at least, was more of just trying to stay out of my own head. I tried not to think of the moment, the pressure.
Then I looked up at the whiteboard, and Coach had me paired with Sid for overtime. I knew I was ready.
Zach Parise: Our room was full of energy. Everyone just came in with this buzz. We were feeding off the tension in the arena. And for me I was just trying to settle myself after scoring — trying to get my heartrate down a bit and listen to the guys in the room. I remember, we started talking about our lines because OT was four-on-four. Then you start planning for what Canada might throw out there, and just the type of talent they could have on the ice…. Both rosters were insane.
Jonathan Toews: I remember looking at the stick rack during our first practice a few weeks before and just reading some of the names, like, Where am I? To be a part of a team with so many elite players, you kind of have to remind yourself that you belong.
Ryan Suter: That's the unique thing about the Olympics. The talent level of our team, and our opponents, was so high that the game is different, in a way. Passes are so crisp, the guys are so fast and know where to be at all times … you just have to be on all the time. When you play Canada, and you're looking up and down the lineup just trying to figure out where you might have a break, or have a chance to be a bit more aggressive as a defensemen — and there's just no drop off from their first line to their fourth.
Zach: I know teams felt that way about us, too. I thought we had one of the best constructed rosters there. Building a team out of the talent we had is a hard thing to do, but I loved our group. From our leaders, like Jamie Langenbrunner and Ryan, to our young guys like Patrick Kane and Bobby Ryan, it was a well-rounded group and we were all on the same page.
Ryan: That's how I remember it. From the moment we got to Vancouver, everyone was in it together. There was a lot of pressure on Canada. The Russians and the Swedes had good teams, too. But for us it was just one game, one period, one shift at a time — that's how we win this thing.
Jarome: There was a weight … for sure. I'm fortunate enough to have played in two Olympic Games before, so I knew what the expectations would be of course, and the pressure and criticism that comes with that. In Salt Lake, we won the gold, so I don't really remember that intensity and duress that we got put under as players. Four years later in Turin, the tournament didn't go the way we wanted and the response from fans and media was tough. It wasn't easy to deal with it. You never want to feel like you let anyone down, let alone your country. So going into Vancouver, as soon as we touched down — even though the atmosphere in the city was incredible, and everyone was so happy — we knew, as players, We gotta win. No other option.
Jonathan: It was my first Olympic Games, so I was really just trying to soak everything in. We had such a good group of leaders, and, as a young guy who wanted to be a leader back in Chicago, I was just trying to be a sponge. I think we all knew what was expected but the city and country really had all the athletes' backs. I remember those first few nights in the village, you could hear the city roar across the water that separated the athletes from downtown every time Canada would win a medal.
Robert Beck/Sports Illustrated via Getty
Zach: The first game against Canada in the round robin changed things for us, big time. Beating them 5–3, we felt like we could beat anyone. We had a quiet confidence after that.
Ryan: That was a huge win. Because, even though you have an idea of how good teams are, you just don't know. You're thinking, How do we stack up against so-and-so? And there's no answer until you get out there. So once we were able to not only keep it close with Canada, but beat them, it didn't change our expectations or put pressure on us — we just knew we had a chance to win the whole thing.
Jarome: I'm going to be honest here, fellas. I don't remember a whole lot from that game. Maybe I blocked it out. Losing to the States in Canada in the Olympics, I could see that being a memory I suppressed.
But I do remember the day after. Stevie Yzerman, who was part of the management group and did such a great job organizing this team, he called us into a meeting room in the Olympic Village. Everybody was a bit down, a bit tense after the loss and Stevie knew it.
"It's not life or death, gentlemen."
That's the line I remember.
We all, somewhere deep in the back of our minds, knew it wasn't do or die … but it didn't feel like that, you know? The pressure was a lot to handle. We all felt it. Our families could feel it when we'd see them between games and each passing day, as we got closer to the knockout round, it would grow. Stevie's meeting that day changed the course of our team, I'm sure of it.
Even though you know the sun will come up tomorrow, it's nice to be reassured of it sometimes.
Losing to the States in Canada in the Olympics, I could see that being a memory I suppressed.
Jonathan: To hear that relieved some of the pressure. It just reset us in a way. Our group really took that talk to heart and, you know, now thinking back I almost wonder if losing that game was the best thing that could happen to us. Having to go through a more difficult knockout round stage and playing Russia and Slovakia really prepared us for the intensity of the final.
Zach: As Americans, whether it be travel teams, world juniors or other international tournaments, you know the expectations Canadians have for themselves. You know they hate to lose, and you know they really hate to lose to us. We tried to play off that pressure and just keep them uncomfortable in that first game.
Ryan: For me, my dad had history with our country at the Olympics, of course, because he was part of the 1980 "Miracle on Ice" Lake Placid team that won gold. So to grow up in a household like that, I knew what it meant to wear an American sweater. And knowing that means you also know how the Canadians feel about the game, and their teams at all levels.
That rivalry, and the expectations of both sides, is part of the makeup of every game we play.
Also, just to have my dad there with me and the rest of the family in Vancouver was really special. Like Iggy, I don't remember too much from outside the big games. But having Dad there and being able to compete for a medal in an American jersey in front of him, it sort of settled me a bit.
Zach: Getting through the round robin, and then surviving the knockout rounds and knowing you're going to play Canada for a gold medal … that's when the nerves hit. We had a day off before the final game and I think a lot of us were just in a bit of a fog — we just wanted to get out there and play for it.
Jarome: It was a noon start for the gold medal game, so the night before was a little different than, say, a Stanley Cup final or something like that. We were all trying to get to bed early, but, yeah, not so easy to sleep.
Jonathan: It was probably the most nerve-racking night before — and morning of — a game I've ever had. I thought of it almost like when there's something you don't really want to do, whether it's give a big speech or sky dive or whatever, but you know you have to do it — you've just got to close your eyes, take a breath and do it. I've grown to love the pressure, but being 21 years old…. Man, it was a long night.
Zach: Yeah, I just remember the excitement level the night before.
I've never wanted to play a game so badly in my life.
Ryan: The early game was nice because there's no time to sit around and think about it, to let the pressure get to you. You just wake up, do your thing and head to the rink.
Zach: The tension in the city, in the rink … it was really a surreal experience. You could see how much the day meant to everyone, from both countries, just by looking in their eyes.
Everything about that day felt different.
Jonathan: I just wanted the puck to drop. All I wanted. I remember just thinking, Alright, there's nothing we can do … we're going through this. I'm thankful it was an early start because I just wanted to suit up and get to it. I didn't give myself much of an opportunity to soak it all in.
Zach: I remember during the tournament we had 20-minute warmups, whereas in the NHL they were 16 minutes. And Canada liked to keep things as close to NHL-standard as possible, so for the first few minutes of warmup we were out there on our own. It was a little weird for sure because it was packed in there, and they're all just watching us and waiting for Canada to come out.
Ryan: And, yeah, there was a buzz when they came out. I don't think we were any more nervous then they were, but just that sound when they got on the ice … your hands grip the stick a bit tighter, Here … we … go.
Harry How/Getty Images
Jarome: Man, it was a good game right from the get-go, too. Just a lot of energy on both sides. I think, just in terms of the quality of the hockey, it was really an incredible game to play in.
Zach: Obviously ignoring the result, it was, without a doubt, the most fun I've ever had playing hockey in my life. As athletes you try as best as you can not to let the moment get too big, or let your head wander, but I think our team did a good job of appreciating the day and the experience.
Jarome: Everybody is just so fresh. It's different than a Cup final because there haven't been four, five, six games to build up that dislike for the other team, and you haven't been playing for 10 months so your body feels good. You haven't had to travel much, either, and there's a good amount of time between games — it's just all systems go. It's amazing.
Jonathan: Yeah, I remember just the intensity of the first couple shifts were really, really high. I was just trying to make sure I was breathing and doing the little things I needed to do. I had this feeling, actually, right before the game like, I'm gettin' a bounce today, I know it. I just know it. I hadn't had a goal all tournament, so to get one in the first period, it really put my feet back under me. To see the puck hit the back of the net, it was just refreshing to remember that, despite all the nerves and the feelings and the tension, that it's still just a hockey game.
Ryan: I think we started O.K., actually, despite being down 1–0. You know, I don't think about the game too often but I don't remember us ever feeling like we were on the ropes or we couldn't get a hold of the game.
Zach: Yeah, I think when they scored in the second period to make it 2–0 we were a little bit shocked. Because we knew we were better than we were showing and we felt we were in the game. They were both sort of weird goals and we knew we could beat them because we had done it. I remember Ryan Whitney and some guys kept the energy up on our bench and that helped us to stay together and that eventually led to Ryan Kesler's goal.
Jarome: The 2–1 goal was a big one because it snapped us out of any ideas that this game was going to be easy. Nobody thought it would be, of course, but we were up 2–0 and the building was electric, we were moving the puck well and the clock was going fast. Those are things you want to see and want to feel when you're in the lead. Ryan's goal changed that.
Jonathan: I originally thought Kaner had scored for them. But I guess it was Kes who got it and, yeah, it changed the atmosphere in our room.
Zach: We knew we could get one in the third. There was nothing but belief on that bench. It sounds cliché, but it's not always that way. I've been in games where you know, in your gut, that you're not coming back. But our entire bench, when they hopped over onto the ice for a shift, they gave it everything. And Ryan Miller in net was the rock we needed.
Ryan: That's how I remember that group. The third period sums up the team we had there. Full of passion for the sweater and almost a stubbornness toward defeat. It was a great period of hockey.
I've been in games where you know, in your gut, that you're not coming back. But our entire bench, when they hopped over onto the ice for a shift, they gave it everything.
Jarome: Full respect to the U.S., they came as hard at us I've seen any team go in a big game like that. It was just a pure battle. Go, go, go for 45 seconds and get off. I thought we held our own really well in the circumstances.
Jonathan: Zach's goal was a gut-punch, for sure. To be 30 seconds from a gold medal … in a game like that.… It was hard to regroup there on the bench. The whole arena had the wind knocked out of it.
Zach: Life. We had life again.
We were pushing so hard, and they just kept chipping the puck out, and chipping the puck out. There were a lot of whistles and the rhythm was getting away from us a bit. But, I mean … you train your whole life for moments like this, there just wasn't going to be any quit on either side. We had a good shift and I remember seeing Kaner spin around and throw the puck at the net, then I looked down and it was on my stick and instinctively I just shot. All I heard was a thud from the puck hitting the base of the back of the net and I took off for the corner. Big time celly.
Ryan: We knew it was coming. We felt like, we're winning this in the next 30 seconds or we'll get it done in overtime. One shift at a time. That was our team.
Jonathan: The walk back to the locker room was tough. My head felt like it was moving pretty quick.
There was maybe a few seconds of silence in there, but really I remember a bunch of guys going around the room, just saying, "Boys, we're alright here. We're just going to get the next one. That's it. Let's go."
And the coaches came in with good energy and, really, that makes all the difference. Maybe another group doesn't recover from a late goal like that, but I'm proud of the way we bounced back.
Zach: Our room was excited, but we settled down quickly and started going over the four-on-four stuff. We just kept talking, whether it was strategy or just guys saying. "One goal, guys. One goal. That's it. Get the puck on net." There was no time to get lost in your own head. We were ready for overtime.
Jarome: When Coach said I was with Sid, I was a little bit surprised. We had so much talent, and he could have picked anybody, but to hear my name … I was excited. Man, I was so excited. All the other feelings were there, too, of course.
But, yeah … gold medal game, overtime, in Canada, against the States.
That's it, right? That's the moment every kid in our country dreams of.
I remember Scott Niedermayer saying, "Somebody's going to be a hero tonight."
Let's do it.
Ryan: I just remember the goal.
Jarome, Jonathan and Zach: Same.
Jarome: One of the things I learned about Sid during that tournament is that he's vocal. He's always talking out there, trying to direct play and get the puck to go where he wants. It's one of the things that make him a great player, absolutely. But one of the things I picked up on was that he has a few different … voices, let's say. If there's an outlet pass to relieve some pressure, he might say, "I'm with ya'! I'm with ya'!" in a solid, stern tone.
And, as a player, you know that he's open and ready to go. Pretty standard.
But he's got this other voice, this other octave, that he goes to when he really wants the puck. It's more of a yell. Guy just loves to score.
So, I think on our second shift in OT, he brought the puck in, tried to make a move and it ended up in the corner. I cycled in below him to help out and it ended up on my stick, and then I heard that voice.
"Iggy! Iggy! Iggy!"
Loud. Clear.
It almost shocked me, a bit.
I gotta get this guy the puck.
I think Ryan did a good job of getting me up against the boards and I just did my best to move the puck to Sid. Then the next thing I heard was the crowd on the other side of the glass in front of me. I didn't even see it go in. The place erupted and it's all a bit of a blur after that.
Jonathan: I can still see Sid's gloves flying off his hands when I think about it. The sound was pretty unbelievable and just the immediate sense of relief … it's hard to put into words what that moment was like.
Jarome: The relief and just the thrill of it all. The rush to the corner … the looks on all the guy's faces — it was an unforgettable feeling. I remember feeling so proud of everybody out there, and so happy for the Canadians in the crowd.
Zach: I remember the puck hitting the ref on the boards, right before Sid got it.
Ryan: I remember that, too.
Zach: But, of course, that's just hockey. It's just the way it goes in games like that. We had chances at the other end, too. In the moment, it's just crushing. Right, like there's no other way to describe it. It's hard to have any perspective on it right then and there. You feel for your teammates, for your goalie who played one hell of a game and had an outstanding tournament. It's just tough.
Ryan: Frustration. At the time you don't appreciate the medal you get. And it's tough to have been on the ice for the goal and everything. It's hard because I think that group we had was really a great example of what U.S. hockey is capable of producing. Everyone played the game the right way, cared for one another and wore the sweater with pride.
We just wanted the final bounce to go our way.
Christopher Morris/Corbis via Getty Imag
Jonathan: I did my best, in all the mayhem after the goal, to try and take it all in, because I learned from a young age that any feeling like that will, in just a few hours, slip away. So I tried to bottle that experience and took some time to look up at the crowd, at the flags and the faces and really put myself in the moment.
Jarome: It's obviously a unique situation, with the other team having to stay out on the ice for the medal ceremony and the anthems and everything. I have so much respect for those guys on the other side and a part of the reason that game is remembered the way it is, is because of how good they were.
Jonathan: I had teammates and friends on the U.S. team, so of course you admire those guys and the team they had, too.
But those moments on the ice afterward, to be out there with so many guys I looked up to and learned from and to hear the anthem — that's one of the best feelings I've ever had in my life.
Ryan: It took some time to get over it all. I think now, 10 years later, I have the proper perspective on what those two weeks meant for myself, U.S. hockey and just the sport in general.
I'll always be immensely proud to have been a part of that team. And to be an Olympic medalist, like my father, is something I'll cherish for life.
Zach: I feel the same way. I think if you had told me, as a kid, that I would win a silver medal at the Olympics … I would have called you crazy. Those two weeks mean a lot to me.
It's funny, actually, a few years ago my son was home sick from school and I guess he found the game on YouTube or something and watched it. He wasn't born yet in 2010, so it was his first time seeing it.
So when I got home that day from a practice I think, he recreated my goal for me.
Puck scramble in front of the crease … he spins around … fires the puck as hard as he can to the back of the net … then he takes off for the wall and bounces into and throws his arms up into the air.
To watch my little boy recreate a goal I scored in an Olympic gold medal game — that's priceless.
I'm so proud of what our team accomplished in Vancouver.
Jonathan: I'll remember that game and those two weeks really for the rest of my life. To go through that pressure, that intensity, and come out on the other playing the way we wanted to play, and winning the gold — it helped me a lot as a player.
I learned so much about being a leader and team player in Vancouver, and to have played a role in that game, it's one of the greatest honors of my life.
Jarome: I'm very proud to have represented Canada at three Olympic Games and every time it's such a privilege and an honor. But I'd be lying if I said that 2010, in Vancouver, didn't stand out just a little bit more. The entire two weeks were just so thrilling and fun to be a part of. It's one of those things where sometimes I have to double-check that I was actually there, and that I actually got Sid the puck — because it still seems like a dream sometimes.
Now that I've been away from the game for a little while, it's clear to me how much that game meant to our country and everyone who has been touched by this sport.
It's something I'll never forget, and always be grateful for.