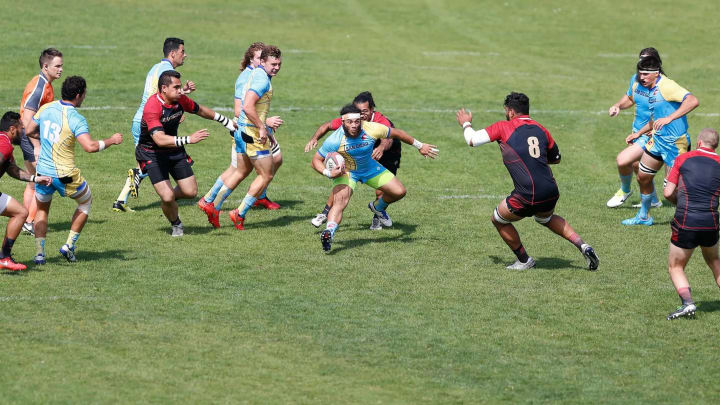 An American Rugby League
Oh they'd be dominant."
My English teammate took a sip of his latte.
My other teammate, also English, nodded in agreement.
"No question, it'll change everything. Everybody will want to play there."
Two things I really embraced during my career playing rugby overseas were the places where players most enjoy congregating: The pub and the coffee shop.
The pub was generally a place of celebration — somewhere we could have a drink with one another, or in the majority of cases, with our opponents, the very same guys we had just beat the hell out of for 80 minutes. On the other hand, the coffee shop — our post-training headquarters — was reserved more often for large-group therapy sessions. It's a place for the boys to let their hair down, complain, whine, bicker and discuss every topic imaginable related to life, rugby and everything in between.
Among the most popular topics of conversation over coffee was this: What would happen if America finally got a professional rugby league?
SIDENOTES I TOOK LEAVE TO GO TO TRAINING CAMP. David Dolinar explains how he splits his time between professional rugby and being a marine. (1:04)
It's always been a tantalizing prospect to people who follow the sport closely, because in so many ways rugby feels like a natural fit for what sports fans in the States look for when it comes to entertainment. It checks off all the major boxes:
Big hits? Check.
Fast pace? Check.
Fun to watch while drinking? Big, big check.
There are a lot of reasons why rugby should be popular in America, but the one thing that has always been missing is exposure. That's why the U.S. is discussed by rugby fans in other countries as sort of a sleeping giant. If only a small percentage of the amazing athletes in North America were to turn their focus to the sport, this continent could probably produce some of the finest talent in the world.
I fell in love with rugby at the age of 13 in Oakville, Ont. This might seem somewhat surprising because most Canadians spend their teenage years jamming their feet into hockey skates rather than cleats. But to anyone who has picked up that oddly shaped ball, the way I was drawn to the sport isn't surprising at all. Rugby changes you. There's just something incredibly intoxicating about this sport. You literally become a different person. It supports a culture of camaraderie and respect amongst teammates and opponents alike, regardless of your size or background. That's why pretty much everyone who plays this game develops a deep attachment to it.
When I was 16, my high school team went on tour in South Africa, a well known rugby hub, and it was there that I really discovered the rich culture of this sport. We touched down on a different continent and instead of heading to a hotel, we went straight to our opponents' houses. We stayed with the players who we were about to play against. We ate with them, we went out with them — we did everything together. But come game time we put in our mouth guards, threw on different jerseys and spent 80 minutes trying to kill each other. As soon as the clock expired, though, regardless of the score, we were friends again. That's the culture this game inspires. That's rugby.
A few years later I reached a crossroads. I was involved with Canada's national team, an honor that meant a lot to me, but it wasn't something you could make a living at. Back then, there was still no organized professional rugby in North America. If I wanted to truly reach my potential, I knew I would have to dedicate my life to rugby and seek out professional opportunities abroad.
So, I decided to embark on a journey that took me around the world, going wherever I could learn more about the sport. I went to school in Australia, bunked up with a family in New Zealand and eventually found myself in Coventry, England, where I signed my first professional contract.  I was paid 16,000 pounds (or roughly $23,000) that first season, and lived in a tiny run-down house (a shack, really). There was no guarantee of any sort of playing time or even of a second season with the team. Such relatively meager offers are generally the only ones on the table in Europe for rugby players from North America. We're an unknown quantity. For the most part, the highest level of competition available to most North American ruggers is in club-level leagues, where the quality of play varies wildly.
Fortunately, things got better for me. I used that first contract to get another one and eventually played many years in England's top league. Jumping overseas with few guarantees was a risk I had been willing to take, but it deters many other talented North American players from pursuing careers in rugby. And the lack of professional players is the biggest thing holding North America back from becoming a powerhouse in the sport.
The talent is there. Everyone knows it. Which is why I've had so many speculative conversations with my English teammates over the years that center around, What if?
What if North America began paying attention to rugby?
What if the great athletes in the States had a way to develop their skills?
What if there was a professional rugby league there?
These are questions I've been pondering for most of my life, but it wasn't until a few months ago that I finally got some answers.
***
SIDENOTES WE PLAY AN EVASION SPORT. Longtime professional Andrew Suinola compares the fundamentals of rugby to basketball (0:56)
Timing is everything.
Did you know that the "selfie stick" was invented in the 1980s? Then was reintroduced again in 1995?
While the selfie stick was a genius idea (truly, I love them), both attempts never exploded into the epidemic that we know today. No front-facing camera, no Instagram, no Facebook — the time simply wasn't right.
A sold-out crowd at Soldier field to watch the U.S. national team play against the All Blacks, signaled a shift in rugby culture in North America. A sold-out crowd in Vancouver for the national seven's tournament signaled another. Now, in anticipation of rugby's upcoming appearance at the 2016 Olympics, it seems clear to those in sport that there's never been a time to take the sport to the next level in America.
So given that, I suppose I shouldn't have been as surprised as I was when, just a few months ago, I started hearing rumblings of a professional rugby league starting in the States. Even at the beginning of the year I didn't know much. But I was intrigued, so I reached out to one of my friends who I had played with overseas and he put me in contact with Steve Lewis. Steve is a visionary and rugby enthusiast who was working to get players signed for the league. I talked with him briefly and he confirmed that this was actually going down.
The league was called PRO Rugby, and the inaugural season would feature five teams playing 12 regular season games. The competition was to be sanctioned by both USA Rugby and World Rugby. This first season would look to get things off the ground, and from there the league would looks towards growth and expansion.
I immediately thought back to myself at 16, when I was wishing that there was an easier way to pursue a career in rugby. This was the kind of opportunity I would have killed for back then, and and now I could help make it happen. I decided to go for it. I had no idea what to expect, but I signed a contract and said I'd be wherever they needed me.
In March, six weeks before the season was set to start, I met my teammates at our first training camp. Together, we were San Diego's first professional rugby team. I honestly had no idea what to expect. However, when we showed up we were given the red-carpet treatment: Facilities, food, staff members. You name it, we got it. The league even arranged for us to train at Exos, a state-of-the-art training facility. We were working out alongside top-level NFL players and even got a tutorial on how to Dab from none other than Cam Newton himself. We went from zero to 100 real quick.
SIDENOTES I GOT SHOT IN DRIVE-BY A COUPLE OF DAYS PRIOR TO THE NFL DRAFT. NOW I'M PLAYING PROFESSIONAL RUGBY. TO ME IT'S A BLESSING. Sione Tu'ihalamaka shares his gratitude for how rugby has helped shape his life (0:59)
Our training at Exos very much set the tone for the team. I don't think anyone knew what to expect coming into this, but training camp let us know that things were serious. The trainers we worked with had never actually seen a rugby match before, but they knew that we needed to be fast, strong and fit, so they worked us in the most purposeful and intense way I have ever experienced. We ground through six weeks of the best training I have ever been a part of and by the end of it, every one of us had become a superhero version of his previous self. It was insane.
The team itself had a very wide range of experience. Some guys (aka the old man crew, which I am reluctantly a member of) had played the sport professionally for 10 to 15 years. We were joined by some great athletes who were trying out the sport competitively for the first time. Because of the divide in experience, sometimes our practices would be filled with a lot of theory, going over the basics of the game. This could have been discouraging, but I actually found it exciting. Each day at training, I got a glimpse of exactly the type of tantalizing potential that rugby players around the world have been talking about forever. Just as I figured, every one of my teammates had all the physical tools, but just needed to learn the sport.
Take Sione Tu'ihalamaka, for example. He played football at Arizona with Rob Gronkowski, and was so talented that many expected him to play in the NFL one day. But a few weeks before the draft, Sione was hit by a stray bullet in a drive-by shooting while he was visiting his grandfather. The injury ruined his chances of getting drafted, but after he recovered, he started playing in the Arena Football League, where he caught the attention of PRO Rugby scouts. Now, he's my teammate. Thank God for that, because not only is he a stand-up guy, but he's also an absolute fridge. Let's just say that he's not someone I'd ever want to tackle in a match.
It's guys like Sione who make PRO Rugby so exciting. He'd only played a couple of years of rugby in high school before joining us, so he's definitely still has room to grow. But what's really special about him is what can't be taught: He's incredibly strong, unbelievably explosive and has the competitive drive to keep improving. Don't be surprised to see him wearing a U.S. national team jersey in the near future. From personal experience, I can tell you that very few international rugby players will be able to stop him.
Our roster is full of similar stories. We all have embarked on a unique journey to get to this point. And now, we all share a passion for what we're building here. We're making history. And there's no other group of guys I'd rather be doing it with.
How do you start a team from scratch, much less a league?
It's a crazy proposition.
Each day something new and unexpected can happen. For example, we still have no team name. We're working on that right now. As a way to promote PRO Rugby, they're letting the fans name the teams. I don't see any way this can backfire. (Hopefully we won't become Teamy McTeamface.)
I've made my preference clear. Everyone calls me by the nickname "Dragon," which is surprising considering it's one I made up for myself after a few too many glasses of wine in France several years ago. So, selfishly, I have been pushing for the San Diego Dragons. But over the course of the past few months we have been testing out a few different team names every time we break for practice. We're still very much in the R&D phase. Hands go in, we count to three and whoever is breaking us out calls a team name.
"1-2-3 Tropics!"
That's the current favorite name.
"1-2-3 Maple Leafs!"
In honor of the Canadian contingent on the team, but this wouldn't be a great omen for our title chances.
"1-2-3 Slugs!"
… Nah.
In the build up to our first game, someone on our media team asked me for a head shot. I didn't think much of it and sent the best one I could find, which happened to be a dumb picture of me with my tongue out (my best impression of a Dragon). My teammates and I also did different things to promote the league on social media. We did a Facebook Live event showing off our facilities, and tried to add some personality. Seeing as my nickname overseas is Dragon, my U.K. teammates said that I should refer to myself as Diego Dragon when in San Diego. I did just that. Officially, it was my second self-proclaimed nickname. My other buddy Tim Stanfill opted for an even cooler name: Mullet Man. Why? Well, because he has a mullet and he is a man.
We tried to do our part to build up excitement, but ultimately had no idea what to expect in terms of fan attendance. If there were 500 people there for our game, I would have been elated.
I showed up two hours before the first game, and as I walked to the locker room, I saw something that shocked me: fans.
A couple of them approached me to say how excited they were to watch the game. I almost did a double take. I got dressed, and when I came out onto the field for warmups, I found out what had become of my head shot. As I was stretching, I saw 50 kids holding up huge signs with my head on them, tongue sticking out in all its glory. I was a proud Dragon to say the least. They were all screaming my name. It was amazing and bizarre at the same time. I didn't expectanybodyto know who I was, much less shout my name. It kind of felt like I was inThe Truman Showor something.
SIDENOTES USA IS GONNA BE THE TEAM TO BEAT SOMEDAY. Mikey Teo looks forward to America as a rugby powerhouse. (0:57)
When the game began, there were a few thousand people in the stands, which blew us away. It was really interesting playing in front of a large group of people, many of whom had never seen a professional rugby match before. What stood out the most was how much they loved it. Every time there was a big hit, you could hear everyone in the stands freak out in a way I hadn't really experienced before. Our trainers from Exos even came to get their first glimpse at what they'd been training us for and were probably the loudest people in the stadium, which was amazing.
Our fans got so into it that we could actually hear them chirping the other team.
"Get your hands off your knees, 14!"
"You got NOTHING 11! NOTHING!"
What probably took me the most off guard though was the commentary over the P.A. system. Early on during the game, I was running next to Tim and he passed me the ball. Over the loudspeaker I hear, "Mullet Man gives it off to Diego Dragon!" I tried to stay in the moment as much as possible, but that cracked me up.
It was like no other rugby game I've ever experienced — in the best way possible.
We ended up winning the game, and afterward we all did a lap greeting our fans. We signed autographs and took pictures. It was like we were … a professional rugby team … in America. How about that?
My family and even a close friend, Dave Seymour, the captain of the Sale Sharks professional rugby team, flew over from England for three days to come out and visit. He was amazed by the entire event. He literally couldn't believe what he was seeing. Rugby being embraced in America by thousands of people.
After the game, I think the guys on the team felt a sort of relief. Coming to this league was a big risk for everybody involved. It still is, honestly. We're all very realistic about the uphill climb in front of us. But we're also excited, because we believe in what we're doing.
The week after the game, I was in La Jolla grabbing breakfast. As I was sitting at my table when a man came up to me.
"Oh, my God! Dragon! Great game this weekend!"
I looked around. Was I being set up? How could this guy know who I was? But it was real. And it was a step in the right direction toward our larger goal.
I didn't give much notice to my teammates in England before I ventured to San Diego in February to join this team — only a couple of days. But before I left, to my surprise, 20 guys on the team showed up to meet me for coffee. They weren't there to send me off. They wanted intel.
As I described this new league, I noticed the guys leaning in closer and closer to me, intrigued. I've never seen anything like it. All the players on the team, even the well-known superstars, wanted to know more.
I didn't have much to tell them, because there wasn't much to tell. Like with anything that's new, we still don't know what the future holds. What we do know, and what excited these seasoned professionals most, is that this a huge, historic opportunity.
And for me and many others, it's a dream come true.