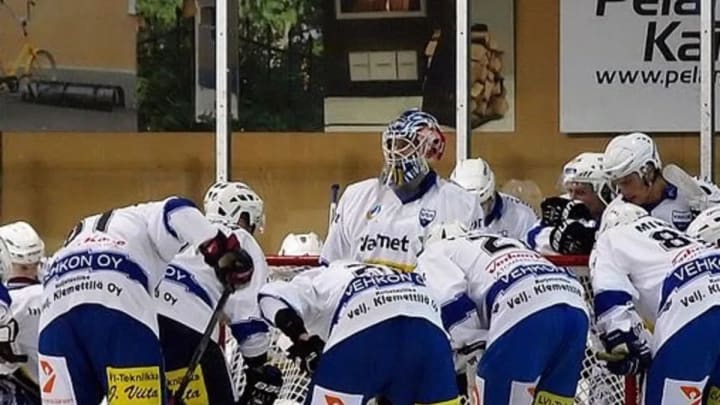 Overseas and Alone
There were plenty of times when I wanted to book a flight home from Finland. Times when it didn't seem like any of this was worth it in order to play professional hockey.
Ironically, just a few months prior, I had been over the moon just to get the opportunity to play overseas. I was one of the fortunate few to make the leap from collegiate club hockey to pro hockey. The opportunity pretty much came out of nowhere. During my senior year at Washington, a guy who I figured was just a random Finnish person, added me as a friend on Facebook. He sent me a long message about the Finnish club Virkia, which is based in the town of Lapua. Not long after that, I signed a one-year contract. It was like I was in a dream.
Of course, I knew moving to Lapua would have its challenges, but I expected most of them to be related to my job.
But I didn't consider how I'd cope with it getting dark outside at 2:30 pm, or the weeks of minus –15° weather. My apartment got so cold at one point in late January that I slept at the rink. I had been sleeping in my apartment for over a week without any heat and would wake up during the night shivering. Keep in mind the temperature in January was below zero most of the month. The walk to the home arena was less than ten minutes, so I felt it was worth having to go out into the cold in order to get a good night's sleep. There was a small office there that had heat and a couch. My feet hung off the end, but that was also the case in the small twin-sized bed in my apartment, so I was used to it. My place had one small space heater, but it didn't do much. I would go to sleep fully clothed — I even wore my winter coat most of the time. It didn't seem to make a difference. Sometimes it felt like I was sleeping outside.
The nightlife in town was nonexistent. There was one nightclub, but it was open for less than two months during the season. Single women were tough to come by unless you were willing to take a taxi to the nearest city 20 minutes away, round-trip it cost roughly 120 euros (about $130 USD). Late on Friday and Saturday nights after games, I'd sit covered in a blanket on my couch, applying for jobs.
Other than interacting with my Virkia teammates, I'd go weeks without seeing a single person my age. For fun, high schoolers drove around in their cars and tractors on the main roads of the town for hours on end on Friday and Saturday nights. It was like a scene out of American Graffiti.
I didn't come into this experience unprepared. I had done my own research on what I was getting into before I arrived by talking with players, coaches. Everything I heard from past import players was mostly positive, so I felt really optimistic about how my season would go. Beyond visions of hot blondes everywhere, I imagined being one of the best players on the team and giving myself a shot of moving up the professional ranks in Europe.
Before going into more detail, I want to emphasize that I'm very grateful for the chance to play in Finland. But I realize now that I was naive about a few things. I'm not doing this to vent, but to paint a picture for other kids coming up who might be considering a professional career overseas. There are parts of the business side of sports that many people don't hear about. There's a reason for that.
***
Things got off to a promising start. In September, I played the entire preseason on the first line and finished third on the team in points. I was really pleased with that because all anyone looks at out there is your stats, especially at the lower levels. If you want to move up, you can't be a role player just chipping in here and there. There are hardly ever any scouts in the stands watching, so if another team is interested in you, all they have to go off of are your stats — and maybe the opinions of your coaches if they happen to speak the same language.
But after the first game of the regular season (a loss in which I had one assist), I never made it back to the first line. I was in the stands as a healthy scratch for our second game, the team's home opener. After that, the coaching staff, without management's approval (I was told), brought in a Finnish forward to replace me on the first line and then another local forward in November. Those signings pretty much did away with any possibility of me having a major role with the club. I played on the third and fourth lines most of the season. Guys in the front office told me they were pissed, but they did nothing about it. Despite my lack of playing time, I finished the regular season tied for third on the team in points.
The majority of my teammates were playing for virtually no money. As the highest paid player on the team, I was one of the few making reasonable money. I even earned more than the American import on our higher affiliate team S-Kiekko, which made the lack of playing time even more confusing. I was told multiple times during preseason that I would be called up to the affiliate, but I never even went to a single S-Kiekko practice.
When I talked to my head coach about what I needed to do to move up in the lineup, his advice was always to play "old time hockey like Eddie Shore." I had to hold in my laughter when he'd use that line because he had clearly ripped it off from the Hanson Brothers, who coined it in the movie Slapshot. Beyond that, I was pretty confident he knew nothing about Eddie Shore, a legendary Canadian defenseman of the 1920s and '30s known for leading the NHL in penalty minutes and generally insane antics. That's not the kind of hockey they play in Finland — at all. If I played like him I would have been kicked out of every game I played.
The team was good about paying me on time for the first couple of months, but when it was late, it was late by at least a few weeks. Management did all it could to not pay my full salary towards the end of the season. I wasn't in town over Christmas while the team was on break. As a result, Virkia decided it wasn't going to pay my full December salary. And when we were off for a couple of days in January and February and I had weekend trips planned to Rome and Stockholm. The team claimed traveling outside of the country during the season was a breach of contract, even though there were no such restrictions listed in my contract and I wouldn't be missing any scheduled team functions. I had even gotten approval for the trips before booking them. The team also didn't want to pay for the number of sticks that were allocated under my contract. It was a mess.
It wasn't like my treatment was that much different or worse than other players. While in Lapua, I roomed with a Latvian teammate. He was the only other foreign player on the team.  We got along really well, and he spoke English, so griping our lives in Finland was a common topic.
Before he arrived in Lapua, he had been promised a job during the season with one of the many sponsors of our team, Latvia is a part of the European Union, so he could legally work in Finland. The job was going to help him survive because he was not technically being paid by the team.
Well, he never got even one job. The position that team management promised him ended up falling through.
My roommate happened to have a really powerful shot, which required him to use a high-end stick or he'd break them easily. But Virkia refused to buy him one, so every two weeks or so the cheap sticks that the team bought him instead would snap like twigs. Like me, his playing time was limited, so he was really getting a raw deal. He had no contract with Virkia, so he decided to leave the team in February to return to Latvia.
As our problems mounted, my roommate and I asked to attend the team's board meeting in November to discuss some of our concerns with management. The chairman of the board met with us individually. I gave him my thoughts on the season and asked about the potential of being traded. He responded with some interesting remarks.
He said he didn't care how much I played and he wasn't going to consider a trade. He cared more about the p.r. impact of me living in Lapua. He figured the citizens of the town would be impressed that there was an American on the roster. That stung. I hadn't moved to a rural town four hours outside of Helsinki for an 18-month vacation. I was not a mascot.
Unfortunately, I didn't have an agent to help me out. I had negotiated my own contract and dealt personally with management all season. Not having an agent also made it more difficult to find a new team. I searched on my own, but that came up empty, primarily because I did not have a European passport. My options were either to leave (and forfeit the rest of my salary) or to finish out the season.
By now, you may be really scratching your head wondering why I didn't just book a flight home. I had no heat, no social life, the team didn't want to pay me and I wasn't exactly being showcased for other franchises that might.
The job wasn't what I expected, but I kept myself sane by immersing myself in my surroundings away from the ice. I did all that I could to become a citizen of the town.
The best experience I had this year was volunteering at the local grade school teaching students about U.S. culture. I was the first Virkia hockey player to volunteer in the community out of the over forty imports they've ever had. My volunteer work wasn't something dictated in my contract. I did it because I knew I would enjoy it. The students loved me, and I took plenty of pictures and signed autographs every time I walked into the school. Anytime I was out in public and a student saw me, they'd say hello.
I also ran hockey practices for a team of 10 and 11 year olds three times per week during the season. Finn's all learn English starting in third grade, so I could coach them relatively effectively. Even though most of the players couldn't speak more than a few words of English, but they all understood me.
I served as the the town's Santa Claus (known there as Joulupukki) at Christmas time. Christmas time. The people living there thought it would be great to have an official English speaker handling the role for a change. When they needed to hire a rink manager, I had that covered as well.  I drove the Zamboni and managed the public skating session a couple of times a week. Near the end of the season, I met with the mayor of Lapua, who thanked me for my contributions to the community.
Interestingly, in the end, the team's chairman was right — I did make a great impact in the community. I even got written up in the local newspaper a few times. Based on what the chairman said he wanted, he got more than his money's worth out of me.
Even though the experience wasn't totally what I wanted, I felt extremely blessed and thankful for the opportunity to play hockey in Finland. The creative style of play and having fans know who I was around the town were new experiences for me — and they taught me the difference between a dream and a reality. My rookie season was far from glamorous, but it was also probably not much different from what minor league athletes experience in every sport.
So if you do intend to pursue a career in athletics, my biggest piece of advice is to be prepared. There are players I know who have had it even tougher than my roommate and I did this season. And my second piece of advice is to discover who you are away from your job. Finding something other than hockey that inspires you will help pull you through those times when the game isn't good to you.
There were plenty of moments when I wanted to book a flight home from Finland, but I didn't. And now I'm a better person for it.