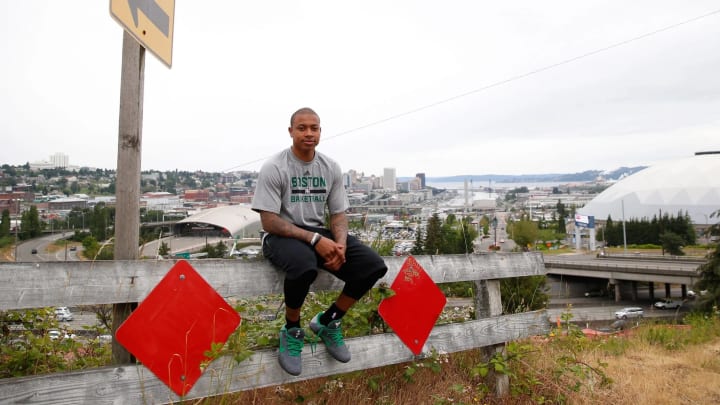 Back Home in Tacoma
One of my best memories playing basketball growing up in Tacoma, Wash., was playing in an AAU game when I was in fifth or sixth grade. I remember we were playing a game at the People's Community Center, where I always played growing up, and Jason Terry walked into the gym.
When you're a kid, it's pretty crazy to have an NBA player come watch one of your games — even if the only reason he was there was because his dad was the coach of my team.
But still, an NBA player watching me hoop?
That was pretty cool.
Over time, Jason and Jamal Crawford — two Seattle guys who'd made it to the NBA — became mentors to me. They looked out for me. Gave me advice. We talked basketball, but I also talked to them about life off the court. I talked to them when I was deciding whether or not to stay in school or go to the NBA. When I chose to leave, they helped teach me how to be a pro. How to be a better dad.
Without those guys, I wouldn't be in the position I'm in.
That's 100% real.
When I was 16 years old, I remember they came to me and said, "All the things we're gonna do for you, we want you to do the same for the next guy. We want you to carry that torch."
A few years later I got my chance. There was this Memorial Day basketball tournament in Seattle, and one of my good friends, David Hudson, said, "Isaiah, you should do a Memorial Day tournament in Tacoma. You could call it Memorial Day Zeke-end."
He came up with that name on the spot because a lot of guys call me "Zeke," which is a nickname for Isaiah.
I didn't think too much of it at the time, but I thought the name was pretty dope.
Then I thought about Jason and Jamal.
We want you to do the same for the next guy.
So we started putting it together, and now, we just put on the third annual tournament. And it was the biggest and best one we've had yet.
As an NBA player, you get to do a lot of incredible things and have some amazing experiences. But one of the things that's most important to me is to be able to come home to Tacoma and have the people from the community where I grew up come together around the game I love.
And to be to the next wave of kids what Jason and Jamal have been to me.
I've had former teammates and current teammates come and play in this tournament, along with the local NBA players from Seattle, and it's just gotten bigger and better each year.
It's the off-season, and these NBA guys could be anywhere in the world, but they come out to Tacoma to support me and this tournament. That says a lot about who these guys are off the court, and I appreciate every one of them.
Growing up, I played basketball at the People's Community Center, then I'd walk down to the Fish House Café to get lunch and just chill. I still come back to the Fish House every time I come home. It's one of my favorite spots in Tacoma.
I always get the number 1: fried fish with fries and tarter sauce. That's my go-to. The I.T. special. Right when I walk in the door, they already know.
I've seen the impact people can have on their communities. Now, it's been surreal to be able to be that guy. I've played and lived in three NBA cities. But Tacoma will always be home.