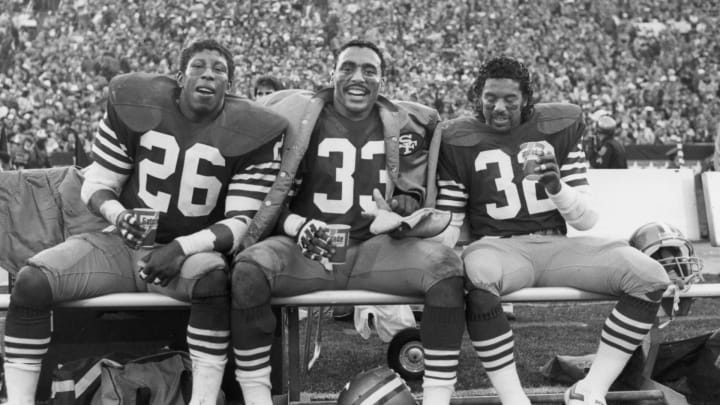 My First Super Bowl
I've never been on a team that finished with a losing record in my life. I spent 11 years in the NFL and made the playoffs every single season.
Throughout my career, I was fortunate to play in many big games but nothing — nothing — compares to your first Super Bowl.
The night before Super Bowl XIX, I remember sitting alone in my hotel room trying to control my nerves by playing out the game in my head over and over. It was 1985, and I was a 24-year-old in my second-year in the league. At the University of Nebraska, I learned the dynamics of pressure by suiting up in front of 76,000 fans every single home game. But this was different. This was the Super Bowl.
We were considered underdogs heading into that game against the Miami Dolphins. The main reason for this was because of Dan Marino. In 1984, Marino had arguably the best season for a quarterback in NFL history, throwing for more than 5,000 passing yards and 48 touchdowns. Nobody would come even close to touching those numbers for two decades.
The media made it seem like the Dolphins were going to blow us out. We took that pretty personally. Even though we'd finished 15-1 on the season, most sports personalities assumed the Miami offense would run the score up on us. But our legendary defensive coordinator George Seifert had something else in mind. Miami had beaten some pretty good teams, but they weren't ready for what I consider to be the best assembled squad in 49ers history.
The game was played at Stanford University, so it wasn't much of a trek for us. I remember the ride to the stadium being sunny and gorgeous. But once the sun went down and we were out there for warmups, the temperature dropped and the fog rolled in. And suddenly, it felt like another game at Candlestick Park. That trademark San Francisco fog had made the trip with us down to Palo Alto, and when I saw it on the field I thought, "Uh oh, we're at home, baby! This our domain!"
As I sat in the locker room before the game started, I was a bundle of nerves. And that's when I was approached by a 16-year NFL vet named Jack "Hacksaw" Reynolds. To answer your next question, he got the nickname because he sawed a car in half out of frustration after losing a game when he was in college.
He wasn't a guy you messed with.
Hacksaw noticed that I had some butterflies, so he looked me in the eyes and said, "Hey Rook," (I was a second-year player at the time, but to a guy with his experience, I was no different from a rookie) "don't be afraid. Just play every single play like it's going to be your last, because you don't know if you'll ever get this opportunity again. So… don't blow it."
I'll admit, for him to encourage me, even though he didn't really like talking to the younger guys, meant a lot. It calmed me down and put me into the right frame of mind. When I stepped onto to that field, I played with a special kind of focus and intensity.
I ended up setting a Super Bowl record by scoring three touchdowns in that game, but at the time, I wasn't aware that I'd made history. I was completely dialed in for four quarters.
In fact, all these years later, the play from that game that still sticks out in my mind was actually a fourth down that I failed to convert while we were up 38-16.
It was late in the game, and we had the ball near the Miami goal line, so Bill Walsh put a guard in the backfield with me named Guy McIntyre. Guy was the first William 'Refrigerator' Perry — a down lineman who was able to play fullback in short-distance situations.
Interestingly, we had used this formation against the Chicago Bears earlier in the playoffs with a lot of success. Mike Ditka was ticked, so he used the Bears first pick in the draft that next year to get William Perry. You know how the rest of that story goes.
We had to get two yards, and Coach Walsh knew that from my experience in college that I was able to dive over the top. So for this play, I was put at the I-back and Guy was in front of me — everyone in that stadium probably knew what was coming. When the ball was snapped, plowed into the pile. I went airborne behind him — I got up pretty high — and was hit hard in the air and got spun around like a helicopter. It was a crazy hit. I ended up getting stopped short, but honestly, it was kind of fun.
I think that play stands out because it was a good representation of what kind of game that was. Every single guy on the field laid himself out in order to make a play. I still treasure the picture I have of me spinning in the air.
When the final whistle blew a few minutes later, it was bliss. We couldn't have proven our point any more clearly. We were the best football team in the world.
Winning that first Super Bowl changed my life.
I was put on the cover of Sports Illustrated (!) and suddenly went from being a somewhat under-the-radar second-year back to a marked man. That extra pressure and exposure prompted me to go back to the Midwest during the offseason when it was hot and sticky and train harder than I'd ever trained in my life.
We had a ring ceremony during our first game of the following season. As the PA announcer was talking, Bill Walsh whispered in my ear, "Roger, I need you to get 1,000 yards this year." Considering I'm a fullback, that was a lofty goal. But, I must have been confused about what he meant, so I got 1,000 yards rushing and a 1,000 yards receiving that season just to be safe. It's not a coincidence that I elevated my game after reaching the pinnacle of my sport.
It's a special thing to have the opportunity to make history, so, like a wise man once said, "Don't blow it."