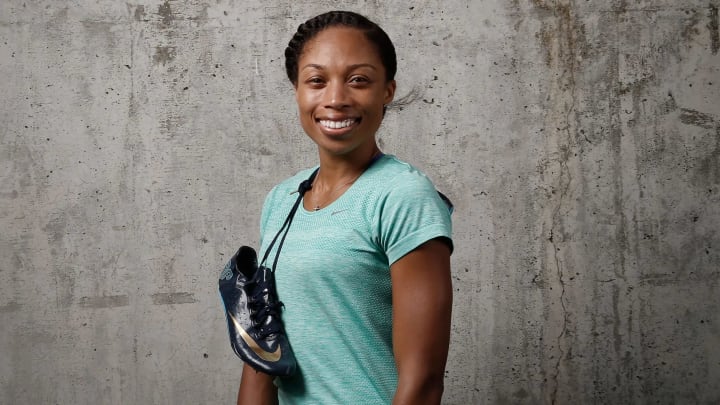 Always There
Getting injured during the 200m final at the 2013 World Championships in Moscow was the low point of my career. Sixty meters into the biggest event of the year, my hamstring gave out and my body came crashing down on the track. Just moments after going down, as I was still processing everything, I looked up and there was Wes.
I wasn't surprised to see him. I was wondering how he made it down through security, despite the language barriers and all.
He found a way to console me during the toughest time in my career. I was angry, wondering why this injury had to happen now. In his true fashion, he put everything in perspective: "How long have you been running? How many injuries have you had and come back from? This is just something that is going to be a part of your journey."
Before I became an Olympic gold medalist — even before I got the nickname "chicken legs" in high school — I was simply known as "Wes's little sister." That might bother a lot of younger siblings, but it didn't bother me. I looked up to Wes, and still do. Growing up, we were competitive. Wes showed no mercy. He would never let me win. From basketball to our days reliving the Mighty Ducks movies on our rollerblades, he dominated. It didn't stop me from being his biggest fan.
I was literally in awe of Wes. We'd attend his various sports competitions, from middle school basketball games through meets at USC, where he became Pac-10 champion for the 100m and 200m. I cheered him on with the rest of our family. As I got older and developed into a promising track and field athlete in high school, Wes was there for me, helping with my training and cheering me on during competitions.
In 2004, shortly after graduating from high school, I qualified to compete in the Olympics in Athens. Being away from home, living in the village, competing in a foreign country — it's an unbelievable experience for anyone, but especially for an 18-year-old. I won a silver medal in the 200m event — an accomplishment that any teenager (or adult) would cherish — but walked away disappointed. Anything less than gold was a failure in my eyes.
Once again, Wes was there to put things in perspective.
"You're only 18! You will be back here again! How many other 18-year-olds can say they're one of the world's best athletes?!"
The years between the 2004 and 2008 Olympics were a time of growth for me. I was learning so much and I was able to apply it to racing. I won four gold medals at the 2005 and 2007 World Championships. Going into the 2008 Olympics in Beijing, I was no longer the wide-eyed teenager, but the favorite to win the women's 200m.
Instead, I came in second to Jamaica's Veronica Campbell-Brown.
Veronica ran a 21.74 — the fastest women's 200m time of the decade. My time of 21.93 — a time that would've secured a gold medal for the 200m in 2004 — was only good enough for a silver medal.
I was crushed. Nothing, not even earning my first Olympic gold medal in the 4×100 relay, could take away the sting of coming up short again. As always, Wes was there. He let me know it that it was okay to take a break and take time for myself. Back-to-back Olympic games and all of the world competitions in between takes a toll on an athlete. I needed to step away and regroup, both mentally and physically. Whether it was during competition or during my time away from the track, the relationship between Wes and me was a constant that was never going to change.
After Beijing, Wes regularly started becoming extremely exhausted. It was very worrisome because, as an athlete, Wes was always full of energy and life. None of us had any idea what was going on.
He went to the doctor, and a blood test showed his liver function levels were through the roof. Over the next six months, Wes would go to several doctors and specialists trying to figure out what was wrong. Finally, after months of testing, he was diagnosed with a liver virus. He would be able to regain his strength, but his track and field career was effectively over.
I wondered, Why him? Why would this happen to such a loving, caring person who gave his all to this sport?
However, Wes's attitude was completely the opposite. He was positive. A lot of people would have such a hard time dealing with giving up their athletic career without reaching their full potential, but not him. He saw it as an opportunity to conquer another field.
Wes's diagnosis came right around the time my first management contract was up. By the end of 2009, I was ready to take the next step in all aspects of my career. My management was fine at the time, and I was 22 years old with two Olympic silver medals and a gold medal, but other than my accomplishments on the track, there wasn't much going on around me. I wanted to become more of a household name rather than an athlete whose name only comes up during World Championships and the Olympics.
Wes had always been interested in business and branding, an innovative thinker and very creative. It was the perfect time for a change. I had Wes become my agent, not just because he's my brother, but because I trust him and have the utmost faith in his abilities.
This move ended up being one of the best decisions of my career, helping me excel to new heights in terms of both branding and my performance on the track. One of the first big changes was switching sponsors. Joining Nike was a huge step forward in becoming a household name. Once we became a part of Team Nike, it became easier to get other companies on board and gain recognition heading into the 2012 Olympics.
Going into the 2012 Games, I was so poised and focused on the task at hand. Having my brother control sponsorship, press scheduling and all the other off-track responsibilities that come along with being a professional athlete allowed me to be free of any distractions. So, during training, I was able to focus more than ever before. I was more prepared than I ever was at any point in my career.
As a result, the 2012 Olympics became my breakout event. I took home gold medals for the 4x100m relay and 4x400m relay.
In the 200m, I got off to a great, smooth start and just kept my focus from there, crossing the finish line with an official time of 21.88, finally getting over the hump and winning the 200m gold. I not only finally finished ahead of Veronica Campbell-Brown on the Olympic stage, but winning gold in the 200m brought such relief after coming up short in 2004 and 2008.
That moment was one I was so proud of and thankful to be able to share with my family. Their encouragement during the toughest moments of my career played a pivotal role in me reaching that goal.
The next big event was the 2013 World Championships, where, once again, as aforementioned, Wes was there for me in my time of need. The photo of him helping me off the track is worth more than a thousand words — it's 27 years of loyalty and support.
My recovery from the injury in 2013 and redemption at the 2015 World Championships would not be possible without the encouragement and advice he's provided over the years. As I build on this success, I do it with the utmost confidence that one of the essential constants in my life — my brother — is here to help me along the way.
Thank you, Wes.