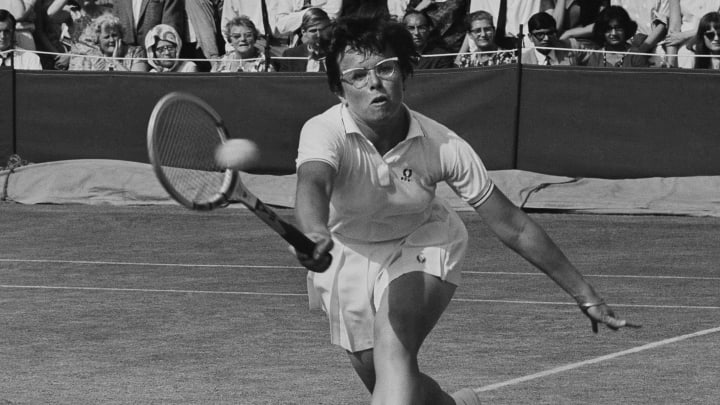 The Legacy of the Original 9
You don't reach the top of your sport without standing on the shoulders of those who came before you.
As the tennis world starts to gather in New York for the U.S. Open, the final major tournament of the season, most of the media attention is focused on Serena Williams' quest for a calendar Grand Slam. Should she complete it, it will be a historic event. But it will be partially made possible by the sacrifice and commitment of nine women who played tennis long before Serena was born and paved the way for generations of women to make a living playing professional tennis.
Forty-five years ago, nine of us gathered in Houston, Texas facing one of the most important decisions of our tennis careers and our lives. The group included seven Americans — Rosie Casals, Nancy Richey, Valerie Ziegenfuss, Julie Heldman, Peaches Barkowitz, Kristy Pigeon and me. We were joined by two Australians — Kerry Melville Reid and Judy Tegart Dalton.
History dubbed us the Original 9 and our actions, along with those of former World Tennis Magazine publisher Gladys Heldman, created women's professional tennis as we know it today.
We wanted to be paid equally and we wanted to be treated fairly. Originally we had hoped to partner with the men's tennis tour and have a unified voice in the sport on a global basis. But the guys wanted no part of it. And not every women's player wanted to join us.
So we went to plan B.
For a tense few days in September 1970, we sat in a semicircle in Gladys' home in Houston and debated the pros and cons of breaking away and starting our own tour. For us, everything was at risk. The USLTA (now the USTA, the governing body of tennis in this country) threatened us with suspension and expulsion. The Australians faced an even stronger enemy in their federation. They were told if they signed with us, their playing days were over.
With one unified voice, each of us signed a ceremonial $1 contract with Gladys to play in the inaugural Virginia Slims of Houston. We drew a line in the sand and we put everything we had on that line. It was now up to us to create our own tour, to find a place to make a living and to breathe life into women's professional tennis.
We were committed to the dream and we had one simple vision for our sport — we wanted any girl born any place in the world, if she was good enough, to have an opportunity to compete, be recognized for her accomplishments and make a living playing professional tennis.
And we have lived to see our vision become reality.
Last year Serena Williams earned $4 million winning the U.S. Open, plus a bonus for winning the U.S. Open Series. If you do the math that is more than the nine of us made in our playing careers … combined. And it's a great thing.
This year the USTA and Katrina Adams, the current president of the organization and a former player herself, will honor the Original 9 at the U.S. Open. I would love to see Serena and a large group of other WTA players be there to be a part of the ceremony and stand with the Original 9.
I have been very blessed in my life and career and I have no regrets. But the other members of the Original 9 have never been truly recognized for their role in tennis history. It is time we did something about that.
While I wish a fund had been created to take care of these players, that remains a pipe dream. But they are so deserving of recognition and support. While the window may have closed on financial support for these trailblazers, there are steps that can be taken to secure their legacy in the sport.
I have plenty of things named after me, but wouldn't it be great if the Indian Wells women's champion received the Rosie Casals Trophy? And if the Australian Open women's doubles trophy carried Judy Tegart Dalton's name? We need something meaningful named after each of the Original 9. It's not inconceivable — it can be done if the Women's Tennis Association, the promoters and the players stood together and established a true legacy for these great champions.
What we did in 1970, we did on our own — and with little or no support from the tennis establishment. They wanted to throw us out, but we have persevered — and today, every time the names Williams, Sharapova, Halep or any of today's great champions are etched into the history of women's tennis, I hope history will recognize that they are not only worthy, but they are standing on the shoulders of history.
The Original 9 is more than a page in sports history and it needs a real home in the hearts and minds of every person who has made or will make a living playing professional tennis.
---
---