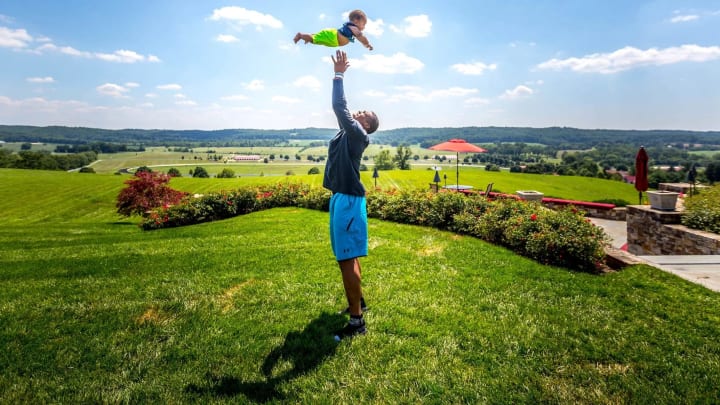 Dear Chosen
Dear Chosen,
This promise I tell you.
I look at you and I am amazed about God's creation.
Don't be like me, son,
Be better than me.
And create your own inspiration
So you won't expect something from nothing,
Just hard work and determination.
I wrote this thinking to myself….
Like, Dang, I really have a son now.
And I guess it's true what they say,
Time flies — because Chosen is almost one now.
Your mom is the best thing to happen to me,
Yet I have failed in some regards.
But I still love her unconditionally.
Don't be like me, son,
Be better than me.
You don't have to be an athlete to be accepted by me.
You can be whatever you want to be.
But whatever you decide,
I challenge you to be the best.
I may not be able to tell you when, where and how, but there will be a test.
And that test comes in many forms, sizes and shapes, too.
It's my job as a father to prepare you as much as I can,
So you will know exactly what to do.
When you sleep, I look in amazement as you breathe.
But it hurts my heart to look back at your face in disappointment when I leave.
You're everything I could have ever asked for.
When I'm not with you, it hurts me to my core.
At times, son, I am not proud of the man that I am.
Some of my decisions are far from perfect.
But do know, when it comes to you and this family, I will always do what I can.
I had to sacrifice some things, and I made it all worth it.
Let no one tell you you're not strong, that you're not a king.
My main responsibility is to see your heart gleam.
If I ever leave, make sure you protect the queens of your heart —
That's your mom and your sister —
And remember that real men aren't afraid of the dark.
So, son, be brave, be strong, be bold.
And always remember the things I've told,
King Cho.
I pray for your blessings and I pray for your peace.
I pray I am the most influential person in your life until the day I am deceased.
Chosen, I will always be there when you need me,
And I am writing you this for you to see,
To show you how much I love you, and what a real man is supposed to be.
I love you, son.
And remember, always:
Love and be true.
And most of all, be UN1QUE,
And be beautifully you.
This promise I tell you.