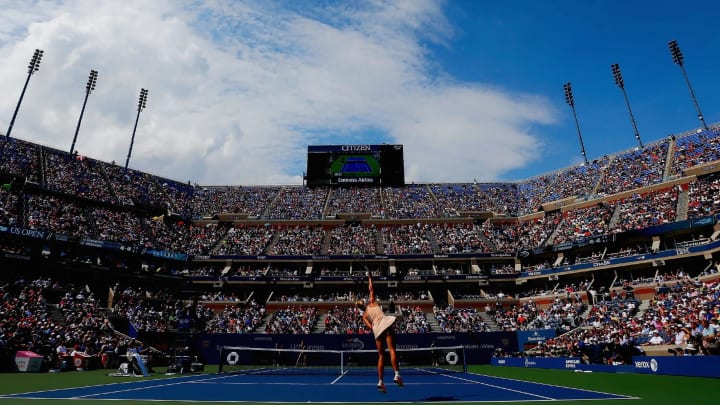 The Open
I am about to play the U.S. Open final and I'm not even that nervous.
It's 2009. I'm 19.
They have a ceremony beforehand, a huge show on center court. I don't really pay attention to it. I know that if I do, it's going to hit me just how big this moment is. Instead I stay with my team: preparing, talking tactics … just, you know, going through my normal pre-match routine.
I eat. I listen to some music — I think I put on some Mariah Carey. (Okay, or maybe Celine Dion.) Something peaceful. The thing about being in the final is that it's actually really quiet — you have the whole locker room to yourself. And in a way, you've earned that quiet.
Everyone else has gone home.
But then it isn't so quiet anymore. I hear the words. Caroline, it's time to go out to play. They take me through the locker room … past the big wall with all the names of past champions (subtle, right). As I'm walking by, seeing iconic name after iconic name, of course one thought runs through my head.
Wouldn't it be awesome if that were me?
I am still okay at this point. I'm not that nervous.
I walk out onto center court … and I hear this roar. Twenty-three-and-a-half thousand people. The whole crowd — and I mean, the whole crowd. Roaring.
It's Arthur Ashe Stadium. It's under the lights. I look up in the stands. I can see everyone. All the way to the very last row I can see people. It's a huge stadium — just huge. But somehow, under the lights, it's like they're right on top of you. There's this clarity of senses. And that's when it hits me. That's when, finally, it's … Okay. This is real. This is happening.
I take a deep breath.
This is actually, actually happening.
Tennis is a sport where you are constantly having to prove yourself.
This is true in every sport, to some extent, but in tennis the rules literally dictate it: Every match, every tournament, you are defending your "rankings points" from the previous year. If you win a tournament one year, but then lose in the first round the next, your ranking will reflect that second result. It's a strange system, and one that, in many ways, fits within the culture of sports media better than it fits within the reality of sports.
In the media, everyone is "up," or "down," or "on the rise," or "in a slump." In reality, the difference between winning and losing can often be very small. Proving yourself, over and over, to fulfill an outside perception of who you are as a player or person, can be a daunting task — an endlessly moving target.
The most effective way to succeed, I've found, is to work on making this target more manageable — and to worry about proving yourself to one person only: yourself.
For me, two results stand out as moments in which I've really been able to do that — prove something, about myself, to myself. One was in the beginning of my career, and the other was just last year.
Luckily, both were at the U.S. Open.
In 2009, I was 19 and still one of the up-and-comers. I had played well the season before, and knew I could compete. Obviously, reaching a Grand Slam final was a dream of mine — but it wasn't something that I actually felt was going to happen that year. Leading up to the Open, I won in New Haven. I felt confident, and I went into New York with a really good feeling. But still: a feeling is just that. A feeling. You never know.
I played pretty well in the first couple of matches, and got through those easily — sometimes it works out like that. Then, in the fourth round, I played Svetlana Kuznetsova. The match went to a third set, and I got down 3-1. I really just lost my game for a bit.
Earlier in the summer, at Wimbledon, I had made the fourth round of a Slam for the first time. So if I lost here, it was no shame — it would have equaled my best-ever result. But somehow I ended up turning it around. I won the third set in a tiebreak, and the match.
I'll tell you a secret: I never look at the draw before I play. I just play — one match at a time, one opponent at a time. It's my rule — my way to keep myself focused on what's directly in front of me. Sometimes, it works. But other times — like, say, at the U.S. Open — it becomes impossible not to hear about a big story going on.
In 2009, the big story was Melanie Oudin — this young, unseeded American who was making headlines all over the place by beating all of these seeded Russian players: Dementieva, Sharapova, Petrova … it was really impressive. And, of course, everybody was talking about it. So I was aware of it, and of the attention it was getting. But at the same time, I had no idea where Oudin was in the draw.
That is: Until I found out I would be playing her. The biggest match of my career … my first quarterfinal … and I knew that the crowd would be cheering like crazy for my opponent. Not that I minded — home favorites are part of the fun of tennis, and the magic of the Open. But even still, it was a tough match: partly because of how aware I was of what a big opportunity it would be for me to get to the semis. And then partly because, of course, every time Melanie won a point, the crowd erupted. But I kept my focus, tucked away my nerves, and won the match. It's one of the happiest feelings I've ever experienced on a tennis court.
I won again in straight sets in the semis, and just like that I was in my first-ever Grand Slam final — at the U.S. Open, no less.
In the final I played Kim Clijsters — a great champion on a great run. And like I said: I was 19, and not even that nervous. I'm proud of that.
And I played pretty well. I was up 5-4 in the first set, which could have gone both ways. I lost it, 7-5. The second set was a little worse — 6-3 — but still competitive.
Obviously, to have come so close and lost, I was disappointed.
I got a lot of rankings points for making the final in New York. But the true result of that tournament, for me, wasn't a number. It was that I now honestly felt like I had what it took to be the best player in the world. I knew how close I had gotten to a win at the U.S. Open, and I knew I belonged. I believed it — which is to say that I had proven it, to the only person who mattered. Myself.
From a confidence perspective, that result at the Open really catapulted me: I had a great year in 2010 — and then, all of a sudden, found myself playing Petra Kvitová in Beijing for a shot at being World No. 1.
And I won. And just like that … I was officially the No. 1 tennis player in the world.
It was surreal.
We have this home video of me, from when I was 10 years old, saying, "I want to be number one in the world in tennis." (It's really great: I have on this goofy backwards hat and my clothes are way too big. But, come on — that was the style back then. Sort of.) It was literally my childhood dream come true.
And I just remember standing there, after I clinched No. 1, and seeing the fireworks come up, and the flowers, and the champagne — the WTA does not mess around — and thinking, this is not possible. 10-year-old me was freaking out. 20-year-old me wasn't faring much better. It was just … amazing.
But at the same time: Nothing had changed! It was the most bizarre, unexplainable feeling — almost like when you wake up from a really good dream, and then have to go on with your normal day. I don't know what I had expected. But I still had the same kitchen. I still ate the same breakfast. (I can confirm: There is no secret, No. 1s-only breakfast. Or if there is, no one told me about it.) I still had the same racquets. I still had the same warm-up routine. And, oh yeah — I still had a match the next day. That was only the third round. Everything was the same. My world did not change magically overnight.
And I think that's a big lesson I have learned, and one I keep coming back to: That, no matter what my results are at a given time, whether they're perceived as good or bad or in between, I'm still the same player — and I'm still the same person. I've been unranked, I've been ranked 30th, I've been ranked in the teens, I've been ranked in the Top 10 and the Top 5. And I've been ranked No. 1 in the world — for 67 weeks. And I'm extremely proud of the accomplishments that led to each of those numbers. But they are just numbers: And I know that all I can do — and have ever been able to do — is just keep being myself, and keep trying to get better.
That's also why, in 2012-2013, when I dropped the No. 1 ranking — and people kept saying, "Caroline, you've had these terrible years," and I was getting a really hard time about it — I felt the need to push back a little and defend myself. Like, "How is it a terrible year when you finish in the Top 10 of the rankings?" I would ask. To me, that's still a pretty big year. I knew the work I put in. And I will never apologize for something I'm proud of. But I got a lot of grief for that — which I don't think I deserved.
And then last year, when I went on a long run at the Open again, the narrative suddenly became, "Caroline's back!" And I pushed back against that, too. Because: to me, I hadn't left. And to me, the work I was putting in during those 2012-2013 seasons, even though I wasn't getting the results to stay at No. 1 — that work was an essential part of my 2014 results, and of my 2014 story. That was still me.
Of course, while I took issue with the "Caroline's back!" narrative, my 2014 Open was incredibly special. I had the crowd with me a lot. I've always had great crowd support at the Open, but last year they were backing me even more than usual. I was going through some personal stuff at the time, and I think everybody just wanted to help me and push me and get me through each round. I'll never forget it. It meant a lot.
And then also, a few years ago, I got a place in New York. And in November I even ran the New York Marathon. I think all of that together just created this very cool connection between the crowd and me. I never thought I'd say this, but: I felt like a New Yorker.
In my fourth-round match against Sharapova, the atmosphere was insane. I remember there was one point, a big point, where I was running back and forth, ball to ball, and Maria came to the net, and I ended up passing her — and the crowd just went wild in this way that I'd never experienced before. I got so caught up in it. And I turned to the crowd … and I just started fist pumping, all over the place, to everybody. Which, of course, only made them cheer even louder.
Thousands of people, on their feet, screaming my name, during a fourth-round match — it was just unbelievable. It was a real "U.S. Open Moment." And on a more personal level, it was also this thrilling and, you know, strangely cathartic thing. I had the biggest goosebumps.
I ended up winning in three sets. It was probably the best match of the tournament, for me — and one of my favorite matches in my entire career. Those are the matches that stick with you. They're the ones you train for, and want to be out there for. It's why you get up early in the morning when you don't want to wake up. It's why you get in your training even when it's rainy and cold. You go through all of that because — sometimes when you least expect it — a single moment can make everything feel worthwhile.
I think the lift I got from that match helped carry me a bit — and I made it all the way to the final. Unfortunately for me, Serena was playing better than I was that day, and I didn't have much of a chance. But I was still pretty happy with my tournament. It was different from my run in 2009, for sure — so much had happened since then, and changed.
But at the same time, I think there was a connection between the two. In both tournaments, I really just started to … not listen to anybody. In 2009, that meant believing I could compete for Slams even when everyone said I couldn't. In 2014, that meant believing I was the same player I'd always been even when everyone said I was slumping.
As for this year, honestly, I'm just excited. The U.S. Open is my favorite tournament. And, on top of that, it just means something to me personally. It's where I found myself — and then, when a lot of people had written me off, found myself again.
The thing about finding yourself is that you don't need to prove it to anyone. You just need to do your own thing, take a deep breath, and say, "Here I am."
There's no moving target.
You're right there.