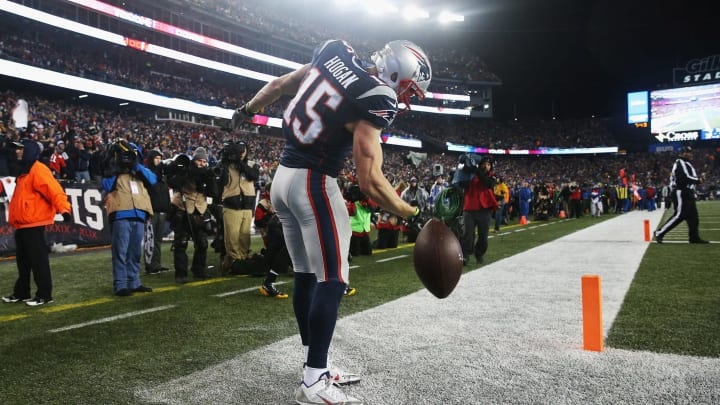 One More
PATRICK SMITH/GETTY IMAGES
First of all, if you're waiting for a text or a call back from me, it's coming. I promise. Things have just been a little crazy since last weekend's AFC championship game. So many of the people who have been there to support me throughout my journey reached out to congratulate me. My phone was blowing up. It's a good problem to have … it's just been kind of crazy.
People keep telling me that I'm going to remember that game for the rest of my life. I think they're right. I mean, nine catches, 180 yards and a couple of touchdowns … to help send us to the Super Bowl … and that flea-flicker! Man, what an awesome night.
But I think that even if I did forget everything about that game — if it somehow fell so deep into my memory that it became just another game — there are two things about that night that I am sure I will absolutely never forget.
First, the tunnel.
Never in a million years would I have imagined I'd be in that tunnel, about to compete for a chance to go to the Super Bowl.
It was dark in the tunnel before we ran out onto the field, and there was literally a light at the other end. Outside, you could hear the fans in Gillette Stadium going nuts. The tunnel was practically vibrating. It felt like we were inside the barrel of a cannon, about to be shot into chaos. While we were waiting, my mind started to drift.
You know how you can fall into a daydream for what seems like hours, but it's really only a split second? That's what it was like. Standing there in the tunnel, I thought back to when I was playing lacrosse at Penn State. I thought about the 12 passes I caught at Monmouth University in my one season of college football. I thought about the three different teams that cut me in my first two years in the NFL.
My life basically flashed before my eyes, and I thought, How did I get here?
Is this real life?
Perry Knotts/AP Images
Then, somebody yelled, "Let's go!" I snapped back to the present just as the fireworks went off. As I ran out of the tunnel with my teammates I told myself, If your number gets called, don't waste the opportunity. Do whatever you have to do to make a play.
I have been telling myself that my whole career, really. It's just that, up until that night, my number hadn't been called all that often.
---
---
Every player has that team — the one that gave him his first opportunity. The one that gave him a chance. The one that believed in him.
For me, that team was the Bills.
And when I was in Buffalo, I loved playing against the Patriots. When you're on a team trying to climb the ranks, you've gotta knock off the teams that are at the top. And for the longest time, the Patriots have been at or near the top.
I was on some good teams during my three years in Buffalo. Teams that could have, and maybe should have, made the playoffs. But at the end of the day, it's tough to win in the NFL. And it's especially difficult to make it to the playoffs when you're in the same division as New England.
We weren't the biggest fans of the Patriots, but we respected them. They were everything we aspired to be as an organization. They were winners. And each time we played them, it reminded us what we were all trying to be.
I had a couple of good games against the Patriots during my time with the Bills, too. In 2014, I caught five passes for 72 yards and a touchdown when the Patriots came to Buffalo. And the next season, I caught six passes for 95 yards when we went to Foxborough.
I guess the lesson there is, always put your best foot forward … because you never know who's watching.
I say that because last off-season, when I was a restricted free agent, the Patriots brought me in for a visit and an interview. Josh McDaniels and Coach Belichick said they liked the way I played the game. And I gotta tell you … just walking around the Patriots' facility was pretty cool. I saw the Super Bowl rings, the Lombardi Trophies, the championship banners in the weight room — reminders of greatness are everywhere. The air in Foxborough is just a little different. Like, Special things happen here. Winning happens here. And as much as I loved playing in Buffalo, I wanted so badly to be a part of the Patriots' culture.
Then, eventually, my conversations with New England materialized into an offer sheet that the Bills would have had to match if they wanted to keep me.
They didn't, and the rest is history.
Brett Carlsen/Getty Images
I'll admit … it was fun going back up to Buffalo as a Patriot. I had a bit of a bad taste in my mouth after we got shut out by the Bills at home in October, in a game where I didn't have any catches. And I thought the fans in Buffalo would be a little hostile toward me when we played the Bills on the road four weeks later — but they really weren't. Those fans are so amazing up there, and they were really respectful and welcoming.
It felt really good to have a great game individually — I had 91 yards and a touchdown — and even better that my team got the win. But it was also a gratifying experience to be embraced by Bills fans and to compete against my former team. I think when you find success, it's important that you remind yourself of where you've been. Remembering the struggles makes success that much sweeter.
That's why I'll never forget how I felt when I was waiting in the tunnel before the AFC championship game. I felt like everything that had happened in my career had led me to that moment, and I was just so thankful.
---
---
The second thing about the night of the AFC championship game that I'll always remember came afterward.
No, it wasn't the trophy presentation. It wasn't putting on the AFC championship T-shirt and hat. It wasn't even Marty Bennett  dancing with the cheerleaders … although that's an image that will be difficult to forget.
It was seeing my fiancée Ashley.
I had a lot of people at that game supporting me. I had a bunch of friends from high school who made the trip to Foxborough. Some of my old Penn State lacrosse and Monmouth football teammates also made the trip. My manager Tom Ottaiano, who's been with me since day one, was there. My brother Jeff and my sister Erinn were there, too, along with my parents, Jim and Mary Ellen, who have been traveling all over the country to come see me play ever since I caught on with the Bills. I think at first they did it just because they didn't know how many chances they'd get to see me play in an NFL game. But now, they're still going strong, and they love being a part of my journey.
But after the game — after I had just had the game of my life — all I wanted was to share the moment with Ashley. I've always believed that when you're in a relationship with somebody, you not only share in their success, but also in their failure. For better or worse, as the saying goes.
When I didn't get drafted, Ashley was there. She was there when the 49ers signed me, and when they cut me a couple of months later. She was there when the Giants signed me, and when they cut me two weeks later. She was there when the Dolphins brought me in, and when they terminated my contract. She had been there for all the lowest points of my career.
And when I played the game of my life to help send the Patriots to the Super Bowl … she was still there.
Maddie Meyer/Getty Images
And I've vowed to be there for her, too.
She's currently pregnant with twins — our first children, a boy and a girl. She's due in April. And while I'm up in New England trying to make the most of the opportunity the Patriots have given me, she's back on Long Island finishing up her residency at Long Island Jewish Hospital. On off days this season, I would make the three-hour drive from Boston to Long Island to see her and make sure she was doing well. I mean, she's seven months pregnant right now, and she works as hard as I do, so I want to be there for her in any way I can.
I guess I just want her to know that no matter what's going on with me — no matter what happens with football — I'll always put family first. I'll always put her first. Even though we're apart, I've wanted to be there for her during her pregnancy. I don't ever want her to think she's doing anything alone.
There were times when I've driven down to Long Island and had lunch with her at the hospital, then went back to our house, did some chores to help her out and waited for her to come home from work. Then we'd eat dinner together. And then, only a few hours after I had arrived, I'd be out the door and on the road, hoping I don't hit any traffic on the Long Island Expressway on my way back to Boston.
So knowing all we've been through together, and how supportive and encouraging she's been even during the lowest points of my career, I'll never forget seeing her face after the AFC championship game. I'll never forget seeing her beaming back at me with a smile on her face and tears in her eyes. I'll never forget running over to her and kissing her. And I'll never forget the first thing she said to me:
"I'm so proud of you."
---
---
O.K., so I lied. I said there were two things that I'll never forget about that night, but there's actually three. And it's funny — the things that stand out from the biggest moments in our lives. Because on top of the feeling I had in the tunnel before the game and when I saw Ashley after, the other thing I'll never forget is the confetti — the red, white and blue confetti. I mean, I practically had to cut through it just to get to Ashley. There was so much confetti.
I haven't won a championship of any kind since high school, and the celebration then wasn't a huge production. We didn't have confetti. So winning the AFC championship was the first confetti-worthy moment of my life. I was really just enjoying the moment, trying to take it all in. But I couldn't help but be excited. I mean … we were going to the Super Bowl. I was so hyped I could barely contain myself.
Which made it a little awkward for me when I was around my teammates after the game. Most of them had been there before. This was just … normal for them.
Julian Edelman came up to me after the game and said, "Nice work, Chris. But we still got one more."
Coach Belichick said, "Great job, Chris. But we still have work to do. We still have one more."
Tom Brady said, "Good job tonight, Chris. Now let's go win one more."
One more.
And that's really the difference here in New England. Winning the Super Bowl is always the goal. It's championship or bust, every year. The Patriots aren't satisfied with anything less, and they expect to win.
Patrick Smith/Getty Images
But even though I'm still trying to get back to everybody who reached out after the game, I've moved on. We've moved on. Because it's Super Bowl week. And I'm telling myself the same thing I've been telling myself all season — my whole career, really: If your number gets called, don't waste the opportunity. Do whatever you have to do to make a play.
Because even though I'm coming off the game of my life, what I did in the last game doesn't matter. Because this is New England.
That game is in the past.
And we still have one more.