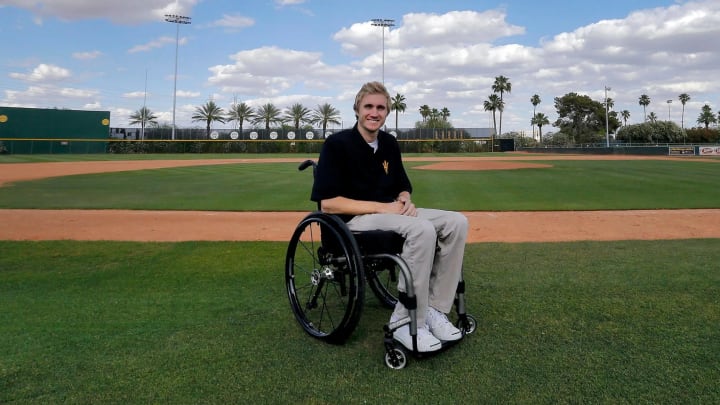 A Boy From Cali

Pop.
The ball smacked into my mitt.
Finally.
For the first time all season, a ball had been hit to centerfield.
Which was my position.
You see, this wasn't a routine fly ball. This was my first putout in an Arizona State uniform. There hadn't been a ball hit to centerfield in our opener. I had to wait until the first inning of our second game to cross that achievement off my list.
Now that I had my first collegiate catch under my belt, I felt more confident going into our third game — the second of two we would play that day. It was a double-header, and we had around 45 minutes between games.
When my turn to hit came up in the first inning I took a deep breath and picked up my helmet, my gloves and my bat, and headed to the on-deck circle. There was a runner on first. It was go-time.
Unfortunately, when I got up to bat, I didn't get much to hit. I was walked.
As I stood on first, I saw my teammate on second base flash the double-steal sign.
I knew it was time to turn on the engines.
I'd stolen second thousands of times. This was just another play. But like I had my whole life, I only knew how to play with aggressive passion. So I cranked up my speed to show how much it meant to me to be in the starting lineup and to be a Sun Devil.
Out of the corner of my eye I caught a glimpse of my teammate taking his first step toward third, and I was gone. I absolutely gassed it toward second.
The voice of the second baseman cut through the sound of the wind rushing through my helmet.
"Two! Two! Two!"
The catcher was trying to throw me out at second instead of my teammate at third. I knew I had to hustle to beat the tag.
The ball sailed a bit toward the first-base side. The second baseman lunged for the ball and missed it. I dove headfirst and collided with his knee.
Crack.
I saw the ball roll into centerfield, and I wanted more than second.
I wanted to get to third.
My teammates were waving their arms.
"Go, go, go! Go, Cory!"
I tried to get up.
I couldn't.
Woah, what's going on here?
I didn't want to get tagged out.
I tried again. I couldn't feel my legs.
What's happening right now?
I felt helpless.
The ump finally called timeout.
I was lying on my side.
Our trainer ran to me from the dugout.
"Cory, you alright?"
"I can't move. I can't feel myself."
"Stay down. Keep breathing. You're alright, Cory."
"I don't know what my body's doing. I can't feel myself."
My head coach came running up to me.
"Cory, talk to me."
"I don't know what to do. I'm just here. I can't move."
They rolled me onto my back.
"I can't feel anything."
My dad ran onto the field.
Wait, why are you here?
"Hey, buddy, are you alright?"
"What's happening to me, Dad?"
The paramedics arrived.
They took my helmet off.
They stabilized my neck.
They cut my jersey off.
They applied heart-monitor pads.
They put me on a stretcher.
They rolled me off the field.
My teammates lined up at the edge of the dugout.
I mustered four words.
"Go kick their ass."
***
Two days earlier, I had been sitting in freshman calculus. It was a beautiful day outside and I was listening to some professor talk about the area below a curve. Exciting stuff, right?
Thankfully, I felt a buzz at my side.
I executed a textbook pocket-glance. You know, the maneuver every college student uses when they're stuck in a boring class.
Couldn't ignore this one. It was a message from a senior on the team.
"Hey man, I wanna relay this to you because you deserve this and earned it. But you're in the lineup tonight. Get your mind ready."
Wait a second … what?
I had to pull the phone out of my pocket. I must've read that wrong.
I looked over his text six or seven times. Was this some sort of joke?
I knew I had proved I could compete well at this level, but a freshman in the starting lineup for our season-opener? All I'd heard up to this point was that freshmen don't start right away at Arizona State, let alone see any playing time on opening day. And now, I was starting in centerfield.
All I could do was smile. I looked up at my buddy sitting next to me and flashed the screen of my phone so he could see it. His jaw dropped in astonishment. I knew what I had to do.
"Dude, I'm outta here. I'm gone."
"What? Dude, there are 40 minutes left — "
The zip of my bag cut him off.
"I gotta get out of here. I gotta get outta here!"
Tangents and mathematical theorems had suddenly become meaningless. I had to get to the stadium to prepare for my first collegiate start as an Arizona State Sun Devil.
I've always loved baseball. My parents never pushed the game on me, even though they could have very easily. My father played college baseball and my mother played college softball.
My dad once told me, "I want you to be the one who asks me to go work out, or to go hit some BP, not the other way around." From early on, I set the agenda. It was never forced. My love for the game was as pure as you can get.
My career really took off at Mater Dei High in Santa Ana, Calif. As a senior in 2010 I was named high school player of the year by the California Interscholastic Federation, the Los Angeles Times and MaxPreps. I was named Mr. Baseball in California and was the MVP of the Trinity League.
As I got older, I began to show some promise as a ballplayer. I was extremely dedicated. I was invited to represent the U.S. on the under-18 team. That was unreal. To look down and see USA written across my jersey … man, what an absolute honor.
It all happened because of my determination to get better. Not because I had crazy parents who wanted to artificially mold me into a moneymaker. Nah. It was because of my youthful drive and my love of baseball and competition.
I began to receive offers from some top baseball programs, including Arizona State. The San Diego Padres even drafted me in 2010. We were unable to agree on a deal, but that was cool with me because I knew that I had a chance to get an education and then get drafted again after a career at ASU.
After my senior year, I put a lot of time and effort into getting myself ready for college baseball. I had the absolute confidence that I could hang with the best of the best, and I wanted to bring that mentality to ASU.
I mention all the accolades and all the effort to show that starting for Arizona State was the culmination of years and years of hard work. It was something I had wanted to do ever since I committed to the Sun Devils. I wanted to be one of the guys responsible for bringing another championship back to ASU.
All the blood and sweat that I had expended over the years finally manifested themselves in that text message. I was going to be an opening-day starter.
***
This wasn't a torn ACL. This wasn't a broken leg. This wasn't a scratch on the knee. You definitely feel those things.
This was a severed C-5 vertebra. When you sever your spine, you can't feel anything.
The 45 minutes after I arrived at the hospital were the most miserable of my life. I was scared because I had no idea what had happened, and I had to lie in a confined tube for an MRI and a CAT scan.
Afterward, my dad came over to me, his eyes lit up with worry. He had just found out that the doctors were going to have to fuse my vertebrae back together. My dad grabbed my arm and looked me in the eye.
"You're gonna be alright."
Get this nightmare over with, I thought. Get me into surgery already. Just fix me.
The morning after my surgery, I woke up with a ventilator tube running down my esophagus and into my lungs. It was so uncomfortable when the doctors pulled the tube out of my throat. They told me what had happened and that I was going to be paralyzed from the chest down for the rest of my life.
Then came eight straight days of misery in the ICU, where I was tied up with tubes to all these machines, put through all these tests and was surrounded by all these strange noises — the hiss of ventilators and the beeps of heart monitors. But despite all of that, some pretty special things also happened.
My best friends from California drove through the night to see me the morning after surgery.
Derrick Hall, the CEO and president of the Arizona Diamondbacks, along with 2001 World Series hero Luis Gonzalez, showed up at the foot of my bed one day. They had a jersey signed by all the Diamondbacks players. We hung out and talked baseball for a couple of hours.
Andre Ethier of the Dodgers came in to visit. We've become great friends since then. Torii Hunter and Mike Scioscia of the Angels, my favorite team, stopped by. They were my heroes.
For all the joy these visits brought me, reality kept bringing me down.
Just a few days after surgery, I got on the phone with my little brother, Jason, who was in high school back in California. It was the first time I had spoken to him since my injury.
His own hero — his big brother, with whom he had spent countless hours playing in the backyard — was now a quadriplegic. Life as I knew it was never going to be the same. Lying in my hospital bed, I cried.
On the other end of the line, I heard sobbing.
No more sports. No more playing. We were devastated.
On day seven, my teammates came to say goodbye. The next morning, I was going to be airlifted to a hospital in California.
In our last moments in the ICU, my teammates and I had a ton of fun together. Imagine a bunch of hollering college kids in this little tiny hospital room. We were just a bunch of college kids having a good time.
But then … silence.
Absolute silence.
Someone had entered the room. I was facing away from the door, so I could only see the outline of a figure from the corner of my eye. I assumed that it must've been a doctor because I could see the faces of my teammates. They looked serious.
He walked into my line of sight and looked down at me.
It wasn't a doctor.
"Hey, Cory."
I was staring up at Josh Hamilton.
Josh Hamilton was my favorite ballplayer. By far. Not only for what he did on the field, but also for his recovery from addiction off of it. I realized in that moment that I was more similar to him than I had ever been before. Baseball didn't bring us together. Tragedy did.
"You alright, kid?"
"Yeah, I'm hanging in there."
We talked for an hour or so. Not about my injury. But about life. About being a kid. About college.
After a while, he asked me a simple question. One that I'll never forget.
"Is it O.K. if I pray with and for you?"
I didn't hesitate.
"Absolutely. That's fine."
He knelt down.
To this moment, I can hear his deep voice echoing in my head. I can see his mouth moving slowly, and tears finding their way out of the corners of his eyes.
My teammates were still in the room. After that moment with Josh, our lives would never be the same.
***
In California, I spent 75 days in inpatient recovery and completed countless hours of physical therapy. As you can imagine, once out of the hospital, my parents were reluctant to send me back to Arizona State. They didn't want to see their child fail. And man, there was a very distinct possibility that failure was in my future.
But the thing is, I needed to get back to school. Think about this — a 19-year-old kid, who had already gotten a taste of college, living at home with his parents. "Stir crazy" doesn't really do it justice. But more than that, there was no way that I was going to let my situation dictate my outlook going forward. There was a moment where I realized that I could either sit in my house and feel sorry for myself for the rest of my life, or I could make something of my life. I was going to get a degree from Arizona State. No one was going to tell me otherwise, and no injury was going to get in my way.
After months of trying, my parents finally said yes. I was going to be a normal kid again. I couldn't stop smiling.
Even though I had been out of school for more than a year, my friends saved me a room in their newly rented house. Not just any room — the master bedroom. They even thought to find a handicap-accessible house. I'm so grateful to those guys. We made some incredible memories together.
One was on the first Halloween after my injury.
That year, my costume was pretty much on point. I had never really been one for Halloween, but I had to take advantage of my situation.
So my friends and I had this crazy idea. I was going to go out to parties dressed as Lieutenant Dan from Forrest Gump.
It's alright, you can laugh. It was hilarious.
When we arrived at a party, I showed off my outfit to a couple of friends. We shared some laughs and had a few beers, and then … a group of girls came up to us.
Oh, boy.
They had zero idea about my injury. One of them, clearly impressed by the authenticity of my costume, said something like, "Oh, my God! I can't believe you went this far." Another said, "Where'd you get the wheelchair?" And another said, "C'mon, get out of the chair and go put it in the corner."
I wondered how my friends were going to react. I was cool with going along with it, but I was concerned that they would feel awkward.
Well … my friends burst out laughing.
That solved that, I guess.
We played along with it for the entire night. Man, Lieutenant Dan will surely live in infamy.
A different time, my buddies and I went to this apartment complex for a party.
We arrived and looked around the lobby.
"O.K., where's the elevator."
No elevator.
"What floor's the party on?"
"I think four."
Oh, shit.
"Guys, wait here. I'll be back."
One of my roommates went up to the apartment to scout out the place. Two minutes later, he returned.
"O.K., this is the plan. Cory, just bear with us."
One of them picked me up out of my wheelchair and threw me over his shoulder, fireman style. I was holding on for dear life. One guy led the way, and one guy followed behind carrying my wheelchair.
Talk about a team effort.
They plopped me down on the couch. One of my buddies asked, "You good?"
"Yeah, I feel good."
Next thing I knew, everything was just … normal. People were talking to me. My friends were chatting with girls. Everything felt right.
Moments like these — I have so many. They're so vivid because my friends didn't care what I looked like. They didn't care who I was. They just wanted to be with me. They wanted to be my friend. These guys are amazing.
This was why I came back to Arizona State.
***
In 2013, two years after my injury, I received a call from Arizona State's head baseball coach, Tim Esmay. He had appointed me student-coach when I returned to school after my injury, so I figured we were going to chat about the team.
But that wasn't the case. He reminded me that the MLB draft was in four or five days.
He said, "I'm not going to tell you who they are, but there have been a few teams that have called me asking if it'd be O.K. to draft you."
Wait, really?
"Yeah, that'd be an incredible gesture," I said. "I'm all for it."
A few days passed and I didn't think more about that phone call. I wasn't sure that it was actually going to happen, so I didn't worry too much.
The first day of the draft was the same day my parents and I flew to Florida to receive an achievement award from the NCAA. I was following the draft on my phone and saw some of my friends get picked pretty early. I was so proud of them.
Once the award ceremony was over, my parents and I returned to the Jacksonville airport. That was when I received a phone call from an area scout in Arizona.
"What do you think about getting drafted? I can't guarantee anything, but there are talks. Stay tuned."
Wait, could this actually happen?
I was speechless.
My wheelchair probably left some tread marks in the terminal, because I kept rolling back and forth waiting for my phone to ring. They had just announced last call for my flight, so my parents and I were forced to get on the plane. It was the 32nd round.
I thought, Of course, this would happen.
C'mon. C'mon! Call me!
We were five minutes away from take off. Seatbelts were supposed to be fastened, tray tables were supposed to be in their locked and upright position, and phones were supposed to be off.
But not mine. No way.
As the plane was taxiing, my phone finally rang. Unknown number.
I answered it, trying to shield others from seeing that I was on my phone. On the line was Derrick Hall, CEO and president of the Arizona Diamondbacks — the same Derrick Hall who had visited me in the ICU two years earlier.
"Cory, I just wanted to call you personally and tell you that we're going to select you in the 34th round, in about four picks. Stay close to your phone."
I couldn't believe it. I turned to my parents with my phone still up to my ear, and smiled.
"O.K., O.K. Sounds good. Thank you so much."
About three minutes later, I received the call I had been waiting for.
Again, it was Derrick on the other end of the line.
"Cory, I just want to personally and officially welcome you to the Diamondbacks organization. We just selected you."
I looked over to my parents. They were blurry through my tears.
"Thank you so much. I'm so humbled."
We did it. We're Diamondbacks.
My parents and I started to cry.
It happened. We did it.
I hung up and shut off my phone.
I smiled all the way home.
***
These days, I'm not much of a ballplayer, although in my heart I always will be.
I recently graduated from Arizona State with my original class despite missing a year of school. For three straight semesters, I took something like 21 class-hours. I never worked so hard in my entire life. I wanted to prove to my parents that they had made the right decision. I wasn't going to fail. Not for them and not for me. I wanted to show that through hard work, passion, and belief in yourself, we are capable of anything.
After getting drafted, I obviously wasn't going to play ball for the Diamondbacks. But they still decided to put me to work. Derrick Hall told me that getting drafted wasn't honorary. It wasn't symbolic. He told me that I didn't have to play baseball to add value to the organization.
I'm now a part of our baseball operations department and scout for the team. I analyze high school, college, minor league and major league players.
I've been through a bunch of ups and downs. But life is starting to level off a bit — it's becoming rewarding. The past couple of months have been a ton of fun. Right now the team and I are preparing for the upcoming draft, where we'll have to make some pretty important decisions on the future of some young kids.
But no matter how normal life is, I'd be lying to you if I said that I didn't sift through the what ifs whenever I'm watching a game for work or lying in bed at night. It's tough stuff, and honestly, I struggle with it on a regular basis.
There's one thing, though, that pulls me out of the dark: perspective. For as tough as it is — for as much as I have to battle all the time — I've realized that I've come a long way and have been able to do so much good — that I've been able to inspire people. To me, that's what it's all about.
I promise you I will never give up, I WILL win this battle, I WILL walk again.
On May 8 the whole world will run for those who can't. The Wings for Life World Run raises money to help find a cure for spinal cord injuries. I invite you to join me in it.
Every person living with a spinal cord injury is just a boy or a girl from somewhere. Their injuries don't define them. Me, I'm just a boy from Cali. My injury doesn't define me.
I'm excited about the future of spinal-cord research. Together, we have the power to make an incredible difference. Join me, because I won't be able to do it without you.
***
Cory Hahn serves as an ambassador for the Wings for Life World Run, which is dedicated to finding a cure for spinal cord injury. For more information, visit wingsforlifeworldrun.com.