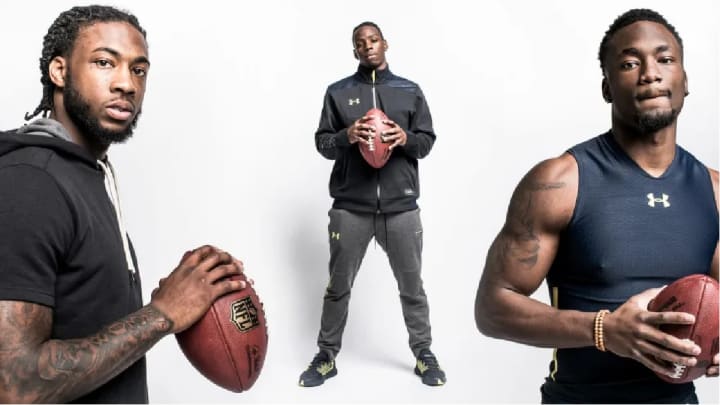 Scouting the Three Best Wide Receiver Prospects in the 2017 Draft
Before I get into my favorite wide receivers in the 2017 NFL draft, I got a fact for you.
Over 25,000 people have played in the NFL in the league's 97 seasons.
Of those 25,000, only a few have lasted more than four years.
What I'm saying is, getting drafted to play in the NFL is very, very difficult — but sticking around is twice as hard.
Whether a draftee is successful in the league or not has a lot to do with his mindset. Something I don't think many young players understand is that getting drafted doesn't mean that they suddenly have a career — it's simply a career opportunity. If you make it to the NFL, it means you've got ability. But everyone in the league has ability. It is the minimum of what you need. And as a wide receiver, you're going to be facing backup DBs who are much better than anyone you faced in college.
Early on in my rookie year, my wide receiver's coach at the time asked me, "Cris, what's your favorite route to run? What's your favorite release to shake a defender?" He wanted to show me firsthand the difference between college and the pros.
I told him, "Man, I love the post corner route." I scored a ton of touchdowns at Ohio State on that play. So my coach called for the post corner route in practice one day, and we ran it a couple of times.
It didn't work. It didn't work at all.
I realized, Man, you don't have the time to run that route in the NFL.
And it dawned at me all at once that my favorite move — the one that I'd beaten so many guys with in college — was no longer any good. One of the things that had gotten me the stats and recognition I needed to get drafted was out the window.  
And that's really the hardest lesson a young player needs to learn: Your best stuff isn't good enough anymore. Not at this level.
For that reason, the league is a little overwhelming for rookies at first. But what's important for young players to remember is that every rookie is overwhelmed. Getting that big, insanely complicated playbook isn't something that is easy to take in stride. It feels like you're supposed to know Mandarin fluently when you've only been speaking English your whole life — and you don't really even have English down yet.
This is all to say that while a lot of the players in the upcoming draft have the potential to be stars, at this point, that's all they have: potential.
There are dozens of wide-receiver prospects in this draft, but only three are considered by most to be first-round material. After following each of them all year long, I understand why. I love the way these guys play.
Without further ado, here are my thoughts on the top three receivers in this year's draft.
Elaine Thompson/AP Images
John is one of the truly special players in this draft.
This kid has got game-breaking speed. I'm talking 4.2 speed, which broke the NFL Combine record. But he's not just a track guy playing football, like some of the speed guys you see. He's got world-class speed and an athletic body. Those guys just don't come around very often.
In the right system, John Ross is instantly a home run hitter. For such a fast guy, he catches the ball really well. Out of all the fast guys that have played in college over the last five to 10 years, I would say he has one of the better sets of hands. And physically, he's also tough. He wasn't a guy who only ran fly routes, in other words. Last season especially, there were plenty of games where he was more of a possession receiver. That shows me something. You can tell he's a real football player.
I don't think he'll thrive in a place where he's expected to go up against other teams' top corners right away. He's not quite ready for that. But a situation I like for him is if he gets selected somebody who can pair him with a true No. 1 receiver — that way, you can use him on bubble screens and other complementary routes and really take advantage of matchups.
Expect to see John in an NFL end zone near you real soon.

Cris's Comp: DeSean Jackson
David Rosenblum/Icon Sportswire
My question about Mike Williams is: Will he develop into the best wide receiver on his team or the best wide receiver in the league? Mike Williams has incredible size for the position — he's 6′ 4″ and about 220 pounds. I'm talking a Julio Jones–type frame, which is exciting to think about. For Mike, I think it's going to be all about how he responds to a few specific concerns I have about his game. Can he find an extra gear? And will he discover an extra-fast twitch that helps him separate? He's got great hands and a great catch radius. But is there more to his game?
I could see a scenario where he develops into an All-Pro player like T.O., who had the ability to use his strength and speed to consistently get separation. I have to admit, I could also see him becoming more of a jump-ball receiver, who isn't necessarily craftier than your average NFL DB. Those players have value, but not first-round value.
He showed out in the College Football Playoff, putting up great numbers against Ohio State and Alabama, buuuut … he also had DeShaun Watson throwing to him in a fast-paced offensive system.
So for me, Mike is a very interesting prospect because there's really no cap on his potential, which makes him worth the risk in the first round. He has the temperament. He has the size and skill. But does he have the ability and willingness to evolve beyond being an outstanding college player? We'll find out.
Cris's Comp: Alshon Jeffery
Michael Conroy/AP Images
When I'm thinking of the prototype receiver coming out of college, I'm thinking of a guy who is probably between 6′ 1″ and 6′ 3″, and who weighs between 190 and 205 pounds.
Corey Davis is listed at 6′ 3″, 205. I love it.
I think Corey can be a sensational receiver. I love his ability to catch the ball in traffic. He's not the fastest wideout, and he's not the biggest, but he has a nose for the end zone. In the NFL the closer you get the the end zone the harder it is to throw the ball. So if I'm a coach in the NFL, I want someone who can finish plays.
Corey Davis is a finisher.
Now the knock on him is the competition level in the MAC, but all he did was set the FBS record for career receiving yards. He knows what it's like to be "the man" on offense. For several seasons now, he's been in the position where everyone knows he's getting the ball and he was able to make plays anyway. Granted, he's not as fast as John Ross or as physically gifted as Mike Williams, but he makes up for that with his natural intuition for the game. He's so good at finding space on the field, which is such an important quality.
Corey plays the game like he was born to be a wide receiver. With a little bit of time, I think he'll become a truly great NFL player.
Cris's Comp: AJ Green.