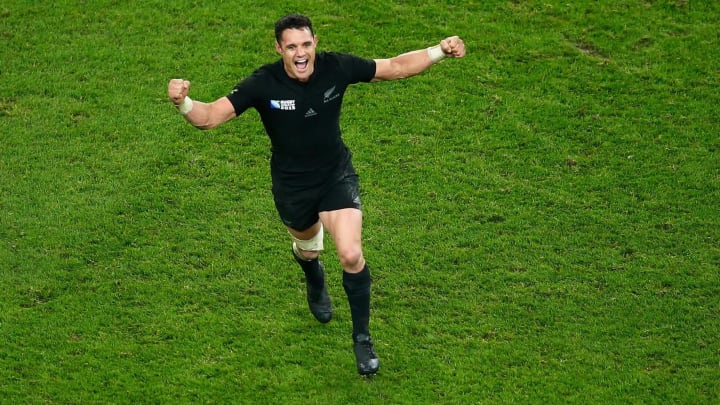 The Return to the Top
I thought I was done. It was time to retire.

We were near the end of the 2013 season, and I was trying to warm myself up one morning. That year I'd suffered a bunch of injuries which resulted in me playing in only a handful of games. But even when I did get game-action, my form just wasn't there.

I was going for a jog, just as I'd done so many times before, but this time was different. In my mind, I could sense myself feel an injury coming on constantly.

I'd take a step.

Did I just pull my calf?

Another step.

Is my hamstring tight?

I felt this intense anger and frustration with my body.

Why are you doing this now? I need you!
When you're a professional athlete, and reach the point when your mind and body are no longer on the same page, that usually means you're done.

I tried to calm myself down. I just had to make it through that season. The New Zealand Rugby Union had granted me a six-month sabbatical, just to get away from the game. It was kind of a reward for the decade I had spent playing for the All-Blacks. I just needed to make it to that point and then give myself some time to evaluate my next step, whatever that may be.

I knew that these injuries were a culmination of a decade of playing this brutal sport at a high level. They weren't a curse so much as an eventuality.

The last time I'd been given a break in 2009, I used it as an opportunity to play rugby in France for six months. This time I knew that I really needed to get away from the sport. Living in New Zealand, rugby is everything, and there's always some kind of training or game to participate in. It's quite easy to be entirely consumed by it.

When I was away from rugby, I can say that I was, well, truly away from rugby. I traveled to places and saw things that I'd missed out on before. I went to Formula 1 in Melbourne, took in The Masters at Augusta and traveled to Coachella in California. I got the opportunity to do quite a few things that a rugby player never gets to do during their career.

For a few weeks, I didn't think about whether I'd play again. I didn't really think about the sport at all. And that's what I needed.

As I neared the end of the break, I began really feeling a sense of withdrawal. I'd never had the opportunity to miss rugby before. It had been there for as long as I could remember. But now I'd begun watching games on TV longingly. And at that point I felt a wave a relief. I still wanted this. I knew deep down that I still had good rugby left in me, and I wanted to give it another go.
Of course, whether the game was ready to take me back was another matter entirely.

Two weeks before I was scheduled to make my first Test match appearance back with the All-Blacks, I broke my leg. After spending six months dedicated to rebuilding myself, I was back where I started. By that point, we were 15 months away from the Rugby World Cup and it was clear that I was at a place where I had neither the health or the form to be part of it.

For the first time in my life, I began to question my love for this sport. I questioned whether my body could handle it anymore. The critics who had been going on about my age started making more sense to me. All those big plays I'd made during my career seemed like memories now. And I began wondering what kind of legacy I'd leave behind if I were to announce my retirement right then. I probably could have slipped away from the game, and I don't think anyone would have thought less of me for it.

So I spent a lot of time that summer pondering my future and what was next. I was fortunate to have a wife who played hockey for New Zealand, and had a deep understanding of my personal feelings as well the psychology of sports. I would tell her that I wanted to retire, that I didn't think I had the talent anymore. She was my rock and my sounding board during this time, and despite my arguments, kept encouraging me. If it wasn't for her and my love for the All-Black jersey, I'd probably have long since hung up my cleats.

But I stuck with it, even though it was a struggle. One day, I'd be confident and feeling good, and the next day I'd be thinking about how I'd go about announcing my retirement. After going back and forth on it for a few weeks, I made the decision to announce that I would end my career with the All-Blacks after the 2015 World Cup.

Now, I committed to that before I even knew if I was going to make the World Cup roster. Based on my previous two years, I definitely didn't deserve to make the team. I mean, I had only participated in eight or nine games, and I hadn't even performed particularly well in most of them. Also, it wasn't entirely clear if the coaches wanted me back. I understood why — there were a couple of other guys at my position who really deserved to make the team.
By announcing my intention to end my international career after the World Cup, I think I was trying to motivate myself to get back to where I knew I could be.

The first step was fully regaining my confidence in my abilities. After some wavering, my provincial team decided to re-sign me. They played me out of position for most of the season, which was tough because I was trying to prove I could still be a fly-half for the All-Blacks. But I think just getting back in game action and part of a team sort of rejuvenated me.

Honestly, I didn't care how I played; I just wanted to get through it. I needed to prove to myself that I could make it through a series of games without breaking down. Once we made it halfway through the season and I was injury free, I got to take a step back and change my goals. Now I shifted my focus to elevating my play to another level and making meaningful contributions.

Once the All-Blacks season started, I made appearances in five games, and my form was okay, but certainly not at the level it had been at the past. I wasn't sure if I still had room for improvement or if that was just what I could expect from myself going forward. The doubters got a little more vocal and the chorus of people saying I shouldn't be on the team started to get louder.

There was a lot of pressure heading into our last game before the World Cup, both for the team and certainly for myself. We were facing Australia in a do-or-die match for the Bledisloe Cup. This is something the two countries compete for every year, and I hadn't lost it since I began playing with the All-Blacks in 2003. If we didn't win the game, and I was part of the reason why, my odds of making the World Cup roster, which was set to be announced the following week, would probably be shot.

In a lot of ways, the journey I'd taken since 2013 to rebuild myself as a rugby player had all led to that point, and something inside of me kind of clicked. We won the match 41-13 and I turned in one of my best international performances.

I knew that I was back, and the following week I was told I'd be manning the fly-half position when we competed for the World Cup in England.
In retrospect, you couldn't have written a more perfect script for how the tournament played out.

In the quarterfinal we had France, the team that knocked us out of the World Cup in 2007. That loss marked one of the darkest days in New Zealand's sporting history, and the wound was still very much fresh in the minds of several members of the team when we took the field. This time around, we thrashed them by 60 points, almost as a way of saying, "Not this year." A lot of very bad feelings were put to bed in an emphatic way, and I think the performance set the tone for our next two games, which had no shortage of emotions attached to them.

In the semi-finals we had South Africa, one of our fiercest rivals. We get on so well with the South African players when we're not playing, but on the pitch, it is all out war. It was incredibly close, but we pulled off a two-point victory that took just about every ounce of us and advanced us to the final.

Waiting for us there, of course, had to be Australia. As if the stakes weren't high enough.

New Zealand plays the role of little brother to Australia in most affairs. As a Kiwi, you get the sense that they look down on you. They are the one team in the world more than any other that we absolutely don't want to lose to. Given the veterans we had, I felt like we deserved to finish on a high, but the Wallabies would have loved nothing more than to spoil our party.

In the second half, we were up 21-3, when one of our players was sent to the sin bin for 10 minutes with a yellow card. Australia scored two quick tries and suddenly had all the momentum on their side. The score was 21-17 at that point and we needed just three more points to give ourselves some breathing room. I saw an opening and attempted a drop goal from 40 meters out. It was impulsive, it was risky and it's something I absolutely couldn't have attempted unless I had full confidence in my body. When it sailed through, the Aussies energy level dropped and ours picked up once again. You could really sense that the momentum shifted back in our favor, and from there we were able to hold on to win the match.
It was a wild scene after the final whistle blew.

Most of it is just a blur even now. But what I do remember is after the game, sitting in the changing room with this huge smile on my face. I was staring down at the medal around my neck and in the middle of the room was the gigantic World Cup trophy. To top it all off, I earned Man of the Match honors as well. In that moment, I kind of tried to just fully experience what I was feeling because there are only so many moments in life when you get to feel the complete satisfaction of a mission accomplished. Since I was a young child, I dreamed of earning the honor of wearing that All-Black jersey just one time. In the months prior to this, all I'd hoped for was one last opportunity to represent my country. But this? This moment was beyond my wildest dreams.

Just 24 hours later, I was named World Rugby Player of the Year, which seemed completely impossible not too long ago. In many ways, it's an honor that belongs to many people: The All-Blacks training staff that helped me meticulously reconstruct my broken down body, the coaches who showed so much faith in me, my teammates who motivated me to play at their level, and my wife, for refusing to let me retire even when it seemed like the most sensible decision.

The past couple of years have felt like an intense journey. It began with a lot of doubts as to whether I could still play this game, and it ended in a better place than I could have ever imagined. During that time, there were many moments when I considered how I'd retire. Now I know: As a world champion.

***