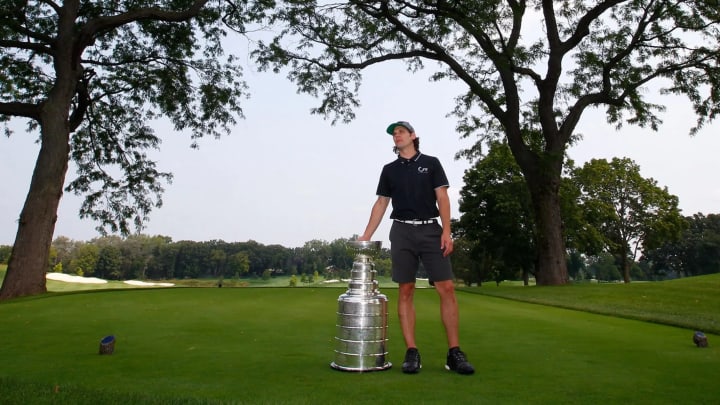 A Bittersweet Day
My friend Steve Montador and I had a routine. We used to go out to the same golf course in Chicago after practice and play nine holes. We weren't amazing golfers, but it was just a place for us to get away from hockey and stress for a little bit. For all the holes we played over the years, the thing I remember most is Monty's laugh echoing out over that quiet course.
We used to laugh our asses off out there. We didn't talk about hockey. We talked about all the things we wanted to do when we were done with the game, or when the game was done with us. When Monty passed away in February, one of the memories I kept coming back to was how much fun we had out there on the golf course. The future seemed to be right in front of us. We just weren't quite sure what to do with it.
In April, when I decided to sit down and talk about how Monty and many other players have struggled to transition to life outside of hockey, I was nervous about how it would be received. The unspoken sentiment is that you don't talk about this kind of stuff in the hockey world. It can be seen as a "distraction." When I reached out to my teammates on the Blackhawks to tell them what I was doing, I was really surprised by the reaction. They couldn't have been more supportive. After the video came out, I had a number of current and former NHL players reach out to me to say that they're struggling with the same issues.
In our own locker room, it wasn't a distraction at all. If anything, I think it helped to get it out into the open. I can't say enough about that group of guys in Chicago. So many of my teammates came up to me and gave me a hug and asked, "How can I help?" Everybody misses Monty. Everybody wishes he was still with us. So how do we make it better? How do we help guys with the stress and anxiety that comes with losing the only identity they've had since they were 16 years old? How can we help them find a new purpose in life?
Those questions have stuck with me all summer long. I'm a big believer in signs. When we won the Stanley Cup and I was still lying awake at night thinking about how to carry on Monty's legacy, it felt like it was a sign that it's time to close one chapter and open another one.
Today, I'm retiring from the National Hockey League. My immediate goal is to help athletes transition to the next phase of their life — whether it's continuing education, finding internships with companies, or networking with other athletes who are dealing with the same issues. My mission is to help guys who are dealing with anxiety, depression, and uncertainty about their future. Not down the line, not next week, but right now.
If golf with Monty taught me anything, it's that sometimes you just need someone to talk to who understands. So how do we create that network? How do we connect athletes with each other, and with businesses and mentors who can harness their skills? Last week, during my day with the Stanley Cup, my family and I got to work on that dream with the first fundraiser for our new non-profit foundation, Chapter 5 (named in honor of Monty's number).

Thanks to the people of Chicago who came out to get their picture taken with Lord Stanley and who bid on gear donated by my Blackhawks teammates, we raised the first funds to get Chapter 5 off the ground. The next step is to hire our first full-time staffer and get to work on talking with the leagues and players' associations across all sports to plan out how we can provide immediate help — how we can connect what's really going on in locker rooms and behind closed doors with what's being talked about in conference rooms.

I don't want to wait. I want to get guys internships now. I want to help guys find a structure and a purpose now. When guys are done with the game, the game shouldn't be done with them. We sacrifice too much for that to be the status quo.
In my last few hours with the Stanley Cup, I took it to the place that gave me the most happiness during my career. The golf course. It might sound strange, but what guys miss the most when they retire isn't the rush of getting into fights or playing in front of 20,000 people. It's the down time when you're B.S.ing around in the locker room or grabbing dinner or playing golf after practice. You miss the structure of hanging out with your best friends every day. When you get thrown back out into the real world, it can be lonely.

It was bittersweet being at the golf course with the Stanley Cup and not having Monty there. I kept expecting to hear his big, goofy laugh break the silence. But watching my son climb on the Cup and pretending to drive the golf cart was really special. He's carrying on the tradition of breaking all the rules at the country club for us.

Monty, you would have loved it, buddy. Thanks for being a a great friend. I'll pass it on.