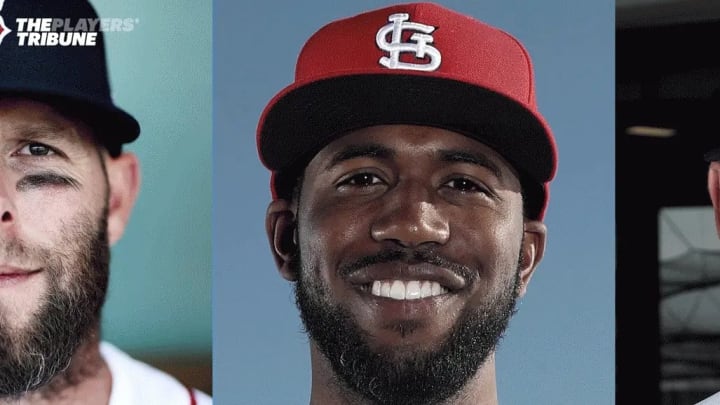 Elite 'Glue Guys' 101
Tom Dipace
In 2008, after we had lost to the Rays in the ALCS, I was in the Red Sox clubhouse cleaning out my locker when Theo Epstein walked in and asked to speak with me. We ducked into Terry Francona's office, which had already been cleaned out, for what amounted to an exit interview.
It had been a crazy two months for me. I had been released for the first time, by the Reds, and at that point, I thought my career might be over. But then Boston picked me up, and, after a deep playoff run, I was about to be a free agent.
Theo and I sat down, and he shot me straight: The Red Sox weren't going to re-sign me. He said that he loved having me in Boston and that he'd be in touch, and he thanked me for everything I had done in my short time with the team.
Then, he dropped a bombshell on me.
He wanted me to know that I had a … reputation. I'm trying to remember his exact words, but basically, he said that I was known as a guy who didn't understand or didn't want to accept his role — a role that was basically that of a backup or role player.
That I was selfish.
A bad teammate.
That hit me hard because that's not the kind of player I thought I was or wanted to be. That's not the kind of player anybody wants to be. That's the worst kind of player.
Theo reiterated that these weren't things he had seen in me, only what he'd heard through the grapevine. And knowing that I was about to be a free agent, he wanted me to know. I appreciated his honesty.
"Reputations die hard," he said.
---
---
Honestly, I've never been asked to write anything in my life, so this should be interesting. But when The Players' Tribune asked me to write a little something highlighting the "glue guys" around Major League Baseball, the first thing I wanted to do was make sure you know that the guys I'm going to discuss aren't the only glue guys around the league. That I'm not this all-knowing, all-powerful expert on the subject. I'm just a guy who — especially toward the end of his career — became one of those guys in the clubhouse. These are just the guys who stand out to me because I've either played with them or I've watched them from afar, and what they've done has resonated with me.
So … what's a glue guy?
Well, it's not the David Ross that Theo said he'd heard about back in 2008. In fact, it's the opposite. It's a guy who's unselfish and who's a good teammate — the kind of guy I like to think I developed into. A guy who communicates well and who's honest with his teammates and himself. Somebody the other guys can count on to offer advice or encouragement. He keeps everybody loose, but at the same time, focused.
Basically, it's a guy who — in baseball clubhouses that often have age gaps, varying talent levels and even language barriers — just sort of keeps everything together.
You know, like glue.
I never set out to be a glue guy. But after that conversation with Theo, I wanted to make sure that nobody ever used the terms selfish or bad teammate in the same breath as my name again. So I started taking notice of other guys and how they positively impacted the clubhouse, and I learned a little bit from each of them along the way. These are some of the guys who really stuck out.
---
---
Dustin Pedroia

Most guys get to the clubhouse around 2 p.m. for a night game. But by that time, Dustin is already
there … in full uniform, wearing his spikes, with eye black on, ready for batting practice. He's been there since 11 a.m. watching film. Maybe by himself, maybe with a couple of other guys, trying to help them out
Tom DiPace
His sole focus is winning, and he does everything he can to help his team win.
Here's a story about Dustin that kinda sums him up: We were playing the Tigers in Boston in 2013. It was the bottom of the sixth and we had just scored five runs to take a 10–4 lead. We were blowing it open.
Then Dustin got called out on a borderline third strike, and he let the umpire have it. He came into the dugout ranting and raving, like, "That wasn't a strike! They need to stay professional and not let the score dictate!"
I wanted to tell him to calm down, but that's just who he is. Most guys would have been O.K. with giving an at bat away in that situation — where we pretty much had the game in hand, or at least we were in control.
But not Dustin.
He was so pissed that the umpire took the bat out of his hands.
Tom Dipace
That stuck with me. Dustin never gives an at bat away. He's 100% focused on everything he does on the baseball field, regardless of the score or situation. It's the only way he knows how to play. That's a winner's mentality, and seeing that firsthand showed me the focus it takes to win every day. And when you see a guy who plays that hard and cares that much every pitch, every day … that's a
guy you want to take the field with.
---
---
Adrian Beltre
Adrian Beltre put me in a headlock once and almost squeezed my neck off.
It was my rookie year with the Dodgers, and I was sitting in a chair in front of my locker. Some of the guys were having a conversation around me, and I chimed in with a comment. I don't remember what they were talking about or what I said — it was so long ago and I've been hit in the head too many times — but I popped off about something, and Belly was like, "Oh yeah, Rossy? You getting a little comfy over there, eh?"
I just kind of laughed, you know? Everybody was joking around, and so was I.
But I was the rookie.
And what I learned right then was … stay in your lane, rookie.
Tom Dipace
So I'm still laughing, and Belly comes over to me, puts his python of an arm around my neck, lifts me off my chair and gets me in a sleeper hold. I couldn't move. I was paralyzed. I had nowhere to go. Everybody else was still laughing and joking — including Belly — but I was like, Oh shit … what have I done?
He finally lets me out of the choke hold, and everybody is still laughing … except me, because at this point, I don't know if I'm allowed.
It wasn't malicious or anything, and he obviously wasn't trying to hurt me — though I'm pretty sure he could have if he wanted to. He just wanted to send a message: Don't mistake kindness for weakness. Like, Hey, I'll be nice to you. But you're gonna respect me.
I think Belly is the prime example of that.
I remember in L.A. when he was playing third and Cesar Izturis was at short. When there was a pop-up in the infield, if Izturis settled underneath it, Belly would get right behind him — almost underneath him — joking around like he didn't trust Izturis to make the play, even though it was a gimme. You see Elvis Andrus do it to him in Texas now, and it's always funny.
And that's on the field, during a game, with a live ball in play … and they're joking around.
But they always take care of their business.
With that sleeper hold, Belly taught me that you can be a good clubhouse guy without letting people walk all over you or disrespect you. You can be a nice guy and have fun, but at the same time, take your craft seriously and compete when it's time to compete.
It's a lesson that has always stuck with me.
---
---
Dexter Fowler
You have your Dustin Pedroias and your Adrian Beltres … then you have a guy like Dexter Fowler, who just brings a different kind of energy to a clubhouse. He plays hard and prepares well, but with Dexter, it's really just his presence that lifts a team up. He's never dragging. And if you're dragging, he has energy to spare. His smile is infectious, and every day it feels like he's just happy that he gets to play baseball — and he's like that for 162 games.
When he was leading off for us in Chicago, he set the tone every day that we were going to play hard and have a good time doing it. He always gave us that spark. Even when he walked into the clubhouse, he's saying hey to guys, yelling nicknames across the room, saying good morning or good afternoon to everybody he passes. He's always engaged.
Tom DiPace
He's always in on what's going on with the rest of the guys away from the field, too. That was one of Joe Maddon's big things: Like, if we're dressing up, we're all dressing up. Dexter was always right there. Team dinner? He's in. And he's bringing that energy with him. He brings a consistent, positive attitude to everything he does.
It's easy to forget sometimes that baseball is supposed to be fun and that we're all fortunate to get to play a game for a living.
It's hard to forget that when you play every day with a guy like Dexter.
---
---
Yadier Molina
I have to admit … Yadi is my secret catcher crush. He's the perfect example you want set day in and day out for your team.
First, he's always looking to help his pitcher — always looking to get an out. Like the pick-off throw behind the runner he used to do. He doesn't do it as much anymore, but I can't even count how many times I've seen him nail a guy at first who got too big of a lead. He'll throw to any base, any time, if he thinks he has a shot at stealing an out.
And his work ethic is incredible. I've heard stories about him in spring training out there with the minor leaguers at 6 a.m. blocking balls. This is a guy who's an established All-Star — a Gold Glover — yet he's up early, right in the mix with the young guys, doing basic drills. Because he wants the young guys to know, Hey, I'm on the same level as you. We're all trying to get better. That's why we're here.  
Tom Dipace
He's also out there because he just loves the game. I mean, this is a guy who plays every day, even day games, in St. Louis, in the heat of the summer.
A day game after a night game is usually a good opportunity to give a couple of guys a day off, and as a backup in Atlanta, I used to play day games to give Brian McCann a break. So we're in St. Louis, and I see Yadi is in the lineup. So I walk over to him and say, "Hey man, what are you doing? It's a day game. You're supposed to take the day off."
And he's like, "Noooo, Papi, I gotta be in here. I love it, I love it, I love it!"
That's it. He just loves the game. He loves competing. He loves winning.
And he's always communicating — with his pitcher, with the manager, with the guys out in the field. Everything runs through him.
When it comes to catchers in this game — and I guess glue guys, too — he's about as good as it gets.
---
---
Justin Turner
I first noticed Justin a few years ago when he was with the Mets, when he was coming off the bench, pinch hitting, and always having great at bats — tough at bats, too, coming in late to face closers. Those are the toughest. You're coming off the bench to face a guy who's fresh and throwing 100 mph in a tight game where your at bat could be the difference between winning and losing. I learned a lot about the kind of player he is by watching those at bats.
I learned about the kind of guy he is when he went to Los Angeles.
He's another guy who just has that presence — that energy factor. He looks like he's always having the most fun on the field every time he plays. Plus he's got that little Cali-style thing going on, with the long hair and beard, like, Hey, I'm here to have a good time. I like his vibe.
Tom DiPace
Just watch a Dodgers game. Any game. You'll see him in the dugout and he's in the middle of everything. He's taking selfies with Adrian Gonzalez or doing a secret handshake with one of the young guys. He's talking to everybody down the line, from Dave Roberts to the bat boy. They're in the middle of a game that everybody takes seriously because … you know, it's their job … and Justin pops up and starts talking to somebody, and you always see them laugh or smile as he walks away and bounces off to the next group of guys. He has that kind of impact on everybody in the dugout.
I mean, if your teammates step up and call out fans for not voting you into the All-Star game, like Justin's did this season, you're probably a glue guy. That right there not only shows me that he takes the game seriously, but it also shows me the kind of respect he commands in the clubhouse, and that his teammates just love him.
He's the guy that makes the Dodgers' engine run.
---
---
Hunter Pence

You can't talk about guys having fun without talking about Hunter Pence, but it's his focus, work ethic and passion that makes him one of the game's truly unique guys.
Tom DiPace
I had some interactions with him in the batter's box, and he's not chatty or laid back like you might think. He's ultra-focused. He'll look back at me like, "Hey, how you doin'?" And that's it. He locks in. And he seems to bring that work ethic and intensity to everything he does.
I've seen him out on the field before a game doing lunge-squats with 80-pound dumbbells — I'm talking at like four o'clock before a night game. And I'm watching him like, What the heck is this animal doing?
It feels like he'd be the guy that would run a marathon and either leave everybody in the dust, or he'd run until he passed out. He runs hard down the baselines and around the bases. In the outfield, I feel like he's throwing as hard as he can every time he throws it. He swings for the fences and he never gives away an at bat. It always feels like his internal engine is running higher than anyone else's on the field. I just love the way he plays the game.
Tom Dipace
You've probably heard stories about his speeches — whether it's in the locker room before Game 7 of the World Series or in the dugout before a day game in the middle of June. But then when you see his interactions with the fans, like him leading the Yes! chant they do in San Francisco, it's clear that he's just one of those guys that everybody seems to rally around. Some guys just have that. You
can't teach it.
---
---
Carlos Beltran

I wish I would have had the opportunity to play with Carlos Beltran. I always respected the way he played, and I hated when we were playing against him and he came up to bat in a big situation.

But I've also heard stories about him taking the younger guys under his wing — especially the Latino players. I don't know Beltran personally, but from talking to Brian McCann and others who have played with him, he appears to be just one of the best guys to be around.
Tom Dipace
You know how sometimes you hear a guy described as a "student of the game?" Well, Beltran is a teacher of the game. He's a veteran the young guys always know they can approach to talk about hitting — strategy, what a good at bat looks like, finding an edge against an opposing pitcher … anything.

I think he's the perfect fit for this young, talented Astros team. When you get a winning player with his experience willing to share his time and knowledge with a core of young, talented players, that can only be a positive, and I think it will take the Astros a long way this season. I also think he'll leave a mark on those young guys that will last long after he's left the game.
---
---
Brian McCann

To to be a glue guy, you have to be a good person first. There's no way around it. And Brian McCann is genuinely one of the best human beings I've ever met.

After I left the Red Sox in 2008, I signed with the Braves to back up McCann, and I could see right away how he carried himself and the way he lifted everybody up around him. Whether he was dealing with the pitching staff or talking with me about game-calling, he would always put a positive spin on the conversation when you least expected it.

He could do that because he paid attention.

That's the biggest key to being unselfish: You have to be aware of what's happening with everybody around you — how they perform and how to get the most out of them. It seemed like Brian was always there to tell me, "Hey man, great swing," or, "Bro, you're one of the best at the exchange. I've never seen a guy as quick as you."

And it always seemed to come right when I needed to hear it most.
Tom DiPace
It's kind of a sixth sense, knowing what a guy needs to hear and when, and Brian had it.

When he had the day off and I was catching, he was the first one to high-five me at the top of the steps when I came off the field. Every time. You'd think the guy would take his day off and just hang back. But no … he was there, watching my at bats, noticing when I threw guys out and how I called the game. He was always there to lift me up.

All the guys on this list are the kinds of guys you want and need to have in a clubhouse. But out of everybody I've ever seen or played with, I don't think anybody has ever had as big an impact on the kind of teammate and person I became as Brian McCann.