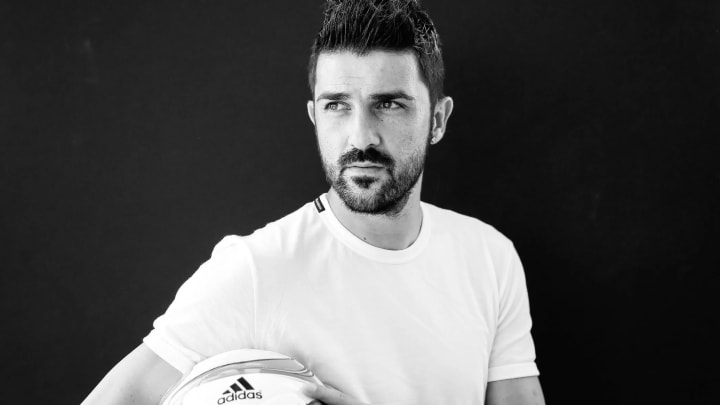 Just a Kid from Tuilla
"Hello, David. Welcome to New York."
This much I could understand. The man in the nice suit extended his hand. I shook it and smiled. Then he said something else, and I got very nervous. I think he asked me a question?
We were standing in the tunnel outside the locker rooms at Yankee Stadium. I had just moved from Atlético Madrid to New York City's new football club, NYCFC. It was one of my first trips to the stadium, and I was walking around, taking it all in. When I was growing up in Spain, we knew very little about America. New York City was a place that only existed in movies. But the one thing we did know was the Yankees. So I'm standing there looking out at this huge symbol for American sports, my new home, when all of a sudden this very important-looking man in the nice suit walks up to me.
I had no idea what he was saying. I was not even entirely sure who he was. Then I picked up the word "Steinbrenner" and my heart sank. At that moment, I realized my English lessons watching American TV with my daughters were not getting the job done. I had felt so confident learning conversational English from the Disney Channel, but now all of a sudden I was standing in front of Hank Steinbrenner in his ballpark and I could not express myself the way I wanted to. I wanted to say so many things to this important man, but I felt trapped in my own body.
Hank and I looked at one another for a few seconds in silence. I turned to my translator: "Please tell him that I am working hard on my English!" Hank laughed and said that it was okay. At that moment, I realized that I needed to get serious with my English lessons and hire a professional tutor. This was my "Welcome to New York" moment. They say that everyone has one.
In order to explain why I feel so lucky to live in America, I need to explain where I come from.
When I think of my childhood in the small town of Tuilla, Spain, three things come to mind: football, coal mines and apples. The football part is not unique to my town. All across Spain, millions of children follow the same routine. They go to school and then come home and play street football until it gets dark. If you walk through any small town in Spain, you will see the broken windows from street football games. Often the games would be more than 11 vs. 11. It would be a free-for-all of maybe 40 kids. We knew that if we went home for dinner, that would be the end of our night. Our mothers would make us study and go to sleep. So whenever our energy was low, we improvised by jumping the nearest fence and "borrowing" some apples from the orchards around Tuilla. Some of the faster children may have even borrowed a few rabbits from the nearby farms, but I was never that quick.
We were all chasing a dream.
Everyone knows the story of The American Dream. But in Spain, we have our own version. When I was growing up, The Spanish Dream was to put on the roja national team jersey and win the World Cup for the first time in Spain's history. It is not an exaggeration to say that the dream started before I can even remember. When I was four years old, I was playing with some older boys when one of them fell on my leg, breaking my femur. It was such a bad break that the doctors told my parents that there were two treatment options. I could get surgery immediately, which would be easier on me but limit my mobility for the rest of my life. The other option was much more difficult, but had the chance to heal my leg completely. I would need to be in a plaster cast from my ankle all the way up to my hip for many months. There was a chance that if this didn't work, I would have a limp for the rest of my life.
For my father, there was only one answer. We would choose the hard road of the leg cast. My father was a football fanatic, and from the moment I was born, he did everything in his power to help me become a professional footballer. He knew a lot about hard work. Like most men in Tuilla, he was a coal miner. Every day when I would wake up for school, he would already be 800 meters (2,600 feet) below ground working a shift in the mine. Coal is what sustained the entire town during that time, but it is very dangerous work. My father lost a few friends in tragic accidents, and he had many surgeries from mining injuries. The elbow. The knees. And, of course, the nose. We joke with him to tell us about the time he fought Mike Tyson.
After I got my leg cast, I was confined to a bed for two months. My right leg was propped up by a sling. I do not remember any of this, but from what my parents tell me, the only thing I could do was watch football on TV and listen to music. I couldn't go play with my friends outside or go to school, which made me so restless that I used to kick, kick, kick my left leg so much that finally my mother suspended both legs from the slings so she could get some peace and quiet.
When I was finally allowed out of bed, I still had to be in the cast for four more months, but one of the first things I did was hop out to the yard in front of our house with my father. It was there that we started my football dream together. I grabbed onto the wall to support my weight and moved my cast to one side while my father rolled a football to my left leg. I am naturally right-footed, so this was my weaker foot. After a long day in the mine, he would stand there for hours rolling me the ball so I could pass it back to him.
To this day, I am able to use both feet very well, which I have always said is a great virtue for a footballer, especially a striker. I was never the fastest player or the most technical, but I could always hit the ball well with both feet, which makes a striker very unpredictable. That ability started because of my father sacrificing his time to roll the ball over and over again to my left foot when I was four years old. As much pain as I was in, his back was probably in more agony after a long day in the mine. But he never complained. He really loved it. From that day on, my father was always by my side watching whenever I played. He would move his shifts in the mine so he would be home in time for my practices, even if that meant starting at 2 a.m. From the time I was five years old playing park football until I moved to Zaragoza at 20, I never had to take a single bus to training. My father was always there to drive me.
When I was growing up, I had no concept of America. It seemed like a very far away place. Almost unattainable. The kids in my town never even saw the possibility of visiting one day. I did not see a horizon beyond Spain, or even beyond my town. When I was 9-10 years old, my goal was just to make the first team of Sporting Gijón, the only real professional club in our province of Asturias. You hear many stories about the academies of Barcelona and Real Madrid where children are basically already treated as professionals. This was definitely not my story.
When I was finally signed by Sporting Gijón's youth team at 16, I was still in school studying to be an electrician. The professional development program required you to do an internship — installing air conditioners, and projects like that. But because I was playing for Gijón, the games conflicted with the internship. So I had to make a choice: Do I continue with my studies and be practical, or do I put it on hold to follow my dream? I knew my father would not take much convincing, but my mother was a different story. She was not as passionate about football and wanted me to earn a living. So I ended up making a deal with her: I gave myself two years. If I didn't make Gijón's professional team by then, I would give up football and go back to being an electrician-in-training.
Two years later, my parents were one of the 16,000 fans in the stands at El Molinon when I made my professional debut for Gijón. This was probably the happiest day ever for my family. I was not yet a footballer. I still had to keep my place on the team. We had no idea what would come next. But I achieved the goal that my whole family had sacrificed so much for. I put on the red and white Gijón shirt and played in the stadium where my father's hero Quini had played in the '70s. My mother cried that day. We had no idea that in 10 years, I would be raising the World Cup trophy for the first time in Spain's history. (My father cried that day). The only thing we knew then was that my electrician career was on hold.
Over the next decade, I was able to climb higher and higher, from little Gijón to Zaragoza, then to Valencia, then to Barcelona and Atlético Madrid. Not bad for a kid with one leg a little bit shorter than the other. But all of those clubs were in Spain. I had spent my entire career in my home country. I could use both feet, but I only knew one language and one way of life. When I got the opportunity to move to America to help build the legacy of a new club with NYCFC, the challenge was too exciting to pass up.
My family was really excited for a new life, but my Spanish friends kept asking me, "David, what are you going to eat in America? The food is not like Spain."
When I arrived last year, not long after meeting Mr. Steinbrenner, I took my children to go ice skating in Bryant Park. I was overwhelmed with happiness watching them skate around. There was a giant Christmas tree and the skyscrapers were all lit up. In my coat and hat, nobody recognized me. I was just a dad watching his children have fun like my father watched me — only their park was a lot nicer than mine in Tuilla. When they finished skating, they were starving. There were 10 of us total, so we were faced with another "Welcome to New York" problem. Where were we going to eat with such a big group without a reservation?
My kids were all very excited for pizza, so we ended up wandering around until we found a tiny pizzeria. There were only two tables in the entire place. It was classic New York, just how you see in movies, with the framed photos on the wall and everything. When the pizza came out, we all had a slice and everyone went crazy. I have been all over the world thanks to football, and I can honestly say that it was the best pizza I have ever had in my entire life. It was a small moment, but that night I really felt like I was living my American Dream.