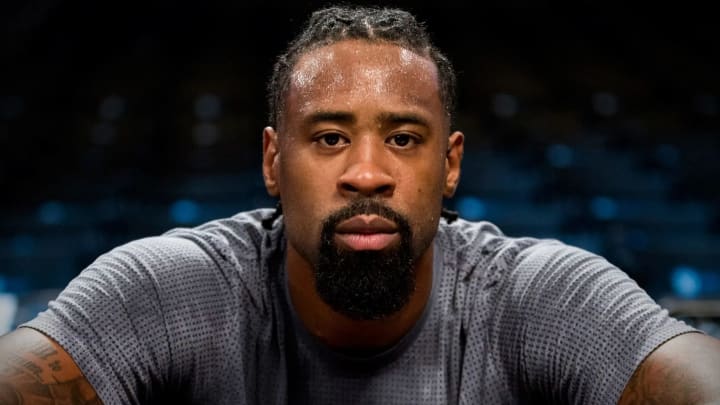 Growing Up in the NBA (Sort Of)
At some point during All-Star weekend, it hit me.

I was going from event to event, as you do at All-Star, and catching up with all the other players — some guys I know as friends, but a lot more who I just know from playing against. And at some point, it hit me: Damn. Look at all these young bucks.

It's not like I was feeling old or anything, but I caught myself a few different times that weekend realizing that I was no longer one of the young guys in the league.

And I also caught myself thinking back to when I was a rookie. That was nine years ago.
Nine years. That's crazy to me. That's how long I've been in the NBA — and that's how long it took me to make my first All-Star Game. I'm probably supposed to say I should have been an All-Star earlier — that I had gotten snubbed in previous years, or something. That weekend in New Orleans, though, everything felt … right. The timing felt good. Being voted in this year, after nine years in the NBA … damn, it really meant something. Because it took time.

You know what's kind of crazy? I'm the oldest guy on the Clippers roster. Someone reminded me about that recently and it kind of blew my mind. Not the oldest in age, but I've been on the team longer than anybody else. I've been in L.A. my whole NBA career.
Two summers ago, when I went through all that crazy free-agency stuff between Dallas and L.A., one of the things that really moved the needle for me was my connection with my Clippers teammates. Maybe that's the expected thing to say, but that's just really how I feel about it. There's a reason those guys flew out to get me back. We built something together, and we haven't finished what we started yet.

In each of my nine years as a Clipper, we've added something to our foundation. Each year we got a new player or two. Each year we added a personality, and we added an asset. We got Blake and CP and J.J. and Coach Rivers, and over time those guys became the heart of the team. Without even realizing it fully, I've had a front row seat for the rebuilding of a team … the rebuilding of a franchise, really. I've had the chance to see us all come together. After nine years — and I think it really took almost all of those nine years — I've come to realize how rare it is, how special it is, to be with one team your whole career.
Andrew D. Bernstein/NBAE/Getty Images
This year, I've been spending a lot of time working with our rookie center, Diamond Stone. Diamond is talented and raw — a kid who, just like me, played one year of college and came into the league at 19. And Diamond's silly as hell off the court. I see a lot of similarities between the two of us. Early in the season, I started calling him on the phone at random times to make him run errands. You know, typical rookie stuff. I'd mostly ask him to go get me snacks from the 24-hour CVS.

And it gave me another flashback to my own rookie year.

A flashback to lattes … specifically, vanilla soy chai lattes. I probably ordered 150 vanilla soy chai lattes my rookie year. And then I never got another one again.
That's because it was Baron Davis' coffee order: Vanilla soy chai latte. I remember the first time he sent me to Starbucks to pick one up — it was early in training camp. Baron's a legend and I really looked up to him, so I wanted to impress him. I felt pretty invisible as the new guy. I knew that my job was to do whatever he said.

At the time, I didn't know that Baron was also … a pretty weird dude. In a good way, of course, but yeah … a one-of-a-kind guy.

He would call me up — it could be any hour of the day — and the calls would always be super short.

"Hey rook … go get me a vanilla chai latte."

No small talk or anything.

"With soy. Don't forget the soy."

Then … click. That was it.
The first time, I actually texted myself "vanilla chai latte don't forget the soy" so I wouldn't get the order wrong. I came back, feeling kind of proud, like an intern on my first day or something. But when I handed him the drink, Baron took one sip, looked up at me, and dropped it into the trash can. And he just walked away. I always wondered what would've happened if I had brought back the wrong order.

Baron would call me every few days. Same conversation. Same order. Some days he would drink the whole thing, but other days, I'd walk by his locker and the cup would just be sitting on the shelf, still completely full. I could tell that he hadn't touched it because the little stopper thing would still be in it.

The truth is, Baron liked to joke with me and other rookies, but he did it because he cared. At practice, and in games, he was always that veteran guy who was saying "Good job on D," or "Nice game, young fella." It really meant a lot to me.
Nine years after all those lattes, I'm wondering if I could ever pull a Starbucks stunt on Diamond, like Baron did on me, when Diamond brings me back snacks from CVS.

I think I'm too nice, though.
---
---
Marcus Camby was another veteran who liked to joke around with me as a rookie. I first got to know Marcus because he made me go get him raspberry donuts.

Marcus loved those donuts. He would call me up at all hours. He'd hand me a $100 bill, and when I came back with three donuts — always three, always raspberry— he'd let me keep the change. It was a much better gig than the latte thing.

But Marcus really looked out for me in more ways than that. When I was a rookie, I was a kid. A big kid, but definitely just a kid. I took games and practices seriously, but off the court I was still a class clown. Marcus saw it from a mile away.
Evan Gole/NBAE/Getty Images
One road game in San Antonio that year, I checked into the game for Marcus in the second quarter. Me being from Texas, Tim Duncan had always been "the Guy" for my entire life.

Now Tim was my assignment. I was looking right at one of my basketball idols.

I was way too amped. I was like, Man, I'm playing against Tim Duncan. I gotta try to block his shot, I gotta try to make a big play and all the rest. But Tim was so patient down there in the paint. That's what I'll never forget about matching up with him. They would clear out, and then Tony Parker would throw it to him and it was like, O.K., young fella, how do you want it? Once he didn't even pump-fake and I still jumped — I swear, all he did was look up and to the left with his eyes … and I already was in the air.
I got pulled out of the game and coach didn't put me back in till the fourth quarter. After the game, Marcus came up to me, shaking his head. He was about to say something.

Before he could talk, I blurted out: "I know, I know, I shouldn't be jumping so much."

Marcus gave me this look like, What are you talking about? He didn't respond to my comment.

Marcus had his own question.

"What's Tim's favorite move?"

"I dunno," I told him.
Marcus was straight-up shocked by my response.

"You mean you just went out there and guessed?" he said, looking at me like I was an alien or something.

That was a real eye-opening moment for me. As a rookie, I never thought too much about who we were playing the next night. I knew who I had to guard, but Marcus encouraged me — in kind of an intimidating way — to go deeper. He made it into a game between us. He'd ask me to study the tendencies of players and then pepper me with follow-up questions. Which hand does he shoot with when he's on the left low block? The right block? Which way does he like to spin? Does he pump-fake? Does he do an up-and-under? In what scenarios? How can you tell he's going to do it? It was all really specific stuff.
D. Clarke Evans/NBAE/Getty Images
During my rookie season, I think I broke down a myth I had about the NBA. When you're a rookie, you think that once you're in the league, it's just basketball … but on a higher level.

You know, maybe it's a little faster and tougher, but basically the same. You think that when the ball goes up, you just do what you've always done. You know? And you believe, or at least I believed for a while, that big and talented players will win games with sheer size and skill. But now I know … that ain't the whole story.

I got humbled that first year. I sat on the bench a lot, so I was watching more than I was playing. I had to face the fact that I hadn't really been putting in the same work on my basketball IQ that I had been putting in on the physical stuff. The homework Marcus was giving to me was pretty time-consuming, too, which was annoying at first. Some games I would only play 10 minutes but I'd have done an hour or two of research in advance.
I'll never forget one game that year, when Marcus almost blew my mind. I was on the bench and he was in the game, running down the court on defense. He ran right by our bench and he yelled out, loud enough for me to hear, "It's a pin away for so-and-so, but it's gonna be a ball screen first."

A few seconds later, that was the play they ran.

And I was just like, Huh? How the hell did he know that was coming?

After the game, Marcus was really matter-of-fact. "I studied all their plays."

It freaked me out a little bit to realize there was so much going on in the NBA game that I wasn't seeing. It's kind of like when everyone else knows a secret and you realize that you are the only one still in the dark.
That day, I felt like a rookie for sure. The rest of the season, Marcus and I got a really good routine going. I wanted to show him I could learn and grow. Deep down, I thought it was cool to have the preparation to predict what a team was going to do. So at shootarounds, Marcus would quiz me.

"So we've got Portland in two days, what's 'Floppy Out'?"

And I'd tell him it was a high pick-and-roll for Brandon Roy and LaMarcus Aldridge, or whoever, and that Aldridge liked to roll straight down the lane for a lob.

That whole season felt like one big quiz.
Gus Ruelas/AP Images
It always surprises people when I say this, but one of the toughest players I've ever matched up with is Nick Collison.

I hear a lot of big men say that Shaq is the hardest guy to guard, and trust me … that's very true. (One time, Shaq almost knocked me out with an elbow to the chest.) But I learned more about the game playing against Nick.

I remember one time when we were playing in Oklahoma City and Nick came into the game. He came right up to me and — super politely — said, "Hey man, I'm just letting you know that my coach told me not to let you get any rebounds." Then he smiled. He was so damn respectful about it.
The rest of the night, every time the ball was at the rim, Nick was crashing into my legs with the hardest box-outs I'd ever felt. He was a man with one mission: to keep me from getting boards. Nick is not the tallest dude, but he's relentless. He's a hard, hard competitor. When I play him I know I'm gonna be sore in the morning because I gotta box this guy out every time — and I know he's gonna box me out every time.
---
---
Getting rebounds when you're 6'11" is definitely easier, but it's not easy. With some rebounds, yeah, I can just go up and grab it. But whenever a guy like Nick guards me, or a team throws two or three guys like Nick at me, they're in the game for one reason: to make my night miserable. As a big man, you hate that … but you also respect it.

From my rookie year in 2008–09 through 2012–13, I never averaged more than 8 rebounds in a single season. Then in 2013–14, I averaged over 13 a game. The next year, my best year so far, I averaged 15 boards a game. And I've averaged close to 14 the two seasons since.
That means it took me five years — more than half my time in the NBA so far — to decide that merely being a "pretty good" rebounder was unacceptable. It's crazy because it's not like I got twice as good at rebounding from one season to the next. I think it was a culmination of a lot of things. I owe a lot of credit to the veterans who took time to teach me and guide me in those first few years.

I owe a lot of credit for that to the Memphis Grizzlies, too.

In 2012 and '13, we played the Grizzlies in the playoffs. And both times they kicked our ass on the boards. In 2012, we won in seven games, but it was a real battle. Zach Randolph, Mo Speights, Marc Gasol — those guys go to work down low. In that 2013 series their bigs outhustled us. Outhustled me. In that series we went up 2–0 … and then they won four straight to send us home.
After we lost that playoff series, I had to do some soul-searching. What kind of player did I want to be? I felt like I was one of the biggest, most athletic guys in the league, but I wasn't dominating on the boards.

The next year, I made rebounding my goal, and I took it seriously … like really seriously … for the first time in my career.

It goes back to something Marcus and I used to talk about. He would say that rebounding was the one thing in basketball that it was O.K. to be selfish about. Even when we were the same team together, Marcus and I used to compete for the most boards in a game. That competition made me better.
Joe Murphy/NBAE/Getty Images
My mentality at age 19 was basically this.

I honestly never thought too much about making an All-Star team. Like I said, I came into the league a big kid. I loved to hoop and I loved a lot of other stuff outside of basketball. And you know what? If you asked my mom right now she'd probably tell you that I'm still a big kid.
But I'm not the same person I was nine years ago. I've started to notice my own growth when I work with Diamond Stone. And I've realized … I'm doing with Diamond what Marcus did with me. This season, Diamond and I go over plays for other teams and I'll be like, "D! What's 'fist-up, two-down' for this team?"

And he'll usually be like, "How am I supposed to know that?"

Some things don't change. But even though he's young, I actually believe Diamond's more committed to getting better, right now, than I was at his age. That's cool to see.
Gary A. Vasquez/USA TODAY Sports
One thing that he's still working on is being vocal on the court. Diamond is still hesitant about calling out the other team's plays, talking on screens and all of that. CP and Ray kill him for not calling out screens loud enough. I'm trying to get him to realize that, as a center, that's one of your main jobs: You're the last line of defense … you can see all the action developing in front of you. If you're quiet, you're hurting the team.

So I've been working with him on talking more, and the other day Diamond came up to me after practice and was like, "Did you hear me? I was talking loud, did you hear that?"

I told him that I didn't … I told him that he needed to be even louder.

But the truth is, I think he's getting the hang of it.