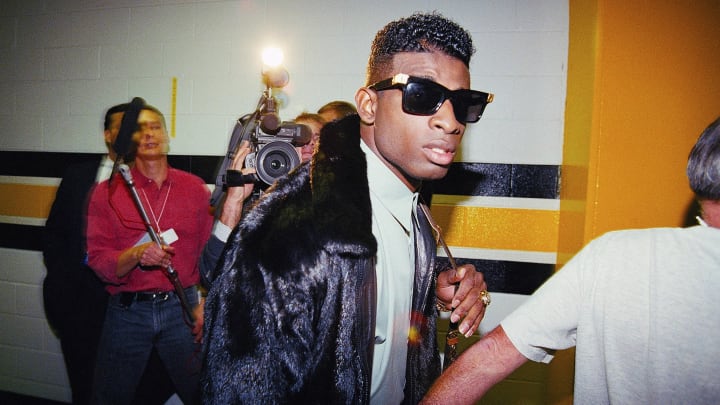 Letter to My Younger Self
DOUG MILLS/AP PHOTO
Dear seven-year-old Deion,

Let me tell you something about life, son.

We're all dealing with time, but we have clocks with no hands. So we never know how much time we have.

Life is about moments. We each have a multitude of moments in our lives. It's what we do with those moments that separates us. And the reason I'm sitting here — able to write you this letter from a position of peace, power and accomplishment, and share my knowledge and experience with you — is because I've taken my moments, and I've maximized them. I've seized them, son. Because I put the work in. My saliva tastes like sweat. I sacrificed so that when my time came — when my number was called — I was ready.

That all started with you, a seven-year-old kid who just discovered that he has something. Every time you touch a football, you can see it. Every time you step on the baseball field, you can feel it.

And this thing that you have — this gift God has blessed you with?

It's special. It's extraordinary. It's rare.

You know it, too. That's why today, when you came home from football practice, you made Mama a promise.

You saw her slaving over those pots and pans, trying to put dinner on the table after working all day as a custodian at the hospital. You saw the strain on Mama's face. The fatigue in her eyes.

And you said to her, "Mama … one day I'm gonna be rich. I'm gonna make a lot of money so you don't ever have to work another day in your life."
Well, let me tell you something, son.

You'll make good on that promise.

You're gonna come a long way from the house at 1625 Henderson Avenue in Fort Myers, Florida. Far from the Jones Walker apartments, where you spent the first years of your youth playing kill the carrier using an empty milk jug as a football because nobody had a real one. Where you used balled-up tinfoil for a baseball and slapped it around with your hands because nobody could afford a bat. Where you played basketball on a hoop made from a bicycle tire rim nailed to a piece of wood.

Yessir … you will come a long way, son.
Deion Sanders
Life is a wonderful teacher. You will learn from your own experiences. But if you look closely, you'll also learn from the people around you.

Just look at Mama. You've inherited her heart — how she cares for other people. But the work ethic and tenacity that will help you to accomplish incredible things?

You will learn that by watching her.

Remember when you were in kindergarten, and every morning when you woke up for school your clothes were laid out on your bed with the house key on top? That's because Mama had already left for work. So it was on you to get yourself dressed, make yourself some cereal, lock up the house and get to school on time. And when you got home after school, was Mama there? No, she was still working.

She was always working. Always providing.

Never forget that.

And it's not just the models of righteousness like Mama who you can learn from.

There will be plenty of negative examples, too.

Just look at the father figures in your life. Papa's a rolling stone. He's there, but he's not there. And he's plagued by bouts with drug addiction. And your stepdad? He's a good man — a hard-working man. But he struggles with alcoholism.

That's why you will never — ever — drink or do drugs a day in your life. You'll see firsthand what that gets you, and you won't like where those roads lead.

Because they don't lead to you fulfilling your promise to Mama.

This promise will be the guiding force in your life. You won't just make it out of the hood. You won't just become a professional baseball player, a professional football player, a Super Bowl champion and a Hall of Famer. Nah … you're gonna become something even bigger.

You're gonna become Prime Time.
Al Messerschmidt via AP
Let me give you the journey, son.

You're small for your age. That will continue. You'll be 138 pounds as a junior in high school. By your senior year, you'll only be 150. So you won't get recognized for ballin' on the football field until about midway through your senior year. That's when college coaches will finally realize, Yo, this cat is small, but he can play! And they'll start coming down to North Fort Myers High School to see if they can secure your services.

It won't be but a few schools. Florida will be in the mix, but they'll mess around and treat you like just another recruit, so you won't take them seriously. Wisconsin will be interested, but you're from Fort Myers, son. You don't even own a jacket. So you'll X them off, too.

Georgia will fly you up to Athens for a visit, and you'll have a front-row seat to watch them get their butts kicked by Georgia Tech. After the game, you'll be in head coach Vince Dooley's office.

He'll say, "Son, I hear you're pretty good. Well, once you get redshirted and learn our system—"

You'll cut him off right there.

"Redshirted? Learn your system? Coach, after what I just saw, I could start for you right now!"

X 'em off.

Next, you'll visit Florida State, and that's when their defensive coordinator, Mickey Andrews, will say something beautiful.

"If you come here, and you earn it, you will play. If you don't earn it, you won't."

That's all you'll need to hear — music to your young ears. You got Mama's work ethic, son. So you won't have any problem working hard and earning your stripes. Far as you'll be concerned, Florida State will be a lock.

That is … if you decide to go to college.

See, you won't just be ballin' on the football field. You'll show out so much on the baseball diamond that the Kansas City Royals will take you in the sixth round of the 1985 MLB draft. They'll offer you a $40,000 signing bonus right out of high school. So once you decide on Florida State, you'll have to then decide between the Seminoles and the Royals.
Deion Sanders
It will be a difficult choice. But God has you covered. He will always send somebody to guide you — to lead you in the right direction — when you need it the most.

If you don't believe me, just listen to this story.

The Royals play their spring training games at Terry Park in Fort Myers, just a couple of miles from your house. When you get to be about nine years old, you'll start riding your bike to the stadium and stashing it in the bushes while you chase down home run balls during batting practice. Whenever somebody goes deep, you'll outrun all the other kids and get the ball. You'll stuff the balls into an old tube sock and then sell them to patrons before games for $3.50 apiece.

After a while, you'll start taking the balls to the batting cages and getting autographs from players.

Suddenly a $3.50 ball becomes a $5 ball.

It's a nice little hustle.
You'll do this for so long that the players will get to know you — guys like Willie Wilson, Amos Otis and Big John Mayberry. You'll become like a little mascot.

Fast-forward to when the Royals draft you. They'll invite you to Terry Park for a workout.

That's when you'll have a conversation with the Royals' manager, Dick Howser. He's a Florida State guy, and he'll know you a little bit from when you used to hang around the team as a kid.

He'll tell you that you have a tremendous gift in baseball, and in football.

Then he'll throw you a curveball.

"Son," he'll say, "I shouldn't be telling you this. But if I were you, I would go to school and let it play out. If you're good enough for us to draft you now, you'll be good enough for us to draft you in another couple of years. So that's my advice to you."

While everybody else in the organization will be trying to sell you on the idea of playing baseball the manager of the Kansas City Royals will tell you to go play football.

Why would he do that?

It's because Dick Howser is one of the few people you will meet in your life who isn't just looking out for himself.

He's looking out for you.

And what he says will make sense. Plus, you gotta think, son … $40,000 ain't enough for Mama to live off of.

So with that understanding, you'll call the Royals the next day and tell them that you're not signing. They won't be happy. But don't worry about that, son. Just go to college. Roll the dice. Bet on yourself.

It'll be the right decision.
Focus on Sport/Getty Images
Now let's talk about Prime Time a little bit.

First of all, don't get it misconstrued … you will arrive at Florida State as Prime Time. Mama will work her butt off to make car payments so that you can roll up in a brand new '85 Firebird with Prime Time on the front plate. Some of the seniors on the football team will make a big deal about it, like, Who does this cat think he is? They'll think you're all talk — all hat and no cattle.

But you'll back it up 100%.

You'll start your freshman year. And during your sophomore year, you'll take Prime Time to a whole new level — because you'll have to. You'll be looking ahead to the NFL, and you'll see that there isn't a single million-dollar defensive back in the league. In fact, cornerback is one of the worst-paid positions.

That's not gonna work for you, partner. You promised Mama that you would make enough money so that she would never have to work another day. You need to maximize everything.

So you'll go back to your dormitory and sit down with a little black book, and just start writing lines.

I'm the best thing since peanut butter and jelly.

Water covers two-thirds of the earth. I cover the rest.

You throw it my way, next thing you'll hear is the band playing.

You'll fill that book with one-liners and you'll rehearse them in the bathroom mirror until you have them perfected. Until you know them by heart. Until you become them.

Which brings me to probably the most important piece of advice I have for you.

We all have a Jekyll and Hyde, son. We put one out into the world to meet people before we let them see the other — who we really are. People will see Prime Time, and they'll believe that they're seeing the real Deion. That's a tribute to your marketing ability.

But then, when you show them Deion, they won't care to see it.

They'll be like, Who dis? We want PRIME!

So it will be easy for you to be Prime Time, all the time.

Know when to turn it on, and when to shut it down. Save Prime Time for the cameras and the microphones. Don't catch yourself trick-or-treating to the people you love.

Or worse, trying to fool yourself.
NFL Photos/AP Photo
The best way I can explain what comes next — your professional career — is that it will be like a pendulum swinging back and forth between Deion and Prime. Between football and baseball. Between being loved and being hated. The whole thing will be a blur.

The Atlanta Falcons will select you with the fifth pick in the 1989 NFL draft. Soon after, you'll get picked again in the MLB draft — but not by the Royals. This time, it will be the by the Yankees. You'll sign contracts to play both football and baseball. You'll be a two-sport professional athlete.

Throughout your career, people will continually ask you why you decided to play two sports. But you'll never understand why they phrase it that way.

Why won't anybody ever say, "Why did you decide to continue living your life?"

Playing two sports is all you've ever known, son. You're doing it now at seven years old. You'll play three sports in high school, and you'll try to play four at Florida State, but they'll say playing basketball on top of baseball, football and track will be too much. So you'll stick to the others.

Playing multiple sports is just who you are. It's who you've always been. It won't be a decision. It'll just be you being you.

So it will be confusing for you when some people criticize you for not picking one sport. Some people will view it as a great athletic feat. But others will say it's selfish. They'll say that if you got two teams, then it can't be about the team. So that means it's about you.
There will even come a day when you'll have the opportunity to play both sports in the same day. Certain people won't like that, and they'll publicly speak out against you.

Instead of considering the fact that maybe you want to be there for your teammates — the guys in both locker rooms who go to battle with you every day — they'll say it's all about Prime. That it's just a publicity stunt.
You'll already be a household name. Your face will be on milk cartons when you ain't even lost.
That won't make any sense. You'll already be a household name. Your face will be on milk cartons when you ain't even lost. You won't need the publicity.

But that will be the narrative they create.

Well let me tell you something, son … even your critics will have critics. So don't listen to them. Don't let the world dictate how you live your life. And trust that behind everything — every decision you make and every decision that is made for you — there's a purpose.

God is leading you.

Think about it … there's no reason a player as talented as you should play for five different NFL teams, unless it's God sending you on a mission.

So after five years and three Pro Bowls in Atlanta, when the Falcons decide to let you soar in free agency, don't think anything of it. All that means is that your work there is done, and it's time for you to breathe inspiration into another group of men.

But until you find out what group that will be, you'll let Prime take over.
Damian Strohmeyer/Sports Illustrated
There will be a few teams lining up to secure your services. You'll go on a little free-agency tour, and you'll enlist the help of your good friend, M.C. Hammer — probably the hottest hip-hop recording artist at the time — to ride with you and just blow everything out of the water.

In each city you visit, you'll step out of the helicopter with Hammer at your side, and you'll make sure the media is there, because you'll want everybody to understand, This is what you'll be getting — the swag, the celebrity, the high-stepping … all of it.

This is Prime Time.

But of the all teams coming after you, you'll have one that will be your top target.

The Miami Dolphins.

They'll have everything. South Beach. A good team that you think you can help get over the hump. Plus, it's close to Fort Myers so your family would be able to see you play. It'll be perfect.

But I guess they won't feel the same way, because you'll tell them what you want … and they won't make you an offer.

It won't make any sense. They need a cornerback, and you're the best in the business. You'll be like, Why won't they just give me the money?!

It'll already be Week 1 of the 1994 season, and the Dolphins will still be dragging their feet. So you'll get on a plane to San Francisco. You'll meet with 49ers owner Eddie DeBartolo, and you'll verbally agree to a one-year deal.

When you get home, you'll get a call from the Dolphins.

They just got lit up for 400-something yards and four touchdowns by Drew Bledsoe, and now, all of a sudden, they're ready to make you an offer.

But you gave the 49ers your word, and your word is everything. You always stand by your word.

So you'll tell the Dolphins it's too late.
That will prove to be a great decision. Because that year, you'll have the best season of your career. I'm talking Defensive Player of the Year … first team All-Pro … Pro Bowl … you'll be ballin' out, son.
And you'll help the 49ers win the Super Bowl.
This is what you'll be getting — the swag, the celebrity, the high-stepping … all of it. This is Prime Time.
But that won't be the start of some love affair. Nah … that off-season, the 49ers won't even make you an offer to stay with the team.

Matter of fact, that August, you'll be playing for the San Francisco Giants and you'll be sitting at a restaurant in the Bay Area watching a 49ers preseason game. You'll see a little white dude streak across the screen wearing number 21, and you'll think, Oh well. Guess that's over.

And you'll just keep on eating.

There's a profound lesson to be taken from this experience, son. Yes, it will cement your belief that this game is a business.

But it will also teach you something about love — something you'll never truly understood.

You play this game because you love it. But these teams and these owners and these fans? They don't love you. They say they do, but they don't. They love what you do. And when you cease to do what you do, their love for you will cease, as well. As soon as you move on, they'll stop loving you and start loving somebody else.

So I want you to understand something: Never love something that's not equipped to love you back!

The game can't love you back, son. It's not equipped with that emotion. The game can provide for you. It can sustain you financially. It can give you a lifestyle that you've always dreamed of having. But it can't possibly love you.

You gotta understand that it's just business.
Greg Trott/AP Photo
Men need challenges in life, son. So when God closes the door on the 49ers, it will signify that you're ready for a new challenge — to go somewhere and win again.

The question will be … where?

Well, you'll be back in San Francisco at a hotel after a Giants day game, and you'll see Cowboys owner Jerry Jones on the television doing an interview. He'll look straight into the camera and say, "Deion, if you're out there, I'm gonna come get you. You're gonna be a Cowboy!" He'll be pointing right at you through the screen.

You will bust out laughing, man.

You'll pick up the phone and call your attorney, Eugene Parker, and ask him what's going on with this Jerry Jones guy. He'll hit you with a couple of details, and you'll still be half-laughing when you throw your hands up and say, "O.K., let's make it happen."

And he will.

So I guess Jerry was right.

You're gonna be a Cowboy.

The rest is history, partner. You'll win a second straight Super Bowl in your first year in Dallas. You'll play five years there before God calls you to your next challenge. When it's all said and done, you'll play nine years in MLB for four different teams and 14 in the NFL for five teams. You'll be the only player to ever play in both the Super Bowl and the World Series, and eventually, you'll be enshrined into the Pro Football Hall of Fame.

That's a long way from the Jones Walker apartments, son.
David Phillip/AP Photo
Mama's gonna get her house. From the moment you sign that rookie contract with the Falcons, she'll never have to work another day, just like you promised. Your sister, Tracie, will be taken care of, too. And honestly, if that was it, and that's all that came from all your hard work and sacrifice?

That would be enough.

You'll be ahead of your time, son. Waaaay ahead. Sometimes people won't know how to deal with it, or you. Sometimes you won't know yourself. But if you pay attention, learn to trust God and keep the faith, God will give you everything you need.

Ecclesiastes 3 in the Bible says: There is a time for everything, and a season for every activity under the heavens.

When I sign this letter, I'm gonna sign it as Deion. But I mixed in a whole lot of Prime Time here for you, because I want you to understand the difference, and that it is possible for them to coexist.

You just have to know the seasons, son. Know the times. Know when to turn it on and when to shut it down. Because Deion and Prime won't be the only two roles you play in your life. There will be role of the father. The businessman. The coach. The teacher. And so many more.

Think of it as The Last Supper. You'll have all these different people sitting at the table — all these different versions of yourself and roles that you'll play — and they'll all be talking, trying to get a word in, trying to be heard. And there's nothing wrong with that.

As long as you have the right person sitting at the head of the table.

God bless, son.

#Truth

— Deion
---
---
ESPN Films' Next 30 for 30 is "Deion's Double Play" on Deion "Prime Time" Sanders, Premiering January 31 at 9 p.m. ET on ESPN.