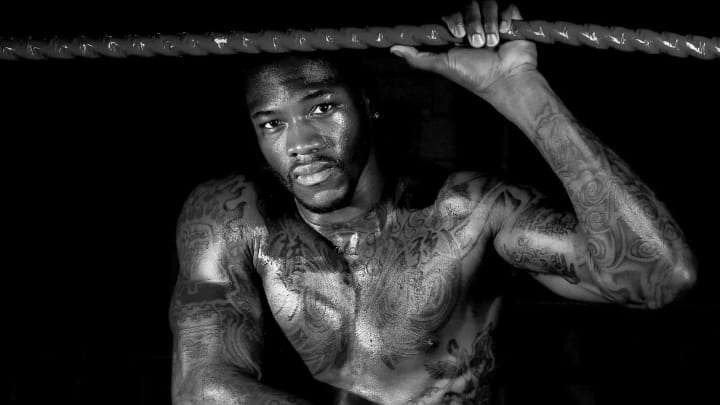 Maintaining That Hunger
Once a goal is accomplished, you often look back at what it took to get there and who helped push you along the way. On January 17, I fulfilled my dream of becoming heavyweight champion of the world by defeating Bermane Stiverne. More importantly, I fulfilled a promise I had made to my daughter, Naieya, when I was still an amateur back in 2008.
I looked into her eyes and told her, "Daddy's gonna be a world champion one day and be able to support you beyond your belief." She was a baby. After winning the belt, I immediately went back to that promise. As a parent, there's nothing like fulfilling a promise that you make to your child. Especially with a promise where it's so far away … many amateurs say they're gonna be heavyweight champion of the world, but for that task to be fulfilled, it's very difficult.
As much preparation as I did for the Stiverne fight, there was still — as there always is — a bit of unpredictability. You can only control so much. Going into the fight, I was thinking about my eye. People didn't know this, but I injured my left eye before the fight. I was exercising with a resistance band and it came off my foot and snapped me right in my eye. I had my personal doctor there and he helped me out with some eye drops. I was able to see just a little bit, but my eye was blurry.
There was no opportunity to ask to have the fight pushed back due to injury. I said, "I'm here. This is a big stage. This is the biggest opportunity of my life. I'm ready to do it. I can't worry about that. I'll fight with one eye." In the gym, we prepare for the unexpected that might come up during a fight. We train to fight with one eye or with a broken hand.
The latter happened in the fifth round. I was handicapped. I was going to have to fight with one hand, but I was prepared for a moment like this.
I couldn't panic when I broke my hand. I couldn't show him that. I had to put on my poker face because he would have fed off of any weakness I displayed. As boxers, we all have a "seek and kill" mentality when we're in the ring. So I kept throwing my punches. I was having fun and the adrenaline was flowing. There were a lot of questions about me that people wanted answers to.
I'm known for knocking guys out by the fourth round. That feeling that's like red velvet cake that melts in your mouth. However, this night was different. After it went past fourth round, I said, "Well, I'm in for a fight." Going 12 rounds was the best thing that could ever happen for me in my career. It answered so many questions.
I used to tell my critics that I knew I could go the distance. I wasn't just a knockout artist who didn't have stamina. It was just a matter of time, and Stiverne was the right opponent to prove myself. When I won by decision, it wasn't something that shocked me because I knew I could do it. I was just happy that I had the opportunity to prove it to the world. The truth is, of all 33 victories in my career, this one was the sweetest. Once I did it, everyone came to support me then.
I got so much support from everyone around the world — celebrities, athletes, artists, even actors. Not only did I fulfill the promise to my daughter, but I fought at the MGM Grand where the last heavyweight title fight was Evander Holyfield and Mike Tyson in 1997. Despite the worldwide recognition, it meant the most to me to go back home. In addition to my my child, my inspiration is rooted in my hometown of Tuscaloosa, Alabama. My gym, my people — all of my support is based there.
This Saturday I have the opportunity to give back to my home state of Alabama by having my first heavyweight title defense vs. Éric Molina at the Bartow Arena in Birmingham.
Don't let the fame of the last six months fool you. My hand has healed properly and I've been training with the mentality of a challenger, not a champion. My hunger never faded. The morning after I won the championship, I woke up shadowboxing in the mirror. If I'm lucky, I can fight four times a year. That's what I want, and I still stick by that. I'm not one of those paper champions that fights once every six months and takes the year off. You have to have your face out there. I love giving that back to my fans. I want people to be able to say, "He brought boxing — and the heavyweight division — back."
Molina has said that he wants to become the first Mexican-American heavyweight champion. I admire him for looking to make history, but that's not going to happen against me. I've worked too hard for this moment. The years I've spent in Tuscaloosa's Skyy Gym were too grueling for me to be one of those flash-in-the-pan champions.
On Saturday, I will not only be victorious, but I'll restart my knockout streak. While tourists and locals enjoy our staple cuisine such as barbecue and soul food, I'll once again take a bite of that red velvet cake in the form of a knockout. Those victories are the sweetest for both myself and the fans.
Get ready, Bomb Squad.
Photographs by Stephanie Trapp/Showtime Sports