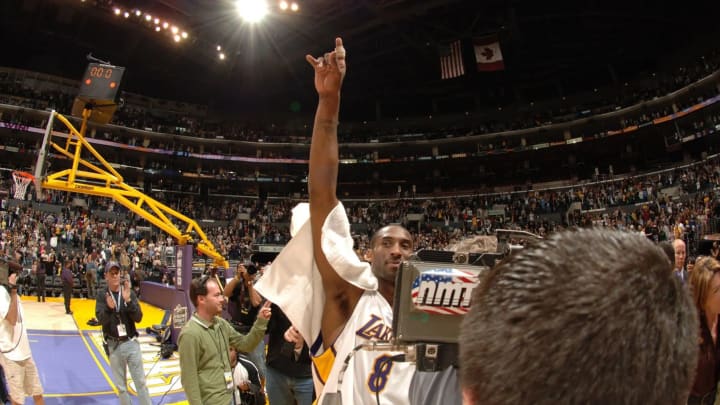 81
My phone's blowing up. Friends and family are all texting me the same thing: "Can you get Kobe to sign something?" A towel, a sock, a program, whatever.
Kobe's still out on the court doing postgame interviews.
Inside the locker room, we're all bouncing off the walls.
"What the hell did we just witness?"
Me, Luke Walton, B. Cook … we're just acting like giddy little kids.
We're high-fiving each other, chest bumping, standing on benches, twirling our jerseys above our heads.
"Did this dude just do that? Really?"
Kobe walks into the locker room and we all turn to him. He's got this look on his face … it's hard to describe. It's like a half-smile. It's a look like, No big deal. This is normal.
No, Kobe. This is not normal.
Phil scans the room and his eyes stop on Kobe. If you know anything about Phil, it's that he's a man of few words. The room gets quiet.
"Hey, Kobe … I think that shoulder's gonna need some ice."
We all erupt again. We mob him.
And there it is. Kobe's grinning.
---
---
January 22, 2006, was 10 years ago today. That's the date Kobe scored 81 points. I played in that game.
Last week, I was determined to find the game tape. I hadn't watched it in years.
First I checked YouTube, but there were only a few short clips. YouTube wasn't even a big thing yet back in 2006.
Then I checked the NBA Hardwood Classics channel. Maybe they'd have the game saved. No dice.
I called up an old friend at the Lakers.
"We'll FedEx it to you. Wait, what do you need it for?"
"Research."
When it arrived, I pulled the DVD out of the box. I went to my computer to play it, but … wait, damn … I've got one of those new computers that doesn't come with a DVD slot.
So I got someone to convert the DVD to a digital file.
Finally, I was ready to watch it.
Ten years ago isn't that long ago, but suddenly it felt like it.
---
---
Here's what it was like going back in time.
Pre-game
Raptors fans: I want to apologize in advance. The Raptors are part of this story, but not the kind you want to be. Maybe they didn't know it at the time, but the Raptors were playing a role. It was a role in a script they couldn't control — kind of like that supporting character in a movie that you recognize but can't quite name. They weren't the main attraction.
And I get it, no one likes to be remembered as the team that allowed one guy to drop 81 on them. But hey, look at it this way: It's like the pitcher who gives up Ken Griffey's 600th home run. You're still part of history. In a way.
The word "normal" jumps out at me. It may sound odd, but it really did start like a normal game. The Raptors and Lakers were normal NBA teams that year. Two teams with middle-of-the-pack records. It was midseason, right before the All-Star break — not exactly when teams are performing at their peak.
Staples wasn't even full that night.
So it started out as a normal day for basketball, except for one obvious exception: We had Kobe.
And we didn't just have Kobe — we had 2006 Kobe. He was on an absolute tear that year. He was doing things we had never seen. He was averaging 31 a game and leading the league. In the Dallas game, four weeks earlier, he had outscored their entire team through three quarters. He finished with 62 and didn't even play the fourth.
I joined the Lakers during the Shaq-Kobe era. But by this time, Shaq had been traded. This was Kobe's team. When I re-watch this game now, 10 years later, I see a Kobe Bryant who's testing his limits — like, really pushing them — as a scorer. We knew he was cooking that year, but at the time I don't think we appreciated just how much. He was scorching, even before that night.
Over the years, there are a few myths about the 81-point game that keep coming up.
One of them is that Kobe came out of nowhere to score 81. When I hear people say, "Did you have any idea Kobe could get 81?" and I detect surprise in their voice, I answer, "We didn't know when, but none of us really doubted that it was possible."
First Quarter
Kobe gets three early baskets. First, an uncontested layup from the left wing. Then a turnaround jumper from the free-throw line. Then a wide-open jumper with a weak hand in his face. He finished the quarter with two driving layups and some free throws, ending up with 14.
A word to the kids: Don't give superstar scorers easy early buckets. Just don't do it. It's like catnip for a basketball genius. Even a guy like Kobe needs confidence to fuel his game. Layups are the easiest way to get scorers confidence early. Foul them hard if you have to, but don't let a scorer get going like that.
It was an early sign of things to come.
Second Quarter
Another myth about the game is that it was a blowout. People assume they just left Kobe wide open the whole game. But people forget that we were getting manhandled in the first half. At halftime, the Raptors had a 14-point lead, 63-49.
The second quarter was a little embarrassing to have to re-watch. Looking back, I blame our role players. That includes me.
My stat line tells part of the story: I took four shots the entire game and missed them all. I had zero points.
Kobe was the only one really playing with energy. None of us were playing with any kind of pickup at all. We were lethargic. I don't know if it was because we had a back-to-back, I don't know what it was. He was the only one that was playing with any sort of urgency.
It's kind of ironic: People will be watching Kobe's 81-point game forever — and every time they do, I'll still go 0-for-4 with no baskets.
At one point in the second quarter, we hit a low point. We were trying to run the Triangle, but we just looked lost out there. I'm not going to try to explain the Triangle here, but basically we wanted to get the big man involved early in the offense and run our guards off him with cuts to the basket.
Phil kept telling us to enter it down low to Kwame Brown.
But that wasn't working because Kwame kept bobbling the pass.
Phil called a timeout.
Another thing about Phil: He was hard on Kwame. He really rode him. I think he wanted the best for him, but he really rode him.
"Jesus Christ, Kwame! I hope the wife doesn't let you hold the baby!"
Phil was joking, but he didn't look happy. Then again, Phil's a hard guy to read.
And, look, Kwame's my boy. Always has been. This wasn't about Kwame — it was all of us, all the role players. We were all dragging, and it was embarrassing.
Phil didn't have much else to say: "You guys figure it out. Run the offense. I'm not gonna call any more timeouts to bail you out."
Kobe and Phil always had an interesting relationship. They didn't see eye-to-eye on everything, but there was mutual respect. Phil demanded a lot from his players, but he wasn't the type to give big speeches to fire you up. Kobe has always been a self-motivator, so I think he liked that approach.
Out of the timeout, Kobe was much more vocal. I'm sure he was thinking, Get me the ball. I'm hot. But he didn't say anything like that. It was more motivational stuff, like, "C'mon, let's pick it up. They're about to crack. We're getting there. Pick up the energy." He was trying to carry us.
Halftime
Kobe finished the half with 26.
Here's another common myth about the game. It's not like Kobe had 40 or 50 at half. Twenty-six is good, but it wasn't a "he's going to set an all-time Laker scoring record if he keeps this up" pace. That was normal half for him — a really good one, but nothing out of the ordinary.
In the locker room, Phil was being Phil.
"We got them right where we want 'em!" He joked.
We were all nodding our heads. But Kobe was silent. He looked pissed. He hated that we were losing.
Third Quarter
We were down by 18 early in the third. It wasn't looking good.
And that's when it happened. Midway through the third, there was a turning point. Or at least that's how I remember it.
With about six minutes left (we're still down 12), Kobe drove toward the baseline, just inside the three-point line, and it looked like he was stuck. Mo Peterson was all over him. Kobe pulled out a move I've seen in practice a million times.
He makes it look easy, but watch it again. After the shot fake, he's flat-footed and facing the baseline. He's lost all his legs on the shot. Most guys wouldn't have the lift to shoot a normal jumper. And yet he's able to rise up and hit it with Mo in his face. And he gets the foul.
Now Kobe's at 44, and now we're down by nine. The crowd's still not really into it. And honestly, I had no idea how many points Kobe had at that point.
I tell people about this all the time. The reason Kobe is one of the greatest players ever and why he has dominated for so long, year after year is that the dude has a God-given ability to put new things in his game — overnight. He can work on something for 20 minutes and be doing it in tomorrow's game. And it's like he's been doing the move for his entire career. He can change his game based on how they're playing him, what they're giving him, overnight. Most people, like myself and pretty much the entire league, will work on our game, bring it to practice, bring it to the gym, then bring it to shootaround. Then, maybe after a few weeks, we'll try it at 7:30, at game time, on primetime TV.
It's like Kobe's flat-footed jumper from the baseline in the third quarter. I'm telling you, 98 percent of NBA guys aren't going to practice a shot like that. It's not a high-percentage shot. But Kobe would grab me after practice and make me work on a shot like that — he'll make me guard him — 100 times.
And then the next day, you'll see him hit it in a game.
With a minute left in the third, we tied it at 85.
That's when Kobe got a steal. Jose Calderon dove for the ball, but Kobe left him in the dust and dunked it on the other end.
It was our first lead since the first quarter.
Fourth Quarter
All madness was about to let loose.
Re-watching it now, I know the stats: I know that Kobe started the fourth quarter with 53 points. (He would end up scoring 28 in the final 12 minutes.) I think he took every shot in that quarter. And he made almost every one he took.
But the crazy thing was, I wasn't aware of it then. At the time, I still didn't really understand how big of a game Kobe was having. We weren't really keeping track. For one thing, it was a tight game. And more than that, in my mind, I was just focused on trying to play hard and get my energy up. I just wasn't really checking the scoreboard.
I came out at the beginning of the fourth quarter because I picked up a foul.
People were starting to chant "M-V-P." The crowd was getting louder. I looked up at the scoreboard and it said 67.
I was sitting next to Brian Cook on the bench and I'm like, "Wait, he's got 67?! And we've still got half a quarter left? That can't be right …"
"Yup."
We were both dumbfounded, looking up at the scoreboard.
The crowd started really getting into it by the middle of the fourth. Kobe went from 53 to 70-something really quickly. It was like three threes, then a foul on a three-point shot, then a dunk. Boom.
The scoreboard flashed a stat: Kobe passes Elgin Baylor's single-game point total of 71.
Cook and I were sitting there like spectators.
When Kobe hit 81, there were six seconds on the clock. Devin Green checked in for him. Not a bad way to get your first minute of playing time.
Re-watching Kobe's 81-point game made me pretty nostalgic.
The funny thing is, I almost never played in that game — had it not been for Kobe.
When I joined the Lakers in 1999, I thought Kobe hated me. We were about the same age, but he was the rising star … and I was just the rook from a small D-III school.
Everyone knew Kobe liked to test the rookies. I'm not sure if he still does, but he used to do that all of the time. I remember getting in drills as a rookie — the first couple practices. Coach paired me and another guy up, but all of a sudden I turned my head and I'm going against Kobe. It'd be a ball dribbling … and all of a sudden Kobe's on me. Or a one-on-one drill … Kobe's there.
So I'm like, "What the hell? This dude doesn't like me or what?"
Pretty soon it got to the point where Kobe would start every scrimmage by walking up to me and saying, "You … you guard me."
This went on the whole first year. We battled and battled.
A couple years later, when my contract was up and the Lakers had an option to re-sign me, I wasn't sure I would get called back.
Kobe was the one who went to bat for me. He stood up for me and helped get me back on the team. Of course he didn't hate me. He wanted to test me. He wanted to make me better, and make himself better.
I'm grateful to him for that.
I'm grateful to be able to say I witnessed one of the greatest games in basketball history.
And I'm grateful that, a few weeks after the game, he was willing to sign those Kobe 81 special edition shoes for my sons.
I can't wait to tell them the story.