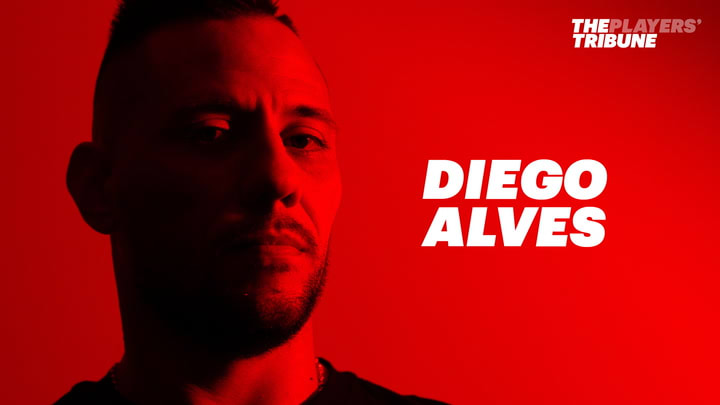 (This piece has been translated from the original Portuguese version. PARA LER EM PORTUGUÊS, CLIQUE AQUI.)
Dear Flamengo supporters,

I am writing this message before the Copa Libertadores final — Flamengo's most important game in recent years. We are one of the biggest teams in the world, but it has been a long time since we have had a moment like this. It is a chance to recapture the glory of our past.

As you know, it was not easy to get here. It is especially difficult to reach the Libertadores final while also reaching the top of the Brazilian Championship.

So now it's time to prove to ourselves what we can achieve.

I have been waiting for this moment for my entire life. Like our club, I have had to overcome many things to get to this moment. I'm gonna start from the beginning.

When I was five or six years old, I was already into football. Mostly that was because of my father, who wanted to be a footballer himself. But he had to make the choice to provide for our family instead. He had always been in love with the game, but he wasn't the one who forced me to be a footballer. The responsibility for that was all mine.
And as strange as it may seem, I always wanted to be a goalkeeper. Yes, you're reading that right — a Brazilian kid who actually wanted to be a keeper. When I was growing up in Sao Jose dos Campos I loved watching the great goalkeepers of the 1990s: Taffarel, Zetti … they were my references.

I was young when my family moved from São José dos Campos to Ribeirão Preto, and it was there where I started to play in a club called Regatas. I had no way of knowing it, but I was playing against a great footballer — one who had the same name as me and who already had shown a lot of talent: Diego Ribas.

What can I say? Only that I suffered a lot from having an opponent like him. But I still loved being a keeper. I loved the perspective it gave me on the game as it played out in front of me. I loved seeing the whole field. And I loved being the leader of the defense. It's a goalkeeper thing, right?

But sometimes things happen in a way we don't understand at first. Although I was confident as a goalkeeper, many people actually distrusted me. In fact, they simply could not believe that I could play the position.
Sam Robles/The Players' Tribune
This was because I had a problem: I was fat.

Well, maybe it is best to say that I was "fat."

Let me give you some context. When I was young, I suffered facial paralysis due to an ear infection. My treatment required me to take a strong drug called corticoid. Unfortunately, corticoid can cause you to retain water. My friends were not aware of that side-effect, and they were surprised by how much weight I gained.

To make a long story short, I suffered.

Once, right before a match, another boy's father even laughed at me when I told him that I was the goalkeeper for Regatas. No problem: in that same game I saved a penalty kick, and then the guy actually came to congratulate me after the match.

Through everything, I just played on.
---
---
A few years later, football became a much more important part of my life. From the countryside of São Paulo, I ended up at Atlético-MG, one of the most popular clubs in the country. Three years later, I transferred to Spain to play at Almeria. When I arrived in Spain, it was difficult because of the expectations of Brazilians. I even had to answer a question that seemed too strange to be true: "Does Brazil even have good keepers? We know about the strikers."

Yes, I know it was the time of the Ronaldos, Robinho, Kaká … but had they ever heard of Taffarel, Zetti or Dida? In short, it was as if I had to start over, because if even at the press conference the journalists were not aware of my potential … I had to prove that, yes, I could play at a high level.
David Ramos/AP Photo
It wasn't simple. When I moved to Spain, they played a different kind of football — a very dynamic game. The ball moved a lot faster in Europe than it had in Brazil. I was on the bench at first, but I was able to observe the positioning of the goalkeepers.

And then it happened. I got my chance. The first Brazilian goalkeeper playing in La Liga. And my debut was against Sevilla. It was a historic day. And I'm proud to say that I was named Man of the Match.

At the same time, I adapted myself to another way of life, another culture. It was so hard — I didn't know what to order in restaurants, and I wasn't confident enough to do even simple things, like getting a haircut.

It was the first time I had lived in another country. I was just 22. From being a known talent at Atlético-MG to having to prove myself all over again at Almeria. Starting over.
---
---
On the pitch, it became easier for me. I soon earned a reputation as a penalty saver — a parapenaltis. A penalty shot is a defining moment in a game, and I think every goalkeeper has his own tricks for stopping penalty shooters, especially today, when everyone has access to so much information. You know, with technology, the number of penalties saved has increased.

But I prefer another method to the use of technology. I'll tell you about it here: I always try to remain calm, making sure that I am passing the responsibility — the pressure — to the penalty shooter. I see it as a psychological battle.

In my life, I've had many psychological battles with myself, especially in my childhood. On the penalty spot, the shooter can make whatever decision he wants, but when I'm standing on the goal line, I focus on who I am and what I went through: The boy's father laughing at me. The influence of Taffarel and Zetti. The way my own father supported me without pressing me. All of those things shaped my personality. And now they give me the peace of mind that I need to lead the defense of the biggest team in the world.
Andre Mourao/FotoFC
Yes, you read that right. That is a fact. Flamengo is the biggest team in the world. And only those who have already entered the Maracanã when it is crowded on the day of a decisive game — either Libertadores or the Brazilian championship — know what I'm talking about. Brother, I'm telling you, the atmosphere is different.

When I was just a boy, I had no idea what it was like to be part of Flamengo. Only when you arrive in Rio de Janeiro do you get some idea of ​​the grandeur. It is another level. There are 45 million fans of Flamengo, they say. All over the world, there are people with the Flamengo shirt.

It is very difficult to put into words the feeling of wearing Flamengo's kit. When you enter the Maracanã, this sacred temple of football, it feels like being inside a cake in the oven. Flamengo's uniform seems like yeast, and the crowd makes it an oven.

Imagine, then, saving a penalty kick at Maracanã under these conditions. I can only speak because I have already saved penalty kicks at Bernabéu, at Mestálla, and in other stadiums around the world. There is nothing quite like saving a penalty kick at Maracanã. Not that I root for it. I think the penalty shootout is exhausting for everyone involved. But this year I have already saved some penalties: against Emelec and against Vasco. If the Libertadores final comes down to a shootout? Brother, I will be at ease.
---
---
Two years ago, when I decided to return to Brazil to play for the biggest club in the world, my wife was the first person I wanted to hear from. I don't want to disparage anyone and I know I don't speak for everyone, but I always follow her opinion. You can't play someplace where your family doesn't want to be. So when my wife said, "Count me in," I knew how the negotiations would end.

Even so, I didn't know what I would find here. When I left Brazilian football more than 10 years ago, the context was very different. Back then, the clubs were selling their players to Europe. Now they were signing them from Europe. When I arrived, Juan, Diego Ribas, and Everton Ribeiro were already here. The stadiums and the football pitches had gone through the transformations required by FIFA for the 2014 World Cup. In these new stadiums, the ball ran faster, and I had to readapt myself to the style of Brazilian football — which usually requires a lot from goalkeepers because of the long-distance shots.

So, I will not deny it. In the beginning the transition was very difficult for me. But we know that nothing that is lasting and pleasurable comes easy. And today I can say that I got it right when I agreed to play at Flamengo.
I will not deny it. In the beginning the transition was very difficult for me.
And I say that even though I had a hard time in late 2018. It's very likely that you don't know what actually happened. People with other interests wanted to hurt me, but I did not want to disturb Flamengo. The Brazilian title was still up for grabs. It was a very difficult time, and it is quite possible that I would not have been here today, defending the colors of Flamengo, if there had not been such a major change over the New Year.

When I thought that it was not going to work for me with Flamengo anymore, the club and my teammates came together to support me. When I imagined I would no longer have a chance, the coaching staff, starting with Abel Braga, embraced me, showing how much they were counting on me for the next season.

It was a fresh start, no doubt.

In fact, this change extended throughout 2019, with the arrival of other key players, who joined our group and helped to create a good atmosphere in the club.

Things got even better with the arrival of Jorge Jesus. For us, he's Jorge. To you guys, he's "Mister."

"Olê, Olê, Olê, Olê … Mister, Mister."

The atmosphere, brother, is different.

Mr. Jorge Jesus arrived to transform the way Flamengo plays and, in some sense, the way Brazilian football presents itself.
Quality Sport Images/Getty Images
A number of factors helped us reach this level, including the club environment, the quality of the players (who understand what it means to be Flamengo) and, of course, the intensity required by Mister Jorge Jesus.

A lot of it has to do with the personality of Jorge Jesus. Like few other coaches, he not only knows how to prepare a team — demanding much from his players – but he also knows how to read our opponents. When we went on the field this season, we understood what we needed to do, and the results began to come.

Jorge wants to make Flamengo a brand, a model of how to play football. And this model has a style: press the opponent. He says to us, "Today we will play like Flamengo."

The rest, you already know.

"Olê, Olê, Olê, Olê …Mister, Mister."

But none of this would make the same impact, dear Flamengo supporter, without your contagious enthusiasm. Yes, it motivates us and ignites us on the pitch. Even our opponents know that.

One of the most difficult moments of this season was the second leg against Emelec, in Maracanã. You remember, because you were there in the stadium with us, or cheering on TV, or listening to the radio.

We had lost the away match in Ecuador 2–0. And in the second leg, you the fans, along with the Flamengo nation, had made a pact: to support the team for 90 minutes. That made all the difference, because in the first half we scored two goals. We went to halftime excited about the result, but….

In the second half, Emelec came back and began to counterattack. Suddenly, Emelec was getting closer to our goal. There was this one thing about that game that I will never forget. If I close my eyes now, I still remember the rebound that an Emelec player struck. I did not move. The stadium at that moment was silent. And the ball was … out! It was a moment when almost everything went downhill. A single moment.

And then our fans soon recovered their breath and the match went to penalties. I was able to save one; another went out. And, somehow, we moved forward.
In the second leg, you the fans, along with the Flamengo nation, had made a pact: to support the team for 90 minutes.
You, the fans, know how much of a difference you can make in games like this. And we also know how special this season has been. We want to leave a mark on club history with titles. Whether or not we will win is another situation, but we have been preparing for it, striving to improve ourselves each game.

In recent years, we have come close to winning titles. But we didn't get there because we often got anxious in the decisive moments. But this time, it's different. The team has more experience, and the players are more confident — and the crowd is a fundamental part of this history.

We know that you, Flamengo supporters, are demanding, but you are also passionate and spare no effort to cheer for your club. To be honest, I can only get a little sense of what it is like to take the subway singing for Flamengo, get to the stadium screaming for the team, spend the whole match cheering and then come home to celebrate. I want to live this experience one day, because from the field, the energy that we feel is electrifying.

It's the red avalanche.

That's why when we score a goal, we know that the second one is closer than ever. It's not arrogance. It's because it looks like a boxing match. The opponent goes to the canvas, he hears the count, and when he gets to his feet, still groggy, he can't stand the pressure.

It's the red avalanche.
In 1981, when Flamengo reached the Libertadores final, I had not yet been born. Many Flamengo fans today were not alive to see what that the Zico squad did. Thirty-eight years later, we have a chance to make history in the final against River Plate.

We know that not all fans will be at the stadium in Lima on Saturday. But we already feel the heat of the crowd, like a cake in the oven. In these last days, wherever I go, I always hear, "It's the 23rd, it's the 23rd." Some days ago at a restaurant, a waiter came and said to me, "I've already asked for a layoff on the 23rd, brother."

Cheering for Flamengo is this: suffering, swearing, shouting, supporting, celebrating.

For our part, you can expect our style, pressing the opponent, you can expect our concentration and our dedication.

"Play like Flamengo," as Mister says.

When I came back to Brazil, I didn't know what it was to be Flamengo, but today I do. I understand. It is different.

I have overcome many obstacles to get to where I am today.

I had to prove to others that the "fat" kid could play in goal.

When I went to play in Spain, I had to adapt to another culture and style of play, showing that in Brazil we had goalkeepers, too.

Then I had to relearn how to play in Brazil and overcome some suspicions when I returned to lead the defense of the biggest club in the world.

Now here I am, about to play in the Libertadores final.

It will be a special day, and it will hopefully end with us winning a title.

Whatever happens … Flamengo nation, we know you are with us.