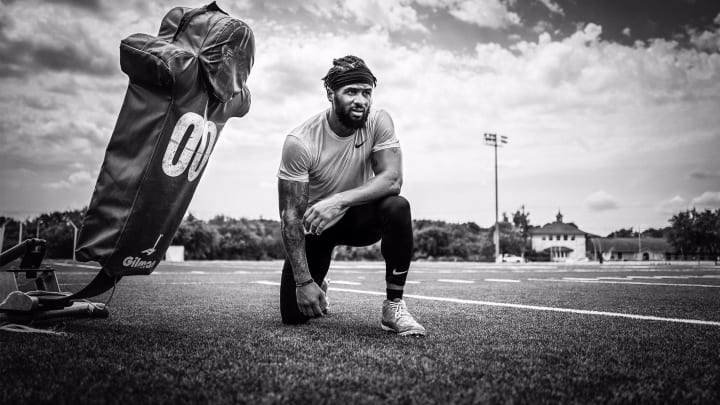 Here's What's Actually Going On
THOMAS LAKES/THE PLAYERS' TRIBUNE
Right away, I want to make something clear: I don't like doing this kind of stuff.

If you know anything about me, you probably already know that. Just by nature, I'm not a very talkative person. One of the reasons I've always played so hard is because I want my actions on the field to be able to speak for me.

But I can't do that right now — and I'm in a situation where I feel like I really have to say something. Not just on behalf of myself, but also for the other players around the league who are currently in the same position as me, or who will be in the future.

A lot of people talk about how short the average NFL career is. They're right. Over the years I've seen a lot of talented players come and go. What you discover pretty quickly is that in order to survive, football demands everything of you — not just physically and mentally, but emotionally as well.

And my feeling is, if you do manage to survive — and especially if you thrive — in this league, then that's something that should be acknowledged. It's something that should be respected.

If you're risking your body to deliver all of this value to an organization, then you deserve some sort of assurance that the organization will take care of you if you get hurt. It's that simple. This isn't new, and this isn't complicated. It's the reason I'm holding out — I want to be able to give my everything, on every play, without any doubt in my mind.

And it's the reason why I'm asking the Seahawks to do one of two things:

Offer me an extension.

Or trade me to a team that wants me to be part of their future.

I wish I was at a camp right now — and I'm talking right now. I'm ready. I've been preparing my body all off-season to be at an NFL camp.

All I want is to be out there playing. Instead I'm here working out … and waiting.

But while I have you, I have a few other things I'd like to say.
Thomas Lakes/The Players' Tribune
Am I the same player I was when I first came into the league? No.

I'm a lot better.

Part of that comes from the work I've put in, but it also comes from the things I've learned along the way.

My first press conference as a Seahawk definitely counts as a learning experience. I was one of the youngest players in the draft, only 20 years old, and I was excited to be in the NFL. But I still didn't fully understand that being a professional was a different deal. So, the day after I'd been drafted, I showed up at the press conference in a muscle shirt and shorts…… looking like I was going to a workout. It was bad. I knew I'd messed up as soon as I saw Russell Okung out there wearing a full suit. The coaches, man — they had to give me some team gear to put on, just so I looked presentable. And lesson learned. That changed how I've gone about doing press conferences ever since.

My time in Seattle has been filled with a lot of moments of growth like that, small lessons that just have added up to making me the player I am today. In the past eight seasons, I've been named an All-Pro five times and made every Pro Bowl since 2011, minus the one season when I was injured. I was there when Marshawn caused an earthquake against the Saints. I was there when we shocked the world against the Broncos in the Super Bowl. And I've been there, over these last several years, as this franchise has gone from being happy to win to expecting to win.

I was part of all of that, and I'm very proud of it. And that's one of the things about this that's been very frustrating — this idea that I'm doing what I'm doing because I don't want to play for Seattle anymore. That's just not true, man. I love Seattle. But I'd hoped I wouldn't even have to say that. I'd hoped that the way I've played for this team over the last eight years would tell you all you need to know.

I love Seattle.

With that being said … I also have learned why I need to take care of this business side of things. In the NFL, no matter what you've done or what you've accomplished, teams are constantly reminding you that you don't matter.
In the NFL, no matter what you've done or what you've accomplished, teams are constantly reminding you that you don't matter.
I still remember back when Lofa Tatupu was the heart of our defense. Lofa was one of the hardest workers I've ever been around. He was great to learn from as a young player. He made all the calls and always stepped up to make big plays. He was just straight up good at his job.

And what did he get for all of that? After his sixth season with the team, they asked him to take a pay cut. When he said no, he was released.

That kind of shook me — but it was also a good lesson of how, at any given time, a team can refuse to honor your contract and get rid of you. So no matter how much you like a team or you care about the game, you have to look out for yourself when it comes to the business end of things.

Just look at what happened last season.

We played a Thursday night game against the Cardinals in November. Those games are always tough in terms of injuries because of the quick turnaround … but man, even still. There wasn't one person in the stadium who would have guessed that that game might be the last time Richard and Kam would play for the Seahawks.

I'll never forget being on the sideline when Sherm went down. He was in Cover 2 on a routine dig route. It's something I've watched him do a million times, really basic coverage. But on this particular play, for whatever reason, his Achilles gave out.

Later on, Kam walked off the field and he said he had a funny feeling in his neck. Just a funny feeling — and, man, Kam is a warrior. A warrior. We've been through a lot together. So of course I thought he'd be fine. But then after the game, it's crazy … he found out the injury was career-threatening. A few weeks ago, he announced his retirement.

Just like that.

The last contract I signed with Seattle, I did it with the Legion of Boom in mind. I think our unit will be remembered as one of the greatest in history. And I wanted the team to be able to keep us together. But one by one, pretty much all of those guys have left — and a lot of the time, not on great terms.

Of course, we all know what we're risking every time we take the field. But that Thursday night game really cemented in my mind the truth — which is that your entire life can change on one play. And when it does, no matter what you've accomplished in the past … you can still get cut without even so much as a negotiation. That's what happened to Sherm. One of the all-time greats. And I know it could happen to me too.
Tom Hauck/AP Photo
The past few weeks, I've had a bunch of guys reach out to me to offer their support, and to just talk about their experiences of being in my situation. One of them was Eric Weddle. He was dominant for the Chargers for nine seasons — and then everything went south. When he asked the team to make a commitment, they treated him like he was being selfish. All he wanted was the opportunity to finish his career where he started it. After a decade of grind, he just wanted some security. How is that selfish?

I don't know, man. I just don't.

I'm really grateful to the players and fans who have offered their support — because without that, this process, it leaves you feeling alone. Honestly, I think one of the reasons that teams treat players like they do is because they can get away with it. They're good at placing blame on the player who's sitting out, by making the entire process become very public and very negative toward their reputation. It's like — I have no way of even knowing what they might be telling the press or my teammates about me. And for someone like myself, who doesn't usually talk … that makes you feel kind of helpless.
Honestly, I think one of the reasons that teams treat players like they do is because they can get away with it.
But I'm standing strong on this — because I've got to. I'm standing strong when it comes to getting what I deserve. I've been one of the best defensive players in this league for the better part of a decade, and the numbers show that this team plays much better with me than without me. Beyond that, I still have some great years of football left in my tank. I'm not even close to slowing down. I'm still working to get better.
So if all of this can happen to me, man … wow. Then I know it can happen to anybody.

As a rookie, especially on these Seahawks, you're eased into this culture of brotherhood. You develop this love and respect for the guys you play with, and the fans you play for. That makes you want to give everything to the team. And that's a special feeling. But what you don't realize, is that, once you've given everything — once you've gotten all those battle scars that come with success — your team doesn't value you the same. There's no thank yous in this league.

There's only goodbyes.

In the end, it's like I said: If the Seahawks don't intend on having me around for the long-term, then I understand. And if they want to start over and rebuild, then that's their right — it's part of the business. It's not what I want … but I get it. All I ask, though, is that if that's the case, and they don't want me anymore — just please trade me to an organization that does.

Please trade me to a team that wants me, so I can give my all to them for the rest of my career.

The players who have taken the time to get to know me, they know the person I am. They know I'm not selfish. They know I wasn't born with money. They know I'm just a hard worker, with a big heart, who's given everything he's got for the last eight years to the city of Seattle, and to the great game of football.

But they also know that I'm not done yet, not by a longshot. And that I still have a lot to give. I've still got tackles to make, I've still got games to win, and — God willing — I've still got trophies to raise.

So thanks for hearing me out, and we'll see what happens from here.

I'll catch y'all this season, on one side of the field or the other.