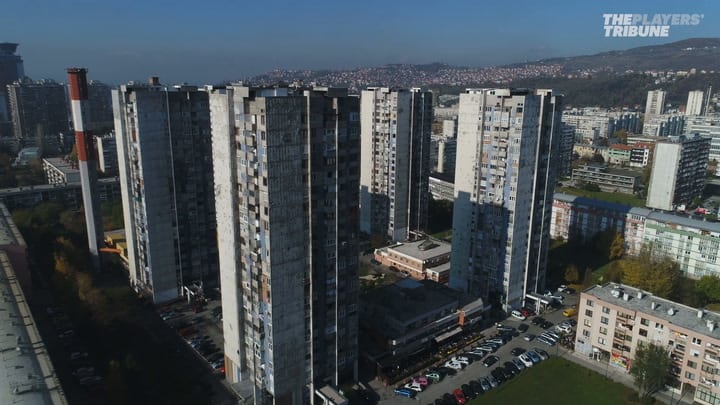 We were dead.

That's all I was thinking while watching that game from the bench.

Before the game, we were all thinking Manchester City were champions. We knew QPR were fighting relegation, but we were feeling strong. All we had to do was beat them, and we'd win the Premier League. No one believed we could lose the title. We had everything in our hands. So the game starts and all is quiet, then bang — 39th minute, Zabaleta scores. It's one–nil at half time. I almost start relaxing, thinking, "We're almost there."

Then QPR equalise three minutes into the second half. From nowhere.
Then they get a man sent off seven minutes later. Then, somehow, they score a second goal. It all happens in 18 minutes. Bang, bang, bang. It was crazy.

I remember there was a bit after their second goal where Roberto Mancini was on the sideline, furious with everyone, just shouting "F*** you! Come on! F*** you!" I don't even know who he was talking to, he was just swearing.

I thought we were dead. It was like nobody could handle the pressure. We were all thinking that we'd blown it. After a great season, we were going to lose everything in one game. Eventually, Mancini puts me on, and we keep trying our hardest, but nothing happens. Football is like this sometimes. The ball always finishes outside the post.
Eighty-ninth minute, 90th minute … we're dead.

It gets to stoppage time, and I think we get five added minutes. If you play football on your PlayStation and you are losing 2–1 after 91 minutes, you never get the win. It's finished. Go ahead and try it right now. Impossible.

Then, the corner. David Silva took it. I scored that goal — header straight down the middle at 91:20. You can see me scream, "Come on, come on!" to everyone as I'm running back to the centre circle. Still two, three minutes to play. Maybe we're not dead yet?
Ed Garvey/Manchester City FC via Getty I
Then you know the rest. I don't know how we did it. There was definitely someone from up there who gave us the chance to survive. People ask me all the time about Aguero's goal, and what it felt like to be on the pitch. To be honest with you, the strongest emotion was just relief. You cannot imagine how relieved I was when that goal went in. We worked the whole season with such a great team and performed so well, and we were a few seconds from losing it all.

City's first title in 44 years, won like that? Crazy. That game showed me that in football and in life, you can never give up. If you give up, you are the dead man. We were dead, and we came from nowhere.

You can probably tell that I enjoy re-telling this story, yes?
Part of the joy that I get from it is remembering the others who were champions with me. Aguero, Silva, Yaya, Kompany, and of course Mario Balotelli, who was a really good guy. Sometimes the media would kill him for nothing, and I didn't understand it. It was like he was the main character in a movie — everything good or bad, it was always Mario. But he was such a funny guy, and he was a champion.

I was lucky, also, that I had Kolarov and Savić, two guys who grew up in the Balkans like I did. There is a special pride in making it to the Premier League and becoming a champion when you come from where we come from. You have to remember that I was born in Sarajevo in the '80s. During the war, there were times when I had to stop playing football games in the streets because sirens went off, and we'd have to hide.
As a little kid, you don't really understand the danger. At six years old, I knew what was happening, but honestly I didn't think much about it. The parents do all the thinking and the worrying. They're the ones who carry a lot of the burden, I think. Without my parents, my life would not be possible. When the war finally stopped four years later, everything was destroyed. There was no city left. I remember my father taking me to my first training at Željezničar, and we had to take two different buses and a tram. It was more than an hour to get there, and we were training at a high school because the club stadium had been destroyed. Even though my dad was working, he would lead me there every day, and when training was over he would always bring me a banana.

Even in the bad times, they tried to give me and my sister everything.
Edin Džeko
Everyone has dreams. But in those times, when the country was being rebuilt, it was impossible to think about something more. I just remember being happy that I could play real football for the first time without sirens or danger or anything. No complications. Just football. If I had a dream, it was to play for the Željezničar senior team. It was mostly to make my father proud, because he never went professional, but he played all his life. I remember when I was 17 years old, I was with him in the local shopping centre. Normal day. I can't remember what we were buying. Suddenly, the call comes in from one of my coaches. He says, "Tomorrow, you're going with the first team to the preseason."
I turn around and tell my Dad, and he's completely baffled.

He's like, "Who? Why? When? With who? What????"

That was a great moment for me, to be able to experience that with him, because he was with me from the first step. Really, every step to training after the war, we took together. I did not expect that I would ever get to play in Germany and England and especially in Italy. For me, in those days, Serie A was the ultimate level. In the '90s, you had so many great players in Italy, and I really loved Shevchenko especially. When I was a kid, one of my youth coaches would call me "Shevchenko," and he said it was because of my face. But I loved it. He was my hero.
Every step to training after the war, we took together.
I'll never forget when I got to play against Sheva when I was at Wolfsburg, in 2008. He was on loan at Milan, and we played at the San Siro. And it was just incredible. Before the match, I caught him in the tunnel, and I asked him straight away if I could swap shirts with him after the match.



He said, "Yeah, no problem."



Well, I guess he heard how much respect I had for him, because at halftime, he came up to me and gave me his shirt. He didn't even wait until after the match. I'll always remember that. Those are the moments that are really special.
It's funny, I've played football in many countries now, but it's only in Rome that I have felt like I am at home. Bosnia and Sarajevo will always be No. 1 in my heart, but Rome is a good second. Home for me is a place I feel good, where I'm just thinking about football, where there are no other problems, and where my family is happy. I wanted to go to Serie A so I could learn the language, and now I've built something really nice here.

People always ask me the difference between playing in England and Italy. England is speed, speed, speed. Here it is tactics, tactics, tactics. It's amazing how much I learned in three years in Serie A. They think about every small detail here. But the most amazing thing to me is that I can call a legend like Francesco Totti my friend. And I tell him all the time that I wish I came here a little bit earlier in my career, because he would have helped me score so many more goals! Playing a few seasons with him improved my game massively. He saw everything on the pitch, and played balls that moved me into space I hadn't even considered. I'm so happy I came to Italy, and I definitely learned a lot about football here.
We had our own QPR moment in the Champions League last season. That quarterfinal against Barcelona was one of those matches where you can show kids the tape afterward and say, "Look, watch this game, and you'll see that you can never give up." The first leg we lost 4–1. To lose 4–1 against Barcelona, there you are again, looking at a football pitch, thinking you are dead.

But then, with the second leg at home, I get a little bit lucky and score the first goal early — maybe in the fifth or sixth minute. The crowd starts giving us energy. Then we get the penalty in the second half. De Rossi steps up and he goes bottom right. The goalkeeper even gets a hand to it, but De Rossi hits it with such force that it goes in anyway. You get that feeling in your blood, like, Maybe? Can we?
We were running, playing like animals, giving everything we had. It's just like 2012, we're screaming, "Come on! Come on! Come on!"

Then, at the end, in the 82nd minute, Manolas scores the third goal. Incredible.
Isabella Bonotto/AFP/Getty Images
I watched the match back the next morning, and it looked like we could have scored five or six goals, easy. It feels strange to say that when you're playing against Barcelona, but it wasn't a miracle. They really didn't have that many chances. It was master football for us. We were tactically perfect.

We were dead, and then we came back to life. It can happen in Manchester, and in Rome. It can happen anywhere. That's football.

I'm 32 years old now, and I'm not sure what happens next. I'd definitely like to take Bosnia to another international tournament. I was so proud to give a bit of happiness back to my country in 2014. Imagine, the first time Bosnia got to a World Cup, we made our debut at the Maracanã against Argentina. It was like the dream came true. I just wish we could have kept Messi from scoring!
After that World Cup, I definitely think something changed back home. When I was a kid growing up in Bosnia, our football idols were always players from different countries. But now I go back to Sarajevo, and more and more, the kids are talking about Bosnian players — especially guys like Miralem Pjanić — and that makes me really happy.

After the war, we were a generation of kids with simple dreams. We just wanted to play football in peace. Now, I have my football, and I've found my peace. That's my life. I want to play and watch all the games I can, seriously. Sometimes my wife will catch me in our living room watching Serie A or the Premier League or something on the television, and she'll ask, "Is it enough football?"

I just smile. She should know the answer by now. No, of course, it is never enough.