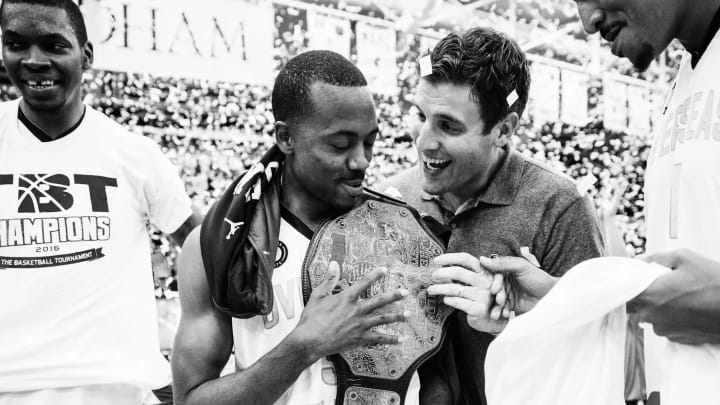 How to Grind Your Way to $2 Million
PHOTO BYSAM MALLER/THE PLAYERS' TRIBUNE
Just about this time three years ago, I was invited to a workout by the Cavs. At the time, I was playing pro ball in the top league in Greece, but like most overseas pros I always kept one eye on the NBA.
If an NBA team called, you packed up and went wherever they asked you to go.
Cleveland had also invited a few other guys to the workout. We were all similar in a lot of ways — former college players, D-League guys and overseas pros. We were all one step away from the NBA.
But even among the players the Cavs invited that year, I felt like I was a rookie overseas all over again. I was one of the more slender guys at the workout, and I was the only player who hadn't played college ball at a D-I school. I was used to that identity. I had been an all-state high school player in Ohio, just like my younger brother, C.J., but I never received any D-I scholarship offers. People said I was too small. They said I couldn't handle the physicality of big-time college basketball. They said all those things about C.J., too, when he came up.
I ended up going to Goshen College, an NAIA school, where I was a first-team All-America as a senior. I remember watching March Madness on TV back then and seeing my peers competing on the biggest stage in college basketball. These were guys I'd played against in high school and AAU ball back in the day. It was tough to watch because I knew I could be out there.
After the third day of my workout with the Cavs, I heard some guys talking about something called The Basketball Tournament.
I was like, "Wait, what is that?"
I was pretty sure I knew about every big tournament that was going on in the basketball world, but I had never heard of this one.
So they broke it down:
Open to anyone in the world
64 teams
March Madness–style format
Winner-take-all $500,000 cash prize
Honestly, I thought it sounded a bit far-fetched. Who's sponsoring this? Why hadn't I heard of it before?
After I dug into it deeper, the details checked out. By then, it was too late to enter a team that year, so I remember following the tournament online — I watched a squad of Notre Dame alumni win the whole thing. I called my agent immediately.
"Those guys are good, but not that good."
I knew we could get together a team that could compete.
It was on. That was the beginning of a year of preparation for the second annual TBT. In the meantime, to my delight, the prize for was increased from $500,000 to $1 million. The year after that — 2016 — everybody was taken by surprise when it ballooned to $2 million.
C.J. and I grew up in a middle class family in Ohio. We always shared big, big basketball dreams. And we shared something else: chips on our shoulders.
I distinctly remember my mom calling me at school during my freshman year at Goshen. C.J. was a sophomore at my old high school, and was in his first year starting for the varsity. The adjustment was tough for him in the beginning, so the coach moved him to the sixth-man role. My mom told me that an AAU coach had approached her and told her that C.J. was "at best a D-II player."
We always shared big, big basketball dreams. And we shared something else: chips on our shoulders.
That comment fired me up. I didn't go to a D-I school, and that made me want C.J., my little brother, to get a chance to go to one more than anything.
"Mom, don't tell C.J.," I told her.
That year, I would come home from college and take C.J. to the gym. We'd work out for hours. We played angry. We worked out like we had something to prove to the people who had underestimated me, and who were underestimating him. C.J. would get frustrated, but he would never let it get him down. Just like me, he would watch his peers playing on national TV and wonder why so many BCS and mid-major D-I schools had passed on him (he had only one offer from a D-I school).
We had two options: Get angry and sulk, or get angry and go to the gym.
The McCollums have always chosen option 2.
Two years ago, I took it on myself, along with my agent, to put together a team for The Basketball Tournament.
I wanted to choose high-level European pros who had the same fire that I do — guys whose NBA dreams hadn't yet been fulfilled for whatever reason, guys who had chips on their shoulders, guys who appreciated their success on the court because they had done it in the face of adversity.
I wanted to choose high-level European pros who had the same fire that I do — guys whose NBA dreams hadn't yet been fulfilled for whatever reason.
Last year, we won the whole thing. One million dollars. It was a wild ride. But this year, as defending champs, the road was much, much tougher. Teams had scouted us.
I had expected as much, and knew that I needed to get the band back together this time around. So my agent and I discussed roster moves. We wanted to bring back all five starters — including me — from our 2015 championship run.
First we got Kyle Fogg, a guard from Arizona. He plays in Spain now, but he recently won scoring titles in the top leagues in Germany and Finland. Big-time scorer.
Then we called Paris Horne, who went to St. John's. A super athletic, do-it-all type of guy who has done damage in the Turkish league and in Greece. He can guard anyone — from ones to fives — and has a knack for taking the ball to the basket and finishing.
I knew we needed a big. I called Johndre Jefferson, who I had played against four years ago in Israel. He's a rim protector. Long, lanky. He also controls the paint and is a great alley-oop catcher on the offensive end. He was a crucial addition. We needed size and athleticism.
Finally, Paris used his St. John's ties to get ahold of the final piece of our starting five, his close friend D.J. Kennedy. He was a teammate of Paris's at St. John's. D.J. is a 6′ 6″ guard who can play inside and out. He's pure New York basketball — a forceful, hard-driving guard who can take tough fouls and finish in big situations. A walking mismatch!
Let me set up the championship game for a second. In the semifinals last Saturday, we faced City of Gods. We'd beaten them last year, so they were gunning for us. They jumped out to a 17-point lead in the first half. It was the first time in two years at this tournament that I was worried we'd lose. But we gritted it out and came back to win.
In the championship game, Colorado came out and blitzed us. We were down by almost 20 midway through the first half. They couldn't miss. We were getting beat for rebounds.
And we just couldn't buy a bucket.
During a timeout late in the first half, I reminded everyone that we'd been down before. Colorado wasn't going to shoot the lights out for the entire game.
By halftime, we had cut the lead to 10.
On the way to the locker room, I checked the stat sheet. Colorado had shot 53% from the field. We had shot it in the 30s.
At halftime, D.J. sat off by himself in the locker room. We gave him his space. I think he was just thinking that he wasn't happy with how he was playing.
He needed to decompress and regroup. That's one advantage we had playing together for the second year in a row. We know each other's personalities. I think we all knew that D.J. needed that time by himself to just meditate and get his mind right.
For the final 10 minutes of the game, it was neck and neck.
With about two minutes left, we were up by two.
D.J. normally goes really forcefully to the basket, but on one of our last possessions he showed some finesse. He took a few dribbles into the key and then pulled up for a floater. It was so high. I was just watching it, like it was slow motion. Go in, go in, go in.
When it went in, I knew. I knew it was over.
When the clock hit zeroes, we had won 77–72.
After the game, confetti was falling all over the court. I was grabbing guys to give them high fives. Someone put a TBT championship hat on my head.