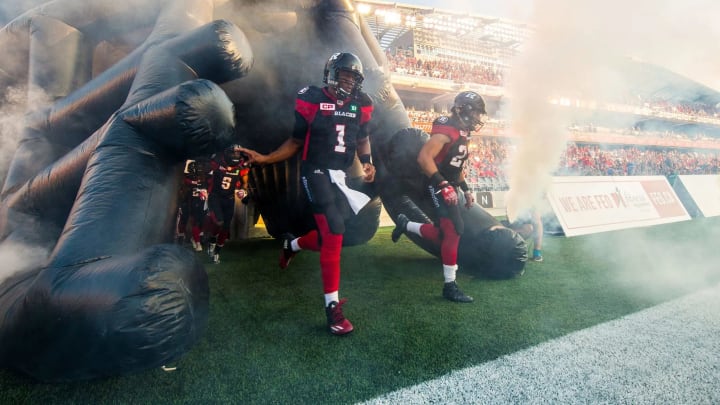 The Quarterback
They say your knees are usually the first thing to go. Guys who have been around long enough can tell just by the sound.
Pop.
"He's done."
It's quick, it's not particularly loud, and sometimes it can come out of nowhere. One awkward step or one cut too many and— pop. Like somebody snapping their fingers behind your kneecap. That's it. Your season — and maybe your entire career — is over.
If you go down in practice, depending on the time of year, Coach might send everyone home for the day.
If it's during a game, the crowd will usually stand in silence, you'll get a few taps on the shoulder from concerned teammates, and some guys might even take a knee until the training staff manages to get you onto the cart or over to the sideline. Maybe you wave to the crowd while you're being escorted into the tunnel, and a few minutes later the game will continue.
If you're lucky, when you finish rehab your old job will be there waiting for you. If not, you might be on a different team in a different city the next year, having to prove that you still have what it takes to lead a team and to play for a championship. You might start to hear people describing you with terms like injury-prone or high-risk.
If you're really unlucky, you might not even get the chance to play anywhere. All because of one wrong step.
Football is a game that tests you in many ways — physically, mentally and emotionally. But the biggest test just might be of your resolve. When you face a tough challenge — whether it's being told you're not good enough or making that one wrong step that results in devastating injury — how will you react?
More important, how will you bounce back when it happens again… and again?
Scott Halleran /Getty Images /
I went undrafted out of Temple in 1997. In my four years at Temple, we won a total of only five games.
Five.
So when I got an opportunity in the CFL with Calgary, I came into the league feeling like I had something to prove. All I was looking for was a chance. My first two years, I was the third-string quarterback, behind Dave Dickenson and Jeff Garcia. Basically, legends.
Dave and Jeff were great mentors but I had no plans to stay on the bench forever. My goal when I decided to pursue professional football was simple: get onto the field and show everybody that I can play. Well, not just play. I wanted to show everybody that I could win.
My opportunity finally came in the third game of my third season. We were trailing at the half, so I was put into the lineup and ended up leading us to a come-from-behind victory over Edmonton. We had two big touchdown drives in the fourth quarter to seal the win. It couldn't have been a better debut.  
We would go on to win our next game on the road against an undefeated Alouettes team, and it looked like we had some real momentum building up. It felt like I was finally fulfilling my destiny.  
We were back at home a week later to face the BC Lions. We found ourselves down by a touchdown at halftime, but I wasn't worried. In fact, I felt as confident as I ever had on a football field.
This is it, I told myself, as we were coming out of the tunnel for the second half. This is your team now. You have arrived and nothing can stop you.
I remember feeling so hyped as I ran out onto the field, ready to win the game. This was my chance to really prove myself to the entire league.
Then...
Pop.
In the third quarter, I made a cut on the old-school astroturf and felt my knee buckle. Non-contact injury. I had torn my ACL.
We lost the game, and my career suddenly appeared to be going on a very different path. Before that pop, I was starting to emerge as one of the best young players in the league. But with that one play, my season was over and my contract was up. Three years spent in Calgary and all I really had to show for it was a serious knee injury.
But I was still only 24. I had gotten a taste of the starting quarterback role, and even though I knew the path back would be difficult, there was no question in my mind I would be back. I was addicted to that feeling of leading a football team. I knew without question this was what I was meant to do with my life.
I thought about my comeback every day in rehab. That image of running back through that tunnel drove me in a way that I hadn't experienced up to that point in my career. I knew I would return even stronger than before.
I did come back, and ended up having a good season playing for the Roughriders. So good, in fact, that in the offseason 22 NFL teams flew me in to work out. I ended up signing with the Packers, but never had the chance to get onto the field. I spent the following year with the Bears, and then a year later the Bears assigned me to the Berlin Thunder in NFL Europe.
Franka Bruns/AP Images /
It didn't matter to me what team or continent I was playing on. As long as I was able to stay on the football field, I was willing to do just about anything.
I had no friends or family in Europe. It was hard at first, being in a new place where I didn't know anybody, including the players or coaches on my team, and didn't even speak the native language. That feeling of being isolated was the one thing that all of my teammates had in common with one another. I actually think it helped the guys in the locker room to bond a little quicker than they normally would have.
My girlfriend even flew in a few weeks into the season. We had just lost our fourth game in a row,  so morale wasn't exactly soaring, but her being there was an enormous boost.
Our first win came in Week 5, and Week 6 at Barcelona had been circled on my calendar since the beginning of the season. It was the weekend when I was going to propose to my girlfriend.
I had bought the ring before I even went overseas. I had gotten her parents' blessing, and I had planned a trip to the beaches of Barcelona after the game, where I'd get down on my knee and ask her to marry me. We'd proceed to get on a boat, drink champagne and celebrate our love as we sailed around Spain.
During the third quarter of the game, I stepped up in the pocket and threw a 12-yard hook route.
Pop.
Uh-oh.
My ACL was done. Again.
Everything moved pretty quickly after the injury. The romantic proposal went completely out the window. I left Europe almost immediately to begin an intense rehab process in Birmingham, Alabama. When I finally did propose a few weeks later, I was able to get down on one knee, but since I was wearing a big brace on the other leg, I had to position my leg straight out to one side, like a kickstand. It looked awful. I'm actually really lucky she said yes.
Once I recovered, Saskatchewan was willing to give me another opportunity to start, even after my second major knee injury.
I was still very confident in my abilities, but it was obvious that people around me were starting to feel differently. It was only my seventh year. And I played well in Saskatchewan. But suddenly in the offseason these questions start coming up ….
"How much do you think you have left?"
That's a weird question to hear before you even hit the age of 30.
From the day I left college, I had to deal with my fair share of detractors. But that is simply the way it goes for a quarterback. Durability, decision-making, mechanics, pocket presence … it all goes under a microscope. And most of the time it feels like the majority of analyses are spent determining what a player can't do.
It becomes a real driving force in the back of your mind, that constant desire to prove other people wrong. And the thing is, that can never go away. That fire is what tells you that you still have it.
I finally won a championship with Calgary after 10 years in the league. It was an incredible feeling, being able to call ourselves champions. I remember feeling like, now that we had won the big game, I would be able to put some outside criticism to rest.
It didn't last long.
A few weeks had gone by, and then the questions started coming in.
"This was it for you, right? Ten years is a pretty long career."
I tuned it all out and went back to football. We went to the playoffs the next four years, but couldn't win another Grey Cup. I'd have some minor injuries here and there, but I really didn't feel like my play was slowing down in any significant way. I even won MVP in 2010. But the talk never stopped.
"Calgary needs to get younger," they'd say. "Henry Burris is not the answer."
The talk got louder and louder, but I never once believed it. I parted ways with Calgary after the 2011-12 season. I went to Hamilton, and made it to the Grey Cup in 2013 only to lose pretty badly.
"It's over, Henry."
My last stop was the Ottawa Redblacks, an expansion team, and as soon as I arrived I made a promise to the city that I would help them win a championship. Forty total years, 27 seasons, and three different franchises had gone through Ottawa since their last one. But a promise was a promise. I wanted to win not only for Ottawa, but also so that I could once again silence some of the negative voices out there.
We went 2-16 that first year. That didn't silence anybody. Not even close.
But a year later we made it to the Grey Cup. We didn't win, but we started gaining confidence as a team and believing we could beat anybody when we played our best football.
At the ripe age of 40, after 20 seasons, I entered 2016 in the last year of my contract with Ottawa. I didn't talk about an extension, didn't think about the future …. Going in I knew that I had one more chance to make good on my promise.
We made it back to the championship game, and I didn't announce it ahead of time, but there was no doubt in my mind that the Grey Cup, win or lose, was going to be the end of the road for me.
It felt like the stars had aligned. Playing on that stage was a blessing, but on top of that, we were facing Calgary, where I started my career. To bring things full circle, the Stampeders were coached by Dave Dickenson, the very quarterback who mentored me 16 years earlier.
I remember looking around the stadium during warm-ups, just taking everything in, knowing it would be the last time I ever saw a crowd from this point of view. It was all leading up to this. It was like the only thing missing was–
Pop.
Hell no. Same knee. Proposal knee. 13 years later. During warmups before the most important game of my career.
I went back to the trainer's room and found out that I had torn cartilage.
"Can you play?"
Actually, I don't remember if the trainer or anyone even asked that. I didn't care if my leg was broken, I was going to find a way to play. I didn't really need it for anything after that day, anyway. I'd use a cane or something. Wrap me up, inject me, whatever. I was no longer out just to prove the critics wrong, I wanted to prove my own knee wrong. I hated my knee for betraying me in that moment more than I had ever hated anyone bashing my football ability.
This was the championship game. And I was the quarterback. I had to play.
AP Images /
The last pass I'll ever remember throwing will be a game-winning touchdown in overtime to Ernest Jackson. Out of everything I have done throughout my football career, I'll remember winning the Grey Cup with Ottawa as my proudest football achievement. Seeing that confetti come down and knowing we came through for the city was unforgettable.
I've been able to enjoy a career traveling the world and playing the game that I love the most. It's really hard to put into words exactly how lucky I feel today. The one thing I know for sure is that this was the right time to walk away.
From my first days in Calgary 20 seasons ago, I can say that it has been a privilege to be able to put so many years into the Canadian Football League. I am so grateful to have been embraced by this country, and to have found a home here in Ottawa to share with my wife, Nicole, and our two sons, Armand and Barron. As I look back over the landscape of my career, there's nothing I would change about the way it all happened, and I just want to say, to everyone who contributed, both positively and negatively, along the way, "Thank you."
I wouldn't be who I am without you.
---
---
Since retiring, Henry has joined the broadcast team for CTV Morning Live, weekdays in Canada.