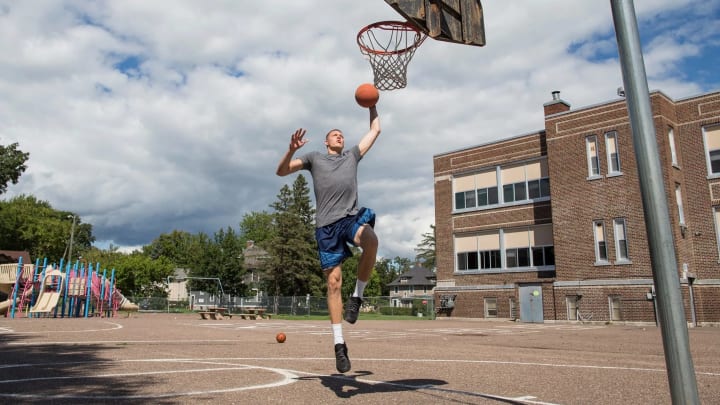 At Home in Rice Lake
Tom Lynn/The Players Tribune
When I was a kid growing up in Rice Lake, Wisconsin (population 8,438), we had a rec center that was about six blocks from our house. It was an old building. We had to walk up a three-story tall flight of stairs to enter the single gym that had tile floor and two baskets. This gym was only open during specific times on Saturday and Sunday. My brothers and sister would walk down the alley every time it was opened and we would stay till it closed.

I remember a particular game I played in that very gym. It was for the City League Championship. I was in fifth grade, and my parents were coaching my team. I wore the #50 cuz that was the biggest jersey and I was the biggest kid. Some of my classmates from elementary school came to watch. It was packed in the gym. One side of the court was just people sitting in folding chairs because there wasn't any bleacher seating left. Most of the other kids who played in the tournament — but didn't make the final — came and watched, too. I felt like I was the main event.

We were down 17 at halftime, and my dad said, "Henry, you gotta quit passing so much and you have to shoot it now."

I don't remember much about the second half except for shooting from everywhere on the floor, with everyone trying to guard me, (long layup) and everything going in. I don't even remember individual plays — I was floating out there. We ended up winning the City League Championship by more than 10. After the game, an older kid in my brother's class who was doing the scorebook came up to me and was like, "Do you know how many points you just had?" I had no clue. It turned out I had 54 of my team's 57 points.

It's still a great memory and probably the greatest game I've ever had. After the game, we left the rec center to get Butterburgers and Concrete Mixer milkshakes at Culver's to celebrate. I spent that night at my friend Kyle's house, who lived on a big farm outside of town. I went riding on the back of a snowmobile for the first time.

It was a perfect day in Rice Lake.

Photographs by Tom Lynn/The Players' Tribune
Having a place to go with my family to play sports, hang out, and develop my love for basketball was really important to me as a kid. I spent so much time on the court as a kid. Every weekend during my childhood, my brothers Wally and Ellwood, my sister Ella, and I would practice at the rec center. During the week we would go to the high school gym. We just loved running around with any ball in our hand. The gym was our haven. My brothers and I all ended up getting full scholarships to play basketball, and my sister just signed a D-I letter of intent to play basketball at Valparaiso University.

As a rookie with the Detroit Pistons, I'm more focused on my game than ever. But I can't stop thinking about how much my childhood in Rice Lake meant to me and how much I want to make sure every kid in that community has a place to go to develop the same skills, love for athletics, and team bonding that I did. Rice Lake is a special place to have grown up.

I have so many memories in this town. Some of my earliest memories are being at Rice Lake High School with my brothers — my mom is the P.E. teacher there — and I remember sometimes just hanging out in the hallways after class, waiting for my mom to get out from the locker room. On the weekends we were walking to the rec center to play basketball with our friends. Some of the best days I ever had were those lazy summers where we'd walk down Main Street — our house was on Main Street! — and get smoothies. We'd take canoes out onto the lake and paddle across to the river. We'd go upstream for a couple miles, be gone a couple hours, and usually ended up having a bit of sunburn.

Rice Lake is where I fell in love with the game that has taken me to the highest level of the sport.

Over the summer, I got to work at some youth camps in the area. I was able to spend a lot of time with the kids there, and I loved that experience a lot. When I was that age, a gesture like that meant everything to me. Now that I'm in the NBA, one of the best things is being able to give that back to the kids.

I want to be a person who is always around my hometown. I don't see myself living anywhere else during the off-season. The Midwestern disposition suits me perfectly. I love the simple life, and my dream is to one day own a home on the water in Rice Lake. I want to be a person that people in my community can count on. And in 20 years, I hope it'll still be that way.

It's simple: I just want to give back to the people of Rice Lake — to the people who gave so much to me, who made it a great place to grow up. Right now, I'm focused on my growth in the game of basketball, but I'm also starting to plan for the future. My dream is to eventually open a brand new rec center in Rice Lake. I've already started to give back as much as I can in other ways, particularly by donating to people in the community who need help — like the family of Dan Glaze, a sheriff's deputy who was shot and killed in the line of duty in November. I also actively support E.A.T.S. (Education Assistance Through Scholarship), which supports college students at Wisconsin–Barron County.

And this summer I will be hosting my first basketball camp in Rice Lake. I want to teach kids from the area, including from the local Boys & Girls Club, some of the lessons I've learned in the NBA.

Thank you, Rice Lake, for everything you've given me. I hope that I can return the favor.