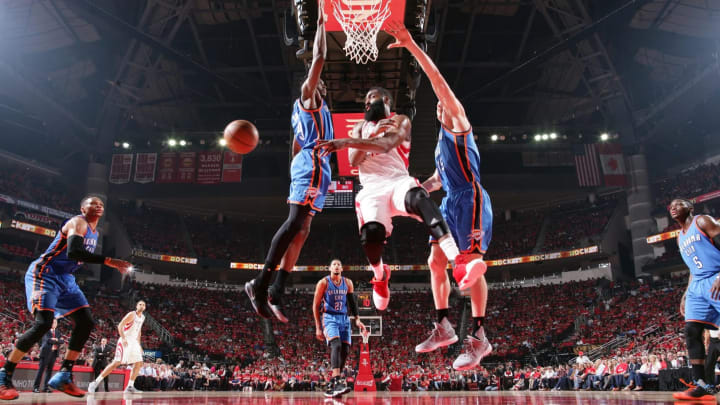 A New Obsession
I've never been a writer before, but you know what?
Before this season I'd never really been a point guard, either. So let's do this.
The other day Trevor showed me the article that he wrote and it really got me thinking about this team and our season and everything my teammates have done for me.
Not only my teammates. Coach, too.
In a way, this whole ride started back last summer with Coach D'Antoni's crazy idea.
After Coach took the job, we immediately got on the phone — talking about what went wrong last season, talking about our roster, talking about changes we could make. Normal intro-type stuff. It was clear he was smart as hell about basketball, but laid back, too. He was asking questions and listening, instead of acting like he already knew everything. I liked his vibe right away.
And then before we hung up, he stopped and just said straight up: "Honestly, we need you to be the point guard."
Rocky Widner/NBAE/Getty Images
I heard him … I mean, I heard the words he was saying. But it's like they didn't register right away.
After the call, the thing that stuck in my head was the way he'd said it, not even what he'd said.
"We need you to be point guard."
Need.
Not want. Not would like.
Need.
It wasn't a random choice of words, either. I knew I had to at least hear him out.
But there was one thing that bugged me about it, though I didn't tell him right away what it was.
We met up a number of times over the summer. Coach is big on film, and we watched a lot of it. Sometimes it was a Rockets game but mostly it was older stuff — from those run-and-gun Suns teams he coached. Basically, we watched a lot of Steve Nash running the point. Coach said he wanted me to study one of the great scoring point guards in the history of the game.
It was some of the most fun I've had in a film room. I can still see Coach pointing at the TV, getting excited about something Nash had done in a game. He'd pause the film, and we'd talk about Nash's ability to change pace, or how he was reading the defense, or how he always seemed to get guys the ball who hadn't touched it in a few possessions. Coach talked about how Nash was a vocal leader — something I've tried to improve on more and more each year. And he kept telling me how much Nash evolved as a player each season.
Jonathan Bachman/Getty Images
Again and again the idea of me moving to the point would come up. And I think he was basically trying to say: If you're willing to score a little bit less, and have the ball in your hands more, you could be running the offense like this.
Then he'd point back to Nash on the screen.
One day I had to tell him what was on my mind.
"Uh, Coach? I have to say … I'm not the biggest fan of Seven Seconds or Less."
That's what I told him. Looking back, I'm surprised I said that. Seven Seconds or Less is the thing that made him famous in Phoenix. But I wasn't trying to knock that system. I was just trying to be honest: Just because it had worked for them didn't mean it would work for us.
I knew our team was going to be able to fill it up, but a run-and-gun team? It didn't seem like our style. We were going to have to work the shot clock a little longer to get better shots.
Coach's response surprised me. He didn't get defensive. He wasn't even mad. He just told me that I was missing his point.
Forget the position, he said. Watching film wasn't about trying to copy the Suns offense or even about point guard. It wasn't about a position on the court at all.
Coach was talking about sacrificing for something bigger than myself.
---
---
I was a young'un when I got to Houston five years ago. Back then, I honestly don't know how I would've responded to Coach's request. But this year feels different. I'm older, I'm closer with this group than any other team I've been on. It's in how we play. We really do believe we're better together than we are as individuals. We really do get along on and off the court. Everyone has a role. Everyone does their part. We sacrifice for each other.
You can see it in a guy like Pat.
Pat's got that dog in him. We all have that one person in our lives who just has your back unconditionally. The basketball team version of that person for us is Pat. He goes to war for us every single night, and he won't back down to anybody.
In Game 1, when he ran into that Steven Adams screen, everyone saw him hit the deck. But you probably didn't really notice what happened after — how Pat stood up, shook it off and pointed to the sky. How our bench reacted. And then how he sparked a run for us. How we never looked back. How we won the game and then the series.
Plays like that have been setting the tone for us all year.
That was some Rockets basketball right there.
It's not just Pat. Eric came here wanting to be a starter but accepted a bench role — because we told him that's what the team needed in order to be at our best. He didn't even question it. The majority of guys in this league wouldn't do that, believe me.
It's everybody, from the top of the roster all the way down. Nenê's our wise man, always telling me when I do something wrong. Clint's the young buck that I've tried to kind of take under my wing. He's one of the most willing-to-learn young guys I've ever played with. That's going to take him far, and it's crucial for our team in the playoffs.
To make a run this playoffs, we're going to need to lean on everyone at some point.
dark /
I really could go on forever about my teammates, and about this city. Houston has showed me love from Day One. It's meant everything to me. I grew up as a player here.
When I first arrived, I had a list in my head of all the things I wanted to achieve on a personal level. You know, things that any young player thinks about. I wanted to prove what I could do. Nothing wrong with that stuff. But now it's just different.
Now it's: What does this team need to do to win?
That's my obsession now. To be the kind of leader who does what's necessary to win.
The rest? It's extra. So I'm gonna stop now and let our play do the talking.
We've got another playoff fight ahead of us.
Houston, y'all ready?
I already know.