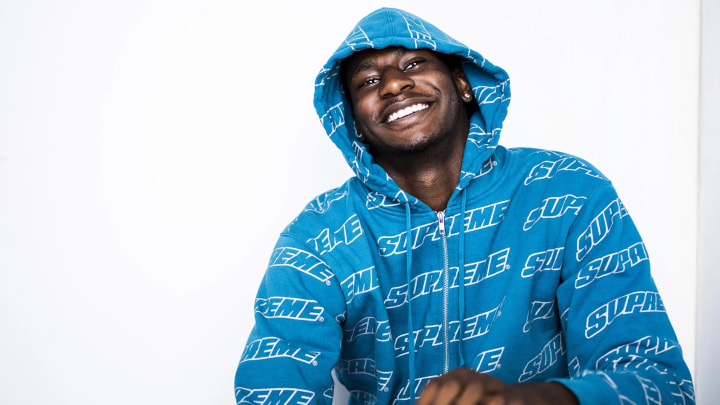 To Whom Much Is Given, Much Will Be Required
TAYLOR BAUCOM/THE PLAYERS' TRIBUNE
Yo! Today is National Girls & Women in Sports Day!

That's a big deal because, let's be honest, female athletes don't get enough attention. I grew up being close friends with several amazing female athletes. I know that despite having the exact same amount of passion and drive as men, they're sometimes given a fraction of the resources. That's just not right, and it's on all of us to change it.

My mom, who is the executive director of the Women's National Basketball Players Association, is a big part of the reason I know what today is all about. She is a passionate advocate for WNBA players. I still remember as a young kid watching her prepare for a class she used to teach called Women In Sports. I've always listened closely when she talks about all the hopes she has for women in college and pro sports. It definitely left an impression on me.

That's all to say that I'm close with a lot of women who love sports deeply — so if there is a day that is dedicated to them, I'm gonna know about it!

Honestly, we all should know about it. And we all should also be doing our part to make it a day (a week! a year!) of celebration. For me, that meant hosting The All-Girls Basketball Symposium in Memphis this week. It's an event that meant a lot to me, so I want to talk about how it all came to be. It really started with a person who means the world to me: my grandmother.
Joe Murphy/NBAE/Getty Images
My grandmother is the queen bee in our family. She gets so much respect from everyone. She's the greatest listener I've ever known, and she has this one saying that she works into almost every conversation. You've probably heard it before: "To whom much is given, much will be required." It comes from the Bible. Yeah, it's a classic.

She uses it so frequently with my family that she doesn't even have to say the full line anymore. Most of the time, we'll just be in the middle of a conversation and then she'll chime in with, "To whom much is given," and then just trail off as if she's made her point. And usually I'll just kind of nod in agreement because she has.

Particularly this past year, I reflected quite a bit on what those words mean. Their purpose is to remind us of our blessings while also inspiring us to pause and consider our obligations to our communities and the world as a whole. The last time my grandmother said her favorite line it was before the NBA draft. That was the night I was given the greatest opportunity of my life when the Memphis Grizzlies picked me No. 4 overall. And because of her, I knew what came with what I had been given was a responsibility.

To whom much is given….

Those words are forever on my mind. Those words make me pause. I mean, really pause. Stop. Think. Am I doing my part? And the bigger question: What does my part even look like?
I knew what came with what I had been given was a responsibility.
Last summer, I arrived at this one particular idea that I thought could make a difference, even if it might only be a small one. I knew it wasn't the answer, but it was a start — and that's something.

My idea is really quite simple. I wanted to find a way to use my first shoe deal to promote girls and women in sports. As we say on the court about sharing the ball: "Everybody eats." I didn't want this deal to be just about me. Instead, I wanted to share the ball, so to speak.

As with most—really all—of the big decisions in my life, I first told the idea to my parents. They were curious as to whether I could pull it off. They understood the objective but wondered if I could convince a company to buy-in and support what I was looking to accomplish: creating a platform to promote diversity and inclusion of girls in sports. And fortunately, we did find a company, Nike, who was on-board with my vision. That was really cool.

From there, the biggest question was how do we get started?
Joe Murphy/NBAE/Getty Images
The first step was last Monday, when Nike helped me host The All-Girls Basketball Symposium. We invited players from nearby Memphis schools to spend an afternoon on the Grizzlies' practice court running drills, learning skills and — the real draw — hanging out with A'ja Wilson.

A'ja is just a superstar, man. When she entered the gym, I thought some of the girls were going to pass out from excitement. You really couldn't ask for a better ambassador for the game of basketball.

As part of the symposium, we — me, A'ja and Lauren Sumski (the women's basketball coach at Rhodes College), as well as Martina Jones and Carmen Reaves (co-captains of the basketball team at Memphis's Whitehaven High) — sat down and had a conversation that was super eye-opening for me. We talked about a bunch of things, but one of the main topics was what motivated us. The more we spoke the more I realized we had so much in common besides basketball.

One of the things I appreciated was how real it got. Some of the girls in attendance shared their stories and challenges, and A'ja offered some difficult but necessary advice. "I want to tell you that it gets easier, but it doesn't," she said. "You have to be even more disciplined." Listening to her — someone who has already accomplished so much — deliver that message definitely inspired me to grind that much harder. And I know it left an impression on the girls there, which made everything worth it.
Joe Murphy/NBAE/Getty Images
Just hosting a symposium isn't my final goal — but it's a start. We'll learn from this experience and build on it.

Shout out to Nike, the Grizzlies and the high schools that participated: Booker T. Washington High, Whitehaven High, East High and Hamilton High. We got some girls in Memphis who can HOOP.

And an even bigger shout-out to those who took part in our talk-back session afterwards: Lauren Sumski, Martina Jones, Carmen Reaves and, of course, A'ja.

To my grandmother: You are my North Star, and I want you to know that I am listening and paying attention.

Finally, to every single female athlete and sports professional out there, I want to say once again, Happy National Girls & Women in Sports Day. I'm looking forward to celebrating with all of you for years to come.