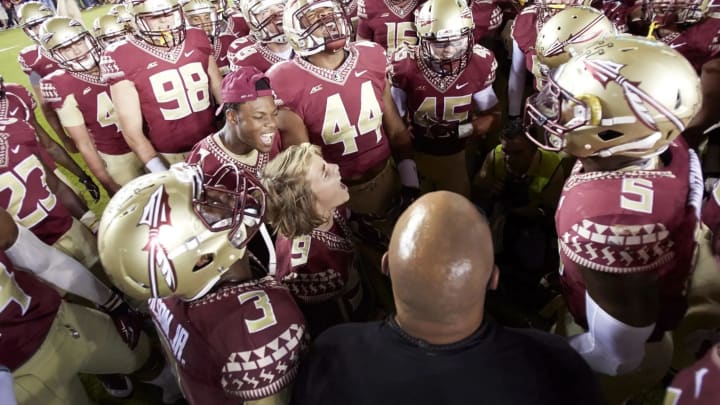 Florida State, Minnesota Vikings and Fanconi Anemia
Minnesota Vikings cornerback Xavier Rhodes and Florida State coach Jimbo Fisher go way back — all the way back to 2009, when Fisher was trying to convince Rhodes to play for the Seminoles. We got the two men to not only look back on their time together in Tallahassee, but also to discuss something deeply personal to both: their love and support for Fisher's son, Ethan.
---
---
Jimbo Fisher
The first time I saw Xavier Rhodes play football was back in 2009 at a Florida State football camp for high schoolers. He was an 18-year-old wide receiver — a wide-eyed, fiery kid who didn't have an ounce of doubt about himself. He didn't care how many stars the other recruits had or who was ranked ahead of him. He played with aggression. He was out there flying around the field, catching passes and weaving through the defense … and I had one thought: I'm gonna turn this guy into a corner.
Xavier Rhodes
Aw, Coach, no lie, I had always dreamt about playing wide receiver. That was my thing. I just wanted to catch touchdowns. So when you told me you wanted to make me a corner, I was mad as a dog.
Jimbo
Mad? You weren't just mad, you wanted to shoot me! Hahaha. I remember during spring practice before your first full season, I went up to you and said, "Look, try playing corner for three months. If it doesn't work, I'll move you back. I promise. But you gotta give this a try, because you can be something special." I knew that you had the speed and size to be a huge threat in the secondary. But, at first you weren't having it.
About 10 minutes later, you crept back over to me with those big ol' puppy eyes and said, "Aw, Coach, I'm sorry."
I looked at you with a smile and said, "I know, buddy. Now get back out there and do your thing."
Xavier
Ha! I remember that. I'm glad that you moved me to corner and unleashed my ball-tracking skills, 'cause things have seemed to have worked out.
Jimbo
They have. And you put the work in to make it happen. You earned it.
Tom Szczerbowski/Getty Images
Xavier
Yeah. We had some good times in Tallahassee, too. An ACC championship, a few bowl wins — we had a lot of success, and you've kept it going.
Jimbo
Amen.
Xavier
That's why I think foregoing my senior year to enter the 2013 NFL draft was one of the hardest decisions I've ever made. It was so difficult to leave Florida State. You, the other coaches and the rest of the guys were like family — still are. And that's what I think about when I think about Florida State.
Family.
I remember how your boys, Trey and Ethan, used to always be around the program — out at practice, always hanging around the team — and how that set the tone for a family atmosphere. The rest of the players and I saw how you were with your kids, and it rubbed off on us. When you have your boys running around practice and whatnot … it just feels like family.
How are Trey and Ethan, anyway? How old are they now?
Jimbo
Well, Trey is 15, and Ethan is—
Xavier
Fifteen! My goodness. I remember when he was — how old was he when I first got there, eight or so? — running all over the sideline during practice, smacking guys on their helmets, screaming, hootin' and hollerin' like he was one of us. And, boy, the kid had energy. You had to have a cup of coffee to keep up with him. Trey would just talk, talk, talk. And he'd ask the darndest questions, too.
Phil Sears/AP Images
Jimbo
Ahhh, you hit the nail on the head with that one. Trey's very inquisitive. The kid's 15 going on 30 … when you talk to him, it's like talking to an adult.
Xavier
And Ethan's what now … 11?
Jimbo
Yeah, and talk about a kid with energy….
Xavier
Oh, I know. I remember one time on the bus before a game, Ethan was sitting right next to me just going 100 miles per hour. He was always talking and bouncing around. And he was only like five years old at the time, too.
Jimbo
That sounds like him.
Xavier
But when I think about Florida State — and I think about family — one of the first things that comes to mind is a meeting before spring practice in 2011. The whole team had gathered in the auditorium, and when you came in, we were all expecting to hear one of your patented Coach Fisher talks. We expected to talk some football, talk about life, talk about what our goals were for the spring — to get better every day and prepare to compete for a national championship. We expected to be motivated and excited.
Instead, you told us about Ethan.
I don't think anybody on the team knew what Fanconi anemia was. We all looked at each other, like, "What? What is this? How bad is it?" I mean, you were our coach — our fearless leader — and we were a bunch of warriors. And when we saw you standing up there in front of the team, and we saw you trying to hold back your emotions … it really hit us hard. Some guys put their heads in their hands and prayed. Some guys just sat there in disbelief, shocked and confused. Some guys cried. All the things you and your family probably did when you found out yourselves.
Jimbo
That's exactly how we felt. It was a wide range of emotions. I had just finished my first regular season as head coach when Ethan started having flu-like symptoms. The first thought was that he had just that: the flu. Kids get sick. They get the flu. So you don't think much of it other than, These things happen. We'll take him to the doctor and everything will be fine.
Well, Ethan and his mom, Candi, were in Alabama visiting her family at the time, so instead of taking him to our regular doctor, she took Ethan to an urgent-care clinic — which turned out to be a blessing. Because the clinic didn't have any information on Ethan's medical history they conducted a complete blood count, which tested, among other things, his platelet count. The results came back and his platelet levels were pretty low — which, as the doctor noted, could have been a result of the flu. But just to be sure, they suggested that Ethan get tested a month later.
Right after we won the 2010 Peach Bowl against South Carolina, I went to the doctor with Ethan for another test at Shands Hospital in Gainesville. And again, his platelet levels were low.
I'll never forget when I found out about his condition. It was March 2011. Ethan and I were at a pond close to our home shooting his favorite BB gun. Suddenly, we heard a car roaring down the road. It was Ethan's mother. She was screaming my name and honking the horn, trying to get our attention. I walked over to her and saw the look in her eyes. It was bad news. That's when I knew she had gotten the call we had been waiting for — the call from the doctor who told us that Ethan had Fanconi anemia.
A day or so later, we went to the doctor to learn as much as we could about the disease. Honestly, it was terrifying. Fanconi anemia is a disorder that affects the bone marrow and is caused by an abnormal gene that damages cells, which keeps them from repairing damaged DNA. One in 131,000 people in the U.S. have Fanconi anemia, and at the time Ethan was diagnosed, the average life expectancy for those with the disease was only 23 years of age. As a parent hearing that … my goodness, a little part of me just crumbled. It's just some sort of nightmare that you can't wake up from. One of the most frustrating parts for me and Candi was that we found out the disease is passed down genetically, meaning both Candi and I carry one of the known FA genes [there are more than a dozen]. In a way, we felt that it was our fault that Ethan was sick and that he had to suffer so much.
It's hard to keep focused when the doctor was rattling off this information … my mind was just swirling. But the bad news kept coming. We continued to find out that Fanconi anemia can lead to increased risk for leukemia and other cancers.
And after hearing all this terrible information, you realize something without the doctor even having to tell you: There's no cure for this disease. And that's perhaps the most heartbreaking part of it all.
Xavier
Coach, I'm so sorry. I know you love your kids more than anything. To find out that this was going to be Ethan's reality must have flipped your world upside down.
Jimbo
Well, it did, Xay. I mean, honestly, Candi and I were shocked. We found out that Ethan's platelet count was going to drop to the point that he'll one day need a bone marrow transplant. So, you know, we started questioning, "Why us?" and, "Why now?" There were times when I'd cry. Not because of what Ethan was going through. He's a tough kid. Strong. Resilient.
I'd cry because I'd see him lying on a table with all these wires strewn across his body as he awoke from his anesthesia … because I'd hear him ask questions about why this was happening….
Because I felt like I couldn't help him.
Xavier
I can't even imagine what that must have been like….
Logan Stanford/Icon Sportswire
Jimbo
And I hope you never have to. It's something I wouldn't wish upon my worst enemy. It's a helpless feeling. When you become a father, your main purpose in life becomes to protect your children and to care for them — allow them to thrive. And I felt like I couldn't do that.
In the beginning, I didn't know what caring for Ethan would require, or if I would be able to focus on my job knowing what Ethan was battling at home. It weighed on me pretty heavily — more than anything I had ever faced in my life — and all I wanted to do was be there for Ethan. Football seemed inconsequential. It even crossed my mind that … maybe … I should stop coaching.
Xavier
Man … I didn't know that.
Jimbo
Yeah, it was a difficult time. But the support from everybody at Florida State was incredible, and it gave me the inspiration to fight. Initially, it was hard to make Ethan's condition public. When things like this happen, it's natural to want to keep it private. But because of my position, stories start to swirl … I can remember people wondering why I was taking time off from practice to take my son to the doctor. So we decided to announce Ethan's condition to the world. And, honestly, I believe that was one of the most important decisions we've ever made as a family.
After that day, I realized that God put me in this position to not only help Ethan, but also to fight for all those affected by Fanconi anemia … I have always believed that God doesn't put more on your plate than you can handle. I wasn't going to back away from this challenge. So Candi and I said, "Let's go beat this disease." And that's when she came up with the idea to create the Kidz1stFund.
After we made Ethan's condition public, our main goal was to bring awareness to the disease and help find a cure. That's actually the main goal of Kidz1st. We wanted to fight for Ethan, and we wanted to fight for people who didn't necessarily have the reach that we have. And to have you on board with us, Xay … I don't really have words for it. I am so humbled and grateful.
Taylor Baucom/The Players' Tribune
Xavier
That's amazing, Coach. Yeah, as time went on, I decided I wanted to fight for Ethan, too — he's my little bro — and for others in his position.
A couple of weeks after I got drafted by the Vikings, I was going about my business when, one day, I got news that Ethan was receiving his care for Fanconi anemia at the University of Minnesota Masonic Children's Hospital, the leading research hospital for the disease. That's only a few miles away from U.S. Bank Stadium, our home turf.
When I found that out, I almost fell over. To be completely honest, when I was drafted by Minnesota, I was like, What is there to do in Minnesota? But I'm a firm believer that everything happens for a reason. Now I'm like … Minnesota is close to my heart for so many reasons. There was no doubt that I was going to come on board with Kidz1st and help you in any way possible, Coach. For all you've done for me … man, I'd do anything to help little Ethan. That's my bro.
Jimbo
Well, it doesn't surprise me at all that you'd want to pay it back. That's who you are.
Xavier
That's what family's all about. And I'm glad we're seeing some positive results because of the work the fund is doing.
Jimbo
Well the team at Masonic Children's Hospital — led by Dr. Margaret MacMillan — has made some huge advancements on the road to a cure. I mean, if you looked at Ethan, you wouldn't know anything's wrong with him. He's a normal kid. He loves to play tennis, flag football (unfortunately, he can't play contact sports because if he's hit in the head, his body may not be able to clot the internal bleeding), golf and baseball. He loves to fish and hunt. God has given him a special personality to deal with what he has to face on a day-to-day basis. I'm so impressed with how much fight his little body has.
Xavier
No doubt, Coach. Ethan's a special kid.
Sometimes he and a couple of other boys and girls I've met through Kidz1st will tell me, "Xavier, you're my hero." I always feel a little funny hearing that. Me? A hero? All I do is play a game. These kids are fighting for their lives every single day, and they often have smiles on their faces while they're doing it. I'll sometimes complain about the smallest things, like waking up early for practice, or doing a couple of extra workouts. But then I'll catch myself. I'll think about all the tubes the doctors attach to Ethan's chest during tests, or the little girl who has to turn away and hug her mom while the nurse takes upwards of eight vials of blood from her arm.
And then I'm reminded of who the real heroes are and why we should strive for a cure with everything we've got.
Jimbo
That's right, Xay. I believe we can do it. We will fight for those affected by Fanconi anemia every single day, and we won't stop until we find a cure.
---
---
To learn more about Fanconi anemia and how you can help, visit www.kidz1stfund.com .
.