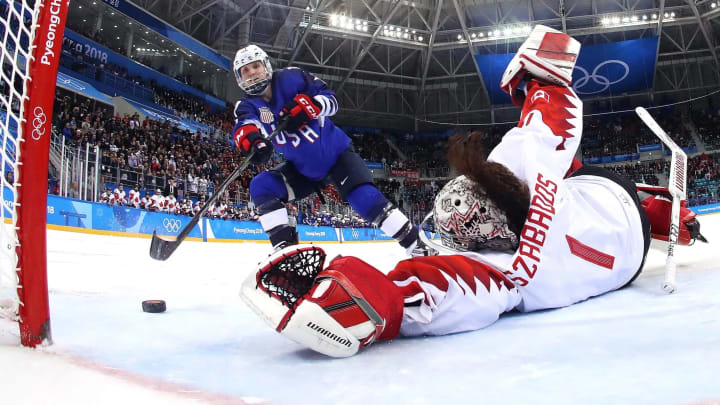 Incredible, Amazing, Perfect, Gold
BRUCE BENNETT/GETTY IMAGES
I've probably messed up that shootout move a hundred times.

But last week, on the ice in PyeongChang, with the gold medal on the line, I knew — I just knew — I could do it. I had been practicing this exact move since I was in college at North Dakota. Peter Elander, one of our coaches, used to conduct individual sessions almost every day with me and my twin sister, Monique. These sessions would sometimes include four tires laid out along the length of the ice. The point of the drill was to gather a bunch of speed, skate in on each tire, move the puck around it in the most creative way possible, and then give the goalie your best move. And over time, this move — fake-shot, fake-backhand and drag to forehand — became my go-to. When I could do it, that is.

But that was a mouthful. So Coach Peter made up a nickname for it: "Oops! … I Did It Again."

That was almost 10 years ago.

I don't know why he called it that, exactly — but it fit. I'd like to think that if Britney played hockey she would approve. It's a weird move if you're seeing it for the first time — it sort of looks like it's accidentally-on-purpose. It's unorthodox, but, well, that's why it works … when it works.

And when OT ended against Canada I already knew I was going to try it. The only thing I hadn't decided was whether or not I wanted to go back to my forehand at the end of the move. Depending on what you see, and how hard the goalie challenges you, you can always finish on your backhand. When my turn came, I picked up the puck, crossed the blue line … and the rest is kind of a blur.

All I really remember is being able to see the back of the net.

And then a whole lot of smiles.

The next thing I saw was Maddie Rooney, our goalie, stopping their final shot.
Jamie Squire/Getty Images
Then complete and utter mayhem. I felt like I blacked out for a moment or two. It was just … euphoria. I felt a rush of emotion like I've never experienced in my life. It was incredible. It was amazing. It was perfect.

It was gold.

It was gold.

And it's crazy, almost exactly a year ago, our same U.S. team was close to rock bottom.
---
---
Last March, I remember looking at the clock in a boardroom in Philadelphia knowing that I was going to miss my flight back — that a small group of players from the national team were all going to miss their flights back home. But we knew we had come to Philly on a mission — our flights didn't matter now. A week earlier, we had announced we were boycotting the world championships — which were just a few days away.

There, in a boardroom, we sat across the table from representatives of USA Hockey. Our goal was to negotiate a contract that would give our women's hockey program the same resources and support as the men's team received. We knew this support would change women's hockey for generations to come.

We held nothing back. We were brutally honest. It was hard. It was scary. It was sad, too, to feel like our voices weren't necessarily being heard — not fully, anyway. And that part of it — not being heard — was maybe the most difficult part.

We knew one thing for sure. Everyone on the team felt that we were fighting for what was right. We were certain about what we deserved. And not a single girl in our program wavered from our mission. We knew full well the potential consequences of pushing back against USA Hockey. Some of us might be jeopardizing our future with the program. But that day in that room we stood together, as a team. Our motivation wasn't only about the girls in that room, though. It was about the girls we didn't even know. It was about girls four years from now, or 12 years from now — the athletes who are going to win medals for the U.S. but don't even know it yet.

For me, it was personal, too. It made me think of Leah, my niece. She's just a baby, but in my mind we were fighting for girls like Leah. She and all other girls deserve every opportunity the boys get. Not only because it's right, but also because it's what will make all of USA Hockey — men's and women's — a stronger program. The Leahs … they turn into the Maddie Rooneys.

And damn, does America need more Maddie Rooneys right about now.

We stayed in that room in Philly, across the table from the USA Hockey side, until we felt we had said our piece. We missed our flights. We did what we knew had to be done — and to everyone who supported us, I can't thank you enough. Then, a few days later, and only three days before the world championships were set to begin in Plymouth, Michigan, we came to an agreement.
David E. Klutho/The Players' Tribune
By the end of the tournament a few days after that, we were world champions. I remember the love from the crowds, the incredible support from people across the country, and of course I remember the goal Hilary Knight scored to beat Canada in OT.

But what I remember most was a picture I received from an 11-year-old girl after worlds.

It was from a girl named Avery, the daughter of Flyers head coach, Dave Hakstol, who had coached the men's team at North Dakota while I was there. I'd gotten to know Avery well over the years in North Dakota because she was always the kid hanging out with her dad at the rink. I even babysat her a few times. I got to see how big a hockey fan she is and I learned she's a really, really good young player herself. Some time after World's, she sent me and my teammate (and twin sister), Monique, a picture of a news clipping she'd found about our contract negotiations with USA Hockey.

Avery added her own note attached to the clipping. She wrote,"I think it's really cool what you're doing. You are standing up for girls everywhere. Thank you so much."

That's it. That right there is why the women in this program play the game. That's what gold means. That's why we sat in that boardroom in March. That's the reason.
---
---
It's easy to watch the Olympics and think women's hockey is all about a few games once every four years. But what people don't see is everything else. They don't see the deeply talented leagues we play in, the international tournaments we travel to, the outstanding women's college programs around the country that develop great hockey players and even better young women. People might not know about the camps we run for young girls across the country every year, the clinics we do around the world — the impact we try to create goes far beyond one game, or one shootout move, every four years.

As much as I wish I could show those people everything that women's hockey does around the world, I do understand the uniqueness of our sport. I get what the gold medal game means to the casual fan.

But it can be frustrating when people think one game defines an entire program. The pressure is that much higher. Of course, every woman on our team lives for that Olympic moment. We want that burden — that opportunity. I did my best to not let it weigh on my mind once I got to PyeongChang. I tried to approach these Olympics like they were my first, not my third.
Jean Catuffe/Getty Images
In Sochi, in 2014, because of scheduling our team couldn't walk in the opening ceremonies. This time around, we were able to be a part of it. I'd done opening ceremonies in Vancouver in 2010, but this one just felt different after all we'd been through since. Our entire team really cherished that moment.

Every four years, the team has a different feel. Our team for PyeongChang was a really good mix of young and veteran players. The range of experiences and ages gave us a special vibe. In Sochi four years ago, we left with the feeling that we didn't have the Olympic experience we'd hoped for. At times, it was stressful.

But in PyeongChang, we were loose. It was fun. We went to other Olympic events in our free time. We watched speedskating with the speedskaters. We went to the — really, really, really — good coffee shops (for real, they're good) near the Olympic Village. And our young players — Maddie, Cayla Barnes and Megan Keller — kept me and the other veterans light. I don't think they really know how much they contributed to our group.

Feeling relaxed gave us confidence. Even the night before the gold medal game, we kept it loose. A little over 12 hours before puck drop, I was making pancake batter and watching a skiing event with my teammates. But to be fair, this isn't out of the ordinary for me. I've had a game day ritual for a while now — pancakes before every game. Doesn't matter if it's a 10 a.m. start, or 10 p.m. start. Pancakes. Always pancakes. And I make them on my own, too — no pre-mixed batter. Really good ones with chocolate chips and bananas and berries — they're delicious. So I made the batter the night before so our dieticians could whip them up in the morning.

So the game day plan had two simple steps: Pancakes. Gold medal.

Everything is easy in theory, though. Yes, we were relaxed and confident. But, again, it's Canada. They just seem to … find a way. Every time. Even when we outshot them nearly 2-to-1 in the prelims a few days earlier, they found a way to win.

We knew what was on the line. Nobody had to say anything. We all knew. I'd seen the highlights from our loss in Sochi 50 times in the last two weeks. And I'd heard the phrase, "It's been 20 years since…. " another 50 times. Nobody on our team needed a Hollywood speech. We were ready.

What's that saying, though? "Everyone has a plan until they're punched in the mouth?"

After two periods, we were down 2–1. Because … Canada just finds a way.

But in our locker room during intermission, nobody was stressed. Maddie had her big smile on, Haley Skarupa had her music playing, we were cracking jokes. So many of us had failed at this exact hurdle before, but we knew we could do it. We knew. That belief — more than with any other group I had been a part of — just kept growing. I thought, Someone's going to tie this game, so who's it going to be?

And the answer was Monique.

I didn't even see her goal. I was going off for a change. I just heard the noise. I assumed she went five hole, that's sort of her thing. But she went glove-side. We were tied.

The intermission going into OT wasn't anything like the one in 2014. No silence. No thousand-yard stares. Just more pop music and big smiles. There were some close calls in OT. I swear, I saw the puck going into our net on Canada's power play with a minute to go … but somehow Maddie got her paddle on it.

And in the end, that belief we had all long — it paid off.

It was Gold.
Mark Reis via ZUMA Wire
But at the same time, it was so much more than gold. It was validation for every woman that had worn the red, white and blue over the last 20 years. It was a moment for everyone who's been a part of this program to enjoy. That medal — the one I can't stop looking at right now — really symbolizes a lot more than just two weeks of hockey.

The first thing I grabbed off the bench — after we celebrated with Maddie on the ice — was an American flag. It was given to me a couple years ago by a senator from North Dakota. I had had it in my stall, wherever we went, for the last seven months. As I skated around with it above my head, I thought of my parents and my husband. I thought of Leah and Avery. I was, and am, so thankful and so proud.

Before the game, I asked our trainer to have that flag on the bench at the end.

Because I just knew.

We just knew.