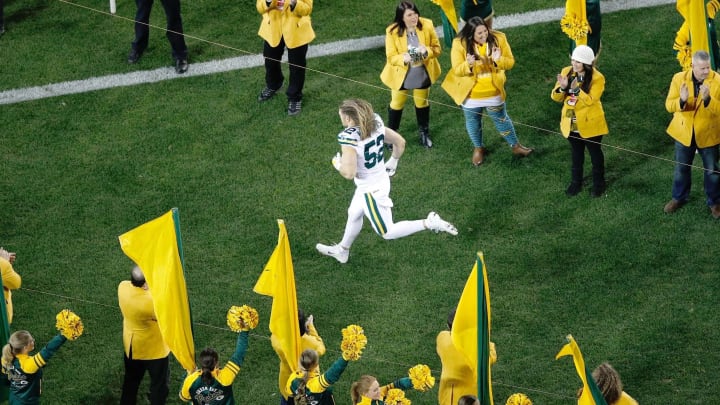 Join the Fight
SCOTT BOEHM/AP IMAGES
Initially, I didn't know anything about Duchenne muscular dystrophy, or the young men who have it.
I was in my second year in the NFL when I was asked to film a PSA for Cure Duchenne, a foundation that supports the 300,000 young men and boys in the U.S. who live with this rare disease.
So I researched and read about it, and what I learned was tragic.
For those who aren't familiar, Duchenne is a rare form of muscular dystrophy that affects young men and boys. As they age, their muscles rapidly deteriorate. Most of those who suffer from Duchenne are unable to walk and confined to a wheelchair by the time they are 12. Most Duchenne patients pass away in their 20s.
As a professional athlete, I can't imagine having to deal with many of the things that these boys deal with on a daily basis. I work hard to build my muscles, but these boys don't get that choice. Instead, boys with Duchenne, and their families, can only watch as their muscles get weaker on a daily basis.
I was compelled to help because these boys and this cause deserve a voice. Moreover, they deserve a cure.
One of the chief challenges for Cure Duchenne, besides raising awareness, is fundraising. The organization's founders, Paul and Debra Miller, have a son with Duchenne. When they were trying everything in their power to find treatment for him, they learned that because Duchenne affects a relatively small subset of the population, pharmaceutical companies didn't spend much time or energy finding a cure. So, driven by a desire to help their son, they created a nonprofit organization to raise money that would fund research that might help find a cure. Their relentless passion and dedication to the cause is infectious. And when I met their son, I understood why.
Clay Matthews
Hawken Miller is living with Duchenne. When I first met him, he was starting high school. I was moved by his confidence, his amazing personality and, most of all, his determination that this disease would not define him. It has been an honor to see him grow from a boy into a tremendous young man. He was on the football team (handling stats). He learned to drive a car. And he recently spent a weekend away in the wilderness with friends. Now a journalism student at USC, I'm sure that he is going to have some "suggestions" as to how I could have written this piece better. (Hawken — go easy on me.)  
In the beginning,  it was Hawken who made this cause personal to me. Over the years, it has become even more personal because of all the amazing notes, emails, messages, photos and cards that I have received from the boys and families who are living with Duchenne. One of the most touching gifts that I've been given was a jersey signed by about 50 kids with Duchenne. I've had the honor of meeting countless boys suffering from the disease and I can assure you that their determination inspires me more than my words may convey. They continue to have hope … and so do I.
Six years ago, when I first linked up with Cure Duchenne, there was no cure in sight.
This past September, the FDA approved a new drug called Exondys 51, which helps around 13% of the boys afflicted with Duchenne. Raising funds with Cure Duchenne helped the drug move forward as it was being developed. It's a beam of hope for a community that refuses to give up.
But there's a bittersweet element to this breakthrough. This new drug won't help Hawken, or the majority of the boys who are fighting Duchenne.
So we've made a lot of progress in six years.
But there's more work still to be done.
Kids with Duchenne overcome tremendous adversity on a daily basis. The important thing to take away from this article is that a cure is in sight. This disease can be cured. These boys' lives can be saved. That's the mission that we are on.
Getting involved is easy. Go to CureDuchenne.org, where you can donate directly, or look into other ways of supporting the cause in your community. I'll be wearing these cleats today to support the organization.
Nike
Together, we can Cure Duchenne.