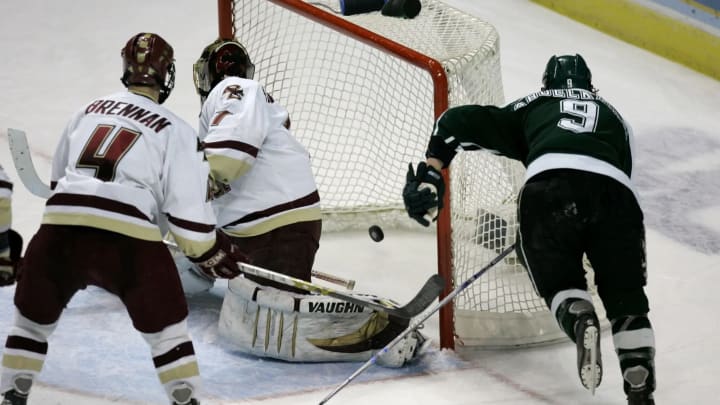 A School Known to All
I blew it. As soon as I heard the ping off the crossbar, I just thought: That's it. You just saw your dream go out the window. I had just come down the ice on a 3-on-1 rush in the 2007 NCAA Championship. Tie game. Thirty seconds left. Puck on my stick.The exact moment every kid daydreams about. Just me and the goalie. I fired it high glove.
Ping.
No. No.
I was crushed. I was playing for Michigan State, the team I grew up cheering for, against Boston College. Their roster was filled with a dozen NHL prospects. Our guys were nervous before the game. I know I was. We were heavy underdogs.
This game meant so much to me, because my family always bled green and white. There was definitely no maize and blue around my house. My grandfather went to Michigan State. My dad went there. Both of them were in the stands for the game.
Ping.
The puck caromed off the post and rolled to the corner. At this point, I was at the lowest of lows. I had
my chance, and I blew it. There's 30 seconds left. I circle up toward the boards. Boston College tries to clear it, but our defenseman pinches and keeps the puck in. I cover for him at the point.He chips the puck behind the net. My teammate gets to the puck. He's got a chance. I make a move toward the front of the net. He looks up.
Out of nowhere, the puck is once again on my stick. I'm right in front.
I stab at the puck.
Next thing I know, the goalie is looking behind him.
The puck is in the net.
The puck is in the net?!
I'm stumbling. I almost fall down. I'm freaking out. My teammates mob me in the corner. What is happening?
I literally feel like I've blacked out for a few seconds.
The first thing I see is my buddy's face. He's screaming.
"Dude. Oh my god. Do you know what just happened?!"
We just won the national title.
*
Playing at Michigan State was some of the best years of my life. Every road is different, of course, but in my family, it was all about college hockey. True story: There were a few colleges scouting me by my junior year of high school, but the coach at Michigan State saw me play at a select tournament in Minnesota and approached my dad afterward.
The conversation went like this:
"Sir, I was pretty impressed with your son out there, and we'd like to offer h– …"
"We'll take it! We'll take it!"
He didn't even get to finish his pitch. I was already a Spartan. A lot of parents might have seen dollar
signs, or just been blinded by the thought of their kid playing in the NHL. But my dad was always like, "Imagine the feeling of putting on the green and white jersey and playing for the entire school? How cool would that be?"
And he was right. It was cooler than I could've imagined. And it's not just about the hockey stuff, like the racks of free sticks and the professional training staff (thanks, Mike Vorkapich, for making me puke the first day of conditioning), it's about the college experience as a whole. Little stuff like showing up the first day on campus in East Lansing and seeing everybody in green hoodies building their loft beds in the dorm. Everything's buzzing. You get hit with a feeling that you're part of something bigger. A real community.
The first day on campus, every student gets a keychain with the Michigan State fight song lyrics on it.
This comes in handy, because when you're a freshman on the hockey team, it's your duty to stand up in front of the entire team during the pregame lunch and sing the fight song at the top of your lungs.
On the banks of the Red Cedar,

There's a school that's known to all!
(My voice is terrible.)
Then when you skate out onto the ice for the first time on a Friday night in front of a packed house, and you hear the band playing the fight song, it's the best feeling in the world.
Just the rush of that first game, and your first realization that you're playing for your fellow students — the same people you're in class with the next day — is worth all the homework and the late-night Study Table sessions and the Computer Programming class that gives you nightmares.
The memories of my time at Michigan State are something that I'll carry with me the rest of my life.
After the championship game, I just sat there at my stall with all my equipment on and I kept asking my buddy, "Tell me again what happened. Describe the play." It was like I was still in a blackout. We sat there going over it again and again.
When we got back to East Lansing that night, the campus was going crazy. Our buddies had a few barrels of refreshments waiting for us at the hockey house where we lived. Somebody had DVR'd the game, so we all stood there in front of the TV for hours, rewinding and rewinding that final minute. Every time I saw the puck go off the crossbar, it legitimately hurt. I was living the roller coaster all over again.
We probably watched that puck go in the net 500 times that night. Every time it went in, we would be
screaming at the top of our lungs. Moments like that I'll remember forever.
The next spring, near the end of my junior year, it was time to make a decision. The Detroit Red Wings wanted me to sign a contract. I could play in my first NHL game that Thursday. As a kid from Michigan, I grew up rooting for the Wings. They had just finished the regular season with the best record in the NHL and were about to make a run at the Cup. Now I had a chance to put on the Red Wings sweater and be a part of it.
What a moment.
There was only one problem. I had 14 credits left to finish at Michigan State. I'd have to give up my final year of eligibility.
This is the biggest testament I can give to college hockey: I was being offered the chance to play in the NHL with some of the players I grew up idolizing, and a small part of me was thinking, Wait, is this it? I'm leaving Michigan State? All my best friends? The hockey house?
I only had a short window to let the Red Wings know my decision.
Of course, I couldn't turn down the chance to play for a Stanley Cup.
But when I called my mom to talk about my decision, she had one
condition: "Promise me that you will finish your degree," she said.
It has taken me six years, but I completed my bachelor's degree in Business Management this summer. I won't lie to you, it was pretty difficult to stay motivated — especially writing those term papers. But I found a way to make it relevant to my current career. My last assignment was a 22-page research paper on the emergence of advanced analytics in hockey, which was really interesting,
because I was able to use statistics to prove some of my gut reactions about the players I go up against in real life. I used metrics like High Danger Zone Scoring Chance and CORSI Differential to get a deeper look at some of my NHL colleagues.
It was a grind. But whenever I wanted to give up, I kept thinking about all the hours I spent doing Excel spreadsheets after hockey practice at Michigan State. There was no way I was throwing away three
years of hard work for nothing. As a pro, you see the reality all the time. Guys come and go. Hockey doesn't last forever.
It's a great feeling knowing that I didn't just go to college — I graduated.
I'm a Spartan for life. Now I just have to get that degree framed.