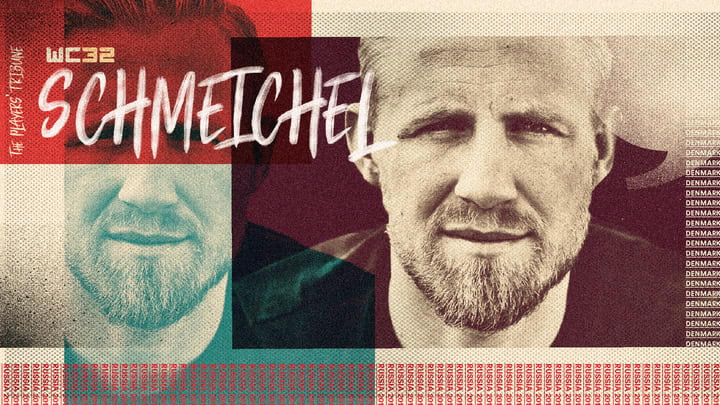 No phones. No TV. No internet. Nothing.
Total blackout.
That was my plan.
We hadn't won the league yet. And until we won the league, I didn't want to hear about how Spurs were doing.
I wanted to focus on us — Leicester City.
But of course, that's the irony, isn't it? That's how it goes. It's because I knew I couldn't affect the outcome of what they did, that Tottenham started driving me absolutely mad. I knew they were playing their games, and it could impact whether we won or lost the Premier League.
I wouldn't let myself watch.
Instead, I was just doing mad stuff. I would switch my phone off, leave it in the car, and then go to the cinema on my own to watch a film. I wasn't even really watching any of the film. I couldn't concentrate. But I just … well, anything was better than the stress of sitting in front of the telly screaming, "Come on, do this!"
Anything was better than the stress of sitting in front of the telly screaming, "Come on, do this!"
After a few hours, I would have to switch my phone back on and see the result — but at least I had spared myself the whole rollercoaster ride.
Eventually, it got down to the Chelsea v Spurs game — and now there was no denying the stakes: If Spurs lost or drew, we'd win the league. My family knew it was a big deal, and my wife, kids, and brother-in-law were all there to support me. But I was a mess, and didn't want to watch the match. So we went down to the village where I live for a nice dinner instead.
Just a nice dinner! Quiet. Peaceful. No worries.
Of course, that just made me even more of a mess. I remember my wife and my brother in law finding it hilarious, but I was in no mood for joking at all. I was not good company. We ended up leaving dinner quite early and going back home, because I couldn't calm down.
As soon as we got home, I looked for something to do. Any distraction. Anything but the game. So I say to my wife, "Right, I'll put the kids to bed."
So I go upstairs and I'm putting the kids to bed … happy days ... and then my wife comes in to say goodnight to them. I take one look at her — and I can see it instantly in her face.
"You know something."
"No, I don't. What? Huh?"
"You've always been a terrible liar! You know something."
Her face sinks. "Tottenham are 2—0 up."
Agony.
"Right, I might as well watch the rest then."
With Spurs 2-0 up, I thought, Well, no stress in that. Right? No harm there. The game was done — I could watch it now without getting my hopes up.
My daughter fell asleep, but my son just wouldn't go down, so we went to sit in the lounge together to watch the rest of the match. And he was kind of sitting on my lap, falling asleep, just drifting off … and wouldn't you know it … Bang. The first Chelsea goal goes in.
I'm like, Oh my God, just stay calm, just stay calm. Another Chelsea goal and we win the league. I've got my boy in my arms and he's slowly getting to sleep and I'm trying my best not to move around and wake him.
My heart is pounding, but he eventually falls asleep.
And then it happens: Chelsea scored the second.
Now I'm kind of whisper-shouting to my wife, like, "Take him! Just take him! Oh my God!" and I start losing it.
Waiting through the last six minutes or whatever was horrible, sheer agony. But then Willian took the free-kick into the corner instead of shooting ... and they blew the whistle. That was it. God, I was so emotional. I had my head in my hand, and I broke down in tears.
I remember the state of my phone that night, I'd never seen it like that. It ran out of battery within 10 minutes of the game finishing, because I literally had ... 88 missed calls, I think??? And 260-some messages??? I screenshotted it at the time, for posterity, but it was something crazy like that. The thing just went crazy.
We were champions.
Michael Regan/Getty Images
That moment had been a part of my imagination for more than 25 years.
When I was a kid and my dad was playing for Man United, I used to stand behind the goal watching Eric Cantona, David Beckham, Paul Scholes, Mark Hughes, Andrei Kanchelskis, Ryan Giggs .... and I used to try to save all their shots that went wide, imagining I was deciding the title for United.
To do it for real, and to do it with Leicester?
Incredible.
I don't think the magic of what we did hit me until we went on a preseason tour of America that summer, and we were all eating lunch in some restaurant in Los Angeles. This guy walks over to us -- really nice chatty American guy.
He says, "Are y'all guys … Lie-chester something?"
I said, "Yes, well ... Leicester."
"Mannnn, you guys are awesome. You won the FA Cup!"
"Yes, well … The Premier League. We won the Premier League."
"And that's like a playoff series?"
"No, it's a league. There's 38 games."
"Bro ... 38 games?!"
"Yes."
"You guys are awesome. Just awesome."
Everyone was pissing themselves laughing, but it was so cool that even random chatty Americans who didn't know anything about football still knew the story of Lie-chester City.
People love to say what we did was a miracle. But over 38 matches, there's no miracles. That season was relatively straightforward compared to my journey to the club in the first place. I think a lot of players on that team would say the same. We had a lot of guys who were doubted their entire lives.
My ride to Leicester was … Well, it was a rollercoaster.
When I first started my career, I thought maybe it was going to be smooth sailing. I went on a trial with Manchester City at 15 years old, and on the first day of training, I was thinking I was going to be stopping a few shots, running around a bit with the youth team. Kevin Keegan was the manager at the time, and he had a different plan for me. The first team were playing a seven-a-side game, and the manager waved me over and said, "Kasper, go in there."
I shot him a look like, "In there? With the first team?"
He nods. Yep.
So I just went in.
Clive Brunskill/Getty Images
And I'll never forget, in the middle of the game, Eyal Berkovic stops everything and starts yelling to the manager, "What the f*** is going on here? Who the f*** is this kid?"
And everyone was just like, "Just get on with it, Eyal. Let's just play."
I actually did OK. I held my own. But then at the end of training, the manager waved me over again, and he was like, "Need you to go in for a little shooting session with Nic."
Nic being Nicolas Anelka.
And he destroyed me. He absolutely destroyed me. But I must have done well enough for City to see something in me, because they ended up offering me a schoolboy contract. From that day, I thought my future was at City. You show up for training. Your kit is washed. Your boots are all lined up. Your lunch is cooked. Maybe I was a bit naive to the business of football at that point.
In the end, I played 8 matches for Manchester City, and more than 400 matches for …
Darlington, Bury, Falkirk, Cardiff City, Coventry City, Notts County, Leeds United and Leicester City.
People look at my Wikipedia and they ask me, "What's the deal, man?"
And I say the same thing every time: "I just wanted to play."
To me, as a keeper, you don't learn anything from sitting in the stands collecting a paycheck. You don't learn from eating the organic lunches at the buffet, you know what I mean? You can only learn from experience. Even when I was down in the fourth division with Bury at 19, fighting off relegation, training in a local park with dogs running around everywhere, literally stepping over broken bottles to take a goal kick — I was learning.
You've got to work for it.
I've been witness to a lot of greatness in my life. I saw all those United legends every single day when I was a kid. And I think the thing that the average person doesn't realize is that yes, of course talent matters. But they just see David Beckham bend in a free kick on a Saturday afternoon, and it almost looks natural. They don't see the hundreds and hundreds and hundreds of free kicks he took in training from every conceivable angle and distance. The hours and hours that Gary Neville used to put into just practicing long throws into the box. I would see those guys putting in the boring work every single day, and it informed the way I think.
I just want to play, no matter what.
The crazy thing about my story is that I only came to Leicester City because Leeds didn't want me. A lot of footballers say that, and it's almost a cliche. But the chairman literally told me that they didn't want me. I was on holiday in Denmark at the end of my first season at Leeds, and my friend called me out of the blue and said, "Congratulations. Why didn't you tell me?"
I said, "Tell you what?"
"You've signed for Leicester."
"What?"
"Yeah, It's all over the news."
I didn't know what the hell he was talking about.
The hours after that were absolutely mental. I kept calling people at Leeds to find out what was going on, and nobody would call me back. It was insane. Finally, the chairman called me and said, "Well, you're more than welcome to stay, but you're not going to play."
Sam Robles/The Players' Tribune
Leeds didn't want me. Leicester wanted me. It was that simple. At the time, it didn't seem like a life-changing moment. Five years later, I was sitting on the sofa with my son drifting off to sleep in my arms, and we were Premier League champions. And I was bloody weeping.
How do you explain it?
The only way you can explain what happened at Leicester is that we built a special aura over time. Leicester is a very close, family orientated club, in a way that's pretty rare in football. I've played with a lot of these same players for six, seven years now. Nigel Pearson deserves a lot of credit, because he brought in a lot of us from all ends of the earth. He did not sign players, he signed people. People who had been counted out. People who had something to prove. That kind of spirit is really powerful.
For me, it was inevitable that we'd do something as a group at Leicester... I'm not saying that I knew we'd win the league. But at the end of the 2015 season, when we went on that run to survive relegation, I knew we had something. And then we signed N'Golo Kanté and in the first few training sessions, he was reading every pass and winning every tackle, and it was just like, "This guy is insane. This is not a man. This is a machine. How does he do this?"
I remember him winning balls right on the edge of our box and six seconds later having the ball up at the corner flag.
And I know it sounds crazy, but that's when I really said, "This could be a Champions League team."
My prediction was off by just a bit.
Obviously, what ended up happening exceeded all expectations.
Lie-chester City. Premier League Champions.
It's a good lesson in the power of the collective spirit. And I say that because I have a similar feeling now with this Denmark team going into the World Cup. I genuinely do believe that this group can do something special together. We've had some tough years over the past decade, but this collection of talent with this manager, this mentality and spirit we possess ... it's going to be very, very interesting.
We're a young team, and our style of football is very pragmatic, but we have the ability to adapt, which is a really good quality in a knockout tournament. We also have a great star — a playmaker who can take over a game — in Christian Eriksen.
Peter Morrison/AP Photo
I'm telling you, the guy has ability beyond words with a football. He's probably the best player I've ever played with. His football intelligence is just off the scale. His passing ability is amazing. And yet the thing that I always have a go at him about is that he's got no ego. It's comical. He is probably the most Danish man in the world.
I tell him, "Mate, if you had a bit more ego about you, then you could score every single game."
But Christian is a team player, and that's not his style. Off the pitch, it's the same. If you met him, and you didn't know who he was, you'd think he was just a regular guy. Like an architect or something. In reality, he's a football genius. Just a regular Danish guy who has got the world at his feet.
And of course it's not just Christian — this is a true team. We have so many exciting young players, and it's time the world gets to see them play.
Thomas Delaney is one you should know.
You do one Google Image Search, and you'd think he's just a pretty boy. Nice flowing hair. A good looking man, I'll admit. But he's also a warrior on the pitch. He sticks his head in where it hurts if need be, and he's a really creative player as well when he gets the ball. His left foot can hurt you, especially off the volley.
Listen — maybe I should shut up, because all the time, I'm trying to say to Leicester, "You need to sign this guy." I'm probably driving his price up!
Coming in from the playoffs, I think we're a bit under-the-radar in this World Cup. As Danes, that suits us quite well, actually. But we're all just excited to get on the plane and get it started. It has been a very long wait for many of us players to play in a World Cup.
I've been forced to watch the last two from my couch. And, as you know, I get a little bit twitchy when I'm watching football from the sofa. I need to be out on the pitch, screaming my head off at one of my defenders to "hold the bloody f****** line, mate!!!!!!!!"
That is my happy place.