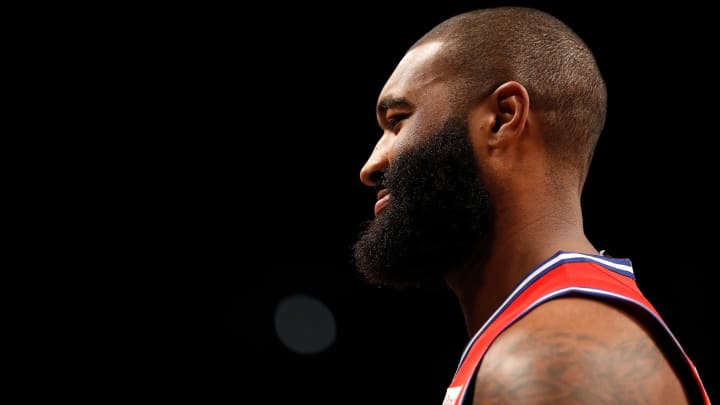 The Iso: Kyle O'Quinn
MICHAEL OWENS/AP IMAGES
The Players' Tribune is introducing a new series called The Iso. With so many of us keeping our distance from each other in a variety of ways, we decided to ask some of our favorite athletes to share how they've been dealing with life in the Covid-19 world, and how they're spending their time away from their sport.
---
---
Courtside at the Pistons game, we had just finished playing when the decision came down. "This coronavirus is a little more serious than we thought," someone on our staff said as we walked off the court. "We'll give you a call later tonight and let you know the details." When guys started showering, the p.r. people and the GM came in and was like, "Uhh, we have an update now. The season's cancelled."

Self-isolating. It's like my third day.

I think I'm past the point of shock. For the most part, I've just been lying low and looking at my life through a different lens. I've had to have real conversations with myself about what would happen if basketball really was taken away. Forever. What would I do? Who would I be? How would I get through my days? What if the season was still going on, and basketball wasn't in my daily regimen — what would I do? It's a new level of self-awareness.

I'm still in Philly. Just for the safety of my family, I stayed with the team. The team said they'll direct us on the moves we can make as they know more. So I wish I could run home to my family, but I can't.

I can't even pinpoint what this time feels like because it doesn't feel like the off-season, really. It kind of feels like the back end of All-Star break because we just came off All-Star break, but it also kind of feels like the start of the off-season because there's no date for when we have to return, if that makes sense.
Christian Petersen/Getty Images
I walk up to the rooftop of my apartment, unroll my mat, and do yoga in the mornings. Every day I'm waking up at different times. So, I've kind of been making my own schedule, fresh, each day. I have nothing to do. I've tried to regain focus and control in my alone time, stretching and praying. It's to center myself, but it's also to stay flexible and mobile. You'd be surprised how hard it is to switch up your training in the middle of the season.

I've been in the kitchen a lot, for the first time. This is probably the most I've ever been cooking by myself. Eggs are definitely a main thing on the menu! It's the simplest thing. But I also make shrimp burgers, which I've gotten pretty good at. I make a plethora of salads, many different arrays of salads. I'll drop one gem: I go half-spinach, half-arugula, feta cheese, sunflower seeds, craisins maybe (something sweet), and I have this kind of Mediterranean oil-based dressing. I mean it is the best salad. I can't get away from it.

Right now, I'm a professional YouTube watcher. I just search everything on YouTube. Netflix, I've been a very loyal subscriber for years, so there's nothing on there that can really "wow" me, but I can easily disappear into the vortex of YouTube. The searches can go on for hours and hours. I usually start with highlights from old players. The other day I watched Carmelo Anthony scoring 60 in the Garden. I watched some Brandon Roy highlights. Then the algorithm takes over and next thing you know, you're watching lil miniseries about, you know, Carmelo Anthony in the All-Star Game, and it kind of just keeps going. Two hours in, I'm like, "Wow, how did I get here?"

Not gon' lie, I've watched a couple of my own highlights, too! You know, just to make sure I'm still good! It's March Madness time (crazy to even think about), so I definitely had to check out my school's March Madness run. My performance, my interviews, the team celebrating when we got back to campus. I took myself through that whole time all over again — maybe twice — and to be honest, it really took me back. I sent a couple to my college group chat, and we were all reminiscing. Some guys were like, "Man, that was the best time of my life." I think we all probably needed that, especially now.
Bill Frakes/Sports Illustrated via Getty
I'm picking books back up that I had started to read during the season. I'm reading this book called A Year for You that I got from Powell's Books the last time I was in Portland. (It's supposed to be like the largest independent bookstore in the world. It's amazing. I swung by three or four months ago, when we played the Blazers.) It's kind of like a decluttering book — decluttering your mind and space. There's another book I got from that same bookstore, it's called The Simplicity of Cozy.

I have hope that the season will come back. I just hope that when we come back, whatever system they come back with — format, game, tournament, whatever they decide to do — is beneficial to everybody. It can't be one-sided, where if you crown a champion this year, in years to come people say, "Aah, that really wasn't a championship." No matter what, it's going to have some disadvantages for some teams and some players, but hopefully, the big picture will be good for the league.

Were we forming a championship team, or would we have fallen short? That's the biggest cliff-hanger for me if the season doesn't come back — and there's a chance I'll never know. It felt like we had really turned a corner and were getting everyone back healthy. Damn. Maybe it's better not to think about it. But I have to think about it because that was our goal in the preseason, right?

At the end of the day, none of that matters anymore. My biggest message is to the families out there: Take care of each other, hold each other. I'm trying to do things for others before I take care of myself, in my own personal life. It starts with one person at a time. Talk to your kids, and let them know the importance of hygiene. Just take care of one person at a time, one household at a time, and hopefully, we'll get through this together.