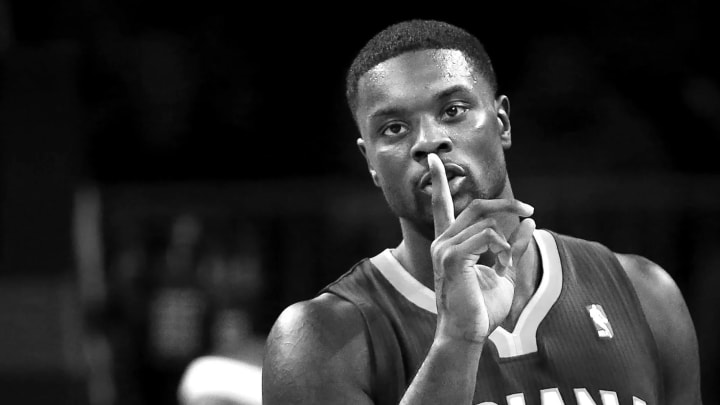 California Dreamin'
It's funny how life-changing news gets confirmed in 2015. On June 15, I was doing one of my offseason workouts at Impact gym in Las Vegas with kids peering down at their phones then back up at me. Having people — especially young kids — watch me work out on the court is nothing new. After all, the national spotlight has been on me since my days at Lincoln High School.
However, on this day, the feeling was a bit different. After a few moments of the kids eagerly looking at the phones and then looking at me, a couple of them yelled out, "Hey! You're a Clipper now!" My agent had told me that a trade to L.A. was almost final earlier that day, but things change quickly in offseason transactions. So I kept focus and controlled what I could: making sure I'm in the best shape possible. When the kids told me they saw the trade on the NBA app, I looked at my phone to confirm the news.
It was true, I was heading to Los Angeles. And yes, I found out the trade was official from a few young fans watching me work out. The speed of technology and word-of-mouth in 2015 is truly amazing.
After I found out that the news was official, I honestly wanted to do backflips. It was like a dream come true. My excitement over the move to L.A. wasn't because I have aspirations of becoming a movie star or even seriously pursuing a rap career. I drop a 16 for fun every now and then, but it's honestly just for fun. Rapping is something I've been doing in my downtime since high school. The real joy and excitement was purely focused on what it meant for my immediate future as a basketball player. Chris Paul, Blake Griffin, DeAndre Jordan, J.J. Redick and future Hall of Famer Paul Pierce are all great guys who want to win. This is a group that has 23 All-Star appearances and 16 All-NBA selections among them, but more importantly, they all know how to win as a unit. I feel like I can not only benefit from them, but also play a key role in helping the team reach that next level.
The key to that success is coach Doc Rivers. I have the utmost respect for him. He has an ability to analyze players and figure out a way to make the most of their abilities. He puts you in the best position to succeed on the floor. Doc Rivers is a future Hall of Fame coach and he's won a championship — two of the ultimate leadership accolades in this league.
My goal in L.A. is just to win. I'm not worrying about how much I score. When you worry about stats, you lose focus. The main objective is to win. In order to help this team get to the next level, I'm focusing on being a defensive stopper, a knockdown shooter and playing that high-energy, hardcore basketball I've always been known for.
In my conversations with Doc, he expects a lot out of me, but he also just wants me to be myself. The longer you stay in this game, the more you learn just how important preparation is. It's the one thing you can always control. As I prepare myself for this new role in L.A., I think back to my days growing up on beachside court on 25th St. and Surf Ave. in Coney Island.
I was in the sixth grade when I really started to get a taste of what it meant to play NYC basketball. In my neighborhood, once the older guys came, you had to get off the court. All the little kids had to get off the court. My size, ability and toughness made me the only younger kid that was allowed to stay on and play. I had already grown to six feet tall, but I was a very lanky six-footer. I'm not going to lie — I got roughed up a bit. However, at the same time, I was learning the game. Taking my lumps on the court at such a young age gave me a mental and physical advantage.
I always liked playing with the older guys because it forced me to bring my game up to their level. As a result, I dominated whenever I would go back and play against fellow sixth- and seventh-graders.
It's been a long time since I was that lanky kid on the courts of Surf Ave. playing against the "bigger kids." However, in heading to L.A., I am going to a contender with plenty of veteran experience. I know that I can learn from them just like I learned from the older kids on Coney Island. These aren't your pop's Clippers. They've made the playoffs four years in a row now and have held a top-five seed in the extremely competitive Western Conference in each of those seasons.
I'm here to help them take that next step to the Western Conference finals and beyond. I have something to prove. Last year was a very tough but necessary learning experience. Losing as a team and having individual struggles really humbled me. It made me realize that adjustments to new teams are tough sometimes. Every organization has a structure and a certain way of playing to win.
In L.A., I'm very confident that I'll be able to fit into a role that can immediately benefit this team. The team has high expectations, so I have to come in prepared.
They've been calling me "Born Ready" since I was kid, and I can honestly say that I'm more ready than ever to embark on this new journey.