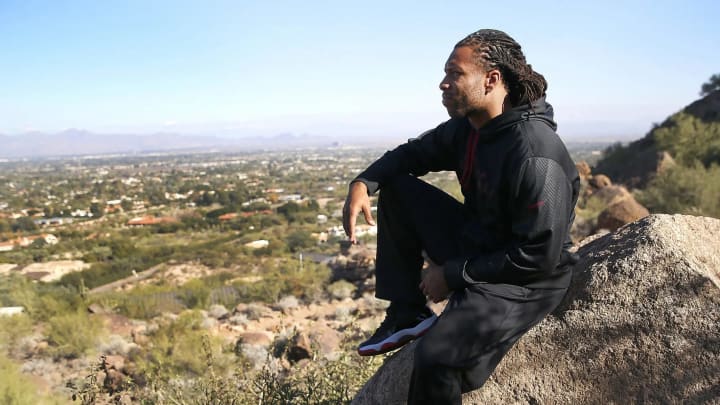 Ode to Arizona
It's been a long road to get here.
I've been following it for 12 years now, since this franchise drafted me. And a lot of Cardinals fans have been following it since 1988, when the team first arrived here.
But right now, the destination — it's in our sights.
When you're in the process of working on a project, sometimes it's difficult to stop and take a look at what's been accomplished. But I want to take a moment to reflect on how far this team and this city have come in recent years.
When I first got to Arizona in 2004, it seemed like the focus wasn't on winning a Super Bowl so much as fighting the perception that we couldn't win a Super Bowl here.
I've always felt a responsibility to change that perception. This team used the third overall pick in the draft on me, and in my mind, there's a certain obligation that comes along with that. It means you're expected to be a difference-maker. It's means you're expected to be part of the foundation.
Of course, when you're just a young kid like I was, you're fueled by so many dreams and ambitions, but what you don't know yet is the way to accomplish those goals. It's difficult to understand that it's a process — sometimes a slow one. There's no one perfect road map. But all these years later, there's nothing I'd take back. I feel like I've been through so much with this team and this city. In so many ways, we've grown together.
When I was first drafted, this was the place where I played football.
Now, it's my home. It's where my family lives. It's where I've created a life.
And this city has grown. Like myself, many people have chosen Phoenix as their second home. Every year, I notice more people wearing our jerseys and flying our colors. I can't tell you how much that means to us. Because, for a long stretch of time, it wasn't all that easy being a Cardinals fan.
My first few years in the league, this team was in the midst of another long playoff drought. I learned early on that winning doesn't just happen all at once. Winning is a culture. So that's what we set out to create.
And, little by little, things started changing.
In 2009, we almost became champions. The team started getting noticeably better. The talent started meshing together. We began winning games in which everyone counted us out.
It was all kind of a whirlwind, looking back. This was the first time the franchise had made the playoffs in a decade, and all we did was come within one possession of winning the Super Bowl. I think we kind of took the entire league — the entire country, really — by surprise. We broke the mold of what kind of football people expect to be played in the desert.
That loss to the Steelers still stings. I think it still stings for every Cardinals fan. There aren't many days that go by when I don't think about that game. I wonder about certain plays that could have changed the outcome — it's impossible not to. Every once in a while, I'll see a replay of that Super Bowl pop up on NFL Network and immediately have to reach for the remote, as if the scariest part of a horror movie is about to happen. I still can't bear to watch it.
You can come close, but the difference between being a champion and wondering "what if" is so, so thin. That's the thing that makes football so beautiful, yet so challenging. Even a very good team can have one bad game at the wrong time, and then their legacy will never be the same. What I learned is that greatness is determined by how a franchise bounces back from disappointment.
In retrospect, I think that entire experience helped put this team in the position it's in today. Honestly, it sparked something really special. We came away from that game … unsatisfied. Which is very different than being defeated. Everyone had a certain confidence that this wasn't going to be the last time we played for a Super Bowl. Once we proved to ourselves that we could make it there, it made us that much hungrier to make it back.
More changes came in the form of brand new practice facilities — still the nicest I've ever seen. When we come into work, we look at our surroundings and feel really fortunate to be members of this franchise. And so we carried ourselves a little differently. We saw the investment being made in our growth, and we wanted to pay it back.
Suddenly, this was a place where free agents wanted to sign. More guys started asking me about what was going on out here in the desert. There were a lot of reasons to want to play here. We have great weather, an amazing stadium, arguably the best practice facilities in the NFL, top-flight ownership, affordable living … Do I need to keep going? But now we had a good football team as well.
The next step was putting together good football teams year in and year out. Of course, that's where every franchise wants to be. And in a league this competitive, it really is a lofty goal. But now, I finally feel like we're getting there.
When Coach Arians first arrived, he and Steve Keim began adding pieces that complemented the talent that was already here. And that's really the tricky thing with building a roster. It's about knowing how you can improve upon what's working without disrupting the chemistry.
Getting Carson Palmer was very, very big — everyone knows that. His experience at the position and his leadership energized us. He's the captain of the offense, and we all follow his lead.
But we also added other skilled veterans, guys like Frostee Rucker, Jerraud Powers, Jared Veldheer, Chris Johnson and Dwight Freeney. How fun has it been to watch Dwight Freeney spinning around offensive linemen this year? These aren't just players who are immensely talented. They're hungry. They've been around this league and understand what we're building towards.
The management took this great core of vets and infused it with undeniable young talent. Every time I face Patrick Peterson in practice, I'm so thankful we're on the same team. Michael Floyd has put in the work, and now he's blossoming. You got David Johnson stepping up when we need him. He's going to carry the rock in this league for a long, long time. John Brown has been taking the top off of the defense. There are so many young guys on this team that are playing great, and they're only going to get better.
And then there's Tyrann.
It's an honor to be his teammate.
He's just special. Every guy on this team will tell you that. If there's any one player that embodies what this franchise is about and why it will continue to find success, it's Tyrann Mathieu. He is the heart and soul.
When he went down, it was a big blow. Injuries happen all the time. That's the business. We're all accustomed to that. But when Tyrann injured his knee, everyone in the locker room took it really hard. He's a guy who's impossible to replace on the field.
For so long, we were focused on overcoming the perception that we couldn't win here. Now we know that we can win here. We carry ourselves like a team that expects to win. It took a few decades, but the Cardinals have become the team that Phoenix deserves.
I'm always going to feel indebted to this city for everything it's given me. And now, after all these years, I'm excited about what we've been working towards and about the goals still yet to be accomplished. I'm excited about how close we are to where we want to be.
Not many people realize that Phoenix is now the sixth-largest city in the United States. As this place grows (and grows, and grows), I think it's important for there to be something that unites everybody, from the recent transplants to the native Arizonans who have lived here their entire lives.
I want the Cardinals to be that thing.
I want the Cardinals to be a team that you're proud to root for and can't wait to watch play. I want the entire state to always be itching for gameday to arrive.
There's still work to be done — but we're getting there. In fact, I think there's only one, large, final box left for us to check off:
Win a Super Bowl.
Nothing less.
We have the ownership to do it. We have the coaching staff to do it. We have the players to do it.
And I know we have the state to do it.
So let's do it.