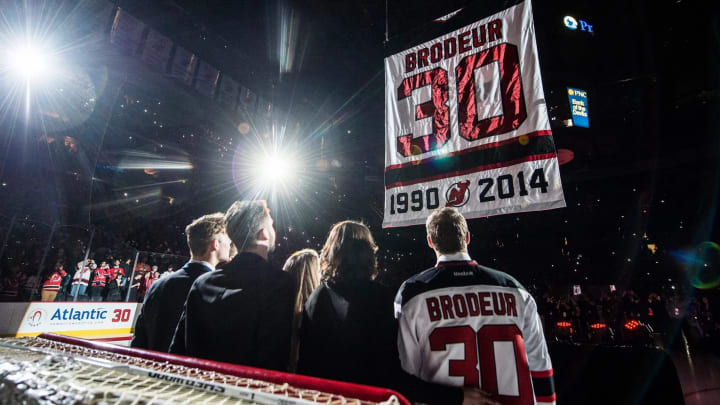 What I Was Born to Do
ROB TRINGALI/THE PLAYERS' TRIBUNE
Earlier this week, the New Jersey Devils honored one of the most dominant goaltenders in NHL history, Martin Brodeur. The Players' Tribune followed along behind the scenes as Marty attended a series of festivities leading up to his jersey retirement at the Prudential Center.
I won my first Stanley Cup in 1995.

As it turns out, I also lost my first Stanley Cup in 1995.
Growing up in Quebec, we were always playing sports. Your first athletic competition was against the kids living on your block. During the summers, we would play street hockey for as long as there was sunlight (and then we'd improvise). The way we determined our teams was pretty sensible. There was a lamppost on the side of the road. Whoever lived north of the post was on one team, and whoever lived south of the post was on the other. I was on the North Pole team. My buddy Guy was on the South Pole team.
I won't be modest about it: The North Pole was a dominant organization during my childhood years. So after I won my first Cup with the Devils, I knew exactly where I was going to take it. I'd known since I was a kid. I brought it right back to my old neighborhood, and the North Pole and South Pole took to the street for the cup. The Cup.
And we lost. Guy's squad pulled the upset. I had to watch as he lifted it over his head and carried it around our street.

But fortunately, I'd get a chance at revenge in 2000 and 2003.
It's kind of funny the way it happened — the way I became a goalie. I was playing forward on this one team when I was little, and there was another team that needed a backup goalie. I mean, to me it just meant a chance to play more hockey, so I was all for it. My dad used to be a goalie. He actually won a bronze medal with Team Canada in 1956. So when I asked him, he told me to go ahead.
You know, I was pretty good. But more importantly, I loved it. I put in the work to get better because it never felt like work.
I ended up finishing the season on both teams, playing forward on one and goalie on the other. The following year, my dad dropped me off at the rink for my first day of practice. I'm only seven years old, hauling this gear that weighs more than me. I walk in, and my coach comes up to me and says, "Well, what do you want to do? Do you want to be a goalie or do you want to be a forward?" I look around, and my dad's not there. It was all up to me. I just went with my impulse.

"I'll be a goalie."
didn't realize it at the time, but that was probably the biggest decision I ever made. Things could have been a lot different for me.
After his hockey days, my dad became a photographer, and a really good one, at that. He used to shoot the Expos and Canadiens, and he'd give me five bucks to haul around his equipment during games. He never had to ask me twice to do it. At a young age, I was in close proximity with some really amazing athletes. I got to see how they handled themselves, how they prepared. When you get the opportunity to see those guys in the flesh, it makes the idea of becoming one of them feel more realistic.


My favorite athlete I met growing up was Gary Carter. He used to come by our house a lot to pick up photos. There wasn't any email, of course, so athletes would swing by the house to pick up pictures from my dad so they could share them with their family and friends. That was how my father developed a special relationship with these guys.
I'll always remember Gary for being such a gentleman. I didn't speak that much English at that age, but he took time to interact with me and make me feel special. That meant the world to me.
My dad came back from the rink one day and said, "Son, you should've watched that goalie last night. He's like a third defenseman." He was talking about Ron Hextall. The next time the Canadiens played the Flyers, I watched Ron closely, and it changed the way I viewed the goalie position. He would come out from his net and pass the puck way up to a forward. He always kept the other team off balance because he didn't stay in the crease. I was just like, Wow, I need to be this kind of player.
So I started working at it. Working. Working. Working. I spent an entire summer shooting those heavy orange pucks until I couldn't feel my arms anymore. And after a while, I started getting better. I had a certain work ethic that guided me, but I also had a hockey sense that allowed me to attempt plays most other guys wouldn't. The honest truth is that after I switched positions, I never stopped missing scoring goals. But adding an offensive dimension to my game made me feel like a more complete player. I even notched three helpers in one game while I was in the minors. I'll always be proud of that.
The teams I played on usually adjusted to my style. My boy Dano would just sit there and never had to go pick up pucks in the corner — so he loved it.
I still remember the first time I ever saw the New York skyline. That's a moment you usually don't forget. I didn't even know what New Jersey was when the team drafted me. I knew the Devils were a hockey team, but had no idea where I'd actually be playing. I didn't realize how close we were to the city. When I saw that skyline, I knew this was going to be a cool place to play hockey.
My career with the Devils was really close to being much different. Really close. In 1991, the team lost Brendan Shanahan to the Blues in free agency. St. Louis needed to send some compensation back to the Devils as a result. Lou wanted Scott Stevens. The Blues wanted to send Rod Brind'amour and Curtis Joseph, who was in his early 20s at the time and had a long career ahead of him. If Curtis was traded to the team, my entire life would probably be very different.
But luckily for me, Lou seems to always get his way.
Those early years with the Devils were so special. It was fun. We knew people hated us. The opposing fans thought we were boring, the media thought we were the worst brand of hockey and the other teams never looked forward to taking the ice against us.

But we loved how much we were hated. Because if other teams and fanbases hate you, that means you're doing something right.
The system wasn't complicated. We just followed what Jacques Lemaire wanted us to do. We played hard. We played defensively. And we went into every single game with absolute confidence that we were going to win. As a goalie, you can't ask for a better situation.
The goal was never to just win one Stanley Cup. The goal was consistency. To always be great. There would be a big turnover in the roster every few years, but the same core stayed together. In a span of nine years, five of us won three Stanley Cups together. And the new guys in the room would follow our lead and pass on the message. Eventually, regardless of who was on the team, our mentality was cemented. We created an approach to the game that everyone bought into.
There were many reasons I found personal success during my career. One of the big ones was my goalie coach Jacques Caron. It's difficult moving to a new place on your own as a kid, but Jacques was a French-Canadian guy who immediately became a role model to me. We spent a lot of time together, and he helped introduce me to everyone in the organization. Everyone really loved Jacques, so they embraced me as well. I always thought of him as a teammate as much as a coach.
Twenty-two years is a really long time to spend in one place. That's why I've always considered the Devils organization a family more than anything else. And that includes the fans. No, we aren't New York City, but we've always taken pride in that. We take pride in having our own unique hockey culture. We never had the most fans, but you can bet we had the most passionate ones. And after all those years, I could always look up in the stands and make out the same faces. I knew exactly who I was playing for.
From the time I was a kid until now, I'll always relate being in skates to being happy. It's an honor to be recognized for performing the task I feel in my heart I was born to do. There were a lot of things that needed to happen for me to get to this point. And there's not a single one of them I'd change.

Photographs by Rob Tringali/The Players' Tribune