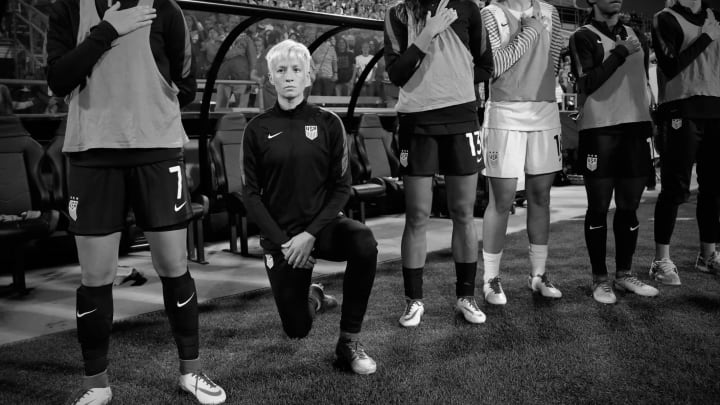 Why I Am Kneeling
I am kneeling because I have to do something. Anything. We all do.
I am the same Megan Rapinoe you have known for years now. I am the same woman who has worn the Stars and Stripes across her chest, proud and beaming. I am one of the women you have called an American hero, and not just once. I look like your sister, your friend, your neighbor or the girl your kids go to school with. I am the person sitting at your dinner table and coming to your holiday party.
I haven't experienced over-policing, racial profiling, police brutality or the sight of a family member's body lying dead in the street. But I cannot stand idly by while there are people in this country who have had to deal with that kind of heartache.
There is no perfect way to protest. I know that nothing I do will take away the pain of those families. But I feel in my heart it is right to continue to kneel during the national anthem, and I will do whatever I can to be part of the solution.
I can understand if you think that I'm disrespecting the flag by kneeling, but it is because of my utmost respect for the flag and the promise it represents that I have chosen to demonstrate in this way. When I take a knee, I am facing the flag with my full body, staring straight into the heart of our country's ultimate symbol of freedom — because I believe it is my responsibility, just as it is yours, to ensure that freedom is afforded to everyone in this country.
I have chosen to kneel because in the time it has taken me to write this article, many more Americans have been lost to senseless violence. I have chosen to kneel because not two miles from my hotel in Columbus, Ohio, on the night before our USWNT match against Thailand, a 13-year-old boy named Tyre King was fatally shot by a police officer. I have chosen to kneel because I simply cannot stand for the kind of oppression this country is allowing against its own people. I have chosen to kneel because, in the words of Emma Lazarus, "Until we are all free, we are none of us free."
But this is about more than just raising awareness. I know that actions must be taken to help bring about real change. Right now, I am reaching out to community leaders, corporate partners and leaders within the Black Lives Matter movement to figure out all the ways I can best support the efforts already in motion.
While there may not be a perfect plan or solution in front of us, I encourage everyone reading this to join in the conversation. Together, we can listen to the people who are living this nightmare every day. We can try to empathize with their pain and start to understand a more complete picture of what is going on in our society. We can read articles, editorials, books and stories in order to peel back the layers of this centuries-old oppression.
Having these kinds of conversations can be difficult and complex, but so what? We should talk to our family members and challenge them, bringing these hard problems to the dinner table and persevering through uncomfortable conversations. This is not a "them" problem — this is an "us" problem.
And, if you are in a position of influence like I am, you can use your platform to elevate the millions of voices being silenced, and support them in the tremendous work already being done.
Even more simply, you can ask yourself this question: "Do I truly care about equality for all people in this country?"
If the answer is yes, then demand to be a better, more educated, more empathetic version of yourself. And demand the same of every single person you know — because, as Seattle-based writer Ijeoma Oluo put it so perfectly: When we as a nation put our minds to something, when we truly choose to care about something, change always happens.
I am choosing to do something. I am choosing to care.
Much love,
Pinoe