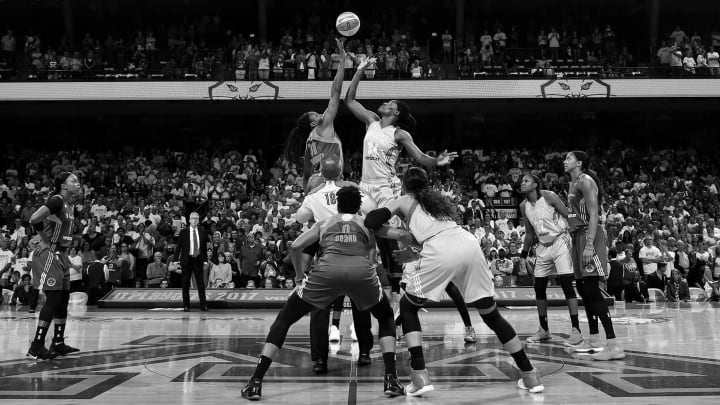 Bet on Women
DAVID SHERMAN/NBAE/GETTY IMAGES
This is not just about business. This is deeply personal. This is about the kind of world we want to live in.
I am an elite athlete. I am an MVP. I am a daughter. I am a sister. I am a No. 1 draft pick. I am a WNBA player and I am the president of the WNBPA.

And I want young female athletes to dream about playing in a vibrant and thriving WNBA. I want them to dream of having it all.
I don't want the best and the brightest female athletes in the world dreaming about playing in the NBA. I don't want the best and the brightest young girls growing up thinking that men are the pinnacle. I want those girls dreaming about growing up into the best women they can be.
And I want them to dream about the league that I know ours can become. A league that has a fair and consistent work environment. A league that treats its players as the world-class athletes they are. A league that invests in its future. A league that believes in us as much as we believe in it.
And it's not just me who wants this. I'm one of 144 WNBA players.

And today, we as the WNBPA are choosing to opt out of the current CBA and are instead looking toward a new chapter of the WNBA.
---
---
Being president of the WNBPA during this process has been a real privilege. I've loved getting to work with the genius women on our executive committee: Sue Bird, Layshia Clarendon, Elena Delle Donne, my sister Chiney Ogwumike, Carolyn Swords and Elizabeth Williams. I've loved getting to work for the amazing women throughout our league. And I've loved fighting for what we all so fiercely believe in: each other, the league, and the fans who support us.
But this job has also been uniquely tough, and definitely has come with its share of questions — questions that not a lot of people have the experience to answer. So when I was looking for a little advice over the summer, I turned to the only other person I know who's been in my position: Chris Paul.
Chris is the president of the NBPA. But not just that — as one of the best basketball players in the world, Chris has also dealt with having to think about his sport, and his league, in a bigger-picture sense. And so when I asked him if he had any wise words for me, as I helped lead our PA through this vote and the vision for the future…. well, he didn't give me any advice on our decision. He knew that was ours alone to make. But he did say one thing about being in a leadership position that really stuck with me.
He said, "Nneka, just remember this — it's alright if you don't know."
It's alright if you don't know. I've been thinking about those words a lot, ever since — especially over these last few days. And as I sit down to write this announcement, I'm thinking about them even more. Because even if we don't know all the solutions to the CBA, I can promise you this: We have a group of intelligent and committed women who are determined to work through each complex issue, one by one, until we get there.
I've also been thinking a lot about what it means to "opt out."
I'm sure there will be people out there who will judge us harshly for opting out — who will say that we should be grateful for what we already have. They'll probably tell us that our league is losing money. They'll say it's just "economics." They'll say it's just "fair." And they'll definitely, definitely tell me that they can beat me one on one.
To me, opting out means not just believing in ourselves, but going one step further: betting on ourselves. It means being a group of empowered women, in the year 2018, not just feeling fed up with the status quo, but going one step further: rejecting the status quo. And it means taking a stand, not just for the greatest women's basketball players of today, but going one step further: taking a stand for the greatest women's basketball players of tomorrow.
Does opting out mean that we have all of the answers right now, and that we're about to propose a way to fix every problem in the W overnight? Of course not.
Does it mean we're saying this league is broken, and we need to start the whole thing over from scratch? Not even close. We love this league. We'll always love this league. The WNBA means everything to us.
Does this mean we're all walking up to the league office tomorrow, arm in arm, and demanding some LeBron Money? You have got to stop it with these wild comparisons, I swear. Get your money, LeBron, we appreciate you.
Mark Sobhani/NBAE/Getty Images
And finally, does opting out mean we take the CBA lightly? Not at all, and just the opposite: We take this seriously. So seriously. We're not just opting out of this agreement — we've also given rigorous consideration to the agreement that we want in its place. This was not an easy decision for any of us. And it came out of a whole lot of research, and conversation, and soul-searching, and thought.
Which, again, is really what "opting out" means to me, most of all: It's believing in what you know……. and then being alright with what you don't know. And while we don't know what the future has in store for this league — we do know that there's never been a better time to be a part of it.
We believe in women, we believe in the WNBA, we believe in the WNBPA, and we believe that, wherever the finish line is for this movement that we're a part of…… we're just not there yet.
We're opting out because women's basketball's potential is infinite.
We're opting out because there's still a lot more work to be done. And we're betting on ourselves to do it.
---
---
Call me crazy, but I don't just believe everything I hear.

My mother taught me that.

I believe what I can see.

In opting out of this CBA, our primary objective is full transparency. We just want information about where the league is as a business, so that we can come together and make sound decisions for the future of the game.

You probably don't know this, but as players, we never get to see the numbers. We don't know how the league is doing. As the kids say nowadays, we just want to see the receipts.
This is not an adversarial thing. Believe me, this is incredibly difficult on a human level. We have to sit across the negotiating table from the same people that we work with day-in, day-out, and who we know want this game to be great, too. We just want full transparency so we can figure out how to make common-sense changes that will help our players' quality of life.
As the kids say nowadays, we just want to see the receipts.
This is not purely about salaries. This is about small changes the league can make that will impact the players. This is about a six-foot-nine superstar taking a red-eye cross-country and having to sit in an economy seat instead of an exit row. Often with delays.
Imagine the last time you took a red-eye business trip and you sat in the middle seat with your knees all cramped up, and how shook you were for that entire rest of the day.
And now imagine that, after you land, you have to go out and compete against the best in the world that night.
We can't even get an exit row? A TSA precheck?
Nope!
We're looking at issues like that — those everyday, real-life player experiences.
In other words: It's. Not. All. About. The. Money.
These women are doing all this crazy travel, for less money and less visibility than they're worth — and then they're turning it around to give fans the best they've got, every single night. They're playing some of the highest-level basketball this world has ever seen. But not only that. They're grinding off the court, too.
The amount of intelligence and ingenuity and work ethic and diversity this league has.… it's truly incredible. We've got poets and artists and chefs and business owners.
Did you know that Essence Carson works at Capitol Records?
Did you know that Alana Beard and Marissa Coleman have a Mellow Mushroom franchise?
And did you know that Elena Delle Donne launched her own furniture-design company?
We don't want any handouts. If you believe that we do, then you must have never watched a minute of our league. We just want what we're worth. We just want what's right. We just want to leave this game a little better than we found it for the next generation.
---
---
It's funny, a lot of people who only know our league casually, they think that all of our fans must be girls. I mean — who else would watch women's basketball, right?
Well, actually…… a lot of people.
Catch me at the airport, on any day, and it's the greatest thing: we'll have our diehard girl fans out there, of course. But you'd be surprised — just as often?? It'll be boys, men, about any age: saying what's up (not much), telling me they're a fan (thanks!), asking for a selfie (no doubt).
There's no "yeah, but" about it. There's no "….for girls." These people just love the WNBA.
And to me, when I think of this CBA, and this decision, and what the future holds for our league — in a lot of ways, those are the moments that I think of the most. I think of how this vote — it's not just about me, some present-day WNBA player. It's not even just about the whole 144 of us. And it's not even just about that dreamer, shooting those J's at the park, working herself into the player that she wants to become. It's about more than that.
The truth is? It's also about that little boy, repping the W, asking me for a selfie. It's also about those grown men, telling me they're huge fans of the Sparks, like it's no big deal. It's about what the future of the WNBA can mean to all people. It's about what the excellence of female athletes can mean in a more universal sense — with enough investment, and resources, and respect.
We're opting out of our CBA because of the world we want to live in.
It's a little different than this one…. but we think it's time for different. Thanks for supporting us. Thanks for believing in us.
The future is bright — bet on it.
Bet on women.