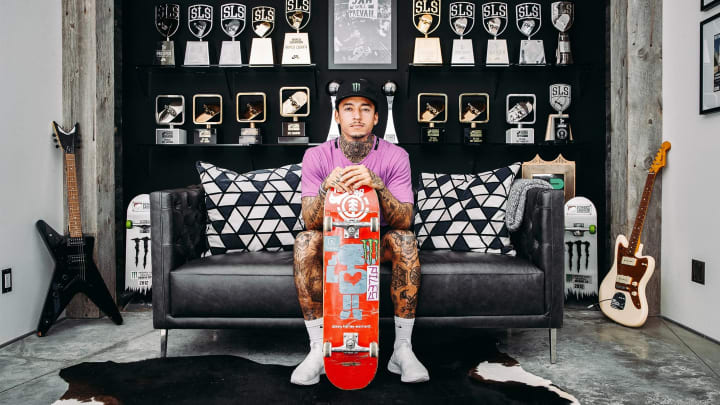 To the Skateboarding Community
NATHAN GROFF
I've been eating s*** my whole life.
I'm talking about slams. Falls. Bails. Basically, just getting wrecked when I fall off my board. That's part of my life. Every time I look at a huge stair set, or a rail, I know that if I don't commit — if I don't give it everything I have — there's a chance I hit the cement hard and get a gnarly injury.
That's why when people ask me stuff like, Nyjah, how did you become the No. 1 skateboarder in the world? I give 'em an answer they probably aren't expecting.
Patience.
That's what I say to them.
Patience.
Because when I'm trying to pull off a trick, or hit a rail that I know scares the hell out of me, the most important thing is that I acknowledge that it takes time to get it right. I might try to hit a rail 30–40 times before I get it right. And by then, my body's aching and I'm just doing my best not to lose focus. But I'll also know I've got to stick with it.
Patience.
Edgar Barrera
Right now that word means more to me and our sport than I could have ever imagined. Obviously, everyone knows that because of  COVID-19, the Summer Olympics in Tokyo have been postponed, moving from this year to 2021. That means that skateboarding's Olympic debut will have to wait another 365 days.
And look, I understand that, in the grand scheme of things, having to wait isn't that big of a deal, and the health and safety of everyone around the world is way more important. So I am in complete agreement with all precautions we're all taking.
As I get older, though, and become more of a veteran in my sport, with all these super young kids coming up, I know that it's important for me to talk about how our community is feeling and how we can help.
Man, I was so hyped for this summer — first and foremost because I knew that the Olympics would bring skateboarding to another level. It's hard for our sport to pass into the mainstream, to make it onto SportsCenter. And it's weird to me that skating isn't on a bigger stage more often because of just how many kids do it all over the world. It's an easily accessible sport with parks all over the country. You don't need a ton of money or equipment to do it.
I feel like it just hasn't had that moment yet.
Everybody remembers Tony Hawk's 900 at X Games V in 1999. That was an iconic trick that went beyond the sport and still makes highlight reels. But, bro, that was over 20 years ago. Most of the kids skating now weren't even alive.
Skating was different back then. It was different even 10 years ago.
It's weird to me that skating isn't on a bigger stage more often because of just how many kids do it all over the world.
I remember when I went to the first Street League event in 2010 in Glendale, Arizona. I was only 15. My parents had split up, and I had just moved back to the mainland from Puerto Rico — where I had been living with my dad — to be with my mom. I had been skating basically since I could walk.  I started on my knees and would cruise around the local skatepark until I got comfortable enough to stand up. As soon as I went down my first ramp, I was addicted. My dad pushed me to become the skater he knew I could be. But it was my mom who brought me the opportunity that would change my life.
She and I went to the competition with no money, so Rob Dyrdek, the founder of Street League, put us up in a hotel, really looked out for me and took care of us. Rob took a chance on us because he knew I had some talent and he believed in me as a person. I didn't know exactly what type of financial difficulty my mom and I were in, but I knew it wasn't good. I knew what it would mean to both of us if I could win the event.
And I did. Fortunately. The money from that win helped keep my career going.
If Rob hadn't helped out my family, I'm not sure where I'd be.
That's what the skate community is about. People like Rob, people like Tony — and all the other legends of the sport — it's for them that I want to see skating take its place on the world stage in Tokyo. I think it's felt like a collective effort — one that took a long, long time — to get skating to this point, where having it at an event like the Olympics seemed real, like actually possible.
When I first heard the rumors about it a few years ago, my immediate reaction was that this is exactly what we need as skaters. But even more than that I thought that skaters would be great for the Olympics. When the time comes, I know we'll bring a presence and a performance level that the Olympics has never seen before. I really believe that. On both the men's and women's sides we have some of the most hype athletes in the world, ones who can put on a great show for the fans.
I wanted to write this to our community because, like all sports, ours is going through a tough moment right now. I wish I could be out there for our fans competing and getting ready for Tokyo. But the world is calling on all of us to change our way of life for the common good, so we've just got to do that right now. Simple as that.But man, every day I'm inside I swear I'm thinking about getting to Tokyo in 2021 and putting on those Team USA Nike jerseys. I hope that we do right by our fans, by the people who helped get the sport to this point. And I also hope there's a little boy or girl watching at the park or on TV when the time comes.
I want them to see what skating means to us, what it can mean to the world. For me, it's my life. It's always been my life. I think about it every hour of every day. I wouldn't have it any other way. It's taken me places I'd never dreamed I could go. It hasn't always been easy. There've been a lot of slams.
But every time I fall, I get back up. I take a breath, I remind myself to be patient. I feel the board in my hand, I clear my mind.
And then — I send it.
It's going to be no different when I get to Tokyo.
I can wait. Because we have to.
Because we need to show some patience, before we show the world what skateboarding is all about.