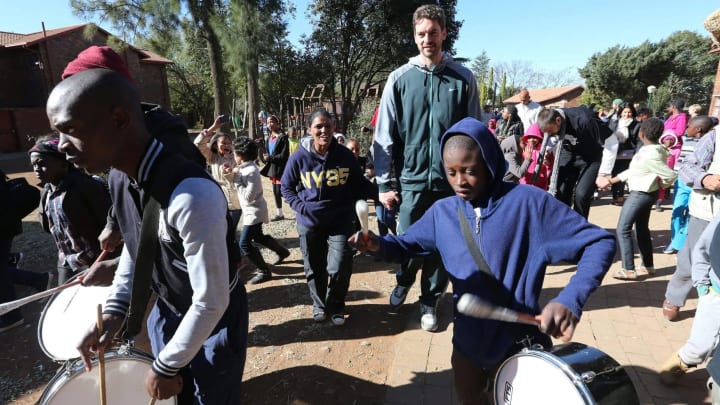 Diary From NBA Africa 2015
The 18-year-old came up to me and said, "I'll see you one day in the NBA."
The voice was coming from a smiling face on a big, tall frame. I had heard about a young prospect who was making waves in the Spanish league. People were talking about his unbelievable athleticism and outgoing personality. They were saying he spoke four or five languages. It was the first time I met Serge Ibaka.
There are a lot of barriers to making the NBA (and a little bit of luck), but Serge went through more barriers than most. If you know something about Serge's childhood from his documentary Son of the Congo, you have an idea about how much he went through, from his youth in Africa to his teenage years in Spain to his stardom in the NBA today. War, poverty, disease, loss of friends and family. Off the court, he's lived a few lifetimes.
I was thinking about the "globalization" of basketball last month when I had the honor of playing in the NBA Africa Game, the first ever NBA game on the continent. In my 12 years as a UNICEF Goodwill Ambassador, I've had the opportunity to experience very impactful and life-changing moments, from visiting a Syrian refugee camp in Iraq to visiting Africa a handful of times, but there was something different about this event. For more than a decade, the NBA has operated development programs and basketball camps in Africa, but this was the first time so much attention was on the sport for one event. Football is the number one sport right now in Africa, but I believe basketball is catching up. The NBA Africa game felt like a groundbreaking time for basketball on the continent. We all understood we were part of something bigger than ourselves, a unique historical moment.
When you're young, you have role models you look up to. Mine was Nelson Mandela. I remember the day I first read Mandela's autobiography, Long Walk to Freedom, when I was 24 years old. It really affected me and I've re-read it several times since then. I was inspired by Mandela's unbelievable courage. What stands out most is that Mandela was a uniter, even when his opponents didn't want to come together. He used sports to unite South Africa in the 1995 Rugby World Cup. He even united with his guards in prison — his supposed enemies — by learning their language.
I started reading Mandela and learning about his work around the same time in my life I began traveling to Africa. In my own small way, I wanted to use my platform to make an impact. I didn't want to just fly in, take some pictures, and fly out. That's part of the reason this NBA Africa event was so special. It was touching to see my colleagues in the NBA all committed to taking a trip across the world for this cause. Boris Diaw, Giannis Antetokounmpo, Luc Mbah a Moute, Chris Paul, my brother Marc and many more joined us. However, I must also say that our work is nowhere near as impactful as that of the people at organizations like UNICEF, who are there every day. Their commitment and devotion are very inspiring to me.
During the trip my mind wandered back to my childhood. My parents were both doctors who taught me that helping other people is the essence of the medical field. In fact, I wanted to be a doctor myself before I decided to play pro basketball. I even went to med school for a year. Growing up I never had to go through what Luol or Serge did to abandon their homes in search of better opportunity. Now that I have a platform as a basketball player, I know it's not just a responsibility but it's a privilege to be able to make an impact on young people and those less fortunate.
In the week before the big game on Saturday, we visited the Children's SOS Village outside of Johannesburg. Several people had the opportunity to address the children of the village, along with our group of NBA players, coaches, GMs, staff, NBPA President Michelle Roberts, NBA Commissioner Adam Silver, and President of the U.S. Fund for UNICEF Caryl Stern.
I had the privilege to speak, sharing a few thoughts about the meaning of the moment we were all experiencing. But the person who stood out the most was Luol, who was born in South Sudan. I could hear the emotion in his voice as he spoke to the group of orphaned children — over 100 kids born into poverty being raised by foster mothers. While Luol was expressing how much it meant to him to be there and how special it was for him personally, it felt like tears were about to drop out of his eyes. It was that powerful.
When I was a kid growing up in Barcelona, the NBA was another universe. It was unreachable. I watched NBA games, but it always felt like something very distant and hard to achieve. That's why visibility of the game matters. To grow the game of basketball, kids need to be able to watch it — whether it's the NBA or a local pro league. I hope that in our own small way, the NBA Africa game was a chance for kids to be inspired by basketball.
Facilities matter, as well. I grew up playing a lot in school and on outdoor cement courts. Also, our grandparents had a basketball hoop behind their house where Marc and I used to play for hours. They were not always the best courts, but I had courts to play on. My friends and I just had fun with what we had. That's all we knew how to do. To grow the game of basketball, we need to provide the materials and facilities for kids to thrive. On the trip to Africa, we went to an outdoor basketball court donated during Basketball Without Borders, a program that has been working in Africa and in many different parts of the world with FIBA and the NBA for over a decade. Basketball Without Borders reaches out to the communities and builds courts like these through NBA Cares. At the Children's SOS Village they helped build a library with a computer lab, too.
But it's only a start. It just proves how much the world needs to invest in the game of basketball, and in sports in general. It takes time, but we need to do more. If there is infrastructure for basketball, kids will play. If we connect kids to schools it will be a great way to attract them to receive an education, which is key for their future.
Fast forward to last month in Johannesburg. It was a very powerful and emotional week that culminated in the big game. I was watching Serge, no longer a teenager and now an NBA All-Star, leading Team Africa in the first ever NBA Africa Game. He's been through a lot, but in that moment you couldn't notice it. Even though he didn't play due to injury, he was everywhere: Shaking hands. Making people laugh. Taking selfies. Hugging people. Taking more selfies. He was truly being an ambassador for the game.
The most memorable part of the game was when Hakeem checked in. As a big man, I always admired Hakeem's footwork and finesse. I used to watch Hakeem's game tape to study his moves. To be on the same court and watch him do a miniature Dream Shake, at age 52, was a beautiful thing.
Where would the NBA be without legends like Hakeem? Or current day stars like Luol Deng and Serge Ibaka?
Over the years, I've learned that sports is bigger than a stat sheet or a highlight reel. I am very competitive on the court, but I also understand the impact of the game outside of wins and losses. Now it is our mission to make sure the next generation of African players and all international players have the opportunities to follow in the footsteps that many of us have walked and will continue to. If basketball is going to be a global game, everyone's got to be part of it and have a chance to enjoy it.