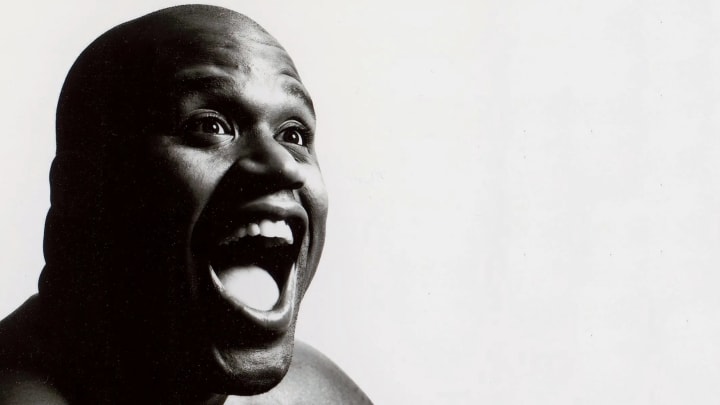 The Big Man
The first time I met Shaq, he was headlining a hip-hop group that was performing in a small town in Montana near my lake home. It was the summer of '99 and I had just been hired by the Lakers. Shaq heard I spent my summers there, so he reached out. I invited him to stop by my house.
I got delayed with business that day and Shaq got to my house a few hours before I did. When I finally showed up, Shaq had made himself at home. The people in my lake community were all on their docks watching this guy do his thing. Neighbors told me he had been jumping on a kid's trampoline and then he had commandeered somebody else's WaveRunner and was doing big jumps. Shaq was putting on a show. Later, I got him to help me move a big piece of wood — a deadhead log — that was submerged in the bay.
I carved out time to have a "serious" talk with him, but I understood that that wasn't his element. He liked entertaining — not showing off, but something close to it. He was a fun-loving jokester whose personality got bigger as the crowd got bigger.
My goal with that Laker team was to get Shaq serious about his career. At the time, Shaq was in movies, he had his rap stuff going on, he was in TV commercials and he was generally just bigger than life. In a dinner before preseason camp in '99, I told him that he should make it his goal to be the MVP. In fact, I suggested to him that, by the time he retired, they should rename the trophy the Shaq Award!
In the first week of the 1999–2000 season, I stopped him coming off the floor during a timeout and asked him: "What do you think was Wilt's greatest accomplishment?" He quickly and confidently replied: "Averaging 50 points and 30 rebounds a game."
I shook my head.
"Nope, he averaged over 48 minutes a game. Do you think you could do that?"
Walking out of the timeout huddle, he looked back at me.
"He could do it. So can I."
So I played him 48 minutes a game until he called uncle, which wasn't that many games into November. But he didn't want to come to my office to tell me, so he sent John Salley as his spokesperson. I was glad to comply, as I didn't expect this experiment to last the whole year. That wasn't the point. We never spoke another word about it. It did, however, get him in great condition. By season's end, he was the MVP.
One story that I like to tell is about the books I give to players. The thought behind it is that I want to assign a book that will engage each player's unique personality. For Shaq in that first year with the Lakers I got a book called Ecce Homo, by Nietzsche. I think Shaq liked the philosophical stuff, as well as the title, which in Latin means, "Behold the Man."
After all, this was the man who had already named himself the Big Aristotle.
The next year, the book I chose for him was Siddhartha, the novel by Hermann Hesse about a man on a journey to find himself. It's loosely based on the life of Buddha. When I handed out the books on a flight at the start of a long road trip, I told the team — with tongue in cheek — that I expected a book report by the end of the trip. This particular trip ended in Chicago with a game against the Bulls, from which Shaq got ejected. Rather than wait and face the press, he went straight to the bus. After the press conference, I got on the bus and found Shaq there, reading Siddhartha. On the flight home, he came back to my seat and gave me his book report — still the only one I ever received. It said: "Siddhartha is a book about a young prince, who has money, fame, and women, just like me. He is also searching for self-discovery, just like I am."
Our last meeting as coach and player happened after he had been traded to Miami. I called him up on his cellphone and asked him where he was. It was loud on his end. I heard honking horns.
"Are you driving?" I asked.
"I'm looking for stolen cars," he replied.
He was. As we chatted, Shaq was driving around West Hollywood/Century City on unofficial police business. Sheriff Shaq was meting out justice in his spare time.
We made plans to meet at a restaurant to say our final goodbyes. Shaq was more interested in my next year than his own — always a team player in the most unusual ways. He went on to win a championship in Miami. I was happy for him. But he has chosen to go into the Basketball Hall of Fame as a Laker, which is fitting. It was a very interesting and entertaining five years we had together in Los Angeles. For all his bravado and bigness, he was a team player first. He knew how to make his teammates better players. He kept it real — and really fun.
Before him, the NBA was a league known for its dominant big men. George Mikan, Bill Russell, Wilt Chamberlain, Kareem Abdul-Jabbar, Bill Walton, Ralph Sampson, Hakeem Olajuwon and other big, talented players. Shaq came and did it with a joy that no one had ever seen before.
Congratulations, big man.