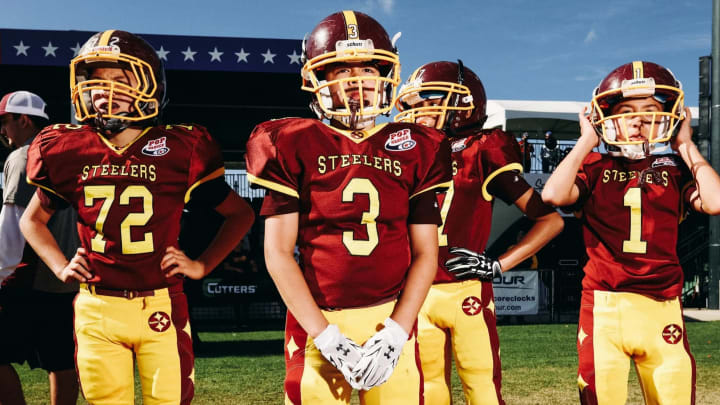 Up Close at the Pop Warner Super Bowl
WALTER IOOSS JR./THE PLAYERS' TRIBUNE
I've covered 50 Super Bowls, but never one like this.
The Pop Warner Super Bowl takes place every December in Orlando, Fla., and includes 68 games in six days. It all culminates with national championship games in five different age-group divisions. Pop Warner football got its start in 1929, and its games really embody the essence of football. Events like this are the exact reason I got started in photography.
There are no press restrictions and no other photographers there. You can stand on the field. You can go anywhere you want. It's just you and the kids out there. To be able to get that close to the action — it's something you could do in the NFL in the 1960s, but it isn't even fathomable now. And the kids are more than happy to be photographed — you can feel the pure joy of the game.
I was fortunate enough to be able to shoot two games, one between the Far West Steelers, from Arizona, and the Virginia Beach Mustangs. The other was a Junior Varsity game between the North Philadelphia Aztecs and the Richmond Perrine Giants.
Photographs by Walter Iooss Jr./The Players' Tribune
---
---
Walter Iooss Jr./The Players' Tribune
Walter Iooss Jr./The Players' Tribune
Walter Iooss Jr./The Players' Tribune
Walter Iooss Jr./The Players' Tribune
Walter Iooss Jr./The Players' Tribune
Walter Iooss Jr./The Players' Tribune
Walter Iooss Jr./The Players' Tribune
Walter Iooss Jr./The Players' Tribune
Walter Iooss Jr./The Players' Tribune
Walter Iooss Jr./The Players' Tribune
Walter Iooss Jr./The Players' Tribune
Walter Iooss Jr./The Players' Tribune
Walter Iooss Jr./The Players' Tribune
Walter Iooss Jr./The Players' Tribune
Walter Iooss Jr./The Players' Tribune
Walter Iooss Jr./The Players' Tribune
Walter Iooss Jr./The Players' Tribune
Walter Iooss Jr./The Players' Tribune
Walter Iooss Jr./The Players' Tribune
Walter Iooss Jr./The Players' Tribune
Walter Iooss Jr./The Players' Tribune
Walter Iooss Jr./The Players' Tribune
Walter Iooss Jr./The Players' Tribune
Walter Iooss Jr./The Players' Tribune