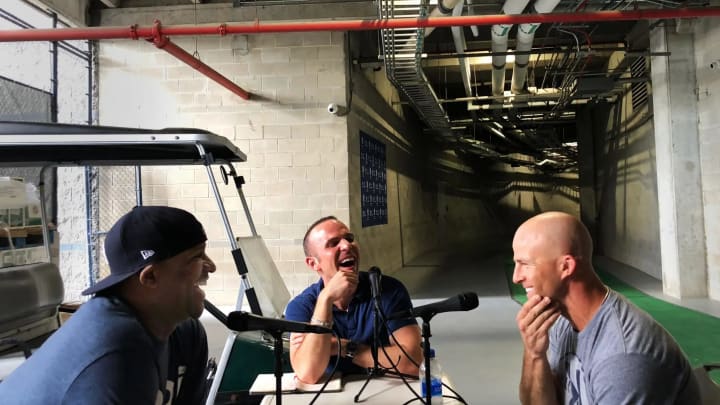 On Base With Brett Gardner
PHOTO BYTHE PLAYERS' TRIBUNE / COREY MIL
Two 'R's. Two 'C's. Two friends with a Star Wars obsession and four days of down time between starts. Thus, a podcast is born. Join Yankees' pitcher CC Sabathia and media personality Ryan Ruocco as they bring fans inside the mind of one of MLB's most successful and durable performers. Recorded in-season and exclusively between CC's days on the mound, you never know who will enter the bullpen as the duo discuss sports, music, culture and more.
E27. ON BASE WITH BRETT GARDNER
In this week's edition of R2C2, Ryan and CC welcome the longest tenured Yankee and clubhouse prankster, Brett Gardner. Gardy reminisces on his journey from walking-on at College of Charleston to grinding through the minors to becoming a leader on the Yankees. He delves into his close relationship with Aaron Judge, including when Judge lived with him at the start of last year. Gardner also relives his greatest pranks, shares his love of fishing and gives CC a hard time about ruining the best chance he's had at hitting for the cycle. Brett Gardner is the heart of a team that has its sights set on winning it all, which makes him a can't-miss listen for any Yankees fan.
E26. IN THE CHAMBERS WITH DJ AARON JUDGE
R2C2 continues its Spring Training episodes with a BIG guest as Ryan and CC are joined by American League Rookie of the Year, Aaron Judge. They discuss what Aaron's first year in the big leagues was like, how he's adjusted to having people recognize him on the streets and how cool it is to be the face of the Yankees for a new generation of fans. Aaron also talks about his role as clubhouse DJ, what it's like to have Giancarlo Stanton in pinstripes and his thoughts on doing the home-run derby again this year. Aaron also has no problem giving Ryan a hard time about watching "comfort food" movies and explains his fandom of Harry Potter and Game of Thrones. The humble Yankees' star gets more personal than usual and is sure to get any Yankee fan pumped for the 2018 season.
E25. TRYING ON THE PINSTRIPES WITH RUSSELL WILSON
This week R2C2 is giving the people exactly what they want as CC's newest teammate and Super Bowl winning quarterback, Russell Wilson, joins to the show to discuss what he's up to at Yankee camp this week. They also discuss Russell's early baseball years, how the sport helps him in football, and if he got nervous taking batting practice with Aaron Judge and Giancarlo Stanton. Wilson also talks about his proposal to Ciara while traveling and how happy he is to have his newly born daughter down at Spring Training with him. There are few things better than a Super Bowl winner who puts on the pinstripes.
E24. BONUS EPISODE: THE PLAYERS' TRIBUNE PRESENTS MY GENERATION WITH PAUL PIERCE
This week R2C2 takes a break to present a special bonus episode highlighting a new short-run Players' Tribune short-run audio series, My Generation. In the spirit of no-nonsense sports talk from the player's perspective, Ryan and CC hand off the mic to Paul Pierce, who, after 19 years in the NBA, knows a thing or two about the game of basketball — and is not afraid to openly share his thoughts on the experience. During his tenure, Pierce has observed both advancements and regressions in the sport — from larger salaries and endorsement deals to the end of rivalries and the rise of the Internet superstar. In this episode, Pierce chats with Shaquille O'Neal, who is vocal about a league he thinks has become soft and lacks an abundance of nicknames. He also sounds off on why the big man position in the NBA has changed so much. Listen to more episodes of My Generation on theplayerstribune.com.
E23. CC IS TAMPA-BOUND
On Tuesday, pitchers and catchers officially reported to their teams, which means that it's time for R2C2's 2018 Spring Training Preview. In this episode, Ryan and CC touch on a number of baseball-related topics, including a normal day for a player at spring training, and how pumped CC is to play for Aaron Boone. CC also discusses things he does in addition to playing baseball, like going fishing, visiting amusement parks and eating plenty of Krispy Kreme doughnuts. R2C2 is ready to get you ready for Opening Day.
E22. IN THE LEGENDS SUITE WITH DESUS & MERO
In this edition of R2C2, Ryan and CC head back to VICELAND to record on the set of Desus and Mero with the two late-night show hosts, Desus Nice and The Kid Mero. These brash Bronx natives discuss how they came together and how their podcast, Bodega Boys, became a popular TV show, including stories of going on The Tonight Show and the time P Diddy sent them cases of Ciroc. They also speak about their rapid rise, being New York City kids, and what it's like to go from sitting in the nosebleeds to the Legends Suite at Yankee Stadium. These diehard Yankees and Knicks fans provide plenty of laughs as they encourage CC to bring home the 28th ring.
E21. INSIDE BASEBALL WITH HAROLD REYNOLDS AND MATT VASGERSIAN
R2C2 took a trip to MLB Network this week so that Ryan and CC could talk to former MLB player and current analyst Harold Reynolds, as well as the new voice of Sunday Night Baseball, Matt Vasgersian. The four discuss the lack of free-agent signings this winter, their predictions for the upcoming season and their opinions on the art of stealing signs. Matt talks about his new job as the voice of ESPN's Sunday Night Baseball, and his excitement about working with Alex Rodriguez. The group also proposes that MLB, and the Yankees in particular, should let fans watch batting practice, and talks about why showcasing pregame warmups is important for the sport. Harold also shares his best Rickey Henderson stories.
E20. IN IT FOR THE LONG RUN WITH CARLOS BELTRAN
This week Ryan and CC are joined by 2017 World Series champ and former Yankee Carlos Beltran. Carlos retells stories of guiding Aaron Judge, helping Didi Gregorius hit against lefties, and what it was like to play as a visitor at Yankee Stadium this past postseason. CC and Carlos share stories about when they were teammates, including why Carlos is the reason CC wears a knee brace and what that did to further CC's career. Carlos also touches on interviewing for the Yankees managerial position and how he plans on being involved with baseball in the future. With 20 years of big league experience, Beltran is a can't miss guest for baseball insight and clubhouse stories.
E19. FOR SITHS AND GIGGLES: A REVIEW OF THE LAST JEDI WITH AMIN ELHASSAN
*SPOILER ALERT*. R2C2's The Last Jedi recap is finally here! Ryan and CC are joined by ESPN personality and Star Wars guru Amin Elhassan, who flew in from Los Angeles just to tape this recap. From reacting to discovering Rey's parents, to lamenting Kylo Ren's villain role, to predicting what is coming next, they touch it all. Whether you're a Star Wars fanatic or just a common fan, be sure to check out this episode to learn everything you need to know about The Last Jedi.
E18. IT'S JUST THE TWO OF US… NOW WHAT?
This week, Ryan and CC have a one-on-one discussion that covers a variety of topics. They open the show by talking about last weekend's NFL playoff games — explaining why SpongeBob was involved in CC missing the Vikings' crazy victory over the Saints, and identifying the best Super Bowl host city. The two then move on to the NBA, and the topic of the Rockets storming the Clippers' locker room. The dustup prompts CC to tell a story about the time he stopped an angry opposing player from coming into the Indians' clubhouse. After that, CC builds an "all-time" team from his former teammates. His second baseman? Roberto Alomar, who CC says was the smartest player he's ever been around. His starter? Bartolo Colon. Listen in to find out why!
E17. COMING OF AGE WITH CARIS LEVERT
R2C2 takes a trip to Brooklyn to talk hoops with young Nets star, Caris LeVert. CC, Ryan and Caris touch on a number of hot NBA topics, look at how Brooklyn has changed into an organization known for their culture, and address the challenges faced by young athletes. Caris also shares some of his top "I made it" moments, including what it was like to meet Jay Z for the first time. The crew then asks Caris to break todays rap scene down into categories to give CC (an unabashed fan of old rap) a better understanding of the modern age. Food is a topic that Ryan and CC have always been passionate about, and Caris eagerly tells them about his favorite restaurant in Brooklyn. (Fans of Chipotle will be happy.) From the baseball diamond to the basketball court, R2C2 keeps 2018 rolling by covering everything in another must-listen episode.
E16. NEW YEAR, NEW SEASON … WHO DIS?
R2C2 returns from the holidays — and from a major re-signing announcement — with a new look and renewed energy. Ryan and CC play catch-up, discussing their new logo and breaking down CC's return for one more year with the Yankees. CC's excitement for the upcoming season is apparent in the way he talks about New York's newest acquisitions, including Giancarlo Stanton and Aaron Boone. CC also gets personal, regaling Ryan with tales from his recent trip to South Africa. Later, the duo answers fan questions before slipping into a chat about The Last Jedi. (Minor spoiler alert!) Whatever you think of Jedi, there's no doubt that this sequel to the last installment of R2C2 is worth the listen. Tune in and enjoy the start of what will no doubt be a dynamite year.
E15. TALL TALES AND GIANT PERSONALITIES WITH MICHAEL STRAHAN
This week Ryan and CC welcome Super Bowl champion and sports personality Michael Strahan for a trip down memory lane. Michael shares some colorful moments from his 15-year career, including the 2007 Super Bowl and David Tyree's improbable catch. Michael and CC also chat about bringing championships to New York, and Michael talks candidly about his shy personality and how he avoided stereotypes while making the transition from athlete to media personality. He also shares some great stories about cheap teammates, Jimmy Johnson and his other Fox Sports cohosts, and dressing up for the new Star Wars movie.
E14. KNICKS, KICKS AND CUISINE WITH ACTION BRONSON
Just in time for Thanksgiving, Ryan and CC are back with another installment of R2C2, chopping it up with rapper and former chef, Action Bronson. The episode was recorded on the set of Bronson's new television show at Vice studios in Brooklyn, where Ryan, CC and Action break bread and dive deep into New York sports. Action discusses everything from being fired by Omar Minaya, to the time he left Derek Jeter's final game early, to how to build Frank Ntilikina's confidence, to LeBron's future as a Knick. The rest is a conversation among connoisseur's — touching on such topics as exotic food selections, nostalgic sports films and athlete sneakers. Join in as R2C2 serves up another helping of great conversation for your holiday road trip. And be sure to check out Action in The Untitled Action Bronson Show, broadcasting weekly on VICELAND.
E13. JERRY FERRARA TALKS POWER AND ENTOURAGE, AND THE FUTURE OF THE KNICKS
CC and Ryan are back as R2C2 welcomes actor Jerry Ferrara to the show. The trio talk about Ferrara's work on the Starz series Power, what it's like to be killed off on a television show (2:20), and which Entourage actors are most like their television alter egos (27:28). Ferrera also reflects on some words of wisdom that Mark Wahlberg shared with him when he was auditioning for the part of Turtle on Entourage (22:22), and discusses his man crush on Knicks star Kristaps Porzingis (48:45). CC, Ryan and Jerry then compare the career of Porzingis to the careers of Odell Beckham Jr. and Aaron Judge — and ruminate on just how legendary it would be for any player to help New York win an NBA title (50:00). Finally, the crew answers listener questions and introduces a new movie-trivia game called Natalie Portmanteau (57:13). (Spoiler alert: CC loses.)
E12. ALEX RODRIQUEZ LOOSENS THE REIGNS… A LITTLE
This week Fox Sports analyst, Yankees great and friend of the program Alex Rodriguez sits down with Ryan and CC for a heavy dose of candid conversation and baseball nerdery. Alex speaks openly about his journey from being a baseball pariah to the public's good graces, and waxes poetic about Didi Gregorius and Gary Sanchez — and his simple methods for helping a player get the most out of his at bats. Alex also talks about the Yankees' managerial situation, and discusses whether or not he'd be interested in replacing Joe Girardi. Finally, the crew answers listener questions, and Alex and CC reflect on what made their 2009 team so special. They two express excitement about how well-positioned both the Yankees and the game of baseball are heading into 2018.
E11. BONUS EPISODE: 2017 YANKEES SEASON RECAP
They're back! CC returns from a great postseason run to join Ryan and breathe life into R2C2. The duo discusses New York's loss to Houston in the ALCS, and CC answers listener questions and relives his favorite moments of the year. He also shares his thoughts on playing for former manager Joe Girardi. R2C2 fans rejoice: You needed closure and our hosts are here to provide it. Get ready for R2C2: The Off-season.
E10. FOR THE RECORD, CC GHOSTED ANDY PETTITTE TOO
The Yanks are back in the postseason and R2C2 is back in the driver's seat. Back in July, CC and Ryan traveled to Houston and sat down with former New York pitcher Andy Pettitte. Andy and CC traded pitching bits of pitching wisdom, and Andy shared his thoughts on what it will take for the latest incarnation of the Bronx Bombers to make a run for the title. Andy also reminisced about his early days as a Yankee, when he was frequently ignored by manager Buck Showalter — all while Ryan was trying to the contain his excitement over chatting with his childhood idol. As R2C2 prepares to cover New York's October journey, we invite you to kick back and enjoy a great conversation with a pinstripe legend.
E9. THUMBS-DOWN, YANKS UP: A YANKEES PLAYOFF PREVIEW
What's that? Playoffs you say? The Yankees' faithful should never doubt that R2C2 has their best interests at heart. We're back with a special bonus episode and playoff preview. CC shares his excitement about the young team's chemistry and about how well equipped the club is to handle the postseason. The big lefthander also sets the record straight: Even if the Yanks win it all, he's not retiring.
E8. MICHAEL RAPAPORT TEARS S*** DOWN
This episode delivers exactly what it promises. Actor, author and sports fan Michael Rapaport joins R2C2 at Yankee Stadium, and the results are both raunchy and hilarious. Along with Ryan and CC, he discusses fantasy football reputations, and the team cultures that pervade both sports and film. The trio also touches on Lebron, Lonzo, and the unsurprising rise of social-media tough guys. Amateurs podcasters take note: This is how you do it.
E7. TIME TRAVEL WITH JAY WILLIAMS
Once upon a time R2C2 was only a fledgling idea in the minds of two ambitious friends. The NBA playoffs were just getting started when Ryan and CC reached out to The Players' Tribune about their idea for a podcast. They knew that their chemistry had the potential to make them a great on-air team — they just needed an opportunity. Jay Williams, who had just joined TPT as an executive producer, loved the idea and was eager to lend a hand. In April, the three met to produce the very first episode of R2C2 and the rest is history. In this installment the trio talk mistaken identity, the mental preparation necessary to take the mound, CC's fear of the dark and Kobe's mind games. On this show, we're taking it back to where it all started — and it was so fun that we had to share.
E6. DIDI GREGORIUS + AARON HICKS = BONUS EPISODE!
Fresh off a bench-clearing brawl in Detroit, and gunning for first place in the AL East, these Yankees give you a little taste of what it's like inside the clubhouse. Didi & Aaron join the R2C2 crew as they recap the Motor City melee, get ready for another epic series against the Red Sox and share thoughts on which Yankee is most likely to slide into a celebrity DM. Didi describes his road to the majors, meeting Aaron at 17 and the joys of playing in one of baseball's largest markets. Meanwhile outfielder Aaron talks fashion, his top-notch golf game and the prank he thought CC pulled only 20 minutes after meeting him. This episode is not to be missed!
Click the link below to download, and please leave a review if you enjoy the show.
E5. NO ONE WANTS TO PLAY CATCH WITH DELLIN BETANCES
The All-Star Yankees reliever sat down with us back in May. At the time, the Yankees were hosting the Kansas City Royals and a Warriors-Cavs NBA Finals seemed all but inevitable. Dellin joined R2C2 to talk brotherly love with CC, the joys of his new marriage and the reasons why he prefers relief pitching to being a starter. Not to be outdone, CC reveals that he has never found a good slice of pizza in the nine years that he's spent in New York. And as you might suspect, those were fighting words.
Click the link below to download, and please leave a review if you enjoy the show.
E4. FAT JOE IS SO EXCITED!
This week we're back in the Bronx with hometown hero and hip-hop legend, Fat Joe. Fresh off a birthday bash at which he broke his latest song, "So Excited," Joe joins us to talk about chance meetings with Phil Rizzuto, and lessons in fat-guy confidence that he learned from Biggie, Big Punisher and Heavy-D. Also, Joe discusses going to a Kanye West concert with some of the Yankees and names Scott Disick an honorary member of the Terror Squad, and CC reveals the real reason why Aaron Judge wears jersey number 99. It's a raucous good time!
Click the link below to download, and please leave a review if you enjoy the show.
E3. FROM OAKTOWN TO H-TOWN WITH JEFF VAN GUNDY
This time the dynamic duo pays a visit to Houston and chats with former NBA coach and current ESPN commentator Jeff Van Gundy. Jeff and CC discuss their Bay Area roots, the Oakland Coliseum and the bright future that awaits the Raiders in Las Vegas. They also do a deep dive on Phil Jackson and Paul George, while Jeff dishes on some of Pat Riley's greatest locker room speeches.
Click the link below to download, and please leave a review if you enjoy the show.
E2. WNBA ALL-STAR GAME + SUE BIRD = KILLER BONUS EPISODE!
Bonus Episode!!! We're taking this show on the road! 10-time WNBA All-Star Sue Bird joins the crew as R2C2 takes Seattle by storm. (Yes, our puns are crazy. You're welcome.) The trio talk hoops, Sue's fabled relationship with Nick Carter, gender biases and how no one bothered to ask about her relationships until now. Sue and CC share their secrets to staying young and the world rejoices — Game of Thrones is back!
Click the link below to download, and please leave a review if you enjoy the show.
E1. THAT TIME CC GHOSTED DEREK JETER
What better way to kick off a podcast with the The Players' Tribune than an interview with the captain himself? Derek Jeter joins CC & Ryan to talk Yankees legacy, his golf game and retirement while our hosts flex their knowledge of Game of Thrones. Derek adds to his legend with an elaborate tale of his days as a clubhouse prankster and he also calls out CC for being a pretty unreliable golf buddy. R2C2 has landed.
Click the link below to download, and please leave a review if you enjoy the show.