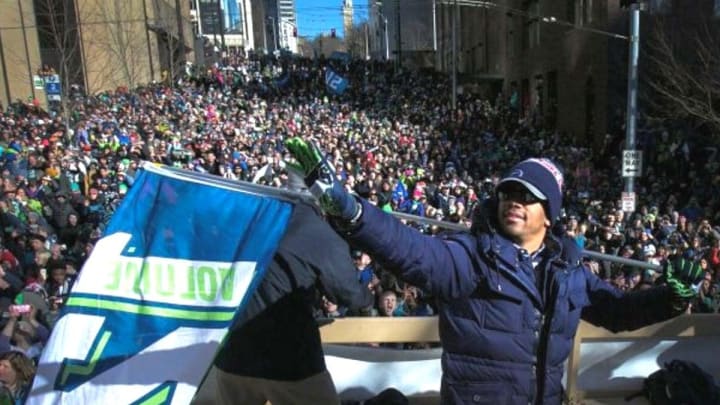 Boomshakalaka!
When I was about eight or nine years old, my older brother, Harry, and I would battle in NBA Jam on the Super Nintendo in our bedroom almost every day. I know some people probably picture me throwing footballs through tire swings and running stairs all day, and I definitely did all that. But then I'd come home at night and play video games with Harry for hours. NBA Jam was our thing.
I'd sit on the bottom bunk and Harry would sit on the floor. For those who don't know NBA Jam, you had to pick your two-man combo. He'd usually pick the Chicago Bulls (Scottie Pippen and Horace Grant), and I'd usually pick the Seattle SuperSonics.
If I remember it right, I think their one-two punch was Shawn Kemp and Detlef Schrempf.
I know the arcade version we played at the mall had Kemp and Benoit Benjamin. For some reason, you couldn't pick Gary Payton. The rumor at school was that you could get him through a secret code, but I still don't know if that was real.
I can still hear the menu music in my head. When you picked your teams, the announcer would yell, "SHOWTIME!"
I'd terrorize my brother with Shawn Kemp on the boards. He'd get like five offensive boards in a row, throwing those big elbows.
When the announcer said, "He's heating up!" my brother would start getting stressed. That's when he knew he was in trouble. Then once Kemp was on fire, I'd steal the ball and launch way up in the air, all the way to the rafters.
You know what happened next.
"Whooooaaaa … Boomshakalaka!"
Anyone who grew up in the '90s knows how good it felt to shatter the backboard against your brother or your sister or your best friend.
I became a SuperSonics fan by playing NBA Jam and watching them on SportsCenter and NBA Inside Stuff. I loved their name. I loved their colors. I loved Kemp and Payton, and then in later years, I loved watching Ray Allen swish corner threes with that perfect form.
Even though we lived in Virginia, I got a Sonics jersey one Christmas and I used to put it on and go play hoops out in front of the house, pretending I was Gary Payton. I'm not going to lie, though. Some days I'd put on my Bulls jersey and stick my tongue out and pretend I was MJ, too. I was flexible.
That's how a lot of kids learn to dream. Whether it's through video games or getting a replica jersey or a pair of your favorite player's Nikes for Christmas, there's nothing like the feeling of pretending to be your hero. It's crazy to me that kids growing up in Seattle now turn on NBA 2K and they can't even play as the Sonics. It doesn't seem right that they're gone. They were a part of my childhood, and I grew up 2,840 miles away.
NEW YORK, NY - FEBRUARY 14: Russell Wilson attends The Players' Tribune Launch Party - www.theplayerstribune.com at Canoe Studios on February 14, 2015 / Getty Images for The Players' Tr
The NBA needs that green and gold back. Seattle needs basketball back. And hockey, too. (The Seattle Metropolitans won the Stanley Cup in 1917, in case you didn't know.)
So I'm doing what I can to make that happen. I have partnered with the Sonics Arena Group to help bring the NBA and the NHL to Seattle.
To me, this is about more than nostalgia.
We live in divisive times, and sports have a way of bringing people closer together. They allow us all — children and adults — to use our imaginations and dream. I want kids in Seattle to grow up dreaming of playing basketball or hockey for their hometown team.
If you doubt the power of sports to unify people, just look at Chicago after the Cubs' amazing World Series victory. It made me think of our own parade through Seattle after we won the Super Bowl in 2014. It was 25° in the middle of February, and I was standing on a float looking out at the crowd. That's when it all slowed down and everything sunk in for me.
I tried to focus on every single face, even though it was impossible to take it all in. I saw people of every race — black, white, brown, everything. I saw men and women. I saw old folks crying. And I saw young kids who had obviously skipped school. All walks of life braved the cold that day just be a part of something.
All those people had two things in common. They were smiling like it was the happiest day of their life, and they were all one color: bright green.
Whether they were wearing a green wig or a green jacket or a green scarf, they were all united and hugging one another and smiling.
That was a great day.
This city deserves more like it, but not just for football. Let's bring the NBA and NHL to Seattle.
You can feel it, can't you?
It's heating up.
Boomshakalaka!