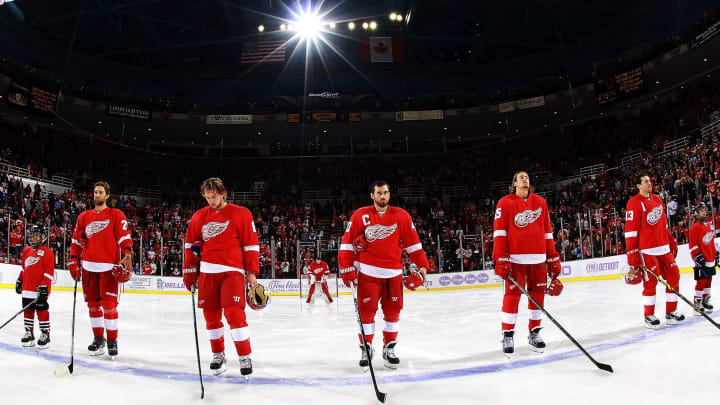 'Whitney, Get the F*** Off the Ice': An Eastern Conference Preview
In case you missed it, Mike Rupp absolutely crushed our NHL Playoff Preview last year. Once the word got out about his superior analysis, Rupper became a hotshot analyst for the NHL Network. This year, we decided to crank things up a notch, so we invited Ryan Whitney, a.k.a. KHL Obama, to join forces with Rupper.
This is not your typical NHL Playoff Preview. This is two guys sitting around talking hockey. Viewer discretion is advised.
*
Ryan Whitney
Rupper, I'm crashing your party this year. Thanks for having me. I'll try not to screw things up.
Mike Rupp
Welcome aboard, buddy.
Whitney
How do we do this? Do I need a Telestrator? I'm scared.
Rupp
No man, they just let us talk. Are you going to curse? I'm a little concerned after reading .
Whitney
I'll try to keep it family-friendly. I can't promise anything. Everyone, if you want a guaranteed PG experience, please only read Rupper's parts.
Rupp
We both played for Pittsburgh, and I played for the Rangers, so let's do that series first.
*
Pittsburgh Penguins vs. New York Rangers
Whitney
If Marc-Andre Fleury comes back from his concussion, this is an interesting matchup between the pipes. I can't think of two more different personalities than Fleury and Lundqvist.
Rupp
It was so interesting being on the teammate side of Lundqvist after playing against him for years. Outside of Scott Stevens, Hank is the fiercest competitor I've ever played with. He's so dialed in. I mean, there are a lot of goalies in the league who you just don't talk to on game day. But when I got to New York, it was a different level. I remember them telling me, "Don't even look at Hank on game day. Literally, don't. He's locked in. Leave him be."
I was a guy who liked joking around you know? So I remember we would be having a big serious meeting with coach Torts, talking about the game plan or whatever, and Hank would be in a dark corner of the room with his headphones on, eyes closed, making these crazy movements with his hands. Like he was in a trance.
Nobody said anything. It was just like, Okay, there's Hank, doing his thing.
His preparation is unbelievable. I'm talking in every facet of life, too. We'd go to do a charity event as a team, there would be an email thread with the p.r. guy, and somebody would ask, "What's the dress code for this?" And the p.r. guy would say, "Oh, just like jeans, collared shirt." Hank would show up in three-piece suit, shoes shined, looking like a million bucks.
The guy hated losing more than anyone I've ever met. We'd lose some random regular season game, and you'd hear him in the back room tossing stuff around, yelling, "Son of a…!"
He hates losing. Hates it. That's what would scare me for Penguins. He's the x-factor.
Whitney
Fleury couldn't be looser. It's hilarious. When I played with him, he would be in the crease in the middle of the game yelling, "Wooooo-weeeeee!" after he made a save. I loved it.
Rupp
Oh yeah, he's hilarious. One time I was on the ice and he made a save on somebody, and there was a little scrum around the net, guys were chirping, and Flower yells out, "Poke check! Got ya on that one! Woo!"
Whitney
He's so laid back. You saw it in Game 7 of the '09 finals. The looser he is, the more confident he is.
Rupp
When I was there, Bylsma would have us do the "Mustache Boy" breakaway contest every week. Last guy to score had to grow a dumb mustache. So Flower would be in net, messing around the whole time. He'd put his glove over his face. Turn his back to you. He'd be doing pushups and stuff. So one day I said offhand, "Oh, man, Flower, you should totally do that in a game one time. It would mess with guys' heads so bad."
The next week, we're playing in a real game, like down the stretch, and we're in a shootout, and he skates right over to our bench while they're cleaning the ice. Most goalies, you don't say a word to them during this time. They're locked in. Flower turns to me with this big grin and goes, "Ruppy, should I do it?"
I'm like, "Do what? The push ups?"
He just grins and starts skating away backwards, I'm like, "Dude! No! Nooooooo!"
He didn't do it, but he had me going. I honestly thought he might do it in a real game.
Whitney
What's amazing about Flower is that he's still a competitive bastard. He'd be doing a spin-o-rama as I'm skating down on him, and I'd still never score on him. Then he'd yell out some weird line like, "Quick as a cat, eh?" And he sounds like the French dude from Talladega Nights. He's got you laughing and pissed at the same time. He's unreal.
Rupp
This is definitely a new rivalry. These teams have some decent hatred for one another going in. Hank got into Sid's face a couple years ago. That's out of both of their territories. Neither team is nasty, but it might get nasty.
This isn't the draw the Rangers want. Pittsburgh is very dangerous, and the Rangers need to win now, while they still have their team together.
Whitney
This Pittsburgh team really reminds me of the 2009 team that won the Cup. Unfortunately, I was on that team, but I got my ass shipped out at the deadline. They fired Michel Therrien back then and brought in Dan Bylsma and all of a sudden they were on fire. Now they fired Mike Johnston and brought in Mike Sullivan, and they're a scary team.
Sidney Crosby looks like the best player in the world again. He's playing with an edge. Nobody wants to play the Penguins right now. And if Malkin comes back? Scary, scary.
Rupp
You need a fresh start sometimes. As a player, when there's a coaching change, it shows some desperation from the front office, and the players start thinking, Hmm … maybe I could be next. It lights a fire under everybody.
Pittsburgh has some premium cars sitting in the garage. Now they're gassed up with premium fuel, too. I like Pittsburgh in six.
Whitney
I say it goes the long haul only because of Lundqvist. I'm taking Pittsburgh in seven.
*
Washington Capitals vs. Philadelphia Flyers
Whitney
You know what I like? I like when my team adds a guy whose nickname is "Mr. Game 7." Justin Williams was a great addition for Washington.
Rupp
I said this in last year's previews and I'll say it again: I'm all for analytics, but when the playoffs come around, some guys just grip their sticks a little tighter in the big moments. It's a fact. I've seen it happen. You need guys like Williams on a playoff team. He's never scared.
Whitney
What do you think about Philly, though? They're hot. They've basically been playing playoff hockey for like two months now. Simmonds is a beast.
Rupp
Oh, Wayne Simmonds is unreal. I've actually been working on a video package on him for NHL Network. I looked at all his goals this year. Oh, my God, he's like a robot. He goes right to the net every single time. I'm telling you, Simmonds's feet are in the blue paint for 80% of his 32 goals. I can't even believe it. He gets so many deflections, so many scrappy goals.
The pretty plays won't be there in playoffs. The goals Simmonds scores will be there.
The x-factor for me is Tom Wilson. I just know he's going to do something dumb in this series that's going to make Philly be Philly. It's going to make Philly run around and get stupid, too. The Flyers cannot do that and beat this Capitals team.
Whitney
So true. Washington will be gunning for Shayne Gostisbehere. This kid is phenomenal. He's got the most goals as a rookie defenseman since Phaneuf in 2005. But the playoffs are a different animal. I'm guaranteeing it — guys will be looking for No. 53 in orange, ready to take his head off. When I made the playoffs for the first time, I was producing well offensively, but in playoffs, I was like, Oh shit! This is different. Everybody is backchecking. You can't get those five-on-three rushes anymore.
It almost doesn't fully translate on TV. Until you experience it in person, you don't know. I saw my first live playoff game with my dad at the Boston Garden when I was 11. Bruins vs. Canadiens.
After the first period I said, "Dad, why don't they play like this all the time?"
He said, "Because after the first half of the season, everybody would be dead."
Rupp
You want to see a crazy stat? Look at Evgeny Kuznetsov's five-on-five numbers. They're incredible. This guy has crazy skill, but he doesn't rely on the power play to produce. A lot of guys in the NHL with 70 points will have like 30 of them on the power play. Not Kuzy. The guy is a five-on-five monster, which really translates to the playoffs. I think he's going to be a breakout star this postseason.
Whitney
Yeah, he's a beast. I got Washington in five.
Rupp
I got Washington in six.
*
Tampa Bay Lightning vs. Detroit Red Wings
Whitney
I'm so sad that this looks like it's Datsyuk's last run before heading back to Russia. I'll never forget playing against him in the '08 finals with Pittsburgh. Going into the series, we had our matchups all planned out, and the coaches wanted the Rob Scuderi and Hal Gill pairing on Datsyuk at all times. I was on a pairing with Kris Letang at the time.
So a few shifts into Game 1, I'm on the ice and I see Datsyuk hop over the boards. All of a sudden, I hear our assistant coach Mike Yeo screaming — I'm talking screaming at the top of his lungs — "Whitney! Whitney! Get the fuck off the ice! Get the fuck off the ice!"
It was total panic.
Rupp
Ha-ha-ha-ha-ha. Yeah, I've been there. Whenever we would play the Wings, it was like, "Hey Rupp, be sure to cheer the boys on real good tonight." I wasn't playing much when Datsyuk was in town.
It's funny because — I don't know if this is a great comparison — but Datsyuk almost reminds me of Eli Manning. You know how Eli always kind of looks like he's a little down? Kind of slumped shoulders. Datsyuk looks like that sometimes. You underestimate him, and he makes you look like a fool. You try to lift his stick — nope. It's cemented to the ice. He's so ridiculously strong and nobody realizes it.
Whitney
You think you have him lined up for a hit, and and then he puts the cold shoulder into you and it's your ass on the ice. It's crazy. He's so sneaky strong.
Rupp
In the NHL, you've seen every move a thousand times. It's your job. Nothing surprises you. Except Pavel Datsyuk. I remember sitting around in the locker room the day after he did that crazy shootout move where he turned his body the opposite way, and guys were jumping up like, "Holy shit! What was that?"
They had to rewind it over and over to understand how he did it. It was like magic. I mean, these are NHL players, and he blew their minds.
Whitney
When you have a locker room full of NHL players going, Holy shit, you're a pretty good player. I don't know what to make of this series because of the injuries to Stamkos and Stralman. Plus Johnson is banged up. Pick a team out of a hat here. Two fun buildings to watch hockey in, at least.
Rupp
Detroit's' way too much of a perimeter team, in my opinion. Their most important player is Justin Abdelkader. He's really the only guy who can go to tough areas and pay the price and make things happen. Outside of him — super-skilled, super-fast team, but nothing screams danger in the NHL playoffs like a perimeter-oriented team.
Sheahan, Larkin — love them. But they're young. If I'm John Cooper, I'm in that Tampa locker room saying, Hey, listen, we're not going to let these kids on Detroit touch our freaking water. Make them pay the price for everything.
Watch out for Brian Boyle mixing it up in this series. I like his game a lot.
Whitney
What do you make of the the Jonathan Drouin thing? It was like a movie. Yzerman called his bluff and refused to trade him. Now with all the injuries, he's back up.
Rupp
The team was on fire when they sent him down and suspended him. But now with Stamkos out, they need his skill. As a player, there's no time for anger or whatever. If he can help, and he's out there in the trenches with you, who cares? Plus, now he's going to get what he wants. He's going to play top six.
Whitney
Agree. Overrated storyline. It's the playoffs. You don't care who your linemates are. You don't care what your stats are. You don't care about any drama. You care about winning and moving on. I like Tampa in six.
Rupp
Yeah, same. Tampa in six.
*
Florida Panthers vs. New York Islanders
Whitney
Oh man, Jaromir Jagr. Another legend who tortured me, and a lot of other guys for that matter.
I'll never forget when I was in Edmonton and he embarrassed me in overtime for the game-winner.
I knew it was bad. As I was skating in pure shame to the locker room, I turned to my teammate Shawn Horcoff and said, "Dude, that felt like it was bad. How bad did it look?"
He says, "It didn't look great, bud. It didn't look great."
Rupp
I deserve all the crap I get from Panthers fans. I didn't believe in this team at the beginning of the year. I thought they'd sneak into the playoffs, and I kept saying that.
I actually had their coach, Gerard Gallant, when I was in Columbus briefly, and I really liked him. So when I ran into him at the All-Star Game this year, he stopped me dead in my tracks.
He says, "Oh, hey, Rupper."
I'm like, "Hey, wow, you guys are really looking good."
He says, "Yeah, you think so? Because I've heard what you've been saying about us on TV all year!"
He got me. They really proved me wrong.
Whitney
Yeah, I'm buddies with Teddy Purcell and he's told me how much he likes playing for Gallant. They're just a solid, deep team. Way deeper than people realize. Ekblad is one of the best defenseman in the NHL. You got Luongo in net.
Rupp
Jagr is getting a lot of the attention, but what people might not realize is that Florida is a very tenacious team on the puck. Reilly Smith was a great addition for them. Keep your eye out for number 18 on right wing. Love his game.
Whitney
I'll be honest, I haven't seen much of the Islanders this year.
Rupp
I saw them in Barclays the other day against Penguins, and they looked horrible. I don't like that sign. Injuries have really hurt them. Anders Lee is out, and he's a big body who is built for playoff hockey. That's a bad injury there. I think they rely a little too much on Tavares.
However, one thing could be huge for the Islanders is their awesome fourth line of Matt Martin, Cal Clutterbuck and Casey Cizikas. That's probably the best fourth line in hockey.
Whitney
I've heard the Islanders' new building in Brooklyn is weird as hell to play in. They really dominate there so it must give them a nice home-ice advantage.
Rupp
It's a nice barn, but it's built for concerts. It's weird because the scoreboard is off-center, and the acoustics make the crowd really loud. When they throw that fourth line out there, the puck gets dumped in deep, you can just feel the crowd coming alive. It's like a slow rise in noise. Matt Martin hits a guy, boom! The building roars. Then Clutterbuck hits a guy, now it's deafening. They thrive off that fourth line.
Whitney
For me, this one comes down to the goalies. Florida has Luongo and deeper forwards. I'll take them in seven.
Rupp
Agree again here. We're either going to look like geniuses or idiots. But if Florida can keep the Islanders' fourth line in check, they take it. Florida in seven.
Whitney
Alright, time for the West.